DALLAS
-- Kinko's, whose videoconferencing capabilities have helped many executives avoid costly travel, has decided that cost-efficiencies warranted moving its headquarters. Founded in 1970 as a tiny copy shop at the University of California at Santa Barbara, Kinko's announced last week that it's relocating its 500-employee operational base from Ventura, Calif. to Three Galleria Tower in Dallas.
Echoing part of Boeing's strategy, Kinko's found a persuasive relocation rationale for in the economic benefits and operational efficiencies that a more central location could offer. The company has some 26,000 employees in more than 1,100 locations. The lion's share of those locations is in North America, but the company also has stores in Asia, Australia, Europe and the Middle East.
"We have a national footprint," Kinko's President and CEO Gary Kusin explained at the project announcement at Dallas City Hall. "We need to be able to flexibly reach locations throughout our footprint. This will significantly decrease travel costs and time. The ability to reach most locations within three and a half hours was very important."
Dallas-based Kinko's executives will also be able to reach the airport much more quickly. Kinko's new headquarters will sit only some 18 miles (29 km.) from Dallas/Fort Worth International. In contrast, the Ventura headquarters was some 70 miles (112 km.) from Los Angeles International.
In addition to decreasing travel costs and time, the North Texas location was picked for lower total business costs, a competitive tax structure and favorable incentives, Kusin said. The relocation "will clearly help reduce overhead costs," he explained.

Signage 'Important' in New 100,000-Sq.-Ft. Digs
Kinko's will lease four floors and probably part of another at Three Galleria Tower. The Dallas headquarters will span approximately 100,000 sq. ft. (9,000 sq. m.) in the 26-floor stone-and-glass high-rise once known as the Oryx Energy Tower.
Oryx at one point leased all 525,000 sq. ft. (47,250 sq. m.) of Three Galleria Tower, which sits near the intersection of the Dallas North Tollway and LBJ Freeway. But the company moved out in 1999 after it was acquired by another energy concern. Kinko's will provide the namesake anchor tenant that Three Galleria Tower has lacked since Oryx's exit.
"The opportunity to have highly visible signage on that building at one of the most visible locations in Dallas-Fort Worth was important to us," Kusin said.
"Three Galleria Tower," he added, "offered the right combination of financial terms, ideal space, great central location and unparalleled access to amenities for our team members." Amenities at the Galleria complex include a health club, a day care center and retail and restaurant space. But Kinko's also liked the larger Dallas area's amenities, Kusin added. "What Dallas offered was proximity to all sorts of amenities that our team members would want, from day care to shopping to rapid transit to just generally the traffic system, so you can live pretty much wherever you want to live and be able to get to the Galleria area," he said.
Incentives Include 10-Year
Tangible, Real Property Tax Abatements
Speculation about a possible Kinko's headquarters move had been brewing since August, when Kusin, head of Plano, Texas-based HQ Global Workplaces, was named as Kinko's new president and CEO.
North Texas was the only area that Kinko's mentioned as part of a fast-moving site search. Kinko's in mid-October began looking at 80 area sites; by last week, it had settled on its Dallas location.
Said Kusin, "While many cities and properties around the Metroplex made very attractive proposals, the city of Dallas partnered with Kinko's to create a very strong incentive package combined with an ideal location, and the Greater Dallas Chamber of Commerce (
www.dallaschamber.org
) also played a key role."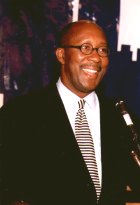 Dallas' incentives that include a 90 percent, 10-year tax abatement on tangible property and a 50 percent, 10-year tax abatement on real property, reported Mayor Ron Kirk (who resigned the day after the Kinko's announcement to run for the U.S. Senate). The Dallas City Council still has to authorize Kinko's tax breaks. Kirk, however, said that he expects the incentives to be approved.
"Every municipality put forth generous incentives to attract us, and the building landlords couldn't have been more cooperative," said Kusin. "I can't tell you how gratified we are at the responsiveness of all of the communities in North Texas, but particularly the aggressiveness that Dallas took in approaching us."
Ventura also offered incentives to retain Kinko's headquarters, including installing a fiber-optic network and underground utilities and making street improvements. Ventura, however, didn't offer any tax incentives, according to city officials.
Kinko's officials said that the company will keep its accounting and technology departments, totaling some 300 workers, in Ventura "for the foreseeable future." Kinko's currently operates its headquarters out of three buildings in Ventura, where the company moved in 1988.

Mayor Pleased, Founder Not
Landing Kinko's headquarters, said Kirk, was a big boost for Dallas. The city lost out earlier this year on the Boeing relocation and has seen major job cuts in its substantial air-industry sector, which includes American Airlines, Delta Air Lines and LSG Sky Chefs, as part of the post-Sept.-11 fallout.
"It's 500 new jobs and a great corporate profile and I think a much-needed win for our city," Kirk said. "This is much more important about what it says about reaffirming the fact that Dallas, Texas, is a great place for companies that are looking to grow their business." The relocation, however, didn't go down well with company founder Paul Orfalea. Orfalea resigned as chairman in April 2000 but retains what Kinko's officials call "a significant equity position."
Orfalea, who named the company for his curly hair, said in a statement that he was "extremely disappointed and troubled by this decision. I just don't feel like moving geographically gets the company any closer to the customer, and along with our co-workers, that's the most important aspect."
Service Provider Team Praised
In Rapid, 'Efficient Selection Process'
Kusin praised Kinko's service providers for "intensive work" in an "efficient selection process."
Project service providers included Ernst & Young (www.ey.com), which tracked economic development incentives; the Staubach Co. (www.staubach.com), which represented Kinko's in the final site selection and negotiations; and Benson Hlavaty, which provided technical input on prospective sites and is designing the new headquarters.
Kinko's hasn't yet determined how many of the 500 Dallas headquarters employees will be local hires. The company has announced that its entire 40-member senior management group will be relocated to Dallas in the first quarter of 2002.
"Then we'll make decisions on the remaining number as time goes on," Kusin noted. "We're not expecting that we'll be moving 500 people to Dallas."