Project Will Create 300 Jobs in Rural Area
---
LES Taps Middle Tennessee Site for $1.1-B Uranium Enrichment Plant

By RON STARNER, Director of Publications,
Site Selection and Conway Data, Inc.

HARTSVILLE and NASHVILLE Tenn.

– Beating out more than 40 other locations throughout the United States,

Hartsville, Tenn.,

has secured a commitment for a US$1.1-billion uranium enrichment plant. The facility will create an estimated 300 permanent jobs in the Middle Tennessee city of only some 2,400 residents, Hartsville was selected for the billion-dollar project by

Louisiana Energy Services

(LES). LES announced that it has signed a right-of-first-refusal on a site in rural Trousdale County, which is located some 45 minutes northeast of Nashville. The site is held by the Four Lakes Regional Industrial Development Authority, which is made up of the county executives for Macon, Smith, Sumner, Trousdale and Wilson counties.
A site near Hollywood, Ala., was Hartsville's final short-list competitor for the uranium enrichment plant.
LES, in fact, also signed a right-of-first-refusal at the site near Hollywood, at Alabama's Bellefonte nuclear power plant, before the company later publicly named Hartsville as the its first choice. Both the Alabama and Tennessee locations are properties that were formerly owned and operated by the Tennessee Valley Authority.


LES CEO: 'First U.S. Plant with State-of-the-Art
Technology' Will Have 'Minimal Environmental Impact'

The Hartsville plant will use centrifuge technology, considered the world's lowest cost and most advanced method of uranium enrichment.
Centrifuge technology was developed by U.K.-based Urenco Inc., one of LES's general partners, which has safely used that same technology at various commercial facilities in Europe for the past 30 years.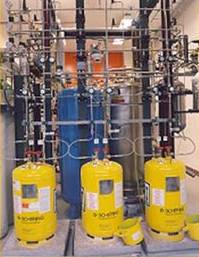 Photo from Urenco Inc.


"This will be an essential contribution to U.S. energy security by ensuring a competitive domestic source of enriched uranium for U.S. nuclear facilities," George E. Dials, president and CEO of LES, said at the site-selection announcement in Nashville.
"This will be the first uranium enrichment plant in the U.S. with state-of-the-art technology, capable of minimal environmental impact," Dials continued. "As the energy industry moves into the next decade, it will be particularly important to ensure a secure supply of domestically enriched uranium in the U.S. market. LES is making a substantial commitment to future energy security."
The Hartsville location - known as the site of an historic Civil War battle -"came out ahead on our objective scoring system" for evaluating possible plant sites, said LES Chairman Pat Upson. "We used a decision-analysis model to screen or score more than 40 sites throughout the U.S.," Upson explained. "Both Hartsville and Bellefonte scored very high on the technical criteria. Hartsville scored somewhat higher cumulatively and has some business and environmental benefits."


Partnering Utilities Account For
a Third of U.S. Nuclear Capacity

In addition to Urenco, LES is comprised of two other general partners: Canadian company

Cameco

and U.S. firm

Westinghouse.

Three major U.S. utility companies -

Duke, Entergy

and

Exelon

- are also limited partners in LES, which is headquartered in Washington, D.C. Together, those utilities represent nearly one-third of all U.S. capacity for nuclear power, which supplies about 20 percent of the nation's electricity.
Tennessee Gov. Don Sundquist, who hopes to achieve $42 billion in private capital investment by the time he leaves office in January (he has secured $40 billion to date), said, "LES is comprised of several of the world's most respected energy service providers. We are delighted to welcome them to Tennessee and look forward to the new jobs and economic benefits that their $1.1-billion investment will bring to Hartsville."
The project will mean more than 300 new jobs for the people of rural Middle Tennessee, explained Tony Grande, commissioner of the Tennessee Dept. of Economic and Community Development (www.state.tn.us/ecd).
"We have seen a lot of action from big companies in the last 60 days," Grande said. "We have a big prospect list, but this is the biggest project by far."


Project Must Still Gain Approval from NRC, Community

The big project still has a ways to go, though, before it's a fully done deal. For one thing, LES must secure a license from the U.S. Nuclear Regulatory Commission (NRC). The company will submit a license application to the NRC within the next six months, Upson and Dials announced.
LES also has work to do in winning over the hearts and minds of some local residents. Several community citizens have strongly voiced concerns over the plant's environmental impact. In response, LES is fast-tracking the opening of a new office in Hartsville that will be designed to answer residents' concerns.
"Our highest priority is to operate this plant safely for our employees, the community and the environment," Dials said.
"They are trying to push over little Hartsville, and we don't push over easy," Mike Butler, a local resident who opposes the plant, told the Associated Press this week.
For Tennessee, the capital investment represents yet another success story in a long line of major corporate investments from global giants. Since 1982, Tennessee has attracted $17.5 billion in direct foreign investment.
In 2001, Tennessee ranked 19th among U.S. states in exports, totaling more than $11.3 billion.

---
©2002 Conway Data, Inc. All rights reserved. Data is from many sources and is not warranted to be accurate or current.