Job Engine:
---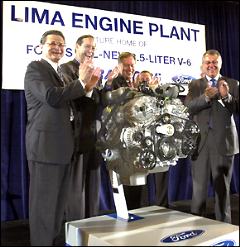 Photo: Chris Kasson /Office of the Governor)

Ford's New V6 Ensures 780 Ohio Workers' Future


by JACK LYNE, Site Selection Executive Editor of Interactive Publishing

LIMA, Ohio

—

Ford Motor Company's

(www.ford.com) V6 power boost has jumpstarted the job-security engines for 780 workers at the automaker's giant plant in

Lima, Ohio.

Ford has tapped the 2.4-million-sq.-ft. (216,000-sq.-m.) Lima facility, which has about 1,600 total employees, to make its new all-aluminum, 3.5-liter Duratec 35 V6 engine.
That decision solidifies many workers' heretofore shaky futures at the long-time Ohio plant, which opened back in 1957. Ford factory work nowadays has an added anxiety additive: After losing US$6.4 billion over a two-year span, Ford in 2002 mounted its "Revitalization Plan," announcing that it will close seven existing plants in what Ford Chairman and CEO William Clay Ford Jr. called "painful but necessary steps to make us competitive going forward." (No shutdowns will occur before fall 2003, with the expiration of the current United Autoworkers contract, which requires Ford to continue paying laid-off workers.)
Ford's latest cost-cutting shoe dropped last week, with the announced elimination later this year of up to 2,000 North American white-collar jobs. With $3.9 billion in costs already slashed since 2002, the company thus far has hit 2003's profit goal of 70 cents a share - a 49 percent increase from last year. The company's longer-term aims, however, are considerably more ambitious: Ford's pretax-profit target is set at $7 billion a year by 2005 - a cross-country drive from its modest 2002 earnings of $872 million.
That's where the Duratec 35 V6 factors in. The engine represents the Revitalization Plan's other essential element: a "product-driven" revenue upsurge. The engine will power some of the 20 new and revamped models that Ford plans to introduce, Ford Group Vice President Roman Krygier explained at the Lima plant in announcing the new engine.
The company's existing 3.0-liter V6s have been taking a drubbing in the North American marketplace from more powerful, fuel-efficient V6s made by rivals like Honda, Nissan and Toyota. One Honda plant, in fact, makes one of those engines - the 3.5-liter V6 for the popular Accord sedans and Pilot SUVs - only 28 miles (45 meters) south of Lima in Anna, Ohio.
Krygier acknowledged Ford's V6 weakness. The 3.5-liter Duratec 35 "will be competitive with Toyota and Nissan and so forth," he said in Lima. The new V6 will produce about 245 horsepower, he continued. Ford's current 3.0-liter V6s produce 200 to 230 horsepower.
The Lima-made aluminum engine will also add a "double-digit percentage" fuel-efficiency increase, Krygier said. Ford will begin making as many as 325,000 new Duratec engines per year in Lima by the end of 2005, he added.


Ford Investment Possibly $340 Million;
State Offers $42-Million Incentive Package

Buckeye State recruiters smoothed the V6's road with a $42-million incentive package. The Lima project ensures that Ford remains Ohio's seventh-largest employer, with 17,900 workers.
"I'm thrilled that this project will save 780 jobs in Ohio and enhance our state's reputation as an automotive leader," Gov. Bob Taft (R) said at the announcement.
Ford will invest some $285 million in machinery and equipment, construction and infrastructure, according to the state's incentives commitment letter. State officials, however, noted that the letter was written several months ago; Ford's actual project investment may be closer to $340 million, they suggested.
The Ohio Department of Development's (www.odod.state.oh.us) $42-million incentive offer includes:
• a Manufacturing Machinery and Equipment Investment Tax Credit valued at $17.5 million;
• a 10-year, 75-percent Job-Retention Tax Credit;
• a state Business Development grant for as much as $1 million; and
• an Ohio Investment in Training Program grant for as much as $750,000.
Local schools also get a boost in the incentives equation. The investment credit rebates 100 percent of the taxes that Ford would otherwise incur in adding the new engine line. In exchange, Ford agreed to annually give Bath Township schools 40 percent of those taxes for 10 years.
School board members expressed relief that the Ford plant, Lima's second-largest employer, wasn't downsizing or closing. The district is facing a 2004 deficit of $580,000. Ford provides Bath schools with $2 million in annual taxes, twice as much as the system's No. 2 source, Procter & Gamble.


Union Cooperation Helped Seal Deal

The new V6 for the moment is an engine without a hood to call home. Ford hasn't decided exactly which vehicles will use the new engine, Krygier said. The Duratec 35 V6 will be installed in some Ford, Lincoln and Mercury models, he added.
Union cooperation was a major factor in the new engine's finding a home in Lima. UAW Local 1219 agreed to contract changes to facilitate Ford's flexible manufacturing system. The changes include allowing work teams throughout the plant and consolidating some job classifications.
"We are building a network of lean and flexible power-train plants around the world that can respond quickly to changing market needs," Krygier said. "The launch of this new V6 will further our push into flexible manufacturing [and] helps us reduce costs."
The Lima plant's productivity, he added, also factored into Ford's decision.
"I congratulate you on earning this line," Krygier told the gathered Ford workers. "You have worked hard and it has been noticed." The Lima plant won Ford quality awards in 1990 and 1995 and was tapped for 2002's Lima-Allen County's Distinguished Community Leadership Award.


First Lima-Made Engine Ran Ill-Fated Edsel

Ford is hoping that UAW leaders prove as cooperative in contract negotiations. All of the U.S. Big Three are entering talks this summer on new contracts. All sorely need UAW buy-in on significant cutbacks to cost-cutting initiatives on track.

Back in Lima, the new V6 will signal the phase-out of some of the Lima plant's older engine lines, Krygier said. The facility now makes the 3.0-liter V6 Vulcan and the 3.9-liter V8, as well as crankshafts for 3.0-liter Duratec V-6.
The vehicles powered by the new V6 will likely fare considerably better than the car that used the first Lima-made engine - the Edsel, which was introduced in 1957.
Consumers found it strange-looking. Market response proved so markedly tepid, in fact, that Ford pulled the plug on Edsel production only two years later.

---
©2003 Conway Data, Inc. All rights reserved. Data is from many sources and is not warranted to be accurate or current.