Honda Adding 5,000
Jobs in Alabama,
Georgia, Ohio, China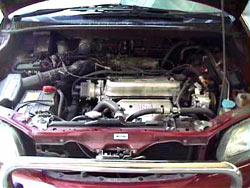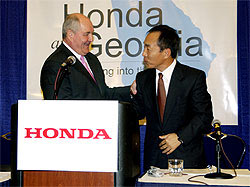 It's what's under the hood: The new $100-million plant in Tallapoosa, Ga., that American Honda Motor Co. President Koichi Kondo (right in photo at bottom) and Gov. Sonny Perdue announced will make automatic transmissions for the minivans and SUVs produced at Honda's huge complex in Lincoln, Ala.
by JACK LYNE, Site Selection Executive Editor of Interactive Publishing

Honda Motor Co.
(
www.honda.com
) is speeding into its second quarter century of U.S. manufacturing with a Big Bang of an American expansion: The Japanese auto giant announced on Nov. 9th that it's adding 600 new jobs in a US$270-million powertrain initiative, creating a new plant in
Georgia
and significantly enlarging its labor forces in
Alabama
and
Ohio.
What's more, Honda on Nov. 8th and 9th unveiled a $605-million expansion plan in
China
as well. Within two years, those projects will help almost double the company's Chinese production capacity.
All told, Honda's $875-million bi-continental growth plan will add almost 5,000 new jobs in a wave of projects that includes:
A new $100-million, 250,000-sq-ft. (22,500-sq.-m.) automatic transmission plant in

Tallapoosa, Ga.,

that will employ 400 workers.
A $100-million, 100-job expansion of its transmission plant in

Russells Point, Ohio,

— a project that will gain extra weight with that operation's transition into producing high-precision gears now only made in Japan.
A $73-million expansion of its engine production plant in

Lincoln, Ala.,

that will create another 100 new positions.
A $340-million expansion of its engine-making operation in

Wuhan, China,

that will add almost 2,000 new employees and quadruple plant production.
A new $265-million vehicle assembly plant that will add 2,400 new jobs in

Guangzhou, China,

where Honda already has an existing plant.

Georgia Site Supports `Synchronous Assembly'

Koichi Kondo, president of American Honda Motor Co. and chief operating officer of Honda's North American Region, discussed the company's latest U.S. plans in Atlanta, the capital city of Georgia (www.georgia.org). Kondo had come to announce that the new American transmission plant was headed to Tallapoosa, a small west Georgia town of some 3,000 residents.
"This strategy represents the continuation of Honda's 25-year commitment to localize our operations close to the customer here in the U.S.,"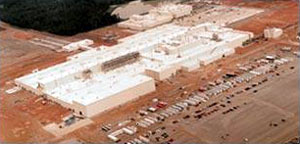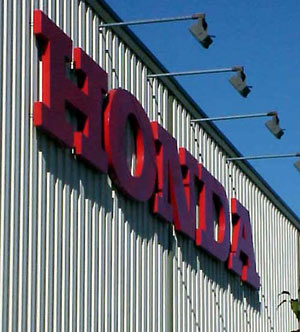 Bringing It all back home: The Marysville, Ohio, expansion brings Honda full circle in its 25 years of U.S. manufacturing. The company's first American production facility (bottom), a motorcycle plant, went online in that Ohio city in 1979. Honda less than a year later tapped Marysville as the site of its first U.S. auto plant (top).

he said. "It creates a new level of autonomy for Honda's powertrain production in America . . . [and] enables us to take this next step in powertrain production." Located some 40 miles (16 kilometers) west of Atlanta, the Georgia facility in Tallapoosa will be the Japanese automaker's 13th North American plant. The Honda catch partially eases the sting of the Peach State's long streak of near-misses for major auto assembly plants. The most painful case in that almost-made-it history was

DaimlerChrysler's

$750-million van factory. After picking a 1,600-acre (640-hectare) site near Savannah and getting $320 million promised in state incentives, DaimlerChrysler axed its Georgia project last year, citing softening market demand and the weak U.S. dollar. (For more on the pullout, see "DC Says $600M Hello to Alabama, $750M Goodbye to Georgia," our Blockbuster Deal for September 29th, 2003.)
No such problems for Honda, which continues to enjoy strong U.S. demand. "It's a tremendous win for Haralson County and for the state," Gov. Sonny Perdue (R) said in Atlanta of the Tallapoosa project. "It reinforces Georgia as a center for component parts in the automotive industry in the growing Southeast." The Georgia plant is expected go online by late 2006, producing about 300,000 automatic transmissions a year, said Kondo. Positioning the transmission plant in Tallapoosa, he added, supports Honda's "synchronous assembly" strategy for powertrain production.
The Tallapoosa plant will lie only some 60 miles (96 kilometers) east of Honda's giant minivan and SUV production operation in Lincoln, Ala. The Alabama complex will be the primary recipient of the new Georgia facility's output. Some Tallapoosa-made transmissions, Honda officials added, will also be used in the SUVs assembled at the company's assembly plant in Marysville, Ohio.
The new Southeast facility will add to Honda's current American capacity of 1 million automatic transmissions a year. The Japanese company has assembled more than 9 million transmissions in the U.S. since it first began making transmissions in America in 1989 in Anna, Ohio.

Ohio Expansion Brings Honda
Back to Its American Beginnings

Honda is celebrating its 25th year of U.S. manufacturing by also expanding in Ohio — where its American production began. The company's first U.S. production operation, a motorcycle plant, went online on Sept. 10th, 1979, in Marysville, Ohio. In 1980, Honda announced that it had chosen Marysville once again as the site for its first American auto plant.
The company's newest Buckeye State expansion will add to the some 16,000 employees already working at the automaker's four Ohio plants. More significantly, the company's decision to move some high-precision gear production out of Japan demonstrates great corporate confidence in the Russells Point work force.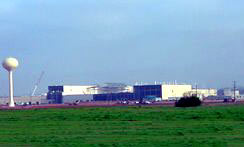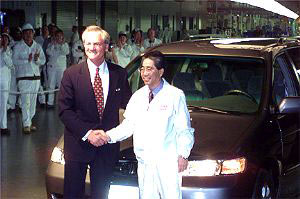 VIN-001: Honda first went online Alabama in 2001 with a 1,500-employee assembly plant (pictured top), two years later announcing a $425-million, 2,000-job expansion. The automaker made its first Odyssey minivan in Alabama in late 2001. Pictured at bottom: Honda Manufacturing of Alabama President and CEO Mikio Yoshimi (right in photo) and then-Gov. Don Siegelman (left) admire the very first Odyssey that rolled off the line in December of 2001.

"Honda's continued growth and investment in Ohio is a testament to Ohio's workers and our business climate," said Gov. Bob Taft (R). Taft two months earlier had met with CEO Takeo Fukui and other Honda officials during his business mission to Japan.
The Russells Point project will substantially enlarge the facility, increasing its size from the existing 361,000 sq. ft. (32,490 sq. m.) to 631,000 sq. ft. (56,790 sq. m.). The plant's 100 new workers will join 800 existing employees. The Russells Point facility, which currently makes transmissions, will shift gradually into gear production. The transfer will begin after the new Georgia plant begins production, Honda officials said. The project will bring Honda's capital investment to more than $261 million at the facility in Russells Point, which sits some 68 miles (122 kilometers) northwest of Columbus.
The state is facilitating the expansion with a $2-million subsidy package. That aid includes a $1.8-million grant for roadway improvements and a $200,000 business development grant to assist in acquiring and installing new machinery and equipment. The Ohio Department of Development (www.odod.ohio.gov) is also providing a $92,000 worker-training grant.
In July of last year, Honda completed a $20-million expansion of the Anna powertrain plant, which now produces engines. In its 25 years of manufacturing in Ohio, the automaker has invested about $6.1 billion in its Buckeye State facilities.

Alabama Expansion Also Marks a
Manufacturing Work Shift for Honda's

Honda's powertrain expansion in Alabama (www.ado.state.al.us), on the other hand, is focused on engines.
The project continues the automaker's jackrabbit-like growth in the Yellowhammer State. With a total investment that now exceeds $1 billion in the Lincoln site, Honda has amassed the Alabama capacity to make 300,000 vehicles and V6 engines a year.
The company first announced in May of 1999 that it was bringing a 1,500-employee assembly plant to a 1,350-acre (540-hectare) tract in Lincoln, a small town about 35 miles (56 kilometers) east of Birmingham. By the summer of 2002, Honda had already announced an ex pansion. That $425-million project created 2,000 more new jobs.
The 100 workers who'll now be added in Alabama will begin machining some of the key components for the engines that are made in Lincoln. That work represents
Guangzhou Honda Automobile Co. will add 2,400 new jobs in adding a new facility that will significantly increase the company's capacity in that south China city. Beginning in 2006, the completed production operation will add another 120,000 units to the 240,000-vehicle-a year capacity at Guangzhou Honda's current manufacturing plant, pictured above at left. Pictured at right: Guangzhou Honda's welding shop.
another production shift for Honda's U.S. manufacturing network. The new components that will be made in Alabama are currently produced at Honda's plants in Anna, Ohio, and Tochigi, Japan.
Together, Honda's Anna and Lincoln engine plants have the production capacity to make 1.46 million engines a year. The automaker, in fact, has muscled up its U.S. engine manufacturing network to the point that those two plants now provide enough under-the-hood horsepower to supply all of the Honda and Acura vehicles produced in North America.

Guangzhou Project Helps Ease
Honda's Chinese Demand Dilemma

In contrast, Honda's expansions in China are occurring in a nation where automotive overcapacity has left many major players like

Ford

bleeding dollars. But the Japanese automaker's Accord sedans and Odyssey minivans have proved to be very popular with the Sino market. So popular, in fact, that Honda has pushed its Chinese manufacturing operations to the limit. Without further expansion, the automaker faced losing share in the massive and fast-growing Chinese market.
The company's new $265-million vehicle assembly plant in Guangzhou will ease that demand dilemma. The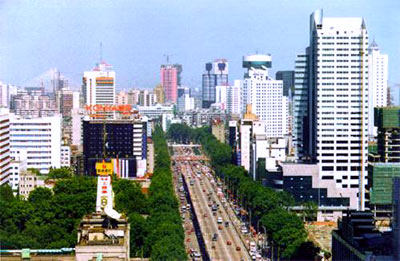 Dongfeng Honda Automobile will add almost 2,000 new employees at its plant in Wuhan (pictured). China's fifth-largest city, Wuhan has a population of more than 7 million people. Photo: University of Missouri-Columbia

automaker's operations in the south China city are part of

Guangzhou Honda Automobile

Co.

(www.guangzhouhonda.com.cn), a joint venture with Hong Kong-based

Denway Motors

in which Honda is the majority owner. The joint venture's second manufacturing facility in Guangzhou will increase the company's total employment in that city from 1,000 to 3,400 workers. The new plant, which will come online sometime in the second half of 2006, will have the capacity to turn out 120,000 vehicles per year, Honda officials said.
"By adding a new plant, total production at Guangzhou will reach 360,000 units in 2006 and will enable the company to respond to strong demand for its current product line-up as well as meet long-term demand in the Chinese automobile market," Honda said in a statement on the project. Guangzhou Honda is projecting a 2004 output of 215,000 cars, a major jump up from last year's 117,00 0 units.

A Facelift for Wuhan Facility

Honda is also adding substantially more manufacturing muscle in Wuhan.

Dongfeng Honda Automobile,

the company's majority-owned joint venture with Wuhan-based

Dongfeng Motor Corp.,

will quadruple annual capacity for the alliance's vehicle assembly plant in that city. By early 2006, the Wuhan facility in east-central China will be able to make 120,000 units. The joint venture's first plant only began production in April of this year.
The wide-ranging Wuhan project will amount to a virtual facelift. Markedly changing the plant's layout, the expansion will increase the facility's size from 4.1 million sq. ft. (370,000 sq. m.) to about 5.8 million sq. ft. (520,000 sq. m.). In addition, the project will build a new paint facility, as well as adding space for stamping, plastic-injection molding and engine-parts-processing operations. The expansion will bolster the Wuhan facility's R&D operations and upgrade its existing equipment and processes as well, Honda officials said. The revamped facility, they added, will employ a flexible manufacturing system and will adopt Honda's "Green Factory" concept.


The Wuhan expansion will dramatically increase the facility's work force. When the project comes online, the operation's total employment will increase from 850 to 2,800.
And Honda has still more Chinese capacity in the works in Guangzhou.

Honda Automobile (China) Co.,

yet another majority-owned Chinese joint venture, is building a previously announced plant that is designed exclusively for export.
Part of the Japanese company's alliance with

Guangzhou Auto Group

and Dongfeng Motor, the Guangzhou export plant will begin assembling 30,000 Jazz hatchbacks a year in March of 2005. Those products will establish Honda as the first manufacturer to export Chinese-made cars to Europe. In 2006, when the considerable dust from Honda's multiple Sino expansions settles, the automaker will have increased its annual Chinese capacity to 530,000 vehicles.

Editor's note: For more insights and interviews about Honda's U.S. expansions, check out the "Georgia Spotlight" and the "North American Automotive Industry Review" feature articles in the January 2005 issue of Site Selection.
---
PLEASE VISIT OUR SPONSOR • CLICK ABOVE
©2004 Conway Data, Inc. All rights reserved. Data is from many sources and is not warranted to be accurate or current.