The 'Buffalo' Has Landed: $560M, 650-Job U.S.-Italian Project Charleston-bound
by JACK LYNE, Site Selection Executive Editor of Interactive Publishing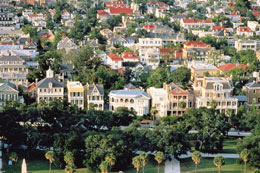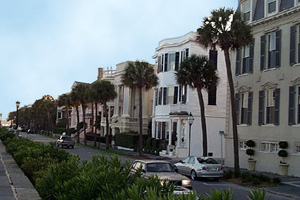 The port city of Charleston (pictured) won the Alenia-Vought deal with a combination that included strong infrastructure, skilled workers and very major subsidies.
CHARLESTON, S.C. - "Project Buffalo": That was the deceptively nondescript codename that South Carolina (www.callsouthcarolina.com ) recruiters assigned to a top-tier prospect. This particular buffalo, though, was a very rare breed: It was a deal that had the heavyweight potential to change the complexion of the state's economy.
Eight months later, Project Buffalo has landed with a huge splash-down in the Atlantic coastal city of North Charleston, bringing along a US$510-million global aeronautics venture and as many as 650 well-paying jobs.
The project links two separate companies from two continents: Rome, Italy-headquartered Alenia Aeronautica (www.alenia-aeronautica.it ) and Dallas-based Vought Aircraft Industries (www.voughtaircraft.com ). And the output from their South Carolina operation will supply yet another company: Boeing (www.boeing.com ). The Alenia-Vought team will provide fuselage sections for Boeing's much-ballyhooed 7E7 Dreamliner jet.
"Like BMW, this announcement is a major step forward for South Carolina's economy and a major step forward in our efforts to raise income levels and improve quality of life for our citizens," Gov. Mark Sanford (R) said in Columbia on Dec. 1st as the site choice was announced.
The Alenia-Vought deal mirrors BMW in several ways. For one, the aeronautical project is also receiving big-time incentives, totaling least $116 million in performance-based subsidies. And that tally will go higher still if the operation creates more jobs.
The Alenia-Vought deal also bears another striking similarity to BMW's arrival in South Carolina. It, too, could mark the beginning of a major change in the state's economic character.
The global venture's very large shop will take shape inside a state that, for now at least, has virtually no existing base in aeronautics. BMW's scenario was similar when it came to the Palmetto State. South Carolina had only a very small auto-industry presence back in 1992, when the German giant announced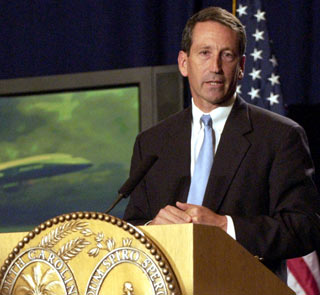 Gov. Mark Sanford (pictured) called the Alenia-Vought project "an announcement that showcases our state's competitive advantages in terms of work force, infrastructure and quality of life."
that its $410-million, 1,900-employee plant was headed for Spartanburg County.
But with BMW's Spartanburg plant (which now employs 4,700) serving as a potent bellwether, things have changed dramatically since then. South Carolina now has 232 auto suppliers, with auto-related companies located in 41 of 46 state counties.
Short List Narrowed to Five States
Alenia-Vought gave South Carolina the site-selection nod only after a year-long search that boiled down to five states. In addition to Charleston, the final short-list locations were Dallas; Kinston, N.C.; Mobile, Ala.; and Tulsa, Okla., according to Vought President and Chief Executive Officer Tom Risley.
Sanford played a prominent personal role in steering the project Charleston's way. The governor had promises he was trying to keep. Sanford pledged during his 2002 gubernatorial run that he would elevate state incomes by bringing in better-paying jobs and new industries. And the Alenia-Vought project was exactly that.
The governor's steady involvement was reflected in the pleasant surprise he gave two Alenia executives in early August. The two Italians, including CEO Roberto Assereto, were at a small airport near Mobile, Ala., that day, waiting in the morning's early light for a state plane to carry them to Charleston. They expected only the plane, a pilot and some designated greeter. Instead, the Alenia duo spied a freshly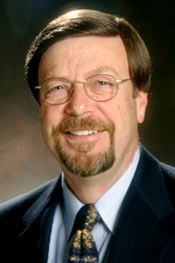 "We absolutely had to have access to long runways, a deepwater port and rail, and that put Charleston in contention," said Vought Aircraft Industries President and Chief Executive Officer Tom Risley (pictured).
deplaned Sanford, walking forward to welcome them.
Similarly, officials with the South Carolina Department of Commerce (
www.sccommerce.com
) doggedly pursued the project. Almost daily over an eight-month span, they kept in contact with their big-time prospect.
Charleston's Combo Provided
Project with What It 'Had to Have'
But persistence means
nada
if a site doesn't satisfy a project's business needs. Risley emphasized that point in explaining the location decision.
"After we decided on a joint-venture relationship, our attention turned to selecting a site to support our 7E7 production and integration work," said the Vought CEO. "We examined several worthy U.S. locations for these facilities.
"We absolutely had to have access to long runways, a deepwater port and rail, and that put Charleston in contention," Risley continued. "Charleston emerged as the clear choice. In the final analysis, it represents the best value for the entire 7E7 fuselage team."
In addition to its triple-threat transportation, the Carolina site offered readily available land. Risley also cited the state's skilled work force "[which] has a splendid international reputation." And, well, persistence didn't hurt either.
"Gov. Sanford and [Commerce] Secretary [Robert] Faith advised us right from the beginning that they would not take no for an answer," Risley explained. "They were hands-on throughout our negotiations, and convinced us that South Carolina is a business-friendly state."
Assereto was particularly impressed by something you might call the Spoleto Effect - namely, the ambience of Charleston. The seaside American city, he said, reminded him of Italy's Naples.
"More than anything, I was impressed by the quality of life in the Charleston area," Assereto explained. "Charleston is such an international city, and I feel at home here."
Two Plants on Tap
The project will create two separate Charleston plants, both on the same 380-acre (152-hectare) site at Charleston International Airport.
One of the plants will be a 300,000-sq.-ft. (27,000-sq.-m.) facility solely operated by Vought.
Out with the old . . . : Boeing's new 7E7 (pictured right in an artist's rendering) will replace the company's 757 (left) and 767 models.
Employing about 400 workers, that facility will make the 7E7's aft fuselage sections 47 and 48.
Simultaneously, Alenia will be working on other 7E7 pieces across the pond. The company will build the jetliner's center fuselage sections 44 and 46 in its existing Italian plants.
The separate production streams will come together inside the other new plant built in Charleston. That facility, which will employ some 250 workers, will be operated by a newly created Alenia North America-Vought joint venture,
Global Aeronautica LLC.
The 300,000-sq.-ft. (27,000-sq.-m.) plant will join and integrate the partner-made 7E7 parts, and will install and test all system elements.
All told, Alenia and Vought will make about one-fourth of all of the 7E7's structural parts. At peak production, the Charleston joint-venture plant will produce around 10 completed fuselages a month, said Risley. The project also involves a 45-to-50-employee Boeing presence in Charleston. That team will support the two large-cargo freighters (LCFs) that the Chicago-based aeronautical giant will base at Charleston International. Specially modified 747s, the LCFs will ferry output from the Global Aeronautica plant to
Two pieces of Charleston's triple-threat transportation infrastructure: Charleston International Airport (left) and the Port of Charleston (right).
Boeing's Everett, Wash., plant for final 7E7 assembly.
Corporate officials plan to break ground for the two Charleston plants early next year. Boeing tentatively plans to begin 7E7 production in early 2006.
Biggest Subsidies Since BMW
The multi-faceted project is getting lots of financial lubrication from the state's incentives. The $116 million in subsidies is South Carolina's largest package since it ponied up $133 million for BMW in 1992. (With inflation, that amount would be $165 million in 2004 dollars.) The Palmetto State's wide-ranging assistance will include help in paying for the two plants, extending a Charleston International runway by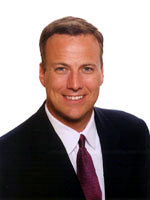 "We absolutely had to have access to long runways, a deepwater port and rail, and that put Charleston in contention," said Vought Aircraft Industries President and Chief Executive Officer Tom Risley (pictured).
1,000 feet (303 meters), and building a training and conference center.
The Alenia-Vought team is also getting very favorable terms for its large site. The Charleston Airport Authority, which owns that tract, will allow the two companies to lease the land for a nominal fee of a few dollars a year. (Final lease terms haven't yet been made public.) More aid is likely coming from the Charleston County Council, which is expected to give the two plants deep discounts on building and equipment taxes.
For Alabama, though, the project's incentives ultimately became a deal-breaker. Yellowhammer State recruiters made an aggressive run for the Alenia-Vought deal when the companies initially projected a minimum of 1,000 jobs.
Alabama's interest cooled, though, after the Alenia-Vought team downsized the minimum job number to 600. But the two companies reportedly still hoped that the state would continue to offer the same incentives that it had earlier. That equation didn't compute for Alabama, said Development Office Director Neal Wade. Wade announced on Sept. 23rd that the state was withdrawing from the competition since "we could not justify [the project's subsidies] from a cost-benefit angle."
South Carolina, though, thinks that the project's benefits will justify the costs. One of the deal's most significant benefits will come from the 7E7's extensive application of durable, lightweight carbon graphite composite materials, said Commerce Secretary Faith.
"The groundbreaking use of composites has applications far beyond the aerospace industry," he noted. "[This] puts South Carolina on the cutting edge of this knowledge-based technology." The automotive, biomedical, maritime and sports industries, he noted, are only a few of the sectors seriously considering greater use of composites.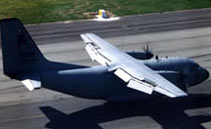 "We absolutely had to have access to long runways, a deepwater port and rail, and that put Charleston in contention," said Vought Aircraft Industries President and Chief Executive Officer Tom Risley (pictured).
Suppliers Will Add Area Jobs,
And Further Expansions May Too
South Carolina officials also expect a major payoff from supplier jobs. The Charleston plants, said Risley, will rely heavily on just-in-time supply deliveries. That means most supplier plants won't stray too far from Charleston.
"Both Alenia and Vought," said Faith, "have expressed a willingness to work with South Carolina-based suppliers from the initial construction work to other equipment needs, once full-scale operations have begun."
The physical scale of the Alenia-Vought operation could also get larger. South Carolina's incentives contract includes the possibility of adding the 7E7's cockpit work. That increased work load would create some 250 additional jobs in a 100,000-sq.-ft. (9,000-sq.-m.) Charleston plant, Risley said.
The state has agreed to provide an additional $15 million in subsidies if Alenia-Vought lands the 7E7 cockpit assignment. And South Carolina would provide $29 million more in incentives if the operation's total employment reaches 1,400.
Alenia may also add a separate plant at the site. The Charleston operation, which will be the Italian firm's first U.S. manufacturing presence, is an important part of Alenia's effort to land the U.S. military's $5-billion contract to build the C-27J Spartan cargo plane. Alenia and
Airbus
are competing to land that contract, which will be awarded in 2006.
If the Italian firm lands the C-27J assignment, the Alenia-Vought team's selection of the Charleston site could figure prominently in the ensuing site selection. The South Carolina tract, said Assereto, will now be among the front-runners for Alenia's C-27J plant.
Editor's note: To see Site Selection's original coverage in August 1992 of BMW's arrival in South Carolina, "BMW Drives into South Carolina with $300 Million Auto Plant," access (www.developmentalliance.com/docu/pdf/41240.pdf).