Countrywide
Bringing 7,500 Jobs
to Texas, Getting
$20M in Incentives
by JACK LYNE, Site Selection Executive Editor of Interactive Publishing
RICHARDSON, Texas — Aided by a big boost from the Texas Enterprise Fund, fast-growing Countrywide Financial (www.countrywide.com ) has announced plans to bring 7,500 jobs to the Lone Star State.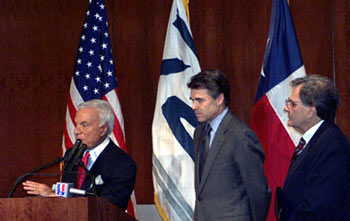 Countrywide Financial CEO Angelo Mozilo (left) fields questions in Richardson after announcing the company's huge expansion plan. Mozilo is pictured with (from left) Gov. Rick Perry and Richardson Mayor Gary Slagel.
Five thousand of those jobs are headed to
Richardson, Texas,
part of the Dallas Metroplex, where the nation's No. 1 mortgage lender already employs 6,000 workers.
Calabasas, Calif.-based Countrywide's gob of new jobs is part of a deal in which the company will receive $20 million in Enterprise Fund assistance. The 2003 session of Texas Legislature created that $295-million fund, which is designed to provide top state officials with rapidly accessible resources to quickly seal major site-selection deals.
"Propelled by the Texas Enterprise Fund, we will be spending $200 million in capital improvements and will create 7,500 jobs in Texas," Countrywide CEO Angelo Mozilo said during a Dec. 14th press conference at the performing arts and corporate presentations center in Galatyn Park Urban Center, where the company is expanding. "We operate in all 50 states and believe that Texas is far and away the best in which to do business."
Texas Gov. Rick Perry (R), who spearheaded the creation of the Enterprise Fund, described the deal as strong evidence of the program's merits.
"Today we are not only building upon the Enterprise Fund's tremendous record of creating jobs, we are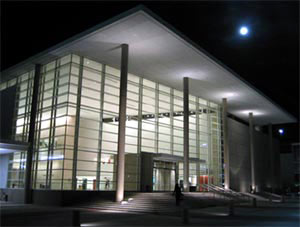 Countrywide's choice of Galatyn Park Urban Center will give it access to the park's Charles W. Eisemann Center for Performing Arts and Corporate Presentations (pictured).
unveiling its crowning jewel," Perry said. "This is the largest job creation announcement in the United States for the past four years, according to
Site Selection
magazine, and it's proof that the Enterprise Fund is a key reason Texas is leading the nation to economic recovery."
(Perry's job-creation figures were drawn from the March issues of
Site Selection
, which list the previous year's top 20 new project announcements in employment, capital investment and square footage.)
2,500 Hires in First Two Years
Countrywide is buying three existing office buildings in Galatyn Center from
Prudential Insurance Co.,
said Mozilo. The three facilities include about 500,000 sq. ft. (45,000 sq. m.) of space. Countrywide, he added, is also purchasing 16.7 acres (6.7 hectares) of abutting land from
Nortel
for its planned second-phase expansion.
The Richardson operation will provide national mortgage loan origination and information services support for Countrywide Home Loans.
The company will begin hiring this month, adding 2,500 jobs at the Richardson site over the next two years, Mozilo explained. Countrywide plans to add another 5,000 new positions over the next six years, he added.
The phase-two expansion will include using the recently acquired vacant acreage to build a new 500,000-sq.-ft. (45,000-sq.-m.) Richardson facility for another 2,500 employees. Countrywide says that it will add also another 1,500 employees in Fort Worth, where it already has a presence in Fossil Creek Business Park. The company has not yet projected where it will create the other 1,000 new jobs in Texas.
Mozilo characterized the doubling of the company's Metroplex work force as a key element in the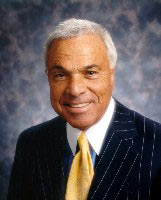 Texas will be "a launch point for [our] growth over this and the next decade," said Countrywide CEO Angelo Mozilo (pictured).
larger growth plan for Countrywide, which
Fortune
in September ranked as the seventh fastest-growing U.S. company.
"By 2008, we hope to increase our market share from about 15 percent to 30 percent and grow from 40,000 to more than 80,000 employees companywide," he said. "We expect to use Texas as a launch point for that growth over this and the next decade. And we will do everything we can to support the community because that's part of our corporate and employee culture."
The company is getting additional support from Texas beyond the Enterprise Fund's $20 million. The city of Richardson has agreed to provide Countrywide with $950,000 in tax breaks over the 10 years. The company says that it also expects to receive incentives from Collin County, the Collin County Community College District, Dallas County and the Dallas County Hospital District.
Perry Wants Fund Reauthorized
The revenues generated by Countrywide's large-scale expansion will help fund state priorities like education and health care, Perry noted.
"You can consider the Countrywide expansion to be 'Exhibit A' as to why we need to continue to invest state dollars in the Texas Enterprise Fund," the governor said in Richardson. "This kind of strategic investment will give Texas the competitive edge we need to ensure greater opportunity, prosperity and a brighter future for all of our people."
Countrywide's expansion whopper came as Perry was revving up his campaign to renew the Enterprise Fund. The governor has stated that he'll ask the 2005 session of the Texas Legislature to reauthorize the program for $300 million. In addition, Perry has said that he'll ask Lone Star State lawmakers to authorize another $300 million to create a new Emerging Technology Fund. That fund will be designed to lure
The $50 million in aid from the Texas Enterprise Fund was a major factor in Texas Instruments' decision in 2003 to build a new $3-billion chip fabrication plant in Richardson. The plant will employ as many as 1,000 workers at peak capacity. Pictured above at the project announcement are (from left) Texas Instruments Chairman, President and Chief Executive Tom Engibous, Sen. Kay Bailey Hutchison (at podium) and Lieutenant Governor David Dewhurst.
scientists and technology-focused companies to Texas, he explained.
Perry's plans have been attacked by political opponents, who've portrayed the incentives as giveaways to companies that would come to the state without assistance. The day before the Countrywide announcement, the governor challenged those contentions during an appearance in Houston.
"Those who doubt the effectiveness of the Enterprise Fund should consider this: While other states were losing jobs in 2003, Texas doubled its share of job creation announcements," Perry said.
Site Selection
called the Enterprise Fund "Texas' not-so-secret weapon" in the magazine's review of the state's No. 1 ranking in the November 2004 business climate rankings. (For further details, see "Texas Triumphs" at
www.siteselection.com/issues/2004/nov/p746/
.)
Fund Lured TI's $3-Billion Fab
With the Countrywide announcement, state officials say that the Lone Star State has now allocated more than $200 million from the Enterprise Fund, creating more than 22,000 new jobs and generating more than $6 billion in capital investments. Enterprise Funds can only be allocated if the governor, lieutenant governor and house speaker unanimously agree to support each specific project.
Texas Instruments
cited the state's $135 million in Enterprise Fund aid as a key factor in the company's decision to build a new $3-billion chip fabrication plant in Richardson. The plant will employ as many as 1,000 workers at peak capacity. (For further details, see "TI Will Build $3B, 1,000-Worker Texas Fab with $135M in State Aid" at
www.conway.com/ssinsider/incentive/ti0307.htm
.)
Adding the Emerging Technology Fund to Texas' business-attraction arsenal is a necessary step in sustaining the state's prosperity, Perry insisted in Houston.
"The Emerging Technology Fund will boost Texas' reputation as a global leader in the technology economy, usher in revolutionary developments in science and medicine, and bring the high-paying jobs of tomorrow to Texas," said the governor. "Together, these strategic investments will give Texas the competitive edge."