IBM, Partners
Creating 1,000+ Jobs with $2.7 Billion in
New York Projects
by JACK LYNE, Site Selection
Executive Editor of Interactive Publishing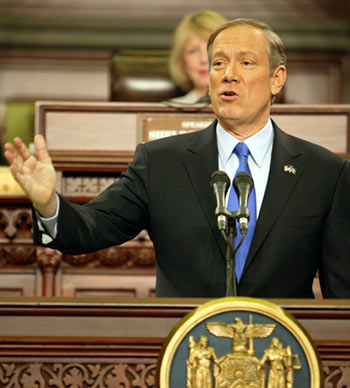 Gov. George Pataki (pictured during his 2005 State of the State address) said that three IBM-led projects "seal [the state's] role as an international powerhouse in high-technology research and economic development."
ALBANY, N.Y. — New York Gov. George Pataki (R), who has a penchant for unveiling big news in his State of the State speeches, had some corkers on tap for his 2005 address on Jan. 5th: The governor utilized that high-profile podium time to announce that IBM (www.ibm.com) and a group of fellow global giants are investing US$1.9 billion in a 300-millimeter wafer-chip manufacturing project in East Fishkill, N.Y. On top of that, Pataki in his 11th State of the State speech detailed two other major expansions. Together, they're bringing $825 million in investment to the Empire State. And again, IBM is the catalyst for both.
In the East Fishkill project, Armonk, N.Y.-headquartered "Big Blue" is teaming with six other firms: Advanced Micro Devices, Charter Semiconductor, Infineon Technologies, Samsung, Sony and Toshiba.
That team will build 525,000 sq. ft. (47,250 sq. m.) of space housing 750 newly minted jobs, Pataki said. The project will create another 250 non-direct positions in research projects related to the collaborative chip-making operation, he added.
"Over the last decade, IBM has repeatedly demonstrated its confidence in New York and our policies through a succession of landmark investments," Pataki said in Albany. "This investment represents one of the largest of its kind in the world, and it's happening right here in the Hudson Valley — or, as the nation and world are beginning to know it, Tech Valley [which also encompasses the Capital Region surrounding Albany]."
IBM Triggers $825 Million More in
Investment, Including ASML's R&D Center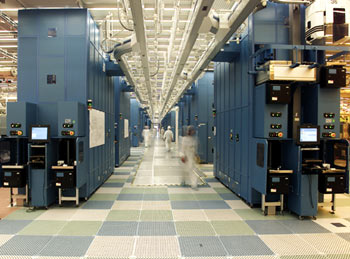 IBM and its six partner firms will add 525,000 sq. ft. (47,250 sq. m.) to IBM's existing 300-millimeter chip-making plant (pictured), a $2.5-billion facility completed in 2002.
But the governor was just getting warmed up in news-delivery mode.
"Here in Albany, we have yet another exciting announcement at our Center of Excellence in Nanoelectronics," Pataki said in opening the New York Legislature's 2005 session. "ASML, the world's leading chip equipment manufacturer, will invest over $325 million to create its first-ever R&D center outside of Europe." IBM is collaborating with Veldhoven, Netherlands-based ASML (
www.asml.com
) in funding the European company's center.
"But we are not done yet," Pataki continued. "There is more.
"At the Albany Center of Excellence," he explained, "IBM and a consortium of the largest nanoelectronics equipment suppliers will fund an unprecedented $450-million expansion of that center's R&D capabilities."
IBM will add a semiconductor production line at the Albany Center of Excellence as part of the expansion, company officials said. They didn't estimate the number of new jobs that would be created.
The companies that will be joining IBM in the nanoelectronics project haven't yet been announced. Industry analysts, however, expect that group to include
Applied Materials,
ASML and
Tokyo Electron.
"Together," Pataki said of the trio of expansions, "these projects will bring a staggering $2.7 billion in new private investment to Tech Valley, bringing jobs and optimism to communities throughout the region."
The three projects powered by IBM, he added, "seal [the state's] role as an international powerhouse in high-technology research and economic development. The smart investments that we have made in New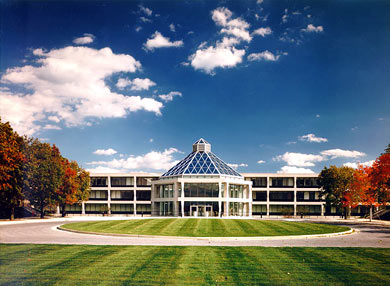 With its headquarters (pictured) in Armonk, N.Y., IBM was seriously thinking about leaving the Empire State when Pataki first took office in 1995. Photo: Pei Cobb Freed & Partners Architects
York's future as a high-tech leader are clearly paying off and producing major job-creating dividends for our economy."
New Fishkill Space Will
Make Chips for IBM Customers
New York's dividends from the IBM-triggered investments are certainly major. And they continue a long-running payoff for Pataki.
When Pataki first came to office in 1995, Big Blue was seriously considering packing up and leaving New York. One of his first phone calls was to then-IBM Chairman Lou Gerstner. We'll show you, Pataki insisted, that we're business-friendly.
The persistence paid off. IBM in 1997 announced three New York expansions that would create some 3,300 jobs. The biggest was a 1,800-employee computer chip plant that went to East Fishkill. "The plant was on its way to another state," Gerstner later allowed. "We even had the building picked out. These jobs could have gone anywhere."
Many of the specifics on IBM's 2005 investments, however, are still sketchy.
For certain, the collaborative project in East Fishkill will technically qualify as an expansion. The new space will be added to IBM's existing 300-millimeter chip-making plant. Big Blue completed that $2.5-billion facility in 2002.

ASML's R&D center will be located at the Nanoelectronics Center of Excellence (pictured) in Albany, where IBM is also investing $450 million to add a production line.
In fact, work on an addition to that East Fishkill plant has been underway since the spring of 2004. Prior to Pataki's Jan. 5th speech, though, IBM officials declined to describe the nature of the expansion.
IBM officials are projecting that the newly created space will go online in the second half of 2005 — a fast start-up that suggests that a sizable portion of expansion work has already been completed. The operation will begin work in 380,000 sq. ft. (34,200 sq. m.) of space and then expand to 525,000 sq. ft. (47,250 sq. m.) over two to three years, the company says.
The new addition will make chips for key IBM customers.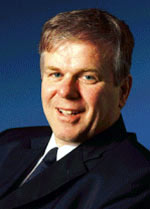 ASML's first non-European R&D center "exemplifies our commitment . . . to support and continuously improve our products and services as they are introduced into production facilities around the world," said Executive Vice President of Marketing and Technology Martin van den Brink (pictured).
The six companies joining Big Blue in the project are all customers; IBM also has process-technology research cooperation agreements with each. One product that the Fishkill operation's expected to work on is developing microprocessor chips for Sony's next-generation PlayStation, its popular video-game console.
It's still unclear, though, just how IBM and its partner firms will collaborate in the East Fishkill space and how much each company will invest in the expansion. Another unknown: whether IBM will own the project or whether it will be owned by some form of joint venture.
No Estimates Yet on ASML Staffing
At press time, many of the details of the two Albany projects were still being contractually finalized, state officials said.
The ASML-IBM partnership does already have a name — and it's a long one: the International Multiphase Partnership for Lithography Science and Engineering (IMPLSE). ASML is one of the leading companies in making lithography systems; those systems transfer chip circuit patterns onto silicon wafers.
ASML's R&D center will be located at the Nanoelectronics Center of Excellence at the State University of New York (SUNY) at Albany. Neither company offered any breakdown of how much each will invest in the facility. Some analysts are expecting IBM to bankroll the lion's share.
The initiative to establish the Center of Excellence at SUNY Albany picked up major momentum from Pataki's 2001 State of the State address. The governor in that speech urged the state to take an aggressive role in creating the Albany Center of Excellence. New York ultimately contributed $50 million.
The Nanoelectronics Center of Excellence now houses the first university-based 300-millimeter wafer prototype facility. Pataki used his 2004 State of the State address to spotlight SUNY Albany's initiative in creating the world's first college focused exclusively on nanotechnology. The College of Nanoscale Science and Engineering in December graduated its first two doctoral students.
"ASML is thankful to the commitments provided by Gov. Pataki and is very pleased for the opportunity to participate in the advanced 300-millimeter R&D programs of the Albany Center of Excellence," said Martin van den Brink, executive vice president of marketing and technology. "ASML believes that it is critical to build R&D alliances in order to support and continuously improve our products and services as they are introduced into production facilities around the world. This partnership with New York state
Progress in small degrees: Wanxue Zeng (left) and Spyridon Skordas in December were awarded the world's first Ph.D. degrees in nanoscience from SUNY Albany's College of Nanoscale Science and Engineering. The college is the first ever devoted to the study of nanotechnology.
exemplifies our commitment."
Company officials said that ASML's R&D location decision was directly related to IBM's $450-million investment in the Albany Center of Excellence. Van den Brink didn't estimate the size of ASML's work force in its new facility.
IBM's Investment in Albany Center
Aims to Set University Research Standard
IBM's expansion of the Albany Center's R&D capabilities will create the most advanced 300-millimeter research facility at any university in the world, state officials asserted. Scientists and university researchers will collaborate there for the first time ever to demonstrate and deploy nanotech chip technologies more than 3,100 times thinner than a human hair, they explained.
"Today's announcement is a strong testimony to the great value IBM and ASML place on their collaborative relationship with the state of New York and the Center of Excellence in Nanoelectronics," IBM Senior Vice President for Technology and Intellectual Property John E. Kelly III said of the two projects. "This investment is a great example of how Gov. Pataki is providing the model for government, industry and academia partnerships to enhance the business climate and bring new opportunities to the entire state."
IBM's pivotal involvement in the Albany Center projects is fitting. Big Blue played a major role in creating the nanoelectronics facility through its $100 million donation in 2001. That marked IBM's largest single contribution to a university in the company's history.
"But we view this as less a donation and more of an investment," Kelly explained in 2001.
For all parties, it seems, the investments are paying off.
Editor's note: For more on corporate expansion activity in the nano sector, check out Site Selection's first-ever Nanotechnology Industry Spotlight in the upcoming May 2005 issue.