SHERMAN, Texas — An idle plant purchased four years ago plus the Lone Star State's subsidies: That combo provided a potent one-two punch in persuading Tyson Foods to open a 1,600-employee plant in Sherman, Texas, 60 miles (96 kilometers) north of Dallas.
The world's largest processor and marketer of chicken, beef and pork will spend about US$100 million in renovating a currently closed meat plant, Tyson Foods Chairman and CEO John Tyson explained on Jan. 31st to a crowd gathered in the Sherman City Council chambers. He joined Texas Gov. Rick Perry (R) and Mayor Julie Ellis Starr in announcing the project, unveiling a large-scale version of the company's familiar red-and-orange logo.
The Sherman project will run on the fast track. That speed owes much to Tyson Foods' ownership of the 537,000-sq.-ft. (48,330-sq.-m.) industry-specific facility that will house the new plant. Originally built by Oscar Mayer, the renovated structure will go online in early 2006, John Tyson projected.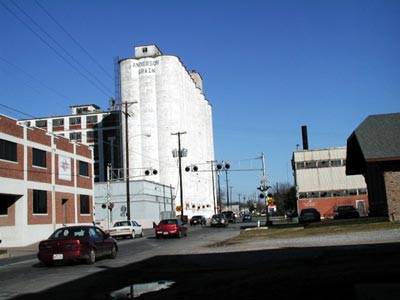 A city with some 36,000 residents, Sherman is located 60 miles (96 kilometers) north of Dallas. (Pictured: A closed grain operation in downtown Sherman).
"In Sherman, we had the infrastructure in place, and a time frame that would allow us to get started in the next week or two," he said.
Meat Made
in Massive Quantities
The Sherman plant will be one of Tyson's so-called case-ready operations. The facility will produce pre-packaged beef and pork cuts ready for retail grocers to place in their meat cases.
And the operation will make a
lot
of case-ready meat. At full capacity, the plant will be able to make more than six million pounds (2.7 million kilograms) of beef and pork a week.
John Tyson called the project "another monumental step in the evolution of our case-ready meats business." The Sherman plant, in fact, will be Tyson's largest case-ready facility.
The project site reflects Tyson's transition from its one-time status as primarily a poultry giant to today's ranking as the world's No. 1 beef processor as well.
Already part of the company's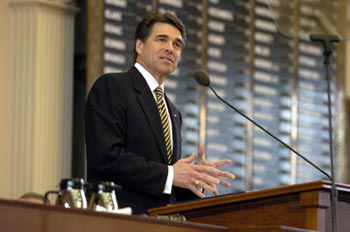 Texas Gov. Rick Perry (pictured during this year's State of the State address) is now pushing for a renewal of the Texas Enterprise Fund that he initially urged lawmakers to
create in 2003.
portfolio, the building that will house Tyson's new Texas operation was first opened by Mayer in 1974 to make bacon, hot dogs and sausage. Now part of
Kraft Foods,
that company closed the plant in 1998.
In 2000, the Sherman facility got new lease on life when it was purchased by beef-and-pork heavyweight IBP. IBP planned to renovate the structure with a $40-million-to-$60 million investment. A year later, though, those plans stalled out when Springdale, Ariz.-based Tyson Foods acquired the larger IBP for $4.7 billion. (The acquired assets are now known as
Tyson Fresh Meats
, headquartered in Dakota Dunes, S.D., which was IBP's home base.)
John Tyson in 2001 called the IBP buy "a once-in-a-lifetime opportunity. . . . It took my father 30 years to get to 25-percent market share in the poultry industry. For us to go any other way and [gain a similar beef and pork market share], would have taken 10, 15 or 20 years."
Enterprise Funds Fuel
Yet Another Major Expansion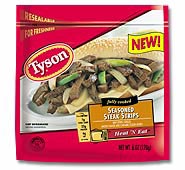 The Sherman plant will have the capacity to produce more than six million pounds (2.7 million kilograms) of beef and pork a week.
Tyson Foods' Sherman project will jumpstart the facility's economic development dream deferred. Renovation will include improving the building's refrigeration system and installing new processing and packaging equipment, said Tyson Foods' officials.
Between 300 and 500 workers will be involved in project construction. Tyson Foods' Engineering Department, which is directing the renovation, said that it will meet with local contractors to discuss their participation.
Texas' incentives clinched the location choice, said John Tyson. "The strong business climate put Texas in the running for this new operation, and the governor's Enterprise Fund closed the deal."
With Perry's strong backing, the 2003 session of Texas Legislature created the $295-million fund Texas Enterprise Fund (TEP). The TEP program provides top state officials with rapidly accessible resources to seal major site-selection deals.
"I am proud to announce that the state of Texas is investing $7 million from the Texas Enterprise Fund in this project," Perry said at the Sherman announcement. "This is the largest job creation announcement in the United States so far for 2005, and [it's] further proof that the Enterprise Fund is a key reason Texas is leading the nation to economic recovery.
"To make sure the 1,600 new workers have the skills needed to work safely and efficiently," the governor continued, "the state is also committing $3 million in work-force training funds from the Texas Work-Force Commission."
Additionally, the Sherman Economic Development Corp. is providing $3 million in support. Total incentives will likely go higher than $13 million. Grayson County, Grayson County College and the city are expected to offer tax abatements. Tyson Foods could also receive the Texas Department of Economic Development's (TDED) designation as a Texas Enterprise Project. That program awards subsidies to companies locating in high unemployment areas. Qualifying projects can receive up to $1.25 million in state sales and use tax refunds on purchases of machinery, equipment and building materials.
Oklahoma, said John Tyson, offered "significantly" higher incentives for the company to build a new plant in Durant (pictured), some 33 miles (53 kilometers) to the northeast. (Pictured at left: The Bryan County Court House in Durant.)
Okie Incentives Higher; Perry
Pushing TEP Reauthorization
The importance of Sherman's existing plant was underscored by one of John Tyson's observations while fielding press conference questions. Oklahoma, he said, offered project subsidies that were "significantly" higher to build a new plant in Durant, some 33 miles (53 kilometers) to the northeast.
The TEP, however, has been a major factor in a number of large job-generating projects. Countrywide Financial, for example, cited the incentives in explaining its December decision to bring 7,500 new jobs to the Lone Star State. (For more, see "Countrywide Bringing 7,500 Jobs to Texas, Getting $20M in Incentives.") TEP aid was also a major driver in Texas Instruments' 2003 decision to build a new $3-billion, 1,000- employee chip plant in Richardson, Texas. (For more, see "TI Will Build $3B, 1,000-Worker Texas Fab with $135M in State Aid.")
Since the creation of the TEP, the state has allocated more than $200 million in supporting projects that will create more than 24,000 jobs and $6 billion-plus in capital investments, TDED officials reported.
Perry is asking the Texas Legislature to reauthorize $300 million for the TEP. Perry also wants lawmakers to authorize another $300 million to create a new Emerging Technology Fund to attract scientists and technology-focused firms.
The Sherman plant will begin one production shift in early 2006, adding a second in early 2007, said Tyson Foods officials. Total employment will grow to about 1,600 over a two- to three-year period, they added.

Most of the plant's jobs will involve cutting, trimming and packaging product. Others positions will include box handling and storage, maintenance, quality assurance, and production management. The company expects to begin hiring for hourly production and maintenance positions a few months before operations start. Tyson Foods' officials didn't disclose the Sherman plant's wage scale.
Meat portions will be brought to Sherman for processing and packaging from other Tyson beef- and pork-packing facilities. The Texas plant's pork products will be marketed under the Tyson brand name, company officials said. The beef products will be sold in unbranded packaging. The Sherman operation's output will go to retail grocery outlets in Texas and nearby states.