OSHAWAA, Ontario, Canada — Canada's largest automaker got even bigger on March 2 when General Motors announced a CDN$2.5-billion reinvestment in GM's Canadian operations — the largest and most comprehensive automotive investment in the country's history.
General Motors of Canada Limited (GMCL) announced the details of the Beacon Project in Oshawa in a ceremony involving top company executives and leaders of the Ontario and federal governments of Canada.
GM Canada will proceed with major investments in new vehicle and engine technology at its plants in Oshawa, St. Catharines and the CAMI joint venture in Ingersoll, Ontario.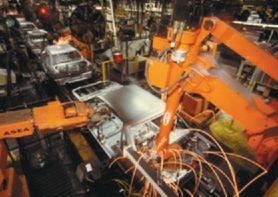 Canada's auto manufacturing industry is shifting into overdrive.
Oshawa Car Plant 1 will build the 2006 Chevrolet Impala and Chevrolet Monte Carlo, the CAMI Automotive joint venture will build the all-new 2006 Pontiac Torrent compact SUV, and GM Canada will introduce an all-new application of the fuel-efficient "displacement-on-demand" V-8 engine that will be built at its St. Catharines Powertrain plant.
The Beacon Project will increase the GMCL work force by 500 jobs and create a major initiative to enhance automotive innovation and commercial research and development in the automotive supply chain in Canada.
In partnership with the Ontario government, the company will create a new Automotive Centre of Excellence at the University of Ontario Institute of Technology to better link participating automotive companies, suppliers, universities, researchers and students in the area of automotive innovation and engineering.
"This $2.5-billion investment demonstrates GM's strong commitment to Canada's automobile industry," said Michael Grimaldi, president of GMCL. "GM's investment is looking to the present and the future as we focus on great new cars and trucks, flexible manufacturing, the environment and R&D."
Joseph Volpe, minister of citizenship and immigration and regional minister for Ontario, said, "With today's announcement, the federal government is demonstrating a commitment to do its part in keeping Canada at the forefront of new areas of environmental responsibility and innovation in the automotive sector."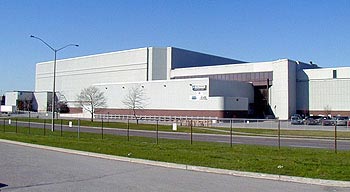 General Motors Oshawa Metal Centre in Ontario produces over 80,000 parts a day.
The project also came as welcome news for the Canadian Auto Workers union, as CAW president Buzz Hargrove said, "CAW members at General Motors have earned this new investment by continually meetings demands for high quality and productivity. The Beacon Project is not only good news for the Canadian auto industry, but also great news for our members, their families and their communities."
Among the changes that will take place as a result of the deal is the addition of "flex-manufacturing" capability at Oshawa Car Plant 2. This will involve new robotics and manufacturing systems enabling quick and efficient response to market demand for future models or platforms.
When implemented, the new systems will enable the plant to produce a multitude of vehicle models and platforms on the same assembly line.
GM Canada is already Canada's largest automaker, with eight assembly and components plants including Oshawa Car Plant 1, Oshawa Car Plant 2, Oshawa Truck Assembly Plant, Oshawa Metal Centre, St. Catharines Powertrain Operations, Windsor Transmission Plant, London Electromotive Division and CAMI Automotive Assembly Plant (a GM and Suzuki joint venture) in Ingersoll.
GM accounted for 40 percent of Canada's total vehicle production in 2004, totaling more than 1.05 million vehicles.
GM exported about $27 billion worth of vehicles and parts in 2004, and there are about 800 GM dealerships employing more than 34,000 people across Canada.
The company also purchased about $18 billion in Canadian auto parts and supplies in 2004. About $800 million of these orders went to suppliers in Quebec.
For more details on the project announced March 2, go to
www.gmcanada.com
.