Quick ... how many companies have decided to invest US$2.1 billion in a plant right next door to their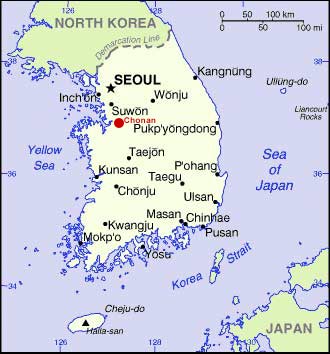 Samsung Electronics' new liquid crystal display plant will be built right next door to its complex in Chonan that the company has constructed with Sony Corp.
almost identical joint venture operation with a price tag of a mere $2 billion?
There's only one right answer:
Samsung Electronics
. The Korean conglomerate is building a new liquid crystal display plant in Tanjeong, Asan, South Chungchong Province, South Korea, on a 500- acre (202-hectare) spread not far from the complex in Chonan that the company has constructed with Sony Corp. That plant begins production in April.
Such numbers and speed are mere routine in the breakneck world of LCD production over the past 18 months.
The March 2004 issue of
Site Selection
reported cumulative ongoing new plant investment of some $18 billion at the time. That included projects from liquid crystal maker Merck in Germany, Sharp in Japan, glass maker Corning in Japan and Taiwan, and two huge projects from LG Philips LCD in Gumi and Paju, South Korea.
Of course, China is just as surely in the LCD mix as it is in all other industries. LG Philips has expanded in Nanjing, and a joint-venture plant from NEC Corp. and Chinese company SVA Group Co. is going up in Shanghai. Meanwhile, BOE Technology Co. is building a $1.2-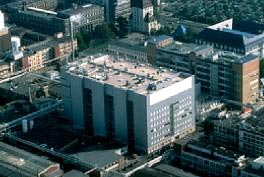 WHERE IT ALL BEGINS: Before any LCD panels can be made, you have to have the LCs. That's why German concern Merck is investing more than $314 million in a new plant that will triple its crystal capacity.
billion plant in Beijing
Samsung's new investment will produce 32-inch, 40-inch and 46-inch LCD panels for television sets. Slated to launch in late 2006, the plant's high price tag derives mostly from the cost of equipment and clean room facilities.
The industry certainly shows no signs of slowing. According to industry news source EE Times, Corning Technologies President Peter Volanakis told an investor conference in early February that the company expects the LCD glass market to grow by at least 40 percent 2005, and at a compound rate of 40 percent through 2007.
LCDs have potential uses in many types of monitors, but in just TVs alone, sales are expected to grow by some 80 percent in 2005.
Meanwhile, Samsung Electronics has its eggs in more
than the LCD basket. In remarks made in a lecture at Harvard University, Chang Gyu Hwang, Samsung's president and CEO, said he expected revenue from the company's semiconductor operations to grow by more than 25 percent in 2005, to some $20 billion, driven largely by another market sector entirely: mobile phones. That projected goal is part of an overall marketplace that could be worth as much as $250 billion.
Whether it's one, two or six new plants, that's a lot of chips to gamble with.