It was just two years ago that Philip Morris USA, a division of New York-based Altria Group Inc., moved its headquarters down to Virginia. Now the company is following through with a 450,000-sq.-ft. (41,805-sq.-m.), $300-million research and development center that will create 500 new jobs.
The new center, announced in early April, will be constructed in downtown Richmond, on land donated by the city to the Virginia BioTechnology Research Park, already home to some 50 companies in eight buildings, employing more than 1,350 in various scientific endeavors.
The company says this particular endeavor — its largest capital project since the 1980s — will enhance its commitment "toward scientific research, new product development and commercialization which might help address the harm caused by smoking."
In fact, the project will literally double the company's overall research space when it's completed in 2007. It will also nearly double the 575,000-sq.-ft (53,418-sq.-m.) footprint of the park. And it will add to the company's current Richmond-area payroll of 6,500, which includes the HQ and two processing plants.
A New Road for Tobacco
According to the Richmond Times-Dispatch, Richmond beat out no less than North Carolina's Research Triangle Park for the R&D project.
Helping the city accomplish that feat was a 40-percent, 10-year abatement on property taxes, plus an estimated $12 million in aid from the Commonwealth of Virginia. In addition, a tidy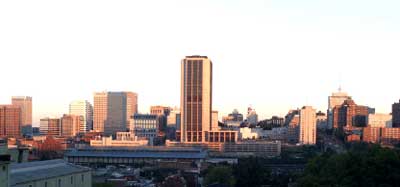 Downtown Richmond Virginia
$3 million in road improvement funds for work around the park has been penciled into the pending federal transportation bill now before the U.S. Congress.
But it's the company's interaction with another D.C. entity that fills in some of the cognitive distance between a cigarette company and a life sciences park. In March, Altria Group leaders publicly stated their support for new federal legislation that would regulate the tobacco industry. Among the provisions of two separate proposed measures are "authority for the FDA to mandate changes in the design of tobacco products to protect the public health, including authority to remove harmful ingredients and smoke constituents," and "authority to establish standards for products that could potentially reduce the harm caused by smoking."
"Innovation has helped Philip Morris USA become and remain the leading cigarette manufacturer," said John R. Nelson, Philip Morris USA's president of Operations and Technology, at the project announcement. "This is the next step in that effort, allowing us to develop new technologies that improve the products we currently manufacture and may lead to innovative new products."
The company's tobacco research has included new filters and study of how to eliminate certain chemicals from smokers' inhalations while still getting them the nicotine.
Fired Up
Philip Morris USA is certainly in a good position to invest in its operations, according to the April 20 first-quarter 2005 earnings report released by Altria Group, whose chairman, Louis C. Camilleri, led off by noting the division's increased retail share and overall income. That includes a 39.8-percent share for its Marlboro brand, now celebrating its 50th anniversary.
Altria's Philip Morris International division saw a 13.1-percent boost in income. And Altria's overall 2005 diluted earnings per share were projected to be up 8.3 percent.
While some of the growth is due to Kraft Foods, the company noted that its 12.5-percent increase in operating income, to some $4.2 billion, was "due primarily to increases" at the two cigarette divisions. In addition, earnings from continuing operations increased by 18.3 percent, to 2.6 billion, again driven in part by cigarette division earnings.
Among the favorable factors also affecting Altria Group's general disposition is a decrease in its effective tax rate. The decrease from 34.6 percent in the first quarter of 2004 to 33.1 percent in 2005 has been caused in part by the domestic manufacturers' deduction that is part of the American Jobs Creation Act signed into law by President George W. Bush in October 2004.
Overall litigation is an overriding burden on the business, but it's not the only challenge. And the research and technology center figures to be part of meeting the challenges. In comments to investors at the Morgan Stanley Global Consumer conference in November, Camilleri spoke to this point.
"The consumer products industry is currently facing difficult challenges, due in particular to fierce branded and generic competition, lack of pricing power, strength of the trade, increasing regulation and higher commodity costs," he said. "In our tobacco businesses, we have the added complexity of excise taxes and the increase in counterfeit products.
"Our operating companies are responding with effective strategies by focusing on breakthrough innovation, building brand equity and superior product quality to justify a premium price, reducing costs, investing in marketing infrastructure and R&D, speed to market and geographic expansion, price gap
management and securing fair tobacco excise taxes. These strategies are common to Kraft, Philip Morris USA and Philip Morris International."
City Likes HQs and Fabs
The 2003 HQ move from the Big Apple was projected to save the company some $60 million a year. And it was helped by around $28 million in aid from the Commonwealth. The Philip Morris HQ now resides in 250,000 sq. ft. (22,500 sq. m.) at the architecturally famous former HQ of Reynolds Metals, which was acquired by Alcoa in 2000 and subsequently closed. Philip Morris USA leased the property from the University of Richmond, which acquired it in 2001. But it was another school whose attributes contributed to the move this time around.
"This part of the city is already home to a growing research community made possible by the Biotech Park and Virginia Commonwealth University," said Nelson. "In fact, VCU's life sciences facilities and its medical school were important factors in selecting this location."
Meanwhile, metals continue to be part of the community's industrial backbone.
Ten days after the Philip Morris announcement, Scott Kelley, president and CEO of Service Center Metals and a former employee of Reynolds Metals, announced it would add 32 jobs, double its plant size to 154,000 sq. ft. (14,307 sq. m.) and triple its capacity with an investment of $28 million.
Other big projects under way in Richmond include the
1,200-job expansion
from Wachovia Securities, also headquartered in the city. The company's growth plan in the city, in the wake of its merger with Prudential Securities, was helped by $16 million in incentives.
Meanwhile,
Infineon's new $1-billion chip fab project
, which lay dormant for a while along with the industry, is also back on track. The 550,000 sq.-ft. (51,000 sq.-m.) fab was to begin production in early 2005, as Infineon continued to also operate its already existing 800,000 sq.-ft. (74,320 sq.-m.) plant. The expansion is adding 800 employees, increasing Infineon's work force to 2,550.