If you imagine multinational corporate investors pushing tacks into a map of Poland every time they've made a recent investment, you see why there appear to be no holes in Poland's economic vitality.
To illustrate, take any project as your leaping-off point:
In the same Polish city where General Motors' Opel unit is adding new production lines, as well as 1,000 jobs, Japanese filtration company NGK Ceramics is expanding its plant to the tune of more than US$192 million.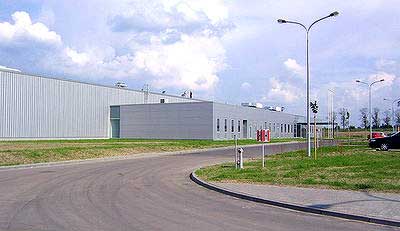 NGK Ceramics Polska plant in Gliwice
NGK's facility in Gliwice will exceed 1,000 employees by the end of 2005, says the company, noting that the complete expansion will be done by 2006. The specific product is a silicon carbide diesel particulate filter, primarily targeted to European OEMs, but exportable overseas as well.
NGK last invested in its Gliwice plant in 2003, with a $25-million expansion and 150 new employees, according to the Conway Data New Plant Database. Earlier this year, another automotive ceramics concern, Roca, invested $23 million and added 130 new employees.
NGK Ceramics just completed a $27-million, 65-employee expansion at its plant in Statesville-Mooresville, N.C.
Diesel engine development is rampant across Europe, from Magna Steyr's new joint venture with DaimlerChrysler in Austria to Toyota's expansion elsewhere in Poland to Ford's $318-million expansion in Dagenham, England, to support its high-tech diesel engine partnership with PSA Peugeot Citroen. At the Dagenham announcement, Ford of Britain Chairman Roger Putnam said, "One third of all new cars sold in Europe are powered by a diesel engine and this figure is expected to reach around 50 percent — approximately eight million units — by 2006."
But just as hot as that diesel engine is the
corporate investment climate in Poland
, which attracted some $4.2 billion in foreign direct investment (FDI) in 2003 and shows no signs of slowing. According to UNCTAD figures released in December 2004, out of total 2004 Central and Eastern Europe FDI of some $36.5 billion, Poland garnered some $5.2 billion, trailing only Russia among the 19 countries in the region.
More Than Just Four Wheels
Bolstered by a corporate tax rate drop from 27 percent to 19 percent in 2004, Poland has been a leader among leaders in the European automotive sector, as Eastern Europe continues to draw the lion's share of new facilities and expansions. In fact, automotive investments in the country in 2004 made up a full 9 percent of all FDI, totaling some $703 million in cumulative investment.
But lest the corporate onlooker think it's all on axles in Poland, he need only look to the April announcement by California-based HP, which will invest $50 million over the next five years in a business process outsourcing center in Wroclaw, Poland.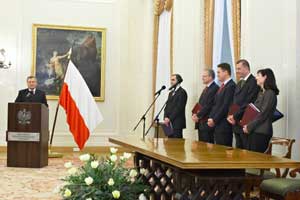 15 April — from the right, Malgorzata Stachowcz, then Rafal Dutkiewicz, Andrzej Dopierala, Jacek Piechota, speaker, and on the left Aleksander Kwasniewski (President of Poland)
Like NGK, HP too will employ approximately 1,000 people, who will provide financial and accounting services to companies with pan-European operations. HP gave siting credit to the city's central European location as well as its well-developed IT infrastructure.
Wroclaw in 2004 was the beneficiary of at least two other notable corporate investments: a 60-employee, 215,000-sq.-ft. (19,974-sq.-m.) logistics facility from Frans Maas Polska and a 1,000-employee, $157-million new plant from Whirlpool.
In Krakow, Motorola's Global Software Group is adding 200 engineers after just adding 200 last year, bringing total employment at the seven-year-old facility to some 700 individuals. The Krakow center is one of 20 operated by the company worldwide, which employ some 5,000 people.
As it happens, that is the total number of Polish citizens employed by General Electric since it established operations in the country in 1992. Polish engineering expertise is in high demand in hard products too. The General Electric Engineering Design Center, established by GE's Transportation-Aircraft Engine unit and the Institute of Aviation in Warsaw in 2000, has just announced it will hire 30 more engineers, bringing its total employment to 200.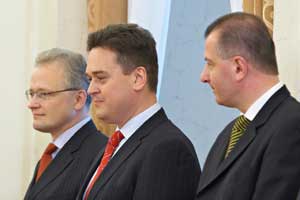 from the right — Rafal Dutkiewicz (President of Wroclaw), Andrzej Dopierala (President of HP Polska), Jacek Piechota (Minister of Economics)
"Thanks to the Warsaw Institute of Aviation — the premier research facility in Poland — GE was able to expand its global network of engineering centers in a country that has jet engine experience in both academic and industry settings," said Richard L. Stanley, vice president and general manager, engineering, GE Transportation-Aircraft Engines, in early May. "The Institute is well known for its expertise in turbo machinery design, which is a perfect complement for our business. The EDC team has developed its technical skills in the most complex areas of jet engine design, including disks, turbine blades, airfoils and combustors. GE's alliance with the Institute provides a pipeline of engineering and leadership talent who are already skilled in jet engine design."
GE has invested approximately $50 million in the center since opening it in 1998. One of its prize products is a combustor-nozzle-difuser subsystem for the GEnx, the next-generation aircraft engine that will power aircraft from global archrivals Boeing and Airbus when it's installed in the former's 787 Dreamliner and the latter's A350.
The GE facility is the beneficiary of graduates of two Polish universities with aerospace departments, in Warsaw and in Rzeszow. That expertise is also mined by Pratt & Whitney parent company United Technologies, which pursues R&D in those two cities.
GE has invested some $400 million in the country since 1992. The company's Polish real estate portfolio includes consumer and industrial manufacturing sites in Klodzko, Bielsko-Biala and Lodz, and an Interlogix research center in Gdansk. In addition, a maintenance and repair joint venture with Poland's national airline LOT operates out of Frederick Chopin Airport in Warsaw.
Revealing Regional Facts and Figures
Those UNCTAD FDI totals reveal plenty about what's happening in Poland. For instance, U.S. FDI is not the leader. France is, with 20.1 percent of the total, or some $1.58 billion in 2004.
Curiously, in its 2004 list of FDI by country of origin, the Polish Information & Foreign Investment Agency goes out of its way to note that Russia is last, having subtracted $800 million from the Polish economy. But that makes sense for a country that led the region with $10 billion in FDI.
Another curious stat: While Poland grabbed 14 percent of FDI in 2004 and the Czech Republic 13 percent, Slovakia, at 4 percent, was doubled up by Romania, with 8 percent, with Hungary's 6 percent right in between them.
Among the 2004 FDI in Poland, 51 percent of the projects were greenfield,up from 37 percent in 2003. Manufacturing constituted some $3.25 billion of total 2004 investments, or 41 percent of all foreign capital inflows.
And while Asia tussles with Eastern Europe as the emerging economy of choice for corporate investors, Asian countries themselves are fancying Eastern European projects. In 2004, Korean companies invested $202 million in Poland, and Japanese companies invested $108 million.
For more on corporate investment in Eastern Europe, read "World Reports" from the May 2005 issue of Site Selection. And don't miss the Russia Spotlight in the magazine's July 2005 issue.