One deal negotiation is done. Another has just begun.
European Aeronautic Defence and Space Co.'s EADS North America division announced on June 22 that it would site its EADS KC-330 advanced tanker production facility at Brookley Industrial Complex in Mobile, Ala. Already home to a support center for EADS aircraft used by the U.S. Coast Guard, the metro beat out three other Southeast U.S. finalists sites in Melbourne, Fla; North Charleston, S.C.; and Kiln, Miss.
"We were extremely impressed by the winning proposal, and by the enthusiastic support from the city of Mobile, the Mobile Bay region, the state of Alabama, and its U.S. Congressional delegation," said Ralph D. Crosby, Jr., chairman and CEO of EADS North America. "The selection of Mobile also serves the interests of neighboring Florida and Mississippi, which will contribute significantly to our employment base at the facility."
EADS required a 9,000-ft. (2,743-m.) runway, space for a 1.5-million-sq.-ft. (139,350-sq.-m.) complex, an experienced work force and access to both a deep-water port and a university with a strong aerospace engineering program. The selection process was managed by The Staubach Company, and was significantly accelerated late in the game, with one local finalist having a mere eight days from the issuing of the RFP to delivery of the final package to its state counterparts for final review before submittal.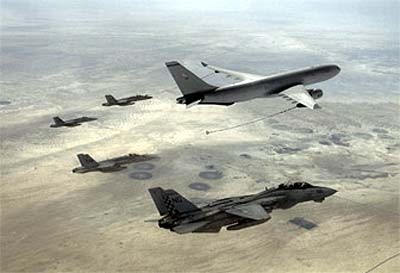 The KC-330's flexibility is shown in this image depicting the advanced tanker servicing U.S. Navy F/A-18s with its underwing hose and drogue pods, while an F-14 waits to be topped off. (photo: EADS)
Brookley encompasses more than 4.5 million sq. ft. (418,050 sq. m.) of industrial space and includes the Mobile Downtown Airport, which is equipped with two large runways. And the Alabama State Port Authority's Choctaw Point Container Terminal and Intermodal Yard is directly adjacent to the Brookley site, providing the deepwater port access the company craved. In fact, $80 million in state support for a new container port to be built by the Alabama State Port Authority was finally approved by the state legislature in its session's final hours in May.
First and foremost, an engineering site will be launched at Brookley in 2006. And that operation will be the source of some consolation to the runners-up.
"I wish to thank Florida, Mississippi and South Carolina for supporting our efforts," said Crosby. "I am pleased to announce that EADS will continue our relationship with these great states through the establishment of a five year, university-level cooperative/internship program conducted at the Airbus Engineering Center in Mobile. This unique program will provide selected students from each state the opportunity to work in the Center and gain valuable experience for future careers in aerospace engineering."
Each state will receive a $100,000 grant, disbursed over the five-year program, to support their engineering interns at the Center.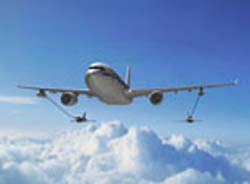 EADS North America's rumored partnership with Northrop Grumman would follow a pattern set earlier this year when EADS was declared the preferred bidder for Britain's Strategic Tanker Aircraft program. For that effort, EADS has teamed up with Cobham, Rolls-Royce, Thales and VT Group, who together form AirTanker. (photo: EADS)
Non-Stop to D.C.
Pleasing the non-suitors will now become paramount for EADS.
The kind of across-the-board legislative support EADS found in Alabama is now just what EADS is looking for on the national stage, as the White House and Congress have been involved in internal debate and external debate with Europe about their relative subsidization of aerospace companies EADS (Airbus) and Boeing. U.S. Trade Rep. Rob Portman officially brought a case against the EU regarding its Airbus subsidies to the World Trade Organization in May.
The tanker deal was originally Boeing's to lose, before a procurement scandal caused Congress to strike from its 2004 defense reauthorization bill the pending lease or purchase of 100 Boeing 767s to use as tankers.
Now the Air Force is poised to re-open the competition. And many feel it's still Boeing's to lose.
But if they're looking for national-level support, EADS officials can start with Alabama congressmen, three of whom were quoted in the project announcement.
"Modernization of the U.S. Air Force's aging tanker fleet is vital to America's defense and homeland security, and I am proud that Alabama is positioned to play a role as the future home of the KC-330 facility," said U.S. Senator Richard Shelby. "Our country's military strength relies on a competitive industrial base, and I fully support an open and fair competition in the Defense Department's selection of the Air Force's next tanker aircraft."
The company's case for U.S.-made content may be bolstered by a separate development: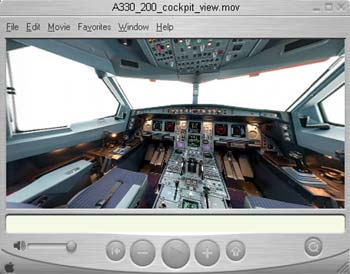 Click on the image above to take a tour of the A330 cockpit. (Requires Apple QuickTime media player) For complete background information on the entire A330 program, go to www.usatanker.com. (photo: EADS)
According to reports in May in
The Wall Street Journal
, the company has reached an agreement on tanker assembly with Northrop Grumman Corp. Northrop Grumman just expanded its ship systems site in Pascagoula, Miss., a stone's throw down I-10 or along the Intercoastal Waterway from Mobile.
The Big If
So, like the recent Bombardier regional jet plant in the Montreal-area community of Mirabel, EADS in Mobile is conditional on the receipt of orders — or, in this case, one big order.
Depending on the size and pace of that order, EADS-North America says the total facility investment could reach $600 million, and direct employment levels could be as high as 1,000 workers, including a mix of structure mechanics, electronic and systems specialists, engineers, quality assurance personnel and management.
Financial incentives that were part of the deal were not released. But certainly some big numbers were tossed around during the site selection, as were some big supporting projects. According to minutes from the May 18, 2005, meeting of the Melbourne Airport Authority, one of the finalist sites, funding had already been committed to a new roll-on roll-off facility that was going to be used to receive large parts via ship through Port Canaveral. And in fact, according to the EADS announcement, the presence of a ro-ro facility a mere 2,000 feet (610 m.) from the proposed assembly site was a real feather in the cap for Brookley.
But the finalists don't have to feel that the frenzy was in vain. According to an interview with EADS-North America's Crosby recently published in
The Mobile Register
, all four sites are in the running for a second plant, a cargo plane assembly site that would be operated by EADS and Raytheon, should they win a U.S. Army contract expected to be awarded in late 2005.
Let the dealing begin.

Editor's Note: For Site Selection's complete coverage of the EADS site selection process, read our initial story from the search announcement, our special report from Prof. Darryl Jenkins that tabbed Brookley as a strong contender and the Southeast States Regional Review in the forthcoming July 2005 issue of Site Selection, which includes a look at all four finalist sites.