Until last week, the biggest Toyota news in Woodstock, Ontario, was the opening of a new dealership in May. But behind the scenes for the past six months — and maybe longer — a mega-deal was brewing.
Rumors had been flying for over a year that Toyota Motor Manufacturing would add to its usual menu of plant expansions with at least one new plant in North America. But the seeds for its latest Canadian expansion — a 1,300-employee, $650-million investment in Woodstock, Ontario — were germinating long ago. Witness this exchange in a January 2004 Site Selection interview with Dennis Cuneo, senior vice president, Toyota Motor North America:
Site Selection: While the Big Three have pulled back or pulled out of expansion plans in Canada, Toyota has gone full speed ahead with the Lexus production expansion in Cambridge. Describe the positive changes you've seen in the Canadian business climate during your tenure.
Cuneo: For our operation in Cambridge, it's been a very positive atmosphere. That's what's led to the expansion. We've had a good working relationship with the provincial and federal governments. The plant up there is very efficient, produces very high quality, and for us it's been a very good enterprise. Why do you think the Big Three are pulling out of Canada?
Site Selection: When Chrysler backed off the Windsor project, it seemed like, to a lot of people, Canada was slow to even dabble in the incentives game.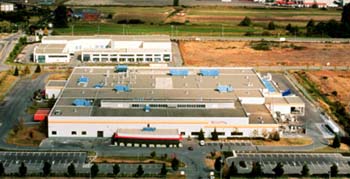 A frequently overlooked component of Toyota's North American manufacturing footprint, Canadian Autoparts Toyota, Inc. (CAPTIN), in Delta, B.C., produces 22 different aluminum wheel types for Toyota's global models. The company's US$31.6-million, 30-employee expansion is its sixth since incorporating in 1983, and follows on an $8.2-million investment exactly two years ago.
Cuneo
: Yes, in general, the Canadian government hasn't kept up with the States in terms of incentives. Incentives are an issue. But you know, they're one issue in site selection. We don't think they're the driving issue. You have to look at your overall operating costs over a period of years.
That was well before Canada and Ontario decidedly reversed their previous stance and offered up generous incentives that prodded both GM and Ford to announce major plant expansions in the past year, investments valued at $2 billion and $818 million, respectively.
But even though Ontario is the major automotive base for Canada, it's not the only province seeing Toyota investment. Canadian Autoparts Toyota (CAPTIN), an aluminum wheel manufacturing affiliate established in Delta, B.C. since 1983, will be expanding for the sixth time in its history with a US$31.6-million investment. The plant, which saw an $8 million expansion just two years ago, will now raise its capacity by 17 percent to 1.68 million wheels per year, made in 22 different varieties for Toyota car models.
CAPTIN's growth will entail 30 new jobs added to its current payroll of 230, bringing Toyota's total Canadian manufacturing employment to nearly around 5,600.
RAV Reviews
The new plant in Woodstock will manufacture 100,000 RAV 4 and Scion sport utility vehicles when it opens in 2008. "Twenty years ago, Toyota management made two profound decisions," said Katsuaki Watanabe, newly named president of Toyota Motor Corp. (TMC), via videotape broadcast during the announcement. "We decided to make a sweeping commitment to manufacturing in North America. And we decided that Canada would be a core part of that commitment."
"This location allows us to capitalize on our outstanding operation 40 kilometers [25 miles] away in Cambridge," added Atsushi Niimi, the former president of Toyota Motor Manufacturing North America (TMMNA) who was just named senior managing director of TMC. "Its proximity to suppliers on both sides

The forthcoming new assembly plant in Woodstock is only 20 minutes from Toyota's high-ranked plant in Cambridge (above). Operations executives expect both complexes to benefit from such proximity.
of the border will benefit both countries and it will mean new opportunities for those suppliers. Jobs will be created across North America."
Ontarians can identify with Kentuckians in recognizing the incremental value a Toyota plant brings to a territory's industrial development portfolio. In fact, the carmaker's Cambridge facility — the only plant outside Japan that makes vehicles for Lexus — opened in 1988, the same year as Toyota's facility in Georgetown, Ky. Since that time, the Cambridge plant, which also makes Corollas and the Matrix crossover SUV, has seen its annual capacity grow from 50,000 vehicles to 288,000 vehicles in 2004. Its footprint has grown to 3 million sq. ft. (280,000 sq. m.) Some reports have suggested that the new plant will share administrative staff with the Cambridge operation.
As it happens, the Woodstock site will also be the first non-Japanese manufacturing site for a model: the RAV4, currently assembled at two different Japanese plants.
"Today's announcement is truly a milestone," said Ray Tanguay, president of Toyota Motor Manufacturing Canada, and recently named a TMC managing officer. "It is recognition of almost 17 years of manufacturing success in Cambridge, Ontario, and opens the page to a whole new chapter for Toyota in Canada."
Toyota joins a community that is already home to the CAMI joint venture, and where 25 percent of the labor force is employed in manufacturing. In March, CAMI, a joint venture from Suzuki and GM, announced its own US$402-million investment that will result in 400 new jobs at its Ingersoll plant, just to the southwest of Woodstock.
Toyota Not the Only One Shopping
The greenfield assembly plant — Canada's first in 20 years, and 24th overall — will be constructed on a 1,000-acre (400-hectare) site, a parcel two-and-a-half times bigger than the one that's home to the Cambridge facility. Which is one major clue to the automaker's new project planning strategy: creating ample room for supplier operations.
Helping it along will be the equivalents of US$44.2 million from the Government of
Canada and US$56.3 million from the Government of Ontario. According to a release from the national government, Toyota looked for help with the project following a January 19 meeting in Tokyo between Fujio Cho, president of TMC, Canadian Prime Minister Paul Martin and Canadian Minister of Industry David Emerson.
Also helping the assembly project along has been some creative assembly of land. First, the parcel, which is currently part of Blandford Blenheim Township, will be amalgamated into the City of Woodstock by this fall. But First Summit, owner of the 100-acre (40-hectare) Blandford Square Mall, didn't like the offer it got and has threatened to sue if Oxford County "expropriates." According to published reports in the Canadian press, First Summit wanted at least CA$12 million, but initially was offered a mere CA$2 million. The London Free Press reports that "Joe Chetti, owner of First Summit, has said he paid more than $14 million for the property in 2003. But land registry documents show it sold in 2002 for $1.35 million." A July 6 report by the newspaper quoted Chetti as saying he wouldn't settle for less than a $15-million offer recently made for the property by Toronto real estate firm Retrocom, but Retrocom officials said they stopped talking to Chetti well before the possible expropriation loomed: "We never got very far in that process," an unnamed Retrocom official told the paper. "Every time we zigged, he zagged. He is not someone we were able to deal with."
Oxford County officials are hoping for smoother navigation. The latest counter-offer from First Summit would allow Chetti's company to keep the mall, but grant some 20 acres (8 hectares) to the county, as well as grant Toyota access to the plant through mall property. At this writing, negotiations continue.
Unprecedented Momentum
An April 2005 presentation from Industry Canada reports that Canada's automotive manufacturing sector comprises 13 percent of the country's entire GDP, and 17 percent of total NAFTA automotive output. And among several promising trends, one stands out: Automotive industry investment in Canada has grown at an average annual rate of 5.2 percent since 1992.
Also growing is the list of suppliers, currently hovering at around 900 plants, as well as the rate of exports. Currently some 84 percent of Canada-built vehicles are exported, allowing the country to maintain a nearly US$19-billion auto trade surplus with the U.S.
Helping the country's plant portfolio achieve that status are such variables as superior productivity (6.2 percent better than U.S. plants, according to the 2004 Harbour Report), strong R&D and training support, and one more key factor: nationalized healthcare. According to the 2004 KPMG Competitive Alternatives G-7 Edition, statutory and employer-sponsored benefits equal 32 percent of wages in the U.S. but only 29 percent in Canada, a 9.4-percent advantage. Altogether, Canada holds an 8.2-percent advantage in costs over the U.S. in precision manufacturing and a 6.4-percent advantage when it comes to auto parts manufacturing.
Finally, the country's long-established commitment to R&D is further backed by the automotive strategy proffered in October 2004 by The Canadian Automotive Partnership Council (
CAPC
), a coalition of OEMs and other industry leaders looking to give some direction in making Canada a preferred destination for industry investment.
One area in which Canada and Toyota seem to have mutually compatible goals is the development of hybrid and other alternative technologies in the interest of emissions and efficiency improvements. Toyota has stated that such developments are key to reaching its global marketplace goals. Meanwhile, in Canada, the federal government and the automotive industry recently reached a voluntary agreement aimed at reducing vehicle greenhouse gas emissions by 5.3 megatonnes by 2010.
As it happens, the co-chair of CAPC's Strategic Vision Committee was none other than TMMC President Ray Tanguay, who last fall pronounced himself pleased with the coalition's plans.
"Certainly, as manufacturers we compete aggressively. Strong competition encourages innovation and growth," he said. "But when it comes to developing a plan that supports the industry, its employees and the communities in which we do business, each and every member of the CAPC organization has approached the process with a strong sense of collaboration."
That's a word Toyota team members can identify with, and one which they hope to see achieve concrete form — both internally and externally — in Oxford County. After all, promises the city slogan, in Woodstock "The Balance Is In Your Favor."
Judging from Toyota's current momentum in the global automotive marketplace, it's no wonder such a slogan sounded right at home.
Editor's Note: For a detailed look at the site selection process that resulted in the Woodstock project, including exclusive corporate interviews, read the September 2005 issue of
Site Selection.