South Korean steel and iron giant Pohang Steel Company (Posco) has signed a memorandum of understanding with India to build a US$12-billion steel manufacturing complex in the state of Orissa.
The late June announcement was followed by further news that the company found current port facilities in the chosen city of Paradip inadequate for its needs ... and would therefore invest another $400 million in developing a new port a few miles away.
To get an idea of the project's scale, the company's current annual steelmaking capacity is 28 million tons. The Orissa complex will add 12 million tons — or 43 percent — to that capacity, and do so with direct employment of 13,000.
"Construction of steelworks in India will be the cornerstone of POSCO's hundred-year blueprint," said Posco CEO Ku-Taek Lee at the company's Executive Meeting on June 28, according to a company press release, noting that the ground preparation process for the 4,085-acre (1,653-hectare) steelworks would commence in 2007 and Posco would complete the first unit by January 2008.
Full capacity will be reached in 2016. The 10-year goal was one of the conditions set on the project by state officials. Another was that Posco would be responsible for development of road, port and power infrastructure in the traditionally under-developed Indian state. Those infrastructure shortcomings were also noted in the candid Posco release, where Lee was described as admitting that "India has a very unpleasant climate and uncompetitive infrastructure such as railroads, road systems, and housing." Coking coal shortages could be another challenge.
But Posco sees the project as overwhelmingly positive for both its own fortunes and those of India. Lee also noted a historical connection between the company and its newfound home ... U.S. connotations notwithstanding:
"The fact that the Foundation Day of POSCO and that of the State of Orissa are both celebrated on April 1st is a good sign that we can become one and cooperate to lead this project to success," he said.
Do-It-Yourself City
Infrastructure development should pose little obstacle for a company that on July 4th announced the completion of its very own, 3.2-million-sq.-ft. (297,522-sq.-m.) liquefied natural gas (LNG) terminal at one of its home-country complexes in Gwangyang. That $300-million project was pursuant to an agreement Posco reached with Tangguh Consortium of Indonesia for the direct import of LNG last July 2004. In May 2005, the first LNG vessel was docked in Gwangyang LNG Terminal to unload LNG for a test operation. The company's Pohang and Gwangyang Works will now use LNG instead of petroleum for their power needs, not only reducing power costs, but helping the country meet carbon restrictions set by the United Nations Framework Convention on Climate Change.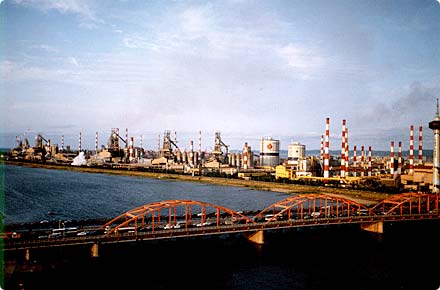 POSCO's original Pohang Works.


Image courtesy of POSCO.
As for the India project, talks were slowed by fears that Posco would export some of Orissa's valuable iron ore to its plants in other countries. Those fears have been somewhat eased by a stipulation that Posco will export only 30 percent of the 600 million tons it will be allowed to mine over the next 30 years.
In fact, due to blending concerns, some ore will be imported to India from Brazil, which happens to be one of the countries — along with China and Russia — where Posco is looking to build next. One of the chief motivations, as usual, is offsetting the high cost of raw materials. At a recent steel conference, AK Steel President and CEO James L. Wainscott said his company's raw material costs had risen by $500 million in 2004 and in 2005.
Other facets of the Posco project include full development of a township, industrial water pipeline, 2-3 mines, a captive power plant and about 186 miles (300 km.) of railway. The Indian government projects some $21 billion in revenue through excise and customs duties, service taxes and corporate income tax. The Orissa government's 30-year take will come to more than $5 billion, collected via sales tax/VAT, works contract tax, electricity duty, royalties, Orissa Infrastructure Tax and share of Central taxes.
Indirect employment related to the complex is projected to reach 35,000, while peak construction should employ an additional 18,000. Other industrial spinoff potential exists in such sectors as cement, metal machinery, refractory and petrochemical, as well as steel-intensive industries like automotive, construction and shipbuilding.
Project Happy
By way of both its value as a company and its project portfolio value, Posco is certainly throwing it weight around.
The company saw its gross profit more than double from $2.5 billion to $5.9 billion between 2002 and 2004, on 2004 sales of more than $19 billion. More impressive: Net profit during that span more than tripled, from $1 billion to $3.7 billion.
Although China — like Brazil and India — is seeking to place restrictions on foreign use of its ore, Posco is looking to complement its already sizable portfolio of industrial sites and offices there with a 10-million-tons-per-year plant.
Meanwhile, back home, Posco in May 2005 completed work on the $20-million American Petroleum Institute Steel Processing R&D Center in Indeok-dong, Pohang.
The month before, it completed work on its $43-million hydroforming plant for automotive steel plates. The plant will supply about 100,000 hydroformed parts to Renault Samsung Motors, GM DAEWOO Auto & Technology, Ssangyong Motor, and China's Chongqing Chicheng by the end of this year.
Another BRIC in the wall
Orissa is home to nearly 25 percent of India's iron ore, and has investments totaling some $40 billion lined up for launch. It also has half of the country's bauxite, which prompted Dubai Aluminum to announce a smelter project recently. (In fact, it is just that presence of aluminum ore that has prompted Posco's own import-export mixing plan.)
Other projects (around 40 in all) will be vying for their own share of resources, including the Indian government's very own plant at Rourkela, which also wants to expand capacity. However, government officials are looking into some of those projects, as several have been stalled on the launch pad for some time. "A high-level review undertaken by steel and mines minister Padmanav Behera found that four out of 17 proposed steel plants for which the MoUs were signed in 2003-05 did not take off at all," reports The Telegraph of Calcutta.
It was Orissa's infrastructure deficit that indefinitely postponed a major steel plant from Indian powerhouse
Tata Iron and Steel Co.
, owing to lack of rail way between the mines and the port, notes Indian national newspaper The Hindu. Around that same time, another aluminum project was also postponed, due to community protests over land takings.
But the announcements keep coming. Mittal Steel plans to open a 5-million-ton plant in Jharkhand. And the very same week as Posco's announcement, rival Tata announced its own $5.7-billion expansion plan that includes expansions at its plants in Jamshedpur, Orissa and Chhattisgarh. All in the quest to reach manufacturing capacity of 15 million tons by 2010.
One more event from that week was the unveiling by
World Steel Dynamics
of its world steel company rankings, based on 20 criteria that included profitability, operating costs and technological innovation. The winner? Tata. The runner-up? Posco.
At World Steel Dynamics' Steel Success Strategies conference, also that week, Lakshmi N. Mittal, chairman and CEO of Mittal Steel Co., echoed
comments made to Site Selection
by Alcoa Russia President William O'Rourke when he said that the biggest opportunity for growth in steel demand would come from the "BRIC" countries: Brazil, Russia, India and China.
"If the economies of these countries continue to develop at the anticipated growth rates," Mittal said, "demand growth for the steel industry has the potential to continue at around 3-5 percent over the foreseeable future."
In another conference session, Tridibesh Mukherjee, deputy managing director, Tata Iron & Steel, said Indian steel production could reach as high as 68 million tons by 2012, from 32 million tons in 2004.
Notably absent from an account of the proceedings' sessions was any comment from a Posco representative.
Too busy building.