Intel investing $3 billion in Arizona ...
is Israel next in line?
A leading candidate for Blockbuster of the Year is blooming in the U.S. desert southwest, as Intel broke ground on Tuesday for Fab 32, a US$3-billion, 1,000-job project on its Ocotillo campus in Chandler, Ariz. But Intel may be bidding for the even rarer title of Double Blockbuster, with another possible $4-billion, 2,000-job project looming in Kiryat Gat, Israel.
Pulling off that mega-double play has been done before: Witness Samsung's twin LCD giants in South Korea, valued at $2 billion and $2.1 billion, respectively, although one is a joint venture. (Cache this: Samsung is into chips too. In remarks made in a speech at Harvard earlier this year, Chang Gyu Hwang, Samsung's president and CEO, said he expected revenue from the company's semiconductor operations to grow by more than 25 percent in 2005, to some $20 billion.)
But Intel's multiple investment scenario would follow a pattern of building up campuses worldwide, be they in Oregon, Ireland, New Mexico or Israel.
First Things First
First, a look at the sure thing.
Get ready to add at least another 1 million sq. ft. (92,900 sq. m.) to the tens of millions in the company's portfolio. That's what they're already building on the company's Ocotillo campus in Chandler, even if CEO Paul Otellini's 2005 Congressional testimony that a U.S. site costs $1 billion more rings true. Approximately 1,000 new workers will fill it, and some 3,000 will be employed during its construction.
Production at the 300-mm. wafer factory is set to begin during the second half of 2007.
Intel Arizona Public Affairs Manager Jeanne Forbis tells Site Selection that that ground was due to be broken officially this week, although sewer line work was already under way. She says the project is in line to possibly receive some of the company's funds repatriated as a response to the 2004 American Job Creation Act, which allows repatriation of offshore earnings at a much-reduced tax rate.
"For Intel, manufacturing is a key competitive advantage that serves as the underpinning for our business and allows us to provide customers with leading-edge products in high volume," said Otellini at the announcement. "The unmatched scope and scale of our investments in manufacturing help Intel maintain industry leadership and drive innovation."
The size graduation to the 300-mm. standard allows semiconductor manufacturers to use 225 percent more surface area to make nearly two and a half times more chips, while simultaneously decreasing energy and water usage by 40 percent.
Fab 32 will be the company's sixth 300-mm. wafer facility. Four of them are in Oregon, Ireland and New Mexico, churning out the equivalent of eight 200-mm fabs. Others under construction in Arizona (Fab 12) and in Ireland (Fab 24-2) will come on line late this year and early next year, respectively. The upgrade of Fab 12 in Chandler is a $2-billion project. The Irish project was due to receive more than $120 million in grants from the Irish government, but the European Union disallowed the measure based on the lack of new job creation and technology transfer, and the reinforcement it would lend to the company's European dominance. Another planning application for Kildare is on the table, however.
Yes, No, Maybe?
The lack of job creation was one reason Israel recently rejected a grant request from Intel for an upgrade of its Fab 18 in the Kiryat Gat industrial zone. But the country may be getting its mega-project from Intel anyway, with that upgrade tossed in for good measure.
Reports from Israeli media and the country's Investment Promotion Center indicate that the company might be following its pattern of siting plants in pairs, and is indeed committed to building a new chip fab (Fab 28) on a 175-acre (71-hectare) parcel adjacent to its existing facility, despite the company's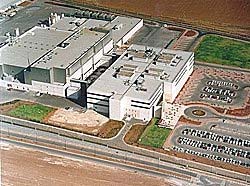 Fab 18 in the Kiryat Gat
initial public demurral on the topic. Prime Minister Sharon mentioned the promise of the plant (made by Intel Chairman Craig Barrett in a phone conversation) at the beginning of a July cabinet meeting, and again in a speech celebrating the establishment of Celcom in the city of Netanya.
According to those reports, the company would be in line, pending approval, to receive a $525-million grant from the Industrial Development Bank of Israel. Intel received a $580-million grant for its first fab, which was shown to generate more than $801 million in added value within the first six years. A viability study for the grant is expected to be complete by the end of the year — a pace a bit more methodical than the frequent rush to special legislation that takes place stateside.
That same investment promotion center recently rejected a grant request from Intel related to a $660-million upgrade at its existing Kiryat Gat plant. However, according to Israeli business news publication Globes, a promise to look again at that $158-million grant is part of the incentive package for the new plant.
Fab 18 opened in 1999, and employs 2,000 people. The city, founded in 1955, features a population of around 50,000 and the presence of Ben-Gurion University. While Intel broke ground on the fab in 1996, development work had been conducted in the country since the 1970s, in the company's first R&D foray outside the U.S. in Haifa. Such a legacy of confidence in intellectual property protection may be one factor in the prospective project's favor.
The company's other Israeli sites include design and development centers in Yakum and Petach Tikya, and the company's first non-U.S. wafer fab (Fab 8) in Jerusalem. All in all, some 5,400 people work at the company's Israel facilities.
For the initial Kiryat Gat fab, Intel funded $1 billion of the $1.6-billion project cost, with the government of Israel funding the rest. Representing the largest private-sector investment ever made in Israel, the complex includes a 96,878-sq.-ft. (9,000-sq.-m.) clean room. By contrast, the new Arizona facility includes plans for 184,000 sq. ft. (17,094 sq. m.) of clean room.
According to published reports and the Conway Data New Plant Database, other recent international investments by the company include increased R&D and other investments in Shanghai and Chengdu (Sichuan province), China, as well as a 100-person financial services operation in Costa Rica. According to published reports, India was also in the running for Fab 28. That country is seeing other new Intel investment however, with a $400-million test and assembly plant.
Business Climate Measures and Incentives Prove Worthwhile
That's the same sort of use envisioned for a side investment in the U.S. On the same day as the Chandler announcement, Intel announced that an inactive site in New Mexico would receive a $105-million investment in order to use it over the next two years for component testing for the company's entire factory network. The company will employ 300 at the facility during that period.
As chronicled in Site Selection's May 2001 issue, Intel made a
$2-billion expansion investment
in Rio Rancho, N.M., about five years ago. As it happened, that project too involved 1 million new sq. ft. (92,900 sq. m.), with a clean room space amounting to 135,000 sq. ft. (12,542 sq. m.). The investment was backed by a $2-billion industrial revenue bond from Sandoval County, payable over 20 years.
Among the chief criteria for that project were:
Proximity to a major airport and highways.
Adequate utility service, especially for power and water.
A large, flat parcel with no major geo-technical issues.
Access to a sizable labor pool with technical work-force ability.
An operating environment at the local level that encourages "capital-intensive" investments.
A permitting process that offers rapid cycle times and requirements aligned with uniform codes and standards ("fast-track" permitting).
A community that offers employees a low cost of living, affordable housing and continuing-education opportunities.
For international sites, economic and political stability came into play then as they do now. So do such factors as competitive cost and operating structure, and logistics infrastructure.
Tax changes made in both southwestern states were a strong incentive for the company. Oregon has done the same in recent months too, in hopes of luring the latest pot of gold. Approximately 15,500 people work at the company's seven campuses there, while 9,000 work for Intel in Arizona.
In May of this year, local county and city officials in Oregon approved property tax exemptions on Intel property in the state that amounted to a value of $25 billion.
Arizona, meanwhile, putting a significant dent in its future coffers, offered new legislation that same month that would offer companies significant state income tax savings if they made an investment of $1 billion or more in a new project, allowing them to calculate taxes based purely upon in-state sales. That's a measure ready-made for international players like Intel. And Arizona Gov. Janet Napolitano insisted in a letter to constituents that such measures hold just as much promise for other business as they do for the corporations who reap the immediate benefit.
"More people working in Arizona means these people will need homes to live in, restaurants to eat in, retail stores to shop in and schools for their children to attend," she wrote, citing an estimate that each Intel job creates 2.5 more jobs to support the growing community. She and company officials independently gave credit to the tax measure as a key factor that allowed Arizona to win the project.
According to an October 2004 report from the Center for Business Research at Arizona State University, Intel's current presence in Arizona has a $2.6 billion annual impact on the state's economy and supports 27,680 indirect Arizona jobs. Among the impact's components are approximately $50 million in taxes still paid each year by the company, $87.5 million in employee taxes and $276 million in goods and services purchased from Arizona-based businesses.
And according to an updated preliminary site development plan put before the Arizona community in April 2005, the future may be even brighter for Arizona. It includes the possibility — in addition to Fab 32 — of yet another fab along the west side of the company's property.