After just acquiring the majority stake in Brazilian company Companhia Siderúrgica de Tubarão (CST) in June, Luxembourg-based Arcelor will combine it with its Vega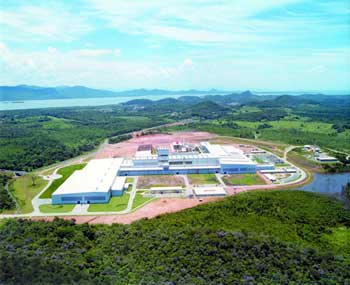 The Vega do Sul plant is a flat carbon steel cold rolling, pickling and galvanizing unit located at São Francisco do Sul in Brazil.

photo credit: André Kopsch, April 2004
do Sul and Belgo units to create Arcelor Brazil. The new company's birthday present will be US$4 billion in investment across the country over the next five years.
"This move consolidates our role as Latin America's leading steelmaker and generates new opportunities for all stakeholders," said Arcelor CEO Guy Dollé. "It is a strong symbol for Arcelor's massive, long term commitment to Brazil and a clear expression of our global growth strategy."
The strategy (like that of other metals companies) is to concentrate on regions with greatest development potential, namely the BRIC countries of Brazil, Russia, India and China. The Chinese gambit currently hinges on acquisition offers now being extended in that country.
CST, flat carbon steelmaker, and a leader in the slab market (semi-finished products for flat carbon steel production) with a market share of 20 percent, has invested in a hot rolling mill to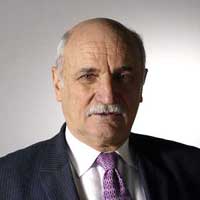 Guy Dollé, Chairman of the Management Board and CEO, Arcelor
supply Vega do Sul. Vega do Sul specializes in cold rolling, pickling and galvanization and is a major supplier to the Brazilian car manufacturing industry and household goods manufacturers. Belgo is the largest producer of long carbon steels in Latin America, specializing in particular in the production of drawn wires, rods and rolled steel products for the civil engineering and building sector.
Combined current production capacity of the new entity is now 11 million tons of steel, produced by 14,500 employees. That's a healthy chunk of Arcelor's 2004 total production of 48 million tons. But the company's South American revenues from South America represented only 7 percent of its total revenues, while Arcelor remained stuck on Europe for 77 percent of revenues and Asia wasn't even broken out of the pie chart yet.
As they say in the U.S. south, that's fixin' to change.
Going Forward
That percentage could change soon, as a series of investments begins to unfold.
Already under way at the always-growing CST complex in Vit¢ria on the coast are a new blast furnace, a converter and a continuous casting unit, as well as a coking plant in partnership with Belgo, that will take CST capacity to 7.5 million tons in 2007. By 2009, the company hopes to increase that capacity by another 20 percent just through efficiency improvements.
Other expansions include growing to 1.3 million tons at Vega do Sul, the galvanized and cold-rolled steel producer that started up in 2003 with a $450-million investment and currently employs 700. The company chose to make the greenfield investment in Sao Francisco do Sul port in Santa Catarina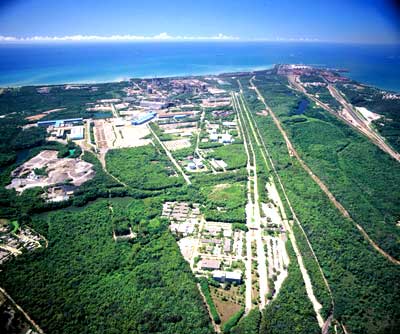 CST (Companhia Siderúrgica de Tubarão) is one of the world's most competitive producers of flat carbon steels.
because it could easily receive coiled hot-rolled strips from the new CST mill in Vitoria by sea, and it then could easily transport its end products to automotive plants by sea, rail and road.
Three facilities in the former Belgo unit could see expansions at three facilities in Monlevade and Juiz de Fore in Minas Gerais state and Vit¢ria that will bring their combined capacity to 6.3 million tons.
Finally, the company's Acesita facility in Timoteo produces silicon steel (sold to companies making engines, generators and transformers) and flat and long stainless steel. Overall, Arcelor has 25 sites in the country.
The steel ties between Luxembourg and Brazil go back a ways: Belgo was founded in 1921 by Brazilian businessmen in partnership with Arbed Group of Luxembourg. The Belgo unit alone is expected to see approximately $1 billion of the planned investment in both Brazil and Argentina, where Belgo acquired majority stake in Argentinian group Acindar in 2003. Acesita was founded in 1944 by three Brazilian engineers, based on the mining of an ore called itabrite. One of the company's two pig iron blast furnaces still is heated from charcoal from the forests of northern Minas Gerais, according to an Arcelor document.
Brazil produces nearly 33 million tons a year of steel, good enough for eighth place in the world. It has a 53-percent share of the Latin American steel production market. Arcelor, for one, says the country is "exceptionally attractive due to the size of its domestic market, its iron ore resources, its infrastructure and low production costs."
One Outpost of Many
Brazil has seen plenty of investment over the past year in its materials and resource-based economy, including a $214-million investment from Arcelor competitor Gerdau in Sao Paulo and a $1-billion
investment from CVRD/Chalco in Barcarena, Para. CVRD is a potential joint venture partner with Arcelor and Chinese concern Baosteel in the northern Brazilian state of Maranhao, on a $2.5-billion project that Dollé told Business News Americas was "on hold" due to currency exchange, taxes and other factors.
Meanwhile, Arcelor is not confining its facility growth to BRIC territory. In early July, it received $ in financing from the European Investment Bank for a new, 1-million-annual-ton Carinox steel mill in Charleroi, Belgium. The 400-job mill is under construction on the site of an existing hot strip mill of the UGINE & ALZ company. In a press release, the company said, "The new facility, directly connected to the hot strip mill, will provide an optimized industrial configuration, reduced transport costs and an outstanding competitive position at international level for the Charleroi site."
The company also stated that the project "solves three major handicaps of the flat stainless steel sector of the Arcelor Group: the number of production sites, their geographic dispersion and the unit size of its steel plants."
In eastern Europe, Arcelor's Steel Solutions & Services (A3S) unit has just opened phase two of an expansion in Poland (with phase three already in the works), a new steel service centre in Slovakia, a new panel line in Poland and a new profiling line in Hungary and two new distribution centers in Serbia and Bulgaria. As in South America, automotive and appliance making are at the heart of the company's growth strategy in Eastern Europe, along with construction.
Meanwhile, Arcelor division Skyline Steel is investing $17 million in a structural pipe production facility in Tishomingo County, Mississippi.