Blind Faith to Win ... Please.
The blows the multiple hurricanes have dealt to Chevron's downstream facility footprint in the Gulf of Mexico have done nothing to quell its thirst — and the nation's — for more upside from the upstream. Whether all starters finish in the money remains to be seen.
Chevron announced on Monday, Nov. 7, that it has begun construction of a floating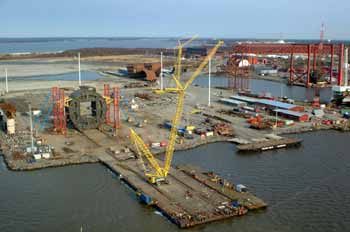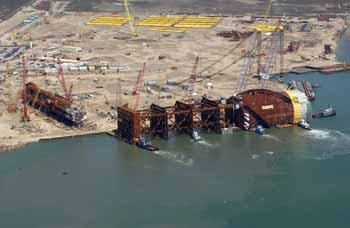 WIDE PLATFORM: Paris-based oil, gas and petrochemical engineering, construction and services firm Technip is fabricating the Tahiti facilityís hull and mooring systems at its yard in Pori, Finland (top), while the topside modules will be fabricated by Technipís Corpus Christi, Texas, subsidiary Gulf Marine Fabricators, whose south yard is pictured below.
production facility to be installed in the Tahiti Field which is expected to achieve first production by mid-2008. Phase One, at a cost of $1.8 billion, was approved in August by Tahiti joint venture partners Chevron, Statoil and Shell. The field, located in the deepwater U.S. Gulf of Mexico approximately 190 miles (306 km.) south of New Orleans, will be developed from two subsea drill centers producing to a floating production facility supported by a truss spar.
Tahiti is designed to have a daily production capacity of 125,000 barrels of crude oil and 70 million cubic feet of natural gas. The field is believed to hold 400 million to 500 million-barrels of oil-equivalent that are potentially recoverable. The entire project is anticipated to draw investment of $3.5 billion from Chevron, which owns a 58-percent working interest, Statoil (25 percent) and Shell (17 percent). Paris-based of oil, gas and petrochemical engineering, construction and services firm Technip is fabricating the facility's hull and mooring systems at its yard in Pori, Finland, while the topside modules will be fabricated by Technip's Corpus Christi subsidiary, Gulf Marine Fabricators.
"Tahiti is one of Chevron's top five projects, and it demonstrates our focus on investing in the development of world class energy supplies," said George Kirkland, Chevron Corporation's executive vice president, Upstream and Gas. Ray Wilcox, Chevron's North America Exploration and Production Company president, called the project "a key asset in our expanding deepwater portfolio."
Is There a Finish Line?
The Tahiti field is located in Green Canyon blocks 596, 597, 640 and 641, at some 4,200 ft. (1,280 m.) in depth. To get there, go due south from Knotty Head, then hang a left at "Holstein."
Indeed, the Outer Continental Shelf's exploration and mapping profile in the Gulf looks like a combination of the Daily Racing Form and "Battleship." In the area surrounding the Tahiti field are rig names like "Exacta Box," "Frontrunner," "Mighty Joe Young" and "Mad Dog." In betting parlance, it's a crowded field. But the oil and gas race is a lot longer than a sprint, and the winners are the ones that keep running.
While there are calls for diversifying the geographic diversity of the nation's energy portfolio, projects like this only reinforce the notion that geology trumps geography. After all, that's why there are 4,000 platforms in the region. They're administered by the
Minerals Management Service (MMS)
, part of the U.S. Dept. of the Interior, which oversees 1.76 billion acres of the Outer Continental Shelf.
A surprisingly small percentage of those 4,000 platforms was damaged by the recent hurricanes. According to an October report from the Dept. of the Interior, 108 facilities built according to older design standards were totally destroyed, and another 53 platforms were significantly damaged.
"Of all of the facilities constructed after the 1988 upgraded standards, only one platform was significantly damaged," said Secretary of the Interior Gale Norton, who spoke to the area's site congestion when she added, "We are currently working to determine whether that damage was a result of the storm itself or whether another facility collided with it."
Of more concern are numbers from the daily MMS report on "shut-in" oil and gas production in the wake of the hurricanes. As of Nov. 7, more than 24 percent of 819 manned platforms were evacuated. Since August 26, the cumulative shut-in oil production has been more than 80 million barrels, or 14.7 percent of the Gulf's yearly oil production of 547.5 million barrels. Shut-in gas production during that period has amounted to 11.5 percent of the Gulf's annual gas production.
"Earnings contributions from the former Unocal operations in the third quarter were more than offset by the adverse effects of Hurricanes Katrina and Rita and other storms in the Gulf of Mexico," said Chevron Chairman and CEO Dave O'Reilly during the company's Oct. 28 earnings call. "These storms reduced our crude oil and natural gas production in the third quarter by about 90,000 barrels of oil-equivalent per day. And our refinery in Pascagoula, Mississippi, had to be shut down on two separate occasions for a total of about 40 days."
Crowded or not, there are indeed more projects like this, especially when you're the largest leaseholder in all the Gulf: On Oct. 10, Chevron announced a $900-million investment in exploration of the Blind Faith field, in which it holds a 62.5-percent interest. Kerr-McGee holds the rest.
This field is in 7,000 ft. (2,134 m.) of water, but 30 miles (48 km.) closer to New Orleans, in blocks 695 and 696 of Mississippi Canyon. Blind Faith has a potential 100 million barrels of oil-equivalent hidden in its Miocene sands, at depths approaching 24,000 ft. (7,315 m.). Initial production, to begin in 2008, is expected to be approximately 30,000 barrels of oil per day and 30 million cubic feet of gas per day, but capacity will be 45,000 barrels and 45 million cu. ft., respectively. What's more, says the company, "the topsides can be upgraded to a capacity of 60,000 b/d and 150 mmcf/d to accommodate production from satellite discoveries or third-party tiebacks."
This facility's topsides will be fabricated by Houma, La.-based Gulf Island Fabrication. Williams will invest $177 million to extend two pipelines 37 miles (60 km.) each to service Blind Faith. As part of its agreement with Kerr-McGee and Chevron, Williams will also be able to move natural gas from the Blind Faith discovery through its Mobile Bay, Ala., processing plant and its Transco and Gulfstream interstate pipeline systems. The company says recovered natural gas liquids from Blind Faith also could be fractionated at Williams' facilities in Baton Rouge or Paradis, La.
Meanwhile, ATP's Gomez project is back on track in the same vicinity, after repairs to its Ocean Voyager drilling rig took two months. Production from that field, via a 27-mile (43-km.) pipeline, is expected to begin by the end of the year. And over in blocks 679 and 680, one of Kerr-McGee's other interests, Constitution, has just seen its 15,000-ton spar hull installed, with production projected to begin by mid-2006.
Downstream Diversification
As the oil and gas game (some call it an end game) proceeds, companies like Chevron are still making moves in the next big arena: liquefied natural gas (LNG). And they're making those moves in the heart of the Gulf as well.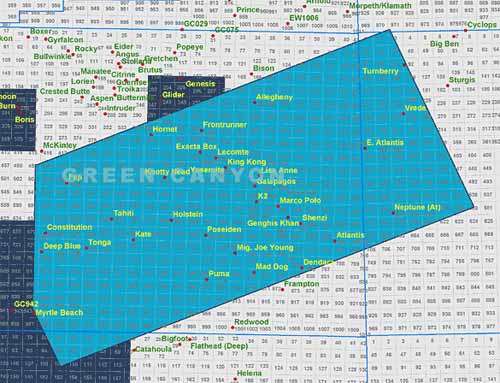 PLACE YOUR BETS: The grid and nomenclature of oil and gas development in the Gulf of Mexico resembles a cross between Thoroughbred racing and "Battleship." Chevron's Tahiti project is taking place in the middle of this swath of Green Canyon, some 190 miles (306 km.) south of New Orleans. Schematic courtesy of Veritas DGC Inc.
On the same day it announced its Tahiti project, Chevron announced it had secured pipeline shipping capacity with a Kinder Morgan Energy Partners subsidiary to move approximately half of the natural gas from its Sabine Pass LNG terminal in Cameron Parish, La. — aka ground zero for Hurricane Rita. The entire new pipeline system will provide access to Chevron's Sabine and Bridgeline pipelines, which connect to Henry Hub. The total system's capacity when built out will be 3.2 billion-cubic-feet-per-day (bcf/d).
"This pipeline, combined with our capacity in the Sabine Pass LNG terminal, will allow us the unique opportunity to flexibly link all key consuming markets east of the Rockies with Chevron's LNG projects," said Randy Curry, president of Chevron Natural Gas.
"This agreement is key to advancing Chevron's effort to provide the U.S. market with new sources of natural gas, and is a significant step forward in our overall strategy of building complete gas value chains," said John Gass, president of Chevron Global Gas.
A company statement said that, subject to regulatory approvals, the proposed 137-mile (220-km.) pipeline would extend to Evangeline Parish, La., and interconnect with 11 interstate pipelines that serve the eastern half of the United States. The new pipeline is planned to be in service in 2009, coinciding with Chevron's Sabine Pass terminal commitments.
Chevron has 0.7 bcf/d regasification capacity, with an option to increase that capacity up to 1.0 bcf/d at Cheniere Energy Inc.'s 2.6 bcf/d Sabine Pass LNG terminal through a 20-year terminal use agreement. Construction started in March 2005.
Just down the coast, yet another LNG application has landed on the desk of the Federal Energy Regulatory Commission, this one for Chevron's Casotte Landing project, to be located adjacent to its heavily damaged Pascagoula Refinery in Jackson County, Miss.
In an interview with
Site Selection
nearly a year ago, Joe Naylor, vice president for planning and strategy at then-ChevronTexaco Global Gas, said "interesting synergies might exist" by placing an LNG terminal at the Pascagoula site. "It would enable a feed to the refinery," he said, "and access to some of the energy systems around it."
The proposed LNG terminal would have a capacity of 1.3 bcf/d, and would serve industrial, commercial and residential customers throughout the Southeast, including Florida.
"This good news will be very important in helping the Mississippi Gulf Coast recover from the destruction of Hurricane Katrina," said Mississippi Gov. Haley Barbour. "I applaud Chevron for demonstrating its commitment to Mississippi. Adding LNG to the energy mix strengthens Mississippi's position as a key player in providing critical energy infrastructure and resources for the United States."
"Chevron has a long and proud history in Mississippi where it has safely owned and operated the Pascagoula Refinery for more than 40 years," said Roland Kell, Pascagoula Refinery general manager. "We look forward to building on this legacy."
"This project can help meet the projected increase in demand for energy in the United States," said Gass. "Recent events have underscored the critical need for reliable and diverse supplies of natural gas and the important role increased LNG imports can play in the energy future of this country."
Ask any horseman and he'll tell you: It pays to have a lot of runners in the barn.