early 50 years ago,
Formosa Plastics Group
launched its fortunes on the back of the world's smallest polyvinyl chloride (PVC) resin plant, a 4-metric-ton-per-year plant that
opened in 1957 in its native Taiwan.
Since that time, FPG has become a true global giant in the petrochemicals, plastics and energy sectors. A pending US$1.1-billion investment at its 1,800-acre (729-hectare) manufacturing complex in Point Comfort, Texas, will only heighten its profile, at a time when PVC resin is sorely needed in the U.S. construction marketplace.
This investment will include a 180,000-ton-per-year PVC plant, as well as a 300-megawatt power plant that runs on petroleum coke and expanded ethylene production. Point Comfort is already home to all olefin and polyolefin production of the company's U.S. arm, so the choice was more about final placement than final site.
"The selection process was about where in Point Comfort this was going to go," Rob Thibault, spokesman for Formosa Plastics Corp. USA, tells
Site Selection
. Conway Data's New Plant Database shows a 2005 investment of $200 million from Formosa to make PVC resin, indicating the rest of the capital will go toward other projects. Since permits are pending, the company is making no further statements about the project other than to confirm what Lee Chih-tsuen, the president of Formosa Plastics Co., told Bloomberg News in a January 12 interview.
There's more to the picture than just PVC and power. According to Bloomberg, Formosa also plans to expand ethylene production in the U.S., where its Point Comfort facility already accounts for 4.4 percent of North American capacity. Meanwhile, the company hopes to invest up to $400 million in further expansion of its $20-billion Mailiao complex in Taiwan.
But the most tantalizing possibility exists in the murky territory between politics and industrial development: Formosa would like to invest up to $5 billion in a chemical complex in Ningbo, China, where it already operates end-product plants. But current Taiwanese law prohibits ethylene plant investment on the mainland, among other categories, on the grounds that it would draw too much capital investment away from Taiwan. China's demand for ethylene rises by about 1 million tons a year, and currently sits at 16 million annual tons, with 10 million tons imported.
There is ample history where the Chinese market is concerned. After an initial rejection of the Mailiao complex in two other Taiwanese territories, Formosa chose China to be the project's home, but government negotiators intervened to steer the project toward Mailiao, where the project's fourth and final phase got under way in 2003.
Fitting Into the Golden Crescent
Other than Taiwan and China, the U.S. is where Formosa has steered the most project activity. Meanwhile, the general project activity level in the U.S. means there is no shortage of building materials shortages, with PVC high on the list.
In 2003, PVC resin was going for about 40 cents a pound. By July 2005, the price was 56 cents. Then the
force majeure
conditions in the Gulf of Mexico combined with unfavorably timed incidents like an explosion at Formosa's Point Comfort complex to drive the October price up to 70 cents, forcing some companies, like thermoplastic enclosure maker Lamson & Sessions, to report insufficient resin availability to meet end market demand. Formosa's own J-M Manufacturing Co., Inc., the nation's largest maker of PVC pipe, suffered as well.
But Point Comfort has not suffered from a dearth of investment. Eight of Formosa's 18 production units are in Point Comfort. Five years after the company first invested in the U.S., the Point Comfort facilities began popping up, imitating the company's homeland growth pattern with the start-up of a small VCM/PVC plant in 1983. Then the company made its initial mega-investment, pouring $1.5 billion into a multifaceted complex in the state's largest one-time private investment ever. The complex was completed in 1994. Then Formosa surpassed the $1-billion mark again with a polyolefins expansion project begun in 1997 that ended with the 2002 launch of new HDPE and polypropylene units in Texas, just after launching its olefins and energy division whose assets included "natural gas transmission pipelines, gas processing and fractionation facilities, and hundreds of oil and gas wells in the Gulf region." The entire plant in Point Comfort is Formosa's largest in the U.S., employing 1,500.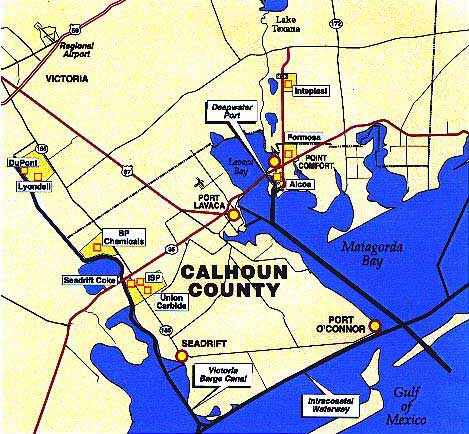 But Formosa is far from the only big player in Calhoun County, located at the midpoint of the 375-mile (603-km.)Texas coast. Dow Chemical is expanding its complex in Seadrift, and two of the many pending LNG terminal proposals in the Gulf — from Gulf Coast LNG Partners, LP, and Calhoun LNG — is slated to be developed in adjacent Port Lavaca. Other companies with major operations in the area include BP, DuPont, Lyondell and Alcoa. Not bad for a county of 20,000 people, where half the territory is under water.
Helping facilitate the facilities is an ongoing $100-million investment by the Port of Port Lavaca-Point Comfort in waterfront improvements for cargo handling. The port's prospects are further aided by the presence of Foreign Trade Zone No. 155, a 1,400-acre (567-hectare) parcel which already supports more than 3,000 jobs.
Among Formosa's operating companies are Nan Ya Plastics, Inteplast Corp. and Neumin Production Co. In addition to other olefins plants in Delaware, Illinois and Louisiana, the company also operates a polyester plant in South Carolina.
As the chart illustrates, the company has not only increased productivity, it has increased employee engagement. One sign is a drop in employee turnover from more than 7 percent in 1999 to just above 3 percent in 2004. Formosa employed 2,150 in the U.S. as of 2004.
But the more obvious sign is what those employees are doing: While their number has only increased by nine since 1997, the sales revenues they have produced more than doubled, from US$1.56 billion in 1997 to $3.8 billion in 2004.
Getting Better All the Time?
When you Google a company name with the word "environment" and 111,000 results come up, is that a good thing?
Formosa has seen enough results to take on a new level of self-examination when it comes to sustainable development, pledging to reduce harmful emissions incidents, injuries and waste through a multifaceted
sustainable development program
.
That's welcome news to those concerned about the company's checkered safety and environmental record. It started early: In October 1990, EPA proposed an $8.3 million fine against Formosa Plastics for alleged violations of hazardous waste laws including ethylene dichloride (EDC) spills and the emergency dumping of pure EDC into a wastewater treatment system. In 1991, Formosa was fined $3.7 million by the EPA for hazardous waste violations related to the discovery of contaminated groundwater under the Point Comfort facility. In addition to the fall 2005 explosion, which injured 11, the Point Comfort complex saw an explosion in 1998 that injured 25. In April 2005, the Texas Commission on Environmental Quality fined Formosa $150,000 for violations of air pollution laws that included releases of vinyl chloride. Under a consent decree, the company pledged to pay $450,000 in fines and reduce emissions at its Delaware facility. The company's international problems include being caught dumping mercury-contaminated waste in Cambodia in 1998.
But as the company's 2005 sustainable development report indicates, the company is applying new vigor to its environmental and safety practices, which after all improve efficiency as well as PR. The National Renewable Energy Laboratory has even featured the company's efforts in a
case study
looking at process efficiency improvements and energy savings that, if implemented, could save the company $1.5 million a year at just the company's linear low-density polyethylene plant in Point Comfort. The largest money-saving recommendation in the report was a $2-million investment to recover vent gas nitrogen, currently incinerated along with two residual ethylene waste streams. Alternative waste stream purification technology is needed, but such a measure would not only save the company $877,000 a year in fuel costs, it would also limit incineration emissions.
"I believe that the company has made steady progress over the last ten years," said Robert F. Kelley, the company's vice president of environment, health, safety and communications, in the company sustainable development report. "Nevertheless, our customers, employees and other stakeholders demand and deserve improvements. Together, I am confident that we can and will continue to improve."
The upshot? In Point Comfort a new leaf may be in the turning, in addition to some new dirt.