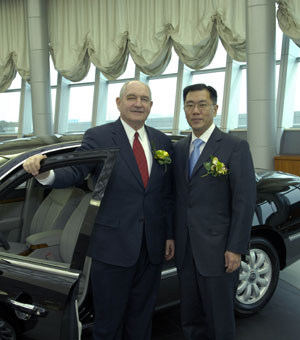 Governor Perdue and Kia President and CEO E.S. Chung, Monday, March 13, 2006.
e were all set to write this week about
DaimlerChrysler
's announced
US$1-billion investment
in its operations and two new supplier parks in Toluca, Mexico. After all, how often does North America see that level of investment in a project?
About twice a week, it turns out.
DaimlerChrysler's March 8 announcement was trumped a few days later by
Kia Motors Corp.
and State of Georgia officials in Seoul, where they announced Kia's $1.2-billion investment in its first North American manufacturing complex, to be located in West Point, Ga., hard by the Alabama state line. The plant will have a capacity of 300,000 vehicles a year when it opens in 2009.
"Kia Motors has entered an aggressive growth phase in the U.S and the decision by KMC to build a manufacturing facility in West Point, Troup County, Georgia, is the latest example of the company's commitment to the marketplace," said Euisun Chung, president and CEO, Kia Motors Corp., at the signing ceremony in Seoul, accompanied by Georgia Gov. Sonny Perdue.
Mong-Koo Chung, chairman and CEO, Hyundai Motor Co. and Kia Motors Corp., was the first Korean to receive a distinguished service citation from Detroit's Automotive Hall of Fame.
Not that Georgia — famously spurned twice by DaimlerChrysler — necessarily got any pleasure from overshadowing the German firm's news.
In the case of the Kia project, the shadow was cast by Hyundai's new plant not far from that Alabama line, in Montgomery.
"Kia's first priority in selecting a site was to maximize the synergy effect with Hyundai Motor's Alabama plant," Michael Choo, international communications manager for Kia in Seoul, tells
Site Selection
. "Other considerations included availability of qualified work force, logistics and transportation infrastructure, risk of natural disasters, surrounding infrastructure and incentive package. Also, the Southern region, with Georgia being one of the largest and centrally located states, is the most strategically important market for Kia's U.S. sales strategy. All considered, the West Point site was the most favorable."
Choo declined to mention the almost favorable runners-up, but the focus in recent weeks was on multiple sites in Mississippi: one near Kewanee (on Alabama's western state line) and one in Lowndes County near Columbus, where SeverCorr recently
located a steel mini-mill
. In addition to an incentive package worth some $200 million, Mississippi also had in its arsenal the recently enacted Gulf Opportunity Zone federal incentives, which among other provisions enable faster depreciation on materials and machinery investments for such projects.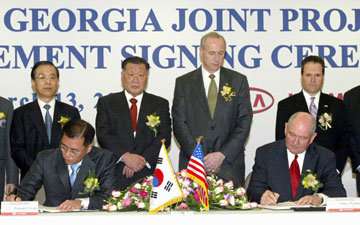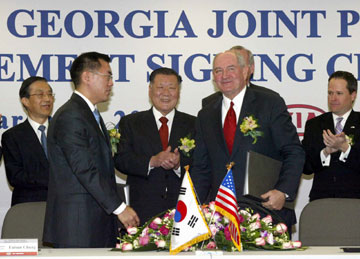 Kia Motors Corporation President & CEO Euisun Chung and State of Georgia Governor Sonny Perdue at the signing ceremony held at Kia Motors global headquarters in Seoul, Korea.
In the end, however, it was a total state and local package valued at nearly $400 million that helped cinch the deal for the Peach State. The state's portion, contractually defined at close to $248 million, will rise by $10.3 million if, as projected, Kia surpasses its contractual minimum of 2,500 new jobs and creates 2,893 jobs.
Another 2,000 jobs are expected to come from five suppliers that the state and company agreed would locate in the state of Georgia, says Bert Brantley, communications manager for the Georgia Dept. of Economic Development. Choo says
Hyundai Mobis
is the only one of the five that is officially confirmed to be on or near the chosen Kia site. But other suppliers no doubt will have projects in the pipeline on both sides of the state line.
Saw It By the Roadside
From the air, the 3,300-acre (1,336-hectare) West Point site is shaped not unlike a warm front moving in on I-85, with its longest side determined by that essential thoroughfare. But the view from the ground was what lured Kia.
Kia spokesman Choo says the site selection team consisted of a task force comprising members of the corporate planning group at Kia HQ in Korea, consultancy firms in Korea and in the U.S. and "even some Japanese experts." But it was Hyundai's own project manager, one-time Hyundai Alabama Executive Vice President of Administration and HR Byung Mo Ahn, making one of many drives between Atlanta and Montgomery, who spotted the eventual winning site and incited its amazingly quick assembly, with nary a consultant in sight. Ahn as of June 2005 had been transferred from his Alabama post back to Korea, and is now serving as senior executive vice president for Kia.
A total of 37 parcels belonging to 30 different owners were put under option by the state in approximately two months, concluding in February. The plant complex itself will occupy 2,200 acres (890 hectares), with much of the rest given over to infrastructure and transportation improvements.
Brantley says the state expects all options to be exercised within the next month, in preparation for a late April groundbreaking ceremony. Perceptions came a long way in a short time, given the reported landowner sentiment when the subject of selling was first broached in late December. Today, Gov. Perdue and others note the nearly universal sentiment among the Troup County landowners that selling their land is in the best interest of the community's future, and literally leaves a legacy for future generations.
The groundwork was laid for the project in October 2003, when Gov. Perdue first visited South Korea. Since that time, Georgia projects from Korean firms LG Electronics and Samsung have come to fruition. At one point, a consultant working for Kia came to the state and looked at its mega-site in Pooler, near Savannah, as well as a site in Morgan County, halfway between Atlanta and Augusta, and several in middle Georgia. It was called "Project Pine Tree" then, but nobody knew that Kia was on the other end of the line.
Many with past experience negotiating with Korean companies have made note of their inscrutability and insularity, with decision-making and management of processes never straying far from Seoul. But Brantley says the site selection process for the West Point plant took place largely in the States. And he stresses that the ballyhooed battle with Mississippi was largely just that: hooey.
Rapid development at Northeast Opelika Industrial Park related to the Montgomery Hyundai plant will probably only increase now that Kia is locating just 15 minutes to the east.
"It wasn't a shell game," he says. "There was no 'Here comes Mississippi.' It was us and them, and their experience in Montgomery was what the deal was based on." That recent experience was also what allowed the deal to materialize so quickly. "They knew what they wanted, and there was not a lot of hand-holding," says Brantley.
Even as the company is stuck in a public battle with Slovakia to get the incentives owed it for a new plant there, Brantley says that while the contractual terms were clear, there was no special concern on Kia's part regarding incentive promises because of the ongoing Slovakia experience.
Asked to characterize the negotiating style of Hyundai-Kia in comparison to other foreign multinationals, Brantley describes it as "very proper and respectful," illustrated by the fact that it was not until the agreement was final before Hyundai-Kia's Mr. Ahn called Georgia's project manager — Chris Clark, deputy commissioner of the economic development department — by his first name.
A New Golden Triangle?
The nation is full of tri-city areas known as "golden triangles" or "fertile crescents" of economic development. In this case, West Point may become the third point of a bi-state opportunity zone within a zone.
Already helping define that shape are the communities of Auburn-Opelika, Ala., and Columbus, Ga., both of which have seen unprecedented corporate project growth over the past few years. In Columbus, a recently announced
$100-million, 2,000-employee expansion by AFLAC
was the exclamation point on a year that also saw multiple other projects, as well as happy BRAC news that will bring some 10,000 more military personnel and their families to nearby Fort Benning.
Opelika's profile has steadily risen alongside that of the Hyundai plant itself, with locations of such Hyundai suppliers as Mando America, which invested $65 million in two separate projects in 2004-2005, as well as relocating its small headquarters to Opelika from Detroit.
Telescoping outward, this newly fertile crescent is just a microcosm of the Atlanta-Birmingham-Montgomery triangle formed by Interstates 85, 20 and 65. With the longest arm of that zone only 160 miles (257 km.), the three cities' proximity falls well within many firms' site selection mileage radius criteria.
The local organizations involved in cementing the Kia deal included the Development Authority of LaGrange, the LaGrange-Troup County Chamber of Commerce, the West Point Development Authority, the cities of LaGrange and West Point, and Troup County. The entire county population was 58,779 in 2000. While the area's textile base has gradually weakened over the past 30 years, Milliken and Co. is still its largest employer, with around 2,000 employees. Among recent corporate investors are Wal-Mart, Caterpillar and German automotive supplier ae group, which located there in 2005.
Even as the project bypasses the state's mega-site in Pooler once again, state officials say it gives them more opportunity to market it. And in any case, the Savannah area is feeling rather buoyant itself: A mere week before the Kia announcement, Gulfstream Aerospace Corp. announced it would invest $300 million over seven years in its Savannah operations, boosting employment by 1,100 to 5,400.
Hyundai-Kia's technical center in Superior Township, Mich., officially opened in October 2005, then boosted its investment total to $162 million in December.
A Company and Country On the Move
The Kia announcement came on the same day that Toyota committed to building 100,000 Camrys a year at the Subaru plant in Lafayette, Indiana, transferring production from a Japanese plant. By all indications, Kia is taking Toyota's multifaceted facility development strategy as its model for North America, choosing to site production, design and headquarters where its target market resides.
Construction is currently under way on Kia's $87-million
U.S. corporate campus
in Irvine, Calif., that is expected to open in December 2006, and will include a 65,000-sq.-ft. (6,039-sq.-m.) design center. In total, Kia Motors has invested more than $300 million in the United States over the last four years, including a state-of-the-art research and development center in Ann Arbor, Mich.; a custom-built vehicle proving grounds in Mojave, Calif.;
A Tidy Package


Among the incentives highlights for the Kia project:
The City of West Point and Troup County will provide $130 million in property tax abatements over 15 years.
If Kia meets the contractual minimum of 2,500 jobs created, it will receive $65.6 million in job tax credits against its tax liability over five years. The credits jump to $75.9 million if 2,893 jobs are created.
The State of Georgia will purchase the site from 37 land owners for approximately $35.7 million, then invest $24.8 million in site preparation.
The Georgia Dept. of Transportation will construct a new Interstate interchange and access road at a cost of $30 million, with much of that funding coming from federal sources.
Local organizations and utilities will provide about $21 million in other infrastructure improvements, including water, sewer, gas and electric power.
The state will build a $20.2 million, 70,000-sq.-ft. (6,503-sq.-m.) training center on the site, invest $5.5 million in maintenance and operations of the center over the first five years, and invest $5.7 million in training curriculum development and implementation through the state's well-regarded Quick Start program of the Dept. of Adult and Technical Education.
A yet-to-be-formed community organization will apply for and administer a $40.5-million grant to cover specialized training equipment, "train-the-trainer" programs and "other hard assets not covered in any other incentive category."
Based on Kia's estimates, the company should be eligible for approximately $13.9 million in sales tax exemptions for capital expenditures related to equipment and other qualified purchases.
A rail spur from the CSX line running through the property will be run to the site at a cost of $6.05 million.
and the largest automotive design studio in California, which is shared with Hyundai Motor America.
Most recently, Hyundai-Kia's center in Ann Arbor
expanded even further
than originally announced, boosting its capital investment there to $162 million.
It's all part of a plan to sell some 800,000 vehicles a year in North America by 2010. For the two months ending in February, Kia's total global export sales were up by more than 18 percent vs. the same period in 2005, at 181,659. Since coming to market in the United States, Kia has expanded to a full product line of vehicles and enjoyed 12 years of consecutive sales records, including 275,871 vehicles in 2005.
The deal also comes just as the U.S. and Korea embark on free trade agreement (FTA) negotiations. Access to the Korean marketplace by U.S. car manufacturers has been a sticking point between the nations in the past.
"I fear that if the appropriate amount of caution is not taken, the agreement will significantly benefit Korean automakers without giving U.S. automakers any additional access to Korea's historically closed market," wrote U.S. Sen. George V. Voinovich (R-OH) and U.S. Senator Carl Levin (D-MI), co-chairs of the Senate Auto Caucus, in a February letter to U.S. Trade Representative Rob Portman. Indeed, one study indicates that Korean exports to the U.S. would increase by as much as 17 percent with an FTA, boosting Korea's GDP by 2 percent.
Asked whether such projects as Kia's or Samsung's pending $3.5-billion chip fab investment in Austin, Texas, would influence or be influenced by those negotiations, Frank Vargo, vice president, international economic affairs for the National Association of Manufacturers, tells
Site Selection
, "I would be surprised if the timing or conduct of the negotiations were to affect the timing of either company. I have not seen trade negotiations influence these things before." He has seen, however, a rising volume of two-way trade between the countries that the negotiations will only enhance.
Others demur, identifying national concerns and those of the two historically largest
chaebols
, or family conglomerates, as nearly synonymous. But Vargo says the financial crisis of 1997 has served to appropriately dilute the influence of the
chaebols
:
"Corporate rigidity was one reason why the financial crisis was as rough as it was," he says.
Since then, Hyundai-Kia's corporate purse strings have certainly not been rigid, ensuring a smooth landing and smoother ramp-up in the North American marketplace. It may be only the beginning of a bilateral ramp-up between two nations.
"Korea is currently our seventh largest trading partner, our seventh largest export market, and our sixth largest agricultural market," said Assistant U.S. Trade Representative Wendy Cutler in a March 7 speech to the American Chamber of Commerce in Seoul. "We expect the amount of two-way trade between our two countries, now valued at $73 billion, to only continue to grow under an FTA. In a recent study, the Korea Institute for International Economic Policy estimates that two-way trade will increase by almost $20 billion as a result of this agreement. This represents a tremendous opportunity for U.S. businesses and workers."
The citizens of Troup County heartily concur.