ntario's decision to go it alone in hot-wiring auto- sector growth has gotten another shot of high- octane support: Swayed in part by a US$40- million provincial grant, auto- parts heavyweight
Linamar
(
www. linamar. com
) has unveiled a five- year, $993- million plan to create 3,000 new jobs in Guelph.
"Our government is taking an aggressive approach to partnering with automakers and auto-parts companies," Ontario Premier Dalton McGuinty noted at the May 11th project announcement, held inside a Linamar plant in Guelph, 56 miles (90 kms.) west of Toronto. "They had the world to choose from. They decided to invest $1.1 billion [Canadian] more in Ontario."
Headquartered in Guelph, homegrown Linamar – which designs, develops and manufactures precision- machined engine and transmission parts – has expanded far beyond Canada's borders. The nation's second- largest auto- parts company has some 10,700 employees in 50 manufacturing, R&D and sales facilities in Canada, China, Germany, Hungary, Japan, Korea, Mexico and the U.S.
"Investing in people and technology is something that we would have to do regardless," Linamar CEO Linda Hasenfratz explained. "What's nice is that we can now make this investment here in Ontario as opposed to looking elsewhere."

Ontario Subsidies 'Critical' in Site Decision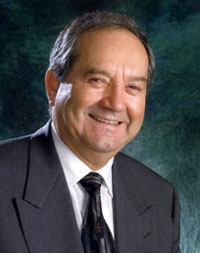 Linamar Chairman Frank Hasenfratz founded the company inside his Guelph garage in 1966.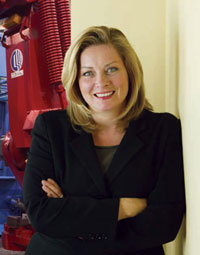 Linamar CEO Linda Hasenfratz called Ontario's $40-million grant "critical" in her company's site decisions.
Linamar has strong roots in the province. Linda Hasenfratz's father, Frank, founded the company in 1966 inside his Guelph garage. (He named the company after his wife, Margaret, and his two daughters, Nancy and Linda.)
Nonetheless, Linamar did look elsewhere for its very large investment, considering several other offers. Ontario's most formidable competitor lay only slightly to the south.
"We were looking aggressively at the Michigan area as another alternative," Linda Hasenfratz said. She described Ontario's $40- million grant as "critical" in the hard numbers that drove the final decision.
"With the support of the Ontario government, we will build much- required skills and education … in a fiscally responsible manner," the CEO continued. "We have a responsibility to our employees and customers to provide the best technology, products and skills. This agreement [with Ontario] will ensure that we continue to achieve these goals long into the future."
The province's $40 million in support is coming from Ontario's Auto Investment Strategy Fund (OAISF).
The McGuinty government created the $451- million automotive fund in April of 2004. Breaking ranks with the federal government's historic hands- off posture, Ontario unilaterally targeted the auto sector for some of its expansion subsidies. OAISF aid is specifically focused on auto- industry projects that either involve an investment of at least $267 million or that create or maintain more than 300 jobs. Per-project incentives are capped at 10 percent of total capital investment.
Expansions of that ilk are an essential nutrient for Ontario's economy. Automotive businesses employ a whopping 150,000 workers in the province.
In 2004, in fact, Ontario passed long- time leader Michigan to become the No. 1 state or province in North American auto production. Ontario autoworkers again took the top spot in 2005, manufacturing 2,623,551 vehicles, 16.5 percent of North America's total. Michigan's industry workers made 2,467,000 autos and trucks last year, 15.6 percent of the annual tally.

Provincial Program Providing Big Payoff
Ontario's auto industry was reeling, though, when the OAISF was created. In the previous two years, three Ontario assembly plants had closed and
Chrysler Group pulled the plug
on a planned $1.2- billion, 2,500- worker plant in Windsor.
With the OAISF, though, Canada's auto- expansion climate is much improved,
Magna International
co-CEO Don Walker asserted shortly after Linamar revealed its formidable plans.
"A lot of people had the vision to say you can't take this industry for granted," he said in a speech to Canadian auto- parts manufacturers a few days after Linamar's announcement. "This is an anchor industry for Canada and certainly for Ontario," asserted Walker, who leads Canada's largest manufacturer of automotive parts.
Walker also co- chairs the
Canadian Automotive Partnership Council
(CAPC). The federal government created the joint industry-government committee in 2002 to enhance collaboration. Ontario officials cited the CAPC's input as a key elements
The creators of Ontario's auto-sector incentives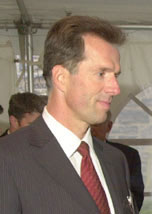 "had the vision to say you can't take this industry for granted," said Don Walker, co-CEO of Magna International, Canada's largest automotive parts manufacturer.
Photo: Japan Automobile Manufacturers Association of Canada
in their decision to create the OAISF.
Linamar's expansion is only the latest in a string of hefty payoffs for the province's automotive program. Aided by OASIF subsidies, auto- industry firms have announced more than $6.3 billion in Ontario investments over the last two years. Those projects include:
(Honda added another new greenfield project on May 17th, announcing plans for a $134- million, 340- worker engine plant in Alliston.)
Ontario's auto- sector subsidies helped the province land Ford's $900-million plan to convert its 3,000- employee Oakville plant (pictured left) to flexible manufacturing and General Motors' $2.25- billion upgrade of three provincial plants, including the Oshawa Metal Centre (pictured above).

Small Building, Big Impact
By comparison, the centerpiece in Linamar's big plans is relatively small: a 150- to- 200- employee R&D/training center.
But while it isn't large, that facility is clearly the biggest piece in Linamar's strategy for creating so many new jobs in Ontario.
"The research facility will generate the product and process innovations that will enable us to expand the business," said Linda Hasenfratz. "People development is really a critical part of our strategy going forward."
The new R&D/training operation will focus on engineering and manufacturing next-generation transmissions, engines and chassis, Linamar officials explained. The facility should be up and running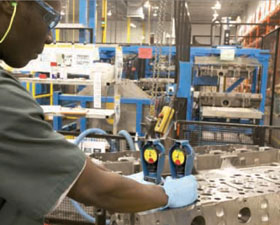 Linamar's new R&D/training center in Guelph will focus on engineering and manufacturing the company's next generation of precision- machined transmissions, engines and chassis.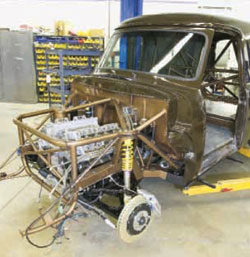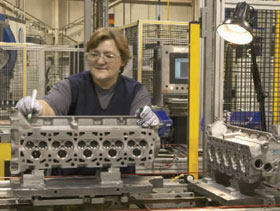 Linamar's expansion plans call for building five or six new manufacturing plants.
within a year, they said.
Ontario's project funding will be funneled into the new center, the company said. The provincial grant will be used to support building and equipping the center, as well as aiding in its R&D activity and training programs.

Guelph Lands Cluster of New Plants
Much of the growth expected from the R&D center's work will be in manufacturing. Linamar plans to build "five or six" new factories in Guelph, said Linda Hasenfratz, an MBA graduate who gained first- hand manufacturing knowledge when she took a lathe operator's job to start working her way up inside her father's company.
One major factor favoring Guelph for the new manufacturing facilities was the city's proximity to many major current customers, Linamar said. In addition, currency issues didn't cloud Guelph's candidacy for those production projects. None of Linamar's expansion decisions was affected by costs concerns connected to the increasingly strong Canadian dollar, Linda Hasenfratz noted. The company's substantial U.S. presence shields it from currency shifts, she explained. More than half of Linamar's sales, for instance, come from the American market. And the company buys most of its equipment in the U.S., using American dollars.
The new plants will build new engine, transmission and chassis parts. Each will employ from 400 to 500 workers, as do most of Linamar's 36 existing factories.
The company also expects that its project will enlarge its Guelph work force. Linamar's headquarters and its 22 manufacturing plants in the city now employ more than 6,000 workers.
The large scale of the Guelph project mirrors the company's aggressive growth goals. By 2020, Linamar plans to have pumped its 2005 revenues of $1.9 billion all the way up to $9 billion.
Increased outsourcing by automakers will supply much of that added business, the company believes. Among U.S. firms, Linamar expects greater offloading of non- core activities to cut costs. On the other hand, the company anticipates that non-U.S. firms with rapid American growth will farm out more work to keep pace with rising demand.

Subsidy Funding Nearly Spent
For Ontario, a different kind of demand issue is emerging. Specifically, how will the province sustain its surging automotive growth?
OASIF subsidies have proved to be a potent stimulant in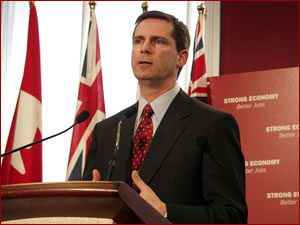 "Our government will continue investing in leading- edge manufacturing," Ontario Premier Dalton McGuinty asserted in Guelph.
getting those expansion juices flowing. Now, though, the incentive pool has nearly run dry. Of the $451 million in OASIF funds initially allocated, only some $20 million remain.
Ontario will lose some auto expansions if it can't continue to offer subsidies, McGuinty has warned. He advocates additional funding, a point he emphasized again at Linamar's announcement.
"The auto sector is one of the pillars of our economy," McGuinty said in Guelph. "The issue is not so much whether we are going to lose jobs. That, in fact, is going to happen as part of the churn in the new globalized economy. It's 'Are are we staying ahead of the curve on this?' Our government will continue investing in leading- edge manufacturing, making sure that Ontario remains one of the most competitive locations in the world."
That investment rationale wasn't all that different from Linda Hasenfratz's description of Linamar's expansion logic.
"I believe that complacency is the pathway to obsolescence," the CEO said.
All dollar figures in this story are in U.S. currency unless otherwise indicated.