The Empire State ponied up a $1.2-billion incentive package to land one of the world's largest fabrication plants.
tretching for a bigger slice of the snowballing semiconductor market, Advanced Micro Devices has selected upstate New York for a US$3.2- billion 300- mm. fab. The world's No. 2 PC chipmaker announced on June 23 that it's picked a site in
Malta, N.Y.
, some 26 miles (42 km.) north of Albany. About 1,200 employees will work inside the state- of- the- art plant, AMD officials said.
The operation will mark a milestone in the development of U.S.- based wafer- fabrication operations. AMD's Malta facility will be the first chip fab built on a U.S. greenfield site in more than a decade.
And it'll be one very big greenfield — a 650-acre (260-hectare) site in the Luther Forest Technology Park. With a footprint spanning 1.2 million sq. ft. (111,480 sq. m.), AMD's facility will be one of the world's largest fabs. As reported in the
November 2005 issue of Site Selection
, the site was made more attractive by the purchase of 1,186 acres (480 hectares) adjacent to the central 164 acres (66 hectares) that the Luther Forest Technology Campus Economic Development Corp., a subsidiary of Saratoga Economic Development Corp., already owned. The purchase was helped by a recent $4.8- million state grant.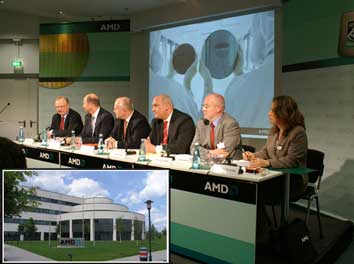 AMD officials announced a $2.5-billion expansion in Dresden on May 29th, only three weeks before tapping the New York fab site. The German expansion includes the 300-mm. Fab 36 operation (inset), which is just now nearing volume production.
New York's incentives are decidedly jumbo- sized as well. The Empire State sweetened its site- selection appeal with subsidies that could be worth as much as $1.2 billion to AMD.
New York's hefty bid helped Sunnyvale, Calif.-based AMD fulfill a long-time vision, AMD President and CEO Hector Ruiz explained.
"We commend the state on their tremendous commitment to this project," Ruiz said at the project announcement at the University of Albany's Center of Excellence in Nanoelectronics. "A lot of us [at AMD], we've been in the industry a long time, [and] we've wondered what would it take to build a state- of- the- art facility in the United States. We finally found a way to do it."
The New York plant will be AMD's first 300-mm. fab in the United States.
"It's very difficult, frankly, not to feel some sense of pride in being able to work in our own country to develop a state- of- the- art facility," Ruiz continued. "I think this will have a great impact on U.S. global competitiveness."
AMD Considered
'Saxony Silicon Valley'
Two other continents were in the thick of the bidding for AMD's plant, Gov. George Pataki explained in Albany.
"We were in competition with Saxony in Germany, where they already have two plants, [and] with countries in East Asia, where they already have plants," the governor noted. "Over the last five to 10 years, four of five computer chip plants have not been built in the United States."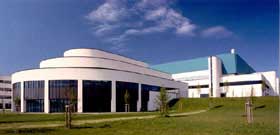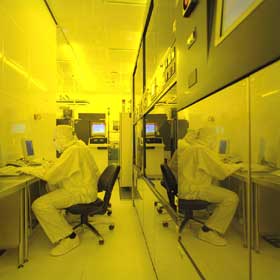 AMD already has two fabs in Dresden, including Fab 30 (pictured) opened in 2000.
AMD has no Asian chip fabs. It does have "back- end" assembly, testing and packaging operations in China, Malaysia, Singapore and Thailand, plus three flash- memory plants in Japan.
Singapore was likely Asia's foremost contender. AMD has an outsourcing agreement with Singaporean contract manufacturer
Chartered Semiconductor Manufacturing
. Chartered's Fab 7 in Singapore currently makes 300- mm. AMD microprocessors. AMD entered the Chartered pact in 2004, boosting its ability to rapidly respond to sudden demand surges or production problems at its chip plants.
But New York's strongest competitor was almost certainly Dresden, the capital of Germany's Saxony state. The area has attracted such a concentration of semiconductor operations that it's known as "the
Saxony Silicon Valley
."
AMD is now simultaneously expanding
both
its Dresden fabs, eager to avoid supply shortages that stunted its growth in the past. The company, in fact, announced a $2.5- billion Dresden expansion only three weeks before tapping New York for its newest fab. Most of the Dresden investment will go into Fab 30, opened in 2000, upgrading it from 200- mm. to 300- mm. wafer production. But AMD will also expand Fab 36, a newer 300- mm. operation that's just now nearing volume production. Announced in 2003, the $2.4- billion Fab 36 only began making test chips in April. With AMD's May 29 expansion announcement, the 300- mm. operation will now increase production capacity and add a final-test clean room.
German officials offered subsidies of undisclosed value in recruiting yet another AMD fab. They provided substantial incentives for Fab 36. Germany and Saxony ponied up $540 million in grants and tax breaks. In addition, a banking consortium led by Frankfurt-based
Dresdner Bank
supplied AMD with $700 million in loans for Fab 36, with federal and state governments guaranteeing 80 percent.
AMD's Site Choice Counters
Trend in Chipmakers' Expansions
"This is the largest industrial investment ever made in New York," Pataki said of AMD's $3.2- billion project. The company will spend $600 million in building the facility and $2.6 billion equipping it.
AMD's New York investment should get bigger still. The company plans to spend at least $2 billion during the fab's first five years of operations, said Ruiz.
New York's largest private- sector investment prior to AMD was
IBM's $2.5- billion 300- mm. fab in East Fishkill
, some 131 miles (210 km.) south of AMD's Malta site. New York provided $500 million in incentives in 2000 for Big Blue's first 300-mm. fab, a 1,000- job project.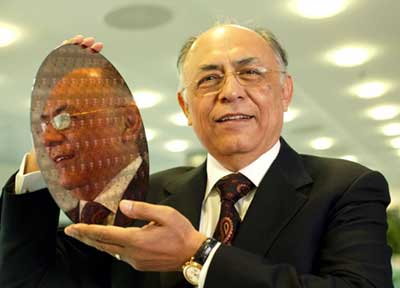 "This area is really ripe for development with the combination of educational institutions, people and facilities," said AMD's Ruiz (pictured).
Unlike IBM, AMD went against the prevailing site-selection grain by choosing a brand-new location. Most high-end chipmakers aren't going that route, opting instead for areas in which they already have
established fab operations
. A number of factors are driving that expand-in-place trend — demonstrably skilled workers and management, and proven supplier networks, for example. Additionally, if adjacent acreage is available, permitting procedures are often far simpler.
New York's Capital Region knew first-hand about existing sites' persuasive powers. The area finished as a bridesmaid after courting three major chip fabs in recent years. Both
Texas Instruments
and
Samsung considered
the 1,350-acre (540-hectare) Luther Forest Park for new fabs before deciding to expand next door to existing Texas plants. TI chose Austin in 2003 for its $3-billion,
1,000-worker facility
, while Samsung also opted for the Lone Star State's capital city this year for its
$4-billion, 900- employee operation
.
AMD, too, was one of the big fab fish that had previously gotten away from New York. The company short- listed Luther Forest Park in 2003 for Fab 36 before settling on Dresden instead.
"We knew," said Pataki at AMD's announcement, "that ultimately one of these great facilities, these tremendous investments, was going to come right here in the Capital Region."
Powerful Upstate Alliances
New York's $1.2 billion in incentives clearly helped land AMD. But the subsidies certainly weren't decisive. Instead, they enabled AMD to solidify its business case for considering the state. The real deal- sealer was what was already in place in upstate New York.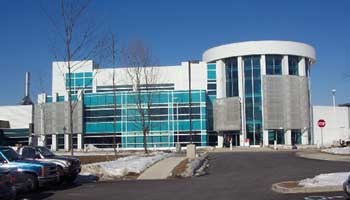 International Sematech set up its first non-Texas location in this wing of the University at Albany's Center of Excellence in Nanoelectronics.
"We're thrilled to join a cadre of would-class companies that are already here in this area," Ruiz noted in Albany.
AMD was one of the firms that was already there. While it hadn't located any of its own facilities in the area, the company had built up an alliance-powered presence vital to its business.
AMD first dipped into the upstate waters in 2002, when Austin- based
International Sematech
, a consortium of the world's biggest chipmakers, picked Albany's Center of Excellence in Nanoelectronics for a
$403-million cooperative R&D center
. The global alliance's member firms read like a high tech who's who: AMD, Freescale,
Hewlett- Packard
,
IBM
,
nfineon Technologies
,
Intel
,
Panasonic
,
Philips Electronics
,
Renesas
, Samsung,
Spansion
, Texas Instruments and
TSMC
. Landing Sematech's first venture outside Texas gave the Capital Region a major jump-start in its efforts to establish itself as a major player in semiconductor site selection.
"I honestly think this could be the most important economic development for upstate New York since the Erie Canal," Pataki noted at the Sematech announcement.
AMD's regional roots further deepened in 2003, when it signed an agreement with IBM to jointly develop chip- manufacturing technologies. The two firms collaborate at IBM's Semiconductor Research and Development Center in East Fishkill.
Last year, AMD added another upstate connection, joining the International Venture for Nanolithography (INVENT). Based at Albany Nanotech, INVENT develops smaller semiconductor features in a collaboration of university researchers, major semiconductor firms and manufacturers of tools used in making chips. In addition to AMD, the alliance includes
ASML Holding
, IBM, Infineon
, KLA- Tencor
and
Micron Technology
.
Attracting such a cluster of big-name companies was what New York was hoping for when it created the
Center of Excellence in Nanoelectronics in 2001
.
"From my 30 years in the industry," Ruiz noted in Albany, "I have not seen as well- crafted a vision to develop an area as we have seen right here in New York. This area is really ripe for development with the combination of educational institutions, people and facilities."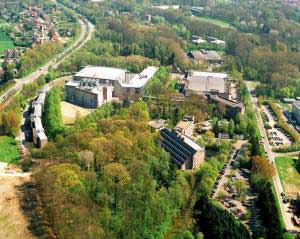 With AMD's announcement, some analysts think New York's Capital Region has acquired the fab-attracting clout of established magnets like the Leuven, Belgium-based Interuniversity MicroElectronics Center (pictured), home to Europe's leading private nanoelectronics research center.
Locating in the Capital Region also advantageously positions AMD to leverage its existing partnerships with Chartered, IBM, Infineon and Samsung. All four of those companies joined AMD,
Sony
and
Toshiba
last year in announcing that they will jointly build and operate a $1.9- billion 300- mm. fab in East Fishkill.
Making the
Semiconductor Short List
AMD's letter of intent with New York is non-binding. State officials expect that a binding fab agreement will be signed in the next few months.
New York's incentives must still secure state legislative approval. Lawmakers will also need to make some modifications to the state's Empire Zone Program to accommodate AMD's operation.
State subsidies include $500 million in grants to go toward AMD's building and equipment costs, as well as a $150-million R&D grant. The company's Empire Zone benefits will be worth about $250 million, including property tax breaks, employment tax credits, sales tax exemptions and wage tax credits. As much as $300 million in state, local and federal funds are also earmarked for infrastructure upgrades on and around AMD's Malta site.
The size of the project's subsidies is sure to trigger criticism. The incentives average $1 million for each AMD job. Another 4,000 to 5,000 jobs will be created by companies supporting and supplying the fab, state officials said.
New York's bigger payoff from AMD's project may well be yet to come. Fab facilities often cluster together. In Luther Forest Park alone, said local officials, room remains for three more fabs. Many semiconductor analysts, in fact, are already saying that AMD's announcement has catapulted the Capital Region onto the short list of semiconductor clusters favored for fab expansions, joining the likes of Austin, Dresden and Leuven, Belgium (home of the Interuniversity MicroElectronics Center, Europe's leading private nanoelectronics research center).
That was the idea when the parcel was first being assembled, on the same grounds where scientists once developed the Vanguard rocket engine. As Jack Kelly, then senior vice president of Saratoga Economic Development Corp., told us in
March 2004
, one of the early big advantages of the site was its total lack of federal or state wetlands. He also noted how the natural ravines on the parcel conveniently divided it into pods — a condition inviting incremental development.
"The land talks to you," Kelly told us then. "It tells you what can go there."
Three years after its initial dalliance with the site, AMD heard what it was saying, loud and clear.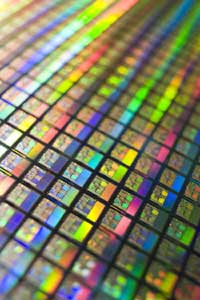 AMD anticipates that its Malta plant will go online using chip components that are 32 nanometers wide. A human hair is 10,000 nanometers wide. Pictured is a blowup of one of AMD's Opteron chips that utilizes components 90 nanometers wide.
"This is a transformational day," Pataki asserted at this year's announcement ceremony. "Ten to 20 years from now, people are going to say, 'When was it clear that the Hudson Valley was going to become the next Silicon Valley?' And then people are going to say, 'June 23, 2006.' "
Fab Timetable Flexible
It remains to be seen exactly when AMD's fab will go online in Saratoga County. The agreement with the state specifies that construction is to begin between July of 2007 and July 31, 2009, with the plant fully operational sometime between Dec. 31, 2012 and Dec. 31, 2014.
With its heavy investments underway in Germany, AMD wanted flexibility in executing its New York project. Most observers expect that plant construction and startup will occur in the latter part of the agreement's time frames. That would enable AMD to avoid taking on additional debt, paying for the New York fab with operating income and project incentives.
The company's timetable for selecting its new fab site was considerably tighter. AMD settled on the Malta location less than 24 hours before the announcement in Albany, state officials said. As recently as mid-June, the company took another look at a site it was considering in Marcy, 98 miles (157 km.) east of Malta.
AMD anticipates that its Malta- made microprocessors will utilize 32- nanometer components. That's less than half of the industry's current 65-nanometer standard. (A human hair has a width of 10,000 nanometers.) By the time the plant comes online between 2012, and 2014, though, AMD may have cut its component widths to 22 nanometers.
Company officials didn't estimate the new operation's capacity. Many analysts expect the plant to be one of the industry's most productive. In addition to its fab's sheer size, AMD is known for manufacturing more microprocessors per square foot than rival Intel. The New York fab will have no effect on ongoing collaborations with IBM and Chartered, company officials said.
AMD's new fab will increase the Empire State's lead as the U.S. state with the most 300-mm. fabs. The operation would be the fourth such plant in New York. Arizona and Texas each have two 300- mm. fabs, and each have a third under construction. Oregon is home to the two other 300- mm. plants now in the U.S.