It's no misprint: It's $310 million in incentives for a 300-job project. But Florida's expecting a biomedical boom in the bargain.
he renowned
Burnham Institute
is headed for central Florida, bringing a biomedical presence that could transform the region's economy in ways that rival
Walt Disney Co.
's arrival in 1971.
"I am pleased to announce that the new home for Burnham Institute in Florida will be Orlando," President John Reed said as the institute's project went public at an Aug. 23 press conference at the state capital in Tallahassee.
Speculation had been running hot for months over which Florida area would land the biomed thoroughbred, which holds more than 250 life- science patents.
Port St. Lucie
was the other short-list finalist, Reed said. That southeast Florida city, in fact, looked like the frontrunner until Orlando's late push swayed the decision. (Just before press time, Port St. Lucie landed the
Torrey Pines Institute for Molecular Studies'
189- employee research lab.)
"Now it's time for the Burnham Institute and our Florida partners to focus on getting down to the business of saving lives," Reed said in Tallahassee in announcing the Orlando selection.
Burnham, Reed explained, will get down to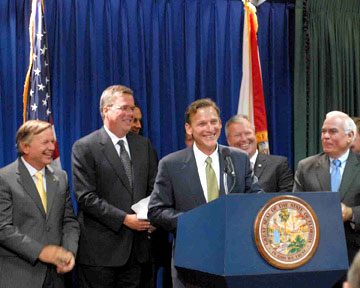 Burnham President John Reed (at podium) announces the project while surrounded by board members and government officials that included Gov. Jeb Bush (second from left).
its biomedical business in a new 175,000- sq.- ft. (16,258- sq.- m.) facility housing 300 employees. The institute's campus will be located on a 50- acre (20- hectare) site in Lake Nona, a 7,000- acre (2,800- hectare) mixed- use development in south Orlando. The Florida operation will be Burnham's first outside the San Diego metro, where the company is headquartered in La Jolla.
"Expansion into Florida is a transforming event for our organization," Burnham Board of Trustees Chairman Nicolas Nierenberg said at the state capital. State recruiters are hoping that the expansion will spur a transformation of central Florida's economy as well.
For Burnham, at least, the East Coast project will definitely change far more than the organization's geographic footprint. Founded in 1976, the nonprofit institute has heretofore focused on cancer, degenerative diseases, and infectious diseases. While the Florida operation will continue those commitments, it will also expand research and therapies into brand- new areas including diabetes and obesity research, Reed explained.

$310 Million in Subsidies Biggest Since Scripps
Orlando's burgeoning medical cluster was its biggest lure in landing Burnham.
But Burnham couldn't have missed also noticing Florida's cluster of US$310 million in incentives. The state is providing $155.3 million of that subsidy package. That's the largest outlay since the state doled out $310 million in landing
Scripps Research Institute
's
new research center
in Juniper, a project ultimately awarded $510 million in total subsidies.
Other incentives that attracted Burnham's maiden East Coast voyage include:
• $31 million to $39 million from Orange County to help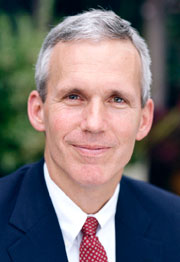 Florida "can't afford to continue … $300 million for 300 jobs," gubernatorial contender Jim Davis asserted.
fund construction of Burnham's new facility, which has an estimated price tag of between $79 million and $90 million;
• $28 million to $31 million from the city of Orlando, also to help fund Burnham's building;
• Some $30 million in tissue donations for Burnham's disease research, donated by Orlando Regional HealthCare System and Florida Hospital;
• $25 million from the Orlando- based University of Central Florida (UCF); and
• $20 million from Lake Nona developer the
Tavistock Group
for both Burnham's site and part of its construction costs.
Those hefty investments in Burnham's project drew political fire the next day, during a televised debate between Florida's Democratic gubernatorial candidates.
"Three hundred million dollars for 300 jobs?" U.S. Rep. Jim Davis asked. "We can't afford to continue that approach. I think, instead, we need to invest in our universities. That's how we bring the kind of jobs like Burnham's to this state."

Bush: Burnham Project's Big Incentives
Are 'Much More Profound Way of Investing'
Gov. Jeb Bush (who's prevented by term limits from seeking reelection) readily acknowledged that it was "unorthodox" to offer $300 million in subsidies for a 300- job project. But the Burnham project's most potent impact will come from the far- reaching economic ripples it will touch off, he insisted at the announcement in Tallahassee.
"These are research institutes," the governor said of Burnham's major research centers in cancer, neuroscience and aging, and infectious and inflammatory disease. "And they're going to collaborate with our universities … and create synergies that go way beyond just looking at this from a traditional 'jobs created divided by amount invested.' It doesn't fit that profile at all."
Instead, the profile for the Burnham project is much more far- reaching, Bush asserted.
"It will draw private- sector investment," he continued. "It will draw the creative class; it will draw the dreamers and the doers and the kind of people that we need to sustain our communities. It's a much more profound way of investing."
Burnham's La Jolla operations, which include 10 buildings housing 740 employees, have generated that kind of broad- screen economic impact, Reed explained in Tallahassee.
"In our community [in the San Diego metro], for every dollar of grant money that a nonprofit brings in, another six and a half dollars are brought in through latent economic activity," he explained. "And for every job we create in the nonprofit, research environment and research universities …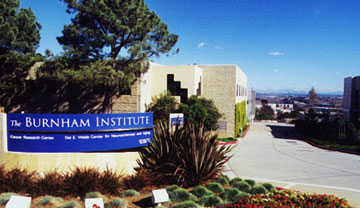 Burnham's La Jolla operations (above) have generated major job growth, institute officials said.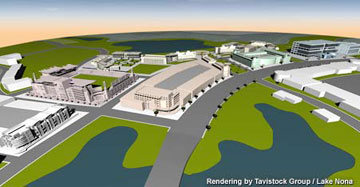 The University of Central Florida's recently approved medical school (shown in a rendering) will be a next-door neighbor of Burnham's.
another 10 jobs are created in our community."
To capture that kind of spin- off growth, local officials say that they'll rezone some 800 acres (320 acres) around Lake Nona for biotechnology companies. Orange County Commissioner Homer Hartage called Burnham's expansion the local economy's "biggest economic boon since Disney World."

The Power of Proximity
Some of Orlando's strongest attractions will be Burnham's next- door neighbors – and its collaborators. The institute's Lake Nona operations will be co- located with UCF's recently approved medical school, a new University of Florida (UF) medical research lab and a proposed Veterans Administration hospital. 
"The willingness of Florida universities to partner … has played a huge role in our decision," said Reed. "One of the attractions for our organization in expanding operations to Florida was the tremendous support and encouragement we received from Florida's universities." Burnham, he added, will develop "robust collaborations with Florida's strong academic institutions."
UF will build a 50,000- sq.- ft. (4,645- sq.- m.) joint research facility with Burnham in Lake Nona, said university President Bernie Machen. The operation will be the first- ever in the Orlando area for UF, located 113 miles (181 km.) to the north in Gainesville. "This is a tremendous accomplishment and opportunity, not only for the state of Florida, but also for the University of Florida," Machen said in Tallahassee.
UCF's Lake Nona presence was solidified in March, when the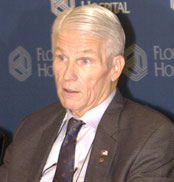 Landing Burnham ensures the formation of an Orlando life-sciences cluster, said UCF President John Hitt.
UCF Photo by Jerry Klein
state Board of Governors approved the creation of a medical college at the Orlando university. Florida Hospital and Orlando Regional Healthcare are partnering in that project by establishing 95 new medical residencies at the new school. The UCF medical college will begin its four- year clinical education program in the fall of 2008, producing around 120 medical graduates a year.
"Having a medical school in very close proximity was a real attraction for us," said Reed.
Having the institute right beside the new med school, said UCF President John Hitt, is a huge plus for the local area as well. It adds the final element essential in Orlando's vision of becoming a "medical city," Hitt asserted. "[Burnham's decision] virtually assures the development of a metro- Orlando life- sciences cluster."

Making the Most of Luck
Luck, one durable adage has it, is what happens when preparation meets opportunity. Good fortune certainly factored into central Florida's efforts to attract Burnham, and the area capitalized on it.
Orlando's fortuitous connections all traced back to a golf game. Not some casual foursome, but the NCAA east regional men's tournament on May 18-20. By chance, that collegiate showdown was scheduled to be played at the Lake Nona Golf and Country Club, part of the Lake Nona development that will house the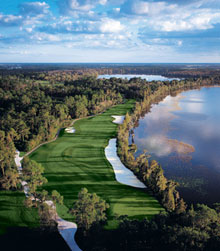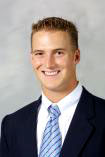 Linkage: Played at the Lake Nona Golf and Country Club, the NCAA matches of Wake Forest golfer Doug Manchester Jr. (right) played a role in the Burnham expansion.
UCF med school. One of the teams that played its way into the regional came from Wake Forest University, including a senior named Doug Manchester Jr.
"Who's your daddy?" is a long- time fixture in the annals of sports trash- talk. In this project, though, the phrase carried some extra baggage. Young Doug's dad, Doug Sr., was planning to fly into Orlando to see his son's big moment. A successful San Diego developer, Doug Sr. is a prominent and active figure in the community, serving on a number of high- profile boards that include
NexGenix Pharmaceuticals
, Wake Forest, and the Junior Seau Foundation. And, oh yes, there was the Burnham Institute board.
Tavistock Group CEO Rasesh Thakkar connected all those dots and then prepared. He called Doug Manchester Sr. and invited him to join Thakkar for a helicopter tour of Lake Nona, UCF and the Orlando area. Doug Sr., who previously had no idea that Tavistock Group was developing Lake Nona, accepted. The tour, which included a visit to a Lake Nona elementary school where some students wore t-shirts that said "Future Burnham Scientist," went well, according to Thakkar.
The Wake Forest team's golf game definitely went well. Wake won the tournament, defending its NCAA east regional title. Doug Jr. apparently took a liking to the Lake Nona course, carding 14 birdies. (Wake finished third in the NCAA finals.)
Orlando had scored its own big victory as well: It had won Doug Sr.'s support, Thakkar said after the project announcement. Burnham's board was then leaning toward Port St. Lucie. But the institute was missing the boat, Manchester insisted back in La Jolla, if it didn't give Orlando a long look.

Burnham's Decision Goes
Back to the Drawing Board
Manchester's opinion must've carried significant weight. In early June, Reed and several board members made their own visit to Orlando. The institute's site team had already visited Port St. Lucie, where they'd been hosted by Wayne Huizenga, the Miami Dolphins' billionaire owner.
When the Burnham team arrived in Orlando, local officials greeted them with a pledge of $5 million in philanthropic contributions; and there was more to come, they promised. Orlando recruiters already knew that when Burnham had visited Port St. Lucie, the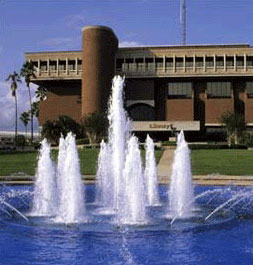 Burnham will be temporarily housed on the University of Central Florida's campus (pictured) while its lab in Lake Nona is being built.
One of Burnham's incentives will come in the form of free advertising inside Disney World's Epcot (pictured).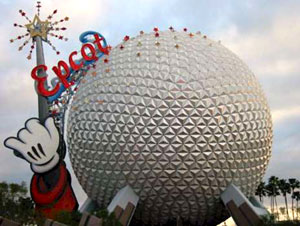 recruiting team there had fallen a bit short of its $5- million goal for donations.
In Burnham's eyes, Orlando's pledge counted for much more than just a welcome gesture. Philanthropy is essential in the institute's economic stability. About 10 percent of Burnham's annual budget of $87 million comes through donations.
Reed and his board gathered back in California and began to rethink things. The site team, they decided, needed to revisit both Orlando and Port St. Lucie. Those visits took place only a week before Burnham made its final decision.
In Orlando, local officials greeted the Burnham team with what they'd promised: a much higher donation pledge – $15 million, three times the amount promised during Burnham's first visit.
Orlando also added other incentives to its Burnham offer, including:
• a home valued at $500,000 to house Burnham's guests in Orlando;
• a $500,000 interest- free loan for employee housing; and
• free television commercials for Burnham during the annual Tavistock Cup PGA golf tournament.
Burnham's board reconvened again after the two visits, emerging from that meeting with a decision: The institute would put down East Coast roots in Orlando.
It will take from 21 to 24 months to build Burnham's Orlando research lab, Reed said at the expansion announcement. The institute will temporarily operate out of space at UCF until its Florida facility is finished, he added.
So, will the Burnham deal turn out to be as big as Disney? That's pure conjecture at this point. Biomedical industry analysts are saying that it will probably be 15 years before Burnham's impact is clear.
Nonetheless, it seemed fitting that part of the Disney empire played a role in landing the Burnham project. Walt Disney World has agreed to provide the institute with millions of dollars in free advertising inside Epcot for the next decade.