China Merchant Group's landmark $1-billion deal to build a Vietnamese port continues the foreign investment tsunami that's sweeping into the nation some are calling "the new China."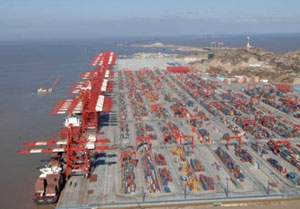 Shanghai Shengdong International Container Terminal (pictured) is part of CMG's Chinese maritime portfolio.
hina Merchant Group
(CMG) has decided to
dock in Vietnam
, building a US$1-billion port — the 136-year-old conglomerate's first major venture ever sited outside its homeland.
"[The project] marks an important milestone for the China Merchants Group," CMG President Fu Yu Ning noted in Hanoi after signing the formal agreement on April 3rd. "This represents our first attempt to invest outside of China in a significant way."
Operating in a single country, however, hasn't kept Hong Kong-headquartered CMG from becoming a major maritime force. The company ranks as the world's third-largest public port operator, dominating the mainland port market with a 36-percent share.
CMG, however, is about much more than maritime. The shipping enterprise that was founded in 1872 steadily broadened its business reach over the years, evolving into China's first major conglomerate. CMG's core businesses today include transportation infrastructure (including energy transport, logistics, ports and toll roads); financial investment and asset management; and property development and management.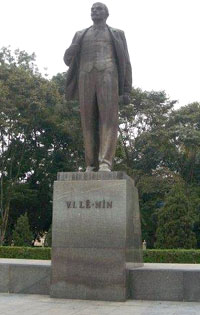 Lenin's statue still looms in Vietnam's capital city, but Adam Smith is unquestionably making major economic inroads.
Those broad-ranging capabilities could generate huge growth for CMG in Vietnam's ripe economic climate. Dubbed "the new China" by some analysts, the nation has roared to prominence as Asia's newest tiger. Last year, Vietnam's economy registered the world's second-fastest growth.
"We have assessed many territories and finally decided to pick Vietnam as a starting point," Fu said in Hanoi, where a giant statute of Lenin still sits in a downtown park. "Not only has Vietnam's economy been growing rapidly in the last decade, we have no doubt that Vietnam in the years to come stands to benefit from the ongoing trends of globalization and outsourcing in world trade."

Project Is Big Part of Vietnam's Plans
The project marks a major development milestone as well for Vietnam, which became the World Trade Organization's 150th member nation on Jan. 11th.
The nation's rapid economic growth, much of it from foreign direct investment (FDI), is overmatching Vietnam's aging, underdeveloped infrastructure. CMG will build a key component in the nation's transportation network: the Ben Dinh-Sao Mai port, which Vietnam's government named last year as one of 30 key national developments.
CMG will create a sizable integrated complex at the greenfield site 56 miles (90 km.) south of Ho Chi Minh City. Ben Dinh-Sao Mai Seaport will include bulk-cargo handling facilities, container-handling terminals, export-processing zones, and logistic storage parks. The operation's six container terminals will each be capable of handling vessels carrying loads as heavy as 100,000 tons (90,000 metric tons), Fu explained. The port will also have storage depot space spanning more than 22 million sq. ft. (2 million sq. m.), he added. Ben Ding Sao Mai's annual handling capacity is currently projected at between 25 million and 50 million tons (22.5 million and 45 million metric tons).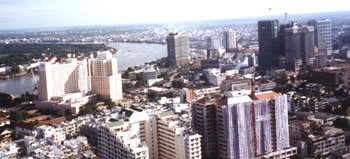 The Ben Dinh-Sao Mai port will be the gateway to global trade to Ho Chi Minh City (pictured), Vietnam's largest city.
National officials are expecting a lot from the big port complex in southern Vietnam. Ben Ding Sao Mai, they say, will become the main global trade gateway to Ho Chi Minh City, the country's business center, and its largest city, with 6.1 million residents. The new port's prominence will also likely prod the nation's major maritime operations to cluster in the area.
Furthermore, the efficiencies of Vietnam's port network will get a significant upgrade from Ben Ding Sao Mai's location in the delta of the Mekong River, the 13th-longest in the world. Many of the nation's larger ports are difficult to access and located on smaller rivers without deep-water access. Others are sited in the middle of large cities, making cargo transfers difficult, time-consuming and costly.

The Vietnamese JV Partner
CMG, however, isn't the only player in the Ben Ding Sao Mai project. The Chinese conglomerate is jointly developing the port with
Vietnam National Shipping Lines
(abbreviated as Vinalines in Vietnamese). The state-owned enterprise (SOE) is the nation's leading shipping company.
"We are confident about Vinalines' capabilities," Fu said. "The memorandum evidences the readiness of both CMG and Vinalines to embark on a journey of strategic partnership."
Going it alone, however, wasn't an option for CMG — not yet, anyway. Vietnam's WTO membership has propelled much of the nation's economy into the equal-access arena of open trade. Port operations, however, are one of the SOEs that the government is letting go of more slowly. Vietnamese partners must now hold at least 51 percent of capital in any maritime joint venture.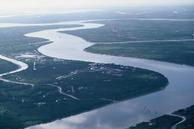 The Ben Dinh-Sao Mai port will be located in the delta of the Mekong River (pictured), the world's 13th-longest river
That will change, though. Vietnam has started privatizing all SOEs, and its
WTO agreement
specifies that the process be completed by 2010. In addition, Vietnam Prime Minister Nguyen Tan Dung has privately urged Vinalines to accelerate its privatization efforts. Speaking at the company's annual business meeting in March in Hanoi, the prime minister further advised Vinalines' leaders to reduce their reliance on state assistance for funding major projects. Those ventures should be expedited by issuing bonds and securing loans, Dung suggested. Vinalines is planning to spend $1.7 billion on port development over the next four years.
At the same time, though, the SOE has mapped out a very ambitious diversification program. That blueprint calls for Vinalines to expand its operations into banking, electricity, finance, infrastructure construction, insurance, real estate, securities and tourism.
That kind of pronounced aggressiveness is going to be critical in Vietnamese companies' survival in the brave, new world of liberalized trade. Government officials are well aware that the global playing field will wipe out some Vietnam-based firms. Nonetheless, their commitment to open trade seems firm.
"WTO accession poses major challenges to Vietnam's economy," Vietnamese Trade Minister Truong Dinh Tuyen allowed after the nation was approved for membership late last year after an 11-year effort. "But it is these reforms that ensure Viet Nam's constant economic growth. WTO membership also helps Vietnam refine its reform process, creating opportunities for trade expansion, an important tool for economic growth."

CMG Sets Stage to Exponentially Expand Its Vietnamese Ventures
Vinalines' far-reaching diversification could have a major impact on CMG's Vietnamese involvement. The port project, in fact, may turn out to be just the tip of the company's investment iceberg.
A provision in the Vinalines agreement is one seed that could spawn a much larger role for CMG. That provision provides for possible further cooperation in other businesses that have billion-dollar dimensions written all over them — specifically, financial services, logistics, real estate, shipping, and transportation infrastructure.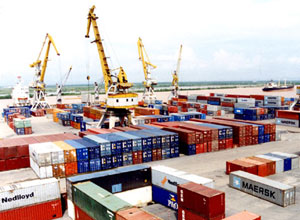 Vinalines' operations include the Cai Lan Port (pictured) in Vietnam's northern coastal province of Quang Ninh.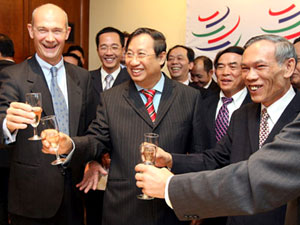 Welcome to the Open-Trade Club: (left to right) WTO Director-General Pascal Lamy, Vietnamese Deputy Prime Minister Pham Gia Khiem and Vietnamese Trade Minister Truong Dinh Tuyen raise the bubbly after Vietnam was approved for WTO membership.
On top of that, CMG on April 1st opened up two more avenues to a far bigger slice of the Vietnamese pie, signing separate agreements with two more SOEs.
One of those pacts is with
An Phu Joint Stock Company
. CMG and An Phu agreed to cooperate on projects that could include industrial zones, finance, roads, real estate and utilities.
That partnership is already far enough along, in fact, that the two firms have identified what may be their first cooperative venture: developing the 1,625-acre (650-hectare) Hoc Mon Residential and Industrial Zone in the Hoc Mon district of Ho Chi Minh City.
CMG's other accord is with
The Saigon Transportation Mechanical Corporation of Vietnam
(Samco). Created by the state in 2004, Samco manufactures cars, trucks, buses, special-purpose vehicles, motorcycles, and construction and lighting equipment.
The Samco agreement is still in the negotiating stage, but its scope could rival the An Phu deal. CMG says it's considering developing and investing in cooperative projects that could include cargo ports and depots, commodities, public services, and toll roads. The deal also broadly describes possible collaborations in ship repair and logistics services.

China-Vietnam Ties Tightening
CMG's expansion flurry comes as China's economic connections with Vietnam are strengthening. Significantly, the Chinese conglomerate signed its three agreements during Chinese Minister of Communications Li Shenglin's Vietnamese visit. Li attended all three of CMG's announcements. The Chinese minister also met with top Vietnamese officials to discuss further bilateral cooperation in the myriad sectors outlined in CMG's agreements.
The Chinese minister was in Vietnam as part of the
"two corridors, one economic belt" agreement
that the Sino and Vietnamese governments agreed to in late 2006.
One major plank in that broad agreement calls for building a road corridor connecting the south
China
city of Nanning, capital of Guangxi province, with Hanoi and north Vietnam's Lang Son province. The agreement's other cooperative corridor would focus on the Beibu Gulf economic belt, connecting China's coastal areas in Guangxi with Vietnam's coastal regions. Sino and Vietnamese leaders have agreed that strengthening those two routes would boost industry, trade and tourism development in both countries.
China already ranks as the largest importer of Vietnamese products. Vietnam, by comparison, is China's fourth-largest customer for exports. Last year, Sino-Vietnamese trade amounted to $10 billion.
China had more than 400 business operations in Vietnam in late 2006, Vietnamese officials reported.
| | |
| --- | --- |
| | |
| Samco plans a vehicle-manufacturing complex (pictured) in Cu Chi District, 44 miles (70 km.) northwest of Ho Chi Minh City, that would be Southeast Asia's largest automotive operation. | Chinese President Hu Jintao (left) last year visited Hanoi to discuss the "two corridors, one economic belt" agreement with Vietnam Communist Party General Secretary Nong Duc Manh (center) and Vietnamese President Nguyen Minh Triet (right). |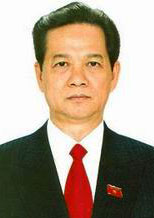 Vietnam's Prime Minister Nguyen Tan Dung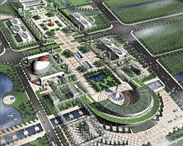 Ho Chi Minh City Hi-tech Park, where Intel will build a $1-billion, 4,000-worker plant.

Vietnam's FDI Juggernaut
Chinese companies like CMG, however, are hardly the only foreign investors who're flooding into Vietnam. The country attracted about $10.3 billion in FDI in 2006, a striking 47-percent increase from 2005.
A number of mega-deals pumped up 2006's FDI total. One of them was South Korean steel maker
Posco Steel Company
, which announced plans to invest $1.1 billion in a plant in Ba Ria-Vung Tau province on Vietnam's southern coast. South Korea was the leading nation in Vietnam's 2006 foreign investment, with Korean companies launching 203 projects.
That portfolio includes another nascent port-related project: In March,
Than Nien News
reported that South Korean firm
STX Group
has received government approval to invest $500 million in a wholly foreign-owned 2,224-acre (900-hectare) shipyard near the Van Phong Economic Zone in Khanh Hoa province.
Intel
was the U.S. company that made the biggest investment splash in Vietnam during 2006. The chip king announced a plan to build a $1-billion, 4,000-worker plant located in Ho Chi Minh City Hi-tech Park.
Big projects are still arriving at a rapid clip. So much so, in fact, that Vietnam is expecting 2007 FDI to leapfrog to $12 billion — which would equal the total of
all
of Vietnam's foreign investment from 2001 to 2005. Some analysts are predicting that the country's annual FDI will grow even more rapidly, hitting $15 billion to $17 billion a year in the near term.
Vietnam's 2007 foreign investment is running hot. The nation's $2.07 billion in FDI for the first quarter of this year is a 27-percent increase from first-quarter 2006, according to Vietnam's Ministry of Planning and Investment. And government officials say that another $30 billion in possible projects is in the pipeline. (For a look at some of 2007's biggest FDI projects, see accompanying "Dong Aplenty" chart.)
That kind of bullish expansion helped Vietnam record an economic growth rate of 8.17 percent in 2006. The World Bank is predicting that the country's strong economic growth will continue, coming in at 8.3 percent this year and 8.5 percent in 2008.
Vietnam's WTO membership has undoubtedly reinforced investors' confidence. In addition, the nation's labor-pool profile continues to prick up expansion-minded firms' antennae. Three-fifths of the country's 84 million residents are younger than 27, with more on the way. While China has set a one-child limit on families, Vietnam has a two-kid limit.
Salaries for some of the country's skilled jobs are being driven up by demand. Even so, monthly pay in some areas of China is twice the average in Vietnam. Nonetheless, living standards are rising, with FDI providing a significant assist. The number of Vietnamese living in abject poverty has been reduced to 8 percent, a sharp drop from 1990's staggering 51-percent rate.

A Rolls Rolls into Vietnam
And then there's another significant product that's coming in to Vietnam — and this one could serve as a symbol of both the nation's strong FDI inflow and its rising prosperity.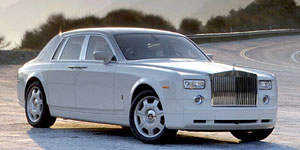 The Rolls-Royce Phantom: Coming soon to a street in Ho Chi Minh City.
The item in question: a 2007 Rolls-Royce Phantom V12 sedan.
Someone in Ho Chi Minh City recently ordered one of those supremely pricy models from a local auto import operation.
The Vietnamese buyer's identity still hasn't been revealed. But it's clear that he or she has a lot of cash flow coming in. The option-loaded Phantom V12 ordered in Ho Chi Minh City usually lists for more than $340,000. Auto imports into Vietnam, however, aren't shielded by WTO regulations. So that Rolls will get slapped with an 80-percent import tax, a 50-percent luxury tax and a 10-percent value-added tax.
So what's the total price on delivery in Ho Chi Minh City? For a cool $1.1 million or so, you can drive that beauty right off the lot.
That staggering price tag, however, hasn't deterred the mysterious Vietnamese buyer. The order is still a go, and the Rolls is scheduled to ship, headed straight to Vietnam.