Incentives Help Cement Cincinnati-Area Expansion
by Homegrown Baker Concrete Construction
By JACK LYNE • Site Selection Executive Editor of Interactive Publishing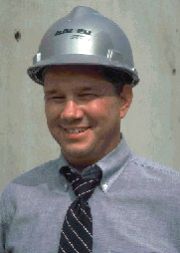 With a boost from the Ohio Tax Credit Authority (www.resourceohio.com), homegrown Baker Concrete Construction (www.bakerconcrete.com) has further cemented its roots in the Buckeye State.
Ohio is providing Baker Concrete Construction with an eight-year, 60 percent tax abatement for the company's US$8 million expansion and consolidation in Monroe (www.monroeohio.org). A city of 7,000 midway between Cincinnati and Dayton, Monroe is also home to Baker's headquarters.
An added boost for the area is Baker's use of the recently vacated, 166,000-sq.-ft. (14,940-sq.-m.) Voith Sulzer facility. Baker will build a new 300,000-sq.-ft. (27,000-sq.-m.) plant on the Voith Sulzer site, which will house a Baker Equipment & Materials' operation for highway construction.
The project will create 80 new jobs for Baker, which already has some 200 employees in Monroe.
---
Baker Concrete Construction's roots in the Monroe area go all the way back 1968, when founder and company President Dan Baker (above) was a still student at nearby Miami University in Oxford.
---

Founder Created City's Fourth-Largest
Employer While Student at Area College
Though actually finalized several months ago, the Baker incentives certainly deserve mention. Far too many companies still think financial assistance goes only to mega-expansions. Many fail to even apply for funds to which they're rightfully entitled.
The Baker expansion, on the other hand, was no run-of-the-mill deal for the Cincinnati area. The nation's largest concrete subcontractor, with 3,500 U.S. employees, Baker ranks No. 16 among the "Greater Cincinnati 100" list compiled by the Cincinnati Enquirer (www.enquirer.com).
The deal was even bigger for Monroe. Baker ranks as the city's fourth-largest employer. In addition, the company has deep roots in Monroe. Baker Concrete Construction was founded in the city back in 1968, when President Dan Baker was a still student at Miami University in Oxford.
Baker Concrete Construction has also been involved in some of most high-profile projects in its headquarters region, including Paul Brown Stadium and the Kentucky Speedway.

Indiana Also Pursued Expansion
With that context, it's no surprise that local and state development officials vigorously pursued the Baker deal.
"Given the nature of the company, we wanted to be aggressive to retain this project, so we did whatever we could," Monroe development director Jay Stewart told The Enquirer.
"We're very excited, and it's extremely important to retain businesses such as this," Stewart continued. "It's as important as attracting new businesses. And they're a good community partner."
Baker's community commitment is evident in nearby Middletown (population 47,000). The company donated so much materials and labor in creating Middletown's park for in-line skaters and skateboarders that local residents have dubbed the park "Baker Bowl." The "skate park" has grown to span more than half an acre (0.2 of a hectare).
Even with Baker's deep community ties, though, the expansion wasn't a preordained slam-dunk for Monroe. On the other hand, those homegrown roots certainly didn't hurt the city's chances, judging from comments from Jeff Arnold, Baker vice president of risk management.
Said Arnold, "There have been inquiries from some people in Indiana trying to lead us astray. Frankly, we have our roots in that Miami/Oxford corridor."