$60 Million in Virginia Incentives Fueling
Infineon's 300-Mm. Fab, First on East Coast
By JACK LYNE • Site Selection Executive Editor of Interactive Publishing
MUNICH and RICHMOND, VA. - What's in a name change? If you're Infineon Technologies (www.infineon.com), it's US$60 million in incentives for a new $1 billion-plus wafer-fabrication facility just outside Richmond, Va. Infineon's 1,100-employee fab in Henrico County will be the first on the U.S. East Coast to commercially manufacture 300-mm. (12-inch) wafers.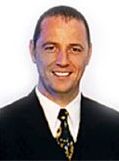 The expansion of the Henrico County operation - heretofore known as White Oak Semiconductor - is part of Infineon's aggressive strategy in navigating a semiconductor environment simmering with volatility. With its 300-mm.-diameter technology, the new Virginia plant will produce wafers with roughly 2.5 times more integrated circuits than wafers produced with 200-mm. (eight-inch) technology. Consequently, 300-mm. wafers can deliver productivity improvements of more than 30 percent, according to industry analysts.
Infineon is betting on strong demand for its Virginia-made 300-mm. wafers.
"Infineon will equip the fab in accordance with the demand of our customers," Infineon Technologies' COO Andreas von Zitzewitz explained as the expansion was announced. The new plant, company officials explained, will hire 500 to 1,000 fab workers by Sept. 30, which marks the end of Infineon's current fiscal year.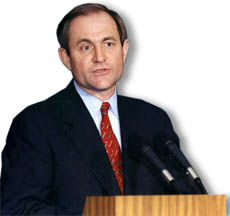 Performance Targets Trigger
$55 Million of Incentive Package
Infineon's boldness in the midst of uncertainties was apparently matched by Virginia's aggressiveness in recruiting.
"The state of Virginia has been extremely responsive by providing a performance-based grant, training assistance and support for higher education. These are all important to our continued success," von Zitzewitz noted.
All told, state incentives for Infineon could total $60 million. The bulk are in the form of a performance-based grant that will be part of the state budget proposal that Gov. Jim Gilmore will submit to the Virginia General Assembly in January. If approved, the grant would provide Infineon with the performance-based incentives including:
A $35 million award, distributed over a four-year span commencing in the second year after Infineon has created 1,100 jobs at the new fab.
A $15 million lump-sum award, distributed two years after the company invests a minimum of $1.1 billion in the Richmond-area expansion. (Infineon officials haven't yet divulged projected expenditures, noting only that "similar expansions" have involved outlays of $1 billion to $1.5 billion.)
A $5 million lump-sum award, distributed two years after Infineon's expansion creates 300 administrative jobs.
In addition, Gilmore approved a $3 million Governor's Opportunity Fund grant to assist Henrico County with preparation of Infineon's new site. The state is also providing a $2 million grant to help fund a new graduate program in engineering at Virginia Commonwealth University in Richmond.
---
ABOVE RIGHT: Infineon COO Andreas von Zitzewitz praised Virginia for being "extremely repsonsive." ABOVE LEFT: Said Gov. Jim Gilmore, "As one of the first companies to produce 300-mm. wafers in the U.S., Infineon Technologies is a perfect match for The Digital Dominion."
---

New Fab's Boldness Matches
White Oak Semiconductor's Birth
Infineon's new 500,000-sq.-ft. (45,000-sq.-m.) fab will join the company's existing Henrico County operations, which house 1,700 employees. Those operations include an 800,000-sq.-ft. (72,000 -sq.-m.) fab, as well as an administrative building. Company officials said they expect the new fab's construction to be completed in early 2002.
The Virginia expansion comes during uncertain times in the semiconductor industry. Despite 2000's record sales, the market is showing signs of softening demand. That softening is particularly evident for dynamic random access memory (DRAM) chips - Infineon's current core product in Virginia.
Infineon, though, has chosen to greet the downturn with an expansive attitude, as demonstrated by its Virginia move to 300-mm. technology.
That aggressiveness reflects the birth of White Oak Semiconductor, a 1996 Siemens-Motorola joint venture. Despite the then-weak semiconductor market, White Oak pushed on with its Henrico County plant, bringing it online in August of 1998. The move paid off. The facility was named 1999's "Top Fab of the Year" by trade magazine Semiconductor International. More importantly, the fab positioned White Oak to capitalize on the industry's record-setting surge.
Infineon, which was spun off from Siemens in March, bought out Motorola's stake in White Oak. Concurrent with the new expansion, Infineon rechristened the Henrico County operation as Infineon Technologies Richmond (www.infineonrichmond.com).
The current Virginia fab's 200-mm. manufacturing line will relocate to the new 300-mm. fab. The 200-mm. line's current space will be used for producing communication integrated circuits - which industry analysts regard as a key product in serving the burgeoning mobile-phone market.

Projected State Tax Payoff of $127 Million
Infineon is clearly betting that its next-generation moves will be rewarded in the next-generation market surge.
Similarly, Virginia is expecting a payoff for its Infineon investment. Over the next 20 years, Infineon's expansion will generate $127 million in tax revenues (in 2000 dollars), according to state estimates.
The expansion's spin-off impact is also surfacing. Suppliers to the former White Oak are readying to expand their operations.
"It is gratifying to see that Virginia's pro-business climate has sparked another major semiconductor expansion," said Gilmore. "My administration has positioned Virginia at the forefront of the latest advances in technology. As one of the first companies to produce 300-mm. wafers in the U.S., Infineon Technologies is a perfect match for The Digital Dominion." Economic development teamwork also helped seal the deal, Gilmore noted. The Virginia Economic Development Partnership (www.yesvirginia.org), the Greater Richmond Partnership (www.grpva.com) and the Henrico County Economic Development Authority (www.henricobusiness.com) all assisted Infineon Technologies Richmond in its expansion decision, Gilmore said.
LOOKING FOR MORE? BROWSE THROUGH THE "TOP INCENTIVES DEALS" ARCHIVE
---
PLEASE VISIT OUR SPONSOR • CLICK ABOVE
©2001 Conway Data, Inc. All rights reserved. Data is from many sources and is not warranted to be accurate or current.