INDIANAPOLIS -- For a while, eSkye Solutions (
www.eskyesolutions.com
) looked like it might be warming up its wings to fly the coop. In the end, it didn't. Thanks in part to some US$2.7 million in state and local incentives, eSkye's 45-employee headquarters will stay grounded in Indianapolis (
www.iedc.com
).
Concurrently, eSkye, an online B2B in the lucrative alcoholic beverage business, announced that it will add 91 new jobs in downtown Indianapolis in a two-year $8.9 million expansion. Forty-five of those jobs will come from eSkye's relocation of its R&D operation, now based in a Chicago suburb. The 45 incoming jobs are well-paid positions, with salaries averaging $100,000. Illinois, Kentucky and Michigan all put in strong bids to persuade eSkye to relocate its operations base, according to company Chairman and CEO J. Smoke Wallin. All three states offered incentives at least equaling the amount Indiana offered, he said. The subsidies were certainly a factor, Wallin allowed; but they weren't the ultimate deal-maker for the company founded in 1999, he contended.
"While we received a number of attractive proposals, it quickly became clear that staying in Indianapolis was the best decision for our business and our people," Wallin said. "We have built a significant presence here, and as one of the area's leading technology companies, we are pleased to play our part in the efforts of the community and the state in making Indiana a leading technology center."
The Indiana base, he added, has insulated eSkye from the hubris that helped sink many dot-coms.
"Being in Indianapolis has allowed us to focus on our business and not get caught up in the hype that was inflicted on so many of the now-defunct start-ups in Silicon Valley," said Wallin (who named the company for his son, Skye).
Governor: 'Culmination of a Lot of Hard Work'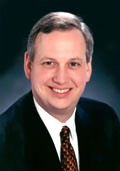 Indiana's efforts in retaining eSkye involved a team of heavy hitters. The high-powered Hoosier team included Gov. Frank O'Bannon, Lt. Gov. Joe Kernan, Indianapolis Mayor Bart Peterson and Indianapolis-based Escient Technologies' Chairman and CEO Scott Jones.
Said O'Bannon at the project's announcement, "ESkye Solutions' expansion is the culmination of a lot of hard work."
Kernan called eSkye "one of our state's leading technology companies," and said that the company's decision "is another example" of how "Indiana is becoming increasingly attractive to high-technology industries." ESkye's incentive package includes:
$2 million in tax credits through the state's Economic Development for a Growing Economy (www.indianaprogress.com/EDGE.cfm) program;
a $600,000 tax abatement from the city of Indianapolis; and
$75,000 in state training grants.
Wallin said that ESkye will sublet its current R&D space in Lisle, Ill., west of Chicago near Naperville. The company reportedly gave serious consideration to consolidating operations in Naperville.
An Industry Even More Fragmented than Real Estate
There's some irony in the fact that this deal involved a company in a business even more fragmented than real estate. ESkye's niche rests in using the Internet to tie together the huge alcoholic beverage sector.
But unlike the real estate industry, the liquor business has little potential for online disintermediation. That's because federal and state governments set up a post-Prohibition system that requires manufacturers to sell only to distributors operating in rigidly delineated geographic regions. Similarly, distributors can only sell to retailers, which in turn are the only outlet for consumer purchases. On top of that, the business is divided into beer, wine, and distilled spirits sectors.
That three-tiered system has accomplished its two major goals: collecting taxes and walling out organized crime. But it's also a huge time and money eater. ESkye, for example, maintains that using its Web site can reduce the distributors' average order-taking costs from $6 to $9 to less than $1.
The market has noticed. ESkye has raised a substantial $55 million in private placement. And with ESkye's recent merger with New York-based BevAccess, it has deals with distributors in 40 states who've agreed to use online ordering. (Wallin has said that eSkye "will retain a significant presence" in New York.)
ESkye has also built up a staff of 18 in Europe, whose $200 billion liquor industry is twice the size of the U.S. market. The company already has pilot programs under way in Spain and the UK.
Incentives Draw Some Flack
ESkye's bullish-looking future notwithstanding, the incentives drew some flack. "If they would take those dollars to lure some major electronics manufacturers here, we'd get a much better return on our investment," Larry Wallman, an independent electronics sales rep, told
The Indianapolis Star
(
www.starnews.com
).
The deal also drew criticism from Noel Atkinson, president of Greenwood, Ind.-based hardware and software design firm Compass Communications. Still-small eSkye will need two decades to become a powerhouse, Atkinson asserted.
"It's nice to have the effort, but they're misdirecting it," said Atkinson. "Indiana can't wait that long."
Other observers emphasized the fact that smaller firms supply the lion's share of new job growth.
"This is a big win for Indiana's technology sector," said Escient Technologies Chairman and CEO Jones, who also chairs the Indiana Technology Partnership (
www.indianatechnology.org
) and Technet Indiana. "With eSkye Solutions' commitment to grow its business here, they are helping to solidify Indiana as a nationally recognized high-technology region."