Periodic reports on what readers have to say and want to know. Register your input by clicking on the "Letters to the Editor" icon located at the bottom of every online feature. (Letters may be edited for clarity and length.)
---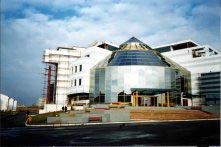 President Kirsan Ilumjinov has already spearheaded the construction of the plush $30-million Chess City (pictured) in Elista, the capital city of poverty-stricken Kalmykia.
Dubai's Chess City: 'Are They Serious?'
Great coverage, Jack Lyne, about a truly far-fetched idea ("Big Move: Dubai Backing US$2.6-Billion
International Chess City," the Aug. 30, 2004, Snapshot from the Field). But as you mentioned, if there is any place in the world where it can be built, it is Dubai. It seems that the three most important things to realize a dream are present: the visionary, the investor and the medium (Dubai's infrastructure).
My question: Are they serious?
Arif Masoud
Designer, National Monument of Pakistan
Islamabad, Pakistan
Editor: Thanks for the kind words, Arif. Yes, Dubai seems to be serious. As you pointed out, the emirate's government is inordinately venturesome in backing the kind of uncommon projects that many nations would take years to even deliberate. One of Chess City's major backers " Kirsan Ilumjinov, the president of the small southwest Russian republic of Kalmykia " also seems serious.
Ilumjinov, however, may soon have much larger obstacles standing squarely in his pathway. As I pointed out, the evidence suggests that he needs to get very serious about reducing his nation's rampant poverty and eliminating the blatant human-rights abuses with which his administration is charged. If he doesn't, he may have bigger problems than no longer being able to function as a viable Chess City backer. He may also be looking for a new job. And, likely, a new country.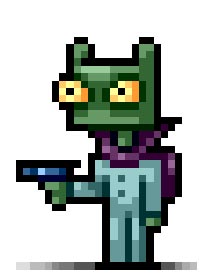 "No, I am not just being friendly."
Image: robot frog
---
Mr. Roboto, Mr. Roboto
I think that people should not have to work or do dangerous jobs. Robots should defend our country. You should make robots do everything. Thanks for reading this.
Taeson (an online handle)
Hilliard, Ohio Editor: This is certainly an, um, unusual point of view, Taeson. I can't really comment on it, though, for I am only the lonely, lowly robot working here at the SiteNet/IAMC Dispatch. They went out and got a cheap one " that would be poor me " and I just don't do problem-solving or decision-making skills. (And, I ask you, who needs all that mental stress anyway? But by the way, Taeson is an acronym "no seat.")
Remember, your call is very important to us, so please stay on the line until the next available customer service representative . . . Oh, sorry. I got confused there. That was the job I had before this one. But thanks for writing.
P.S. Any hot female robots up in Hilliard?
---
Is The Answer, My Friend, Blowin' in the Wind?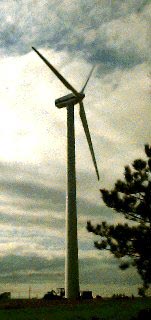 Vestas manufactures wind turbines that are as tall as 242 feet (73.4 meters) and are equipped with blades as long as 77 feet (23.3 meters).

It's great to see news of the new USA plant for windmill construction ("Denmark's Vestas Blowing into Portland, Ore., Bringing 1,200 Jobs," the Dispatch's Blockbuster Deal of the week of April 29, 2002).
We are a new federally incorporated company with plans to use your [U.S.-made] windmills in our future project that's presently being set up. We will be going onto the Toronto Stock Exchange to raise funds for our project.
We have requested info from the [Vestas] plant. Canada is hard to get going in this area, but we will succeed. A windmill farm will be built in northern Ontario. We have informed [Canada's] Wind Power Production Incentive program of our plans. Your Web site looked great and the reading was great.

Mark Fish
President/CEO
Cartage/Cottage Inc.
Guelph, Ontario, Canada Editor: Many thanks, Mark, from all of us.
Clearly, the need for alternative energy sources is practically breaking down the proverbial door, what with rising environmental damage and foreign oil dependence. Wind power will likely be one part of the solution in cutting back on our fossil-fuel habit.
As for Vestas' plans for a new plant in Portland, that project is now on hold (as you probably already know). The company decided to hang back on the plant for now after a U.S. federal wind power tax credit, which Congress initially enacted in 1999, expired at the end of 2003. The credit has not yet been renewed.
Vestas, however, got a new a $65-million order in the North American market in late September. A Quebec wind-power plant owned by Mount Copper Wind Power Energy (MCWPE, a venture jointly controlled by Toronto-based Creststreet Power & Income Fund and St. Bruno, Québec-based 3Ci) is buying an additional 25 wind turbines. Hydro-Québec is buying the MCWPE plant's additional power.
(By the way, we have a great, albeit short-term, wind power source here now in the U.S.: a national election. There seems enough of an overabundance of hot air that it could power the entire eastern half of North America.)



---
Hang on Anoop, Anoop, You're Right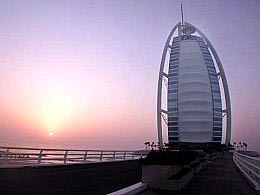 This is the top of the Burj al Arab. It's built in the shape of a sailboat.

You mentioned in the article about the underwater hotel ("Sleepin' with the Fishes: $550M Underwater Hotel Launched in Dubai," the Sept. 23, 2003, Snapshot from the Field) that the top of the Burj al Arab is wave-shaped. Actually, it is in the shape of a sailboat. The wave-shaped hotel is Jumeirah International, which is close to the Burj Al Arab.

Anoop (an online handle)
Dubai, United Arab Emirates Editor: You're absolutely right, Anoop, as we discovered in again looking over that article. We apologize for the error. Perhaps it was brain lock, as we seem to have gotten the facts straight in later coverage.



---
Fuel Cells vs. Hydrogen-Fueled
Converted Internal-Combustion Engines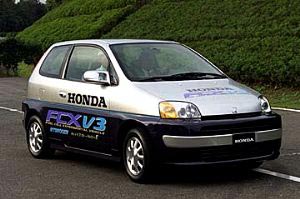 Hydrogen-powered cars like Honda's FCX-V3 (pictured) are coming onto the market. The current ``scarcity of hydrogen fueling stations, however, makes many potential buyers wary.


With regard to California's Hydrogen Highway ("Schwarzenegger Hopes to Pave Path for California's 'Hydrogen Highway,' " the Snapshot from the Field for the week of March 22, 2004): For several years, I have been working with the American Hydrogen Association and have converted several internal-combustion (IC) engines to run on compressed hydrogen.
There is more work to be done, but this is a technology that needs more attention, funding and publicity! Very little change is needed to the engine, and the exhaust is cleaner than the air entering the engine. In addition, if the conversion is done properly, the engine has as much or more power than on gasoline or diesel.
Since there are literally hundreds of millions of IC engines already in use all around the world, don't you agree that it makes more sense to use them rather than reinvent the wheel?
Fuel cells are quite good in many ways, but they're expensive, and they have some problems in cold weather. In addition, they don't clean the air when operating like a hydrogen-powered IC engine does. Thanks very much for giving me this opportunity.

Louis Linxwiler
Managing Member
Energy Transition Products, LLC
Mesa, Ariz.
Editor: That's certainly a very interesting idea " and it's one we've not heard much about. Clearly, converting internal-combustion engines would be a less traumatic way to begin moving away from fossil fuels.
How the world deals with that issue will probably depend on a combination of two factors: what's more environmentally sound and what's more cost-effective.



---
Sweet Home Steubenville


I found your article ("600-Worker Wal-Mart Center Could Hold Steubenville, Ohio's Entire CBD," the Blockbuster Deal of the Week of Oct. 8, 2001) while looking for Wal-Mart applications online! The article caught my eye, as I am originally from the Steubenville area. As a matter of fact, I lived close to Island Creek Township (the Steubenville-area site that Wal-Mart selected). I am glad to see Steubenville get such an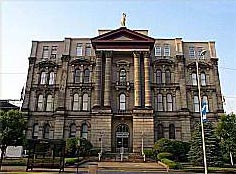 The Jefferson County Courthouse in Steubenville.

opportunity. I know that we left the area for lack of employment opportunities.
I am now remarried, living in another small community in Wisconsin. And I find myself again looking for employment, along with my husband, wishing Wal-Mart would build another warehouse in our area.
Well, I just wanted to tell you that I enjoyed your article, as it gave me fond memories of the area I grew up in. I will be looking for more articles.

Barbie Ferraton
Osseo, Wis.
Editor: I'm glad to hear that the article stirred up some good memories. I can certainly empathize with your feelings about Steubenville. I still get the newspaper from my much smaller Kentucky hometown, Russellville.
If you're lucky, I figure, your hometown " even after you've moved away " always owns a little corner of your heart.
By the way, Site Selection may give residents in your area more good memories in its upcoming coverage of the Ohio River Corridor that stretches from Pittsburgh, Pa., to Cairo, Ill. The feature will be part of the November 2004 issue, which looks at industrial development trends.