Periodic reports about what readers have to say about the stories, past and present, in SiteNet Dispatch and Site Selection. Register your input by clicking on the "Letters to the Editor" icon located at the bottom of every online feature. (Letters may be edited for clarity and length.)
---
Ford Retiree Steamed Over
Company's Rumored Move to Mexico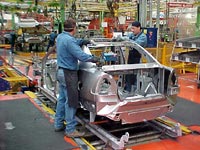 Although Ford has denied the validity of a leaked internal document that outlined an extensive southward shift, the automaker has decided to make a combined $1.9 billion in upgrading its Mexican plants in Cuautitlan (above) and Hermosillo (below).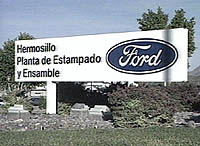 Being a retired Ford employee and reading what Ford has to do to stay competitive makes my stomach turn over. If Ford thinks moving the larger percentage of its production to Mexico is going to improve sales somehow, I think they have a big surprise in store for them. Personally, being a commercial art student and having some design background, I've seen Ford try over and over again to improve on designs with no success in most cases.
Example? Thunderbird … gone. Taurus … gone. Who really needs a Lemans-style GT to drive to work? Those should fail in a year or two, give it time. Prices keep going up but paychecks [don't].
They think moving to Mexico with all this new manufacturing will help? What they need is better management decisions. In the last 10 years I've seen no signs of good management, only diversity issues and the like (senseless time spent on nothing). No attention to auto building …
It seems to me [that] Ford has found an excuse and reason to move its volume work outside the borders of the United States. They may be an American company, but who's kidding who here? What a sad state of affairs auto manufacturing has become.
If Henry Ford were alive today, I think he'd fire every officer, from the CEO right down to his own great grandson… When [do] we get our heads out of rear ends and realize that we don't need to trade so unfairly with other countries and make the playing field level? … Nothing of value has ever come from south of the border except tequila, and who cares about that? Eight million aliens yearly enter our borders and we can't make it from week to week without problems.
Something is painfully wrong with this picture.

Mike Sollenne
Ford Retiree
North Olmsted, Ohio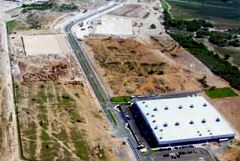 Reynosa, Mexico, is home to manufacturing operations for more than 200 non-Mexican firms, including Whirlpool and Maytag. Pictured is GP Group's Reynosa Industrial Center, one of 10 industrial parks in the area.
Editor: Wow, Mike, why don't you tell us how you really feel?
Seriously, though, thank you for writing and for reading. Moreover, the issue you so passionately describe – the off-shoring of manufacturing jobs – is a gut-wrenching experience for many developed nations like the U.S. A number of remedies have been proposed. One of them is offering incentives to companies that keep jobs in their homeland. Other ideas have included changing the national tax code to reward employers who create jobs that aren't likely to be off-shored; or designating only "vital national industries" for protection.
But none of that has really amounted to much. And all the while, the jobs continue their inexorable migration to cheaper locales. As for the Ford rumors that we reported in our June 26, 2006, Snapshot from the Field, they remain at this point just that: rumors. Nonetheless, the internal report that leaked out of Ford has certainly created a lot of smoke. Fire could still follow.
We'd suggest that you to stay tuned on this one, Mike. Somehow, though, we're willing to wager a sizable wad that you're already very tuned in.
---



On the Other Hand …
Reader Applies for Nissan Job


This was a wonderful article on Nissan. I already knew they had their act together, but hearing of their progress over the years is remarkable. I applied and went through the Nissan training, and I'm waiting hopefully to hear back to go further.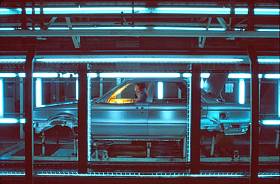 Nissan's plant in Smyrna, Tenn., during a final body inspection.

I would like to say that even their training process is well organized. I hope one day to be a part of Nissan. I would wear my shirt and be proud that I work there.

Scott Simonds
Murfreesboro, Tenn.




Editor: Thanks for the kind words, Scott. We, of course, have no vested interest in any of the companies that we report on; readers can – and should – draw their own conclusions. That said, we're glad things went well for you with Nissan (particularly since that Blockbuster Deal on Nissan's Tennessee expansion dated back to July 7, 2003).
Your point, though, relates to the letter above from Ford retiree Mike Sollenne: It represents the other side of the off-shoring coin. In auto manufacturing in particular, it's the foreign firms in the U.S. that are creating almost all of the new jobs. And that's another complicating factor in the off-shoring discussion: How can you try to stop companies from leaving your own country and going elsewhere, while at the same time hope that foreign companies come to your homeland and create jobs? Unavoidably, the global economy's blade cuts both ways.
---



An Eloquent Champion Steps
Up for the Duluth, Minn., Area


Let me begin by applauding you and the rest of the Site Selection team for putting together an excellent issue for May 2007. As always, several articles provided insights that will surely enhance our economic development efforts in northeast Minnesota and northwest Wisconsin.
Because the Area Partnership of Economic Expansion (APEX) is based out of the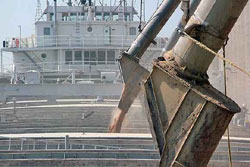 The Voyageur Independent is pictured loading wheat in Superior. The Port of Duluth-Superior is the Number one port in the Great Lakes Region in loading grain, while it's the nation's Number one port in the volume of coal it handles, and it's No. 5 in ore.

Duluth-Superior MSA, we were especially interested in your article, "Ports in a Storm." In it, you highlight several pertinent issues that we deal with every day as an international seaport. However, we were somewhat surprised to find that the Duluth Port was not mentioned…
I feel obliged to remind you that the Duluth Port expects record highs in 2007 with regards to general cargo revenues. Much of this growth can be traced back to heavy cargo bound for the Western Canadian oil patch, not to mention unprecedented shipments of wind turbines to feed the growing wind energy industry in North America. For more information on these developments, you might refer to www.businessnorth.com.
Furthermore, with Canal Park and the world-famous Aerial Lift Bridge, the Duluth Harbor has also emerged as a vital tourist destination, and further evidence suggests that many young visitors are choosing to stay as residents. Although we still export much of our talent to the Twin Cities and larger metro areas, recent developments are working to address the "brain drain." For example, the Duluth-Superior MSA was chosen as one of three regions that will host the Knight Creative Communities Initiative, a program guided by Richard Florida, bestselling author of The Rise of the Creative Class and The Flight of the Creative Class.
Along with talented and creative minds, our region has also had great success in attracting new and innovative businesses. While we are still highly regarded for our core natural resource-based industries, we have also seen recent growth in clusters such as aircraft maintenance and manufacturing, heavy equipment manufacturing, metal fabrication, information technology, education, health care, and transportation.
Real estate prices are extremely competitive in our region, as are wage rates. The labor pool is fed by several outstanding public and private schools, two universities, one private college, and 10 community and technical colleges. At present, 91.9 percent of Duluthians age 25 or older are high school graduates, and 32.7 percent go on to receive undergraduate degrees. Productivity ratings are high, while turnover remains low. Plus, prices for electrical power in our region, provided through Minnesota Power, are among the most competitively priced in the nation. With attractive incentive packages and dynamic economic development resources in place, our region is poised to accommodate exponential growth.
All in all, the Duluth Port is emerging as a major player in the Midwestern United States. A recent study conducted by the University of Wisconsin's Transportation and Logistics Research Center shows that major rail corridors provide a direct link between Duluth and the larger container terminals of Canada, including a new terminal in Prince Rupert, B.C., which is scheduled for completion in October 2007…
Thank you for taking the time to read this email. I wish you the best of luck in all your future endeavors and look forward to the next issue of Site Selection magazine.

Sincerely,

Jeff Borling
Office Assistant
APEX
Duluth, Minn.




Site Selection Managing Editor Adam Bruns: Thanks very much for your letter. I hasten to mention its high quality, amid so much of the superficial PR material I encounter on a daily basis, most of it outsourced.
We are well aware of the Duluth port and Duluth area's influence in the Great Lakes Region, and appreciate the update. (See these recent articles: www.siteselection.com/ features/ 2006/ nov/mn/ and www.siteselection.com/ features/ 2006/ may/greatLakes/,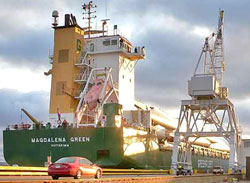 The Magdalena Green is pictured backing into the Duluth-Superior Port, bringing in a set of wind turbine blades from Denmark headed to Mower County, Minn. Two thousand jobs are dependent on the port, which has a $200-million annual economic impact on the region.

the latter our Great Lakes piece from 2006.)
I am not usually given to reporting on my reporting, but in fact, I had directed an e-mail query to Duluth Seaway Port Authority (DSPA) authorities that went unanswered by the time of my rapidly encroaching deadline. (Maybe it never reached them.) Beset by multiple deadlines and interviews, I was not able to follow up by phone, but went for the more generalized observations of the association folks on topics like dredging, which apply to so many of your fellow port communities. In any case, given the exigencies of space and our primary focus on project development, further discussion of dredging, as well as discussion of the water protection pact and the aquatic nuisance threat, had to be deferred to other files for later follow-up.
The new Great Ships Initiative and aquatic nuisance research center that you're involved with in partnership with the University of Wisconsin-Superior and others is something I had taken note of, and which illustrates "Universities and Economic Development," an article I'm working on for our next issue. And I look forward to following up at some point with the Council of Great Lakes Industries (CGLI) and others about the multi-state water protection pact and its potential impact on existing industry (I had also placed a call to a CGLI leader, which also went unanswered).
Finally, in reference to your mention of the Port of Prince Rupert, please note my "IAMC Insider" piece on p. 327 of this same May issue.
Thanks again for your readership and your comments. Please keep me on your press list for all APEX project news, research, etc.
Meantime, look for more material in the expanded Web edition of the "Ports in a Storm" article.
---



Reader: It's Risk Mitigation, Not Power
Costs, That Drives Data Center Locations


I read and was impressed with your article today ("Energizing the Internet") in Site Selection magazine and wanted to introduce myself.
I am a commercial real estate consultant at CB Richard Ellis (CBRE) who specializes in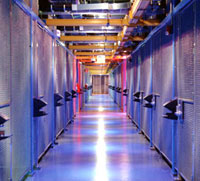 A scene inside one of the data centers operated by Equinix, a Foster City, Calif.-based company that provides network-neutral data centers and Internet exchange services

site selection for corporate data center facilities. In addition to my role in advising clients in site selections strategy for their data centers and executing acquisition/disposition assignments, I am also the managing Practice Leader for CBRE's Technology Practice Group (TPG). The CBRE TPG is a group of over 80 CBRE professionals across North America who have experience in assisting companies with their mission-critical facilities needs (e.g. data centers, telecommunications switch sites, etc.).
Why I wanted to communicate with you is, although you are correct in that markets with cheap power are attractive to data center operators, cheap power is not the Number one site selection factor for all data centers. Yes many of the larger data center operators are considering rural areas with cheap power. However, most of those data center operators [have] many other existing data centers already in their portfolio that act as redundant locations to each other. For corporate data center users, the Number one site selection factor is risk mitigation.
I felt it necessary to respond, since it is misleading to corporate data center operators to illustrate power cost as the Number one factor.

Jason J. Shepard Practice Leader
Global Corporate Services, Technology Practice Group
CB Richard Ellis 
Newport Beach, Calif.




Site Selection Director of Publications Ron Starner: Thank you for your nice letter and for sharing your excellent insights about data centers and the site selection factors used in locating them. I am passing along your letter to the other editors at Site Selection and will ask them to consider using you as a source in future articles. Thanks again for reading Site Selection and for taking the time to share your thoughts with us. We wish you well.
---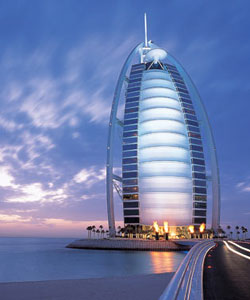 Dubai's many architectural wonders include the sail-shaped Burj al Arab (pictured), the world's tallest hotel

'Mesmerizing' Dubai


I have just checked your Web site, and I was amazed by what I've seen. I visit Dubai regularly because of my work, and day after day I see this marvelous city growing and booming. But seeing such a thing is mesmerizing to be honest.
I never usually give my opinion online, but this time I had to! Good luck!

Nour al Hassan
Director for Development
Middle East Center for Culture and Development
Amman, Jordan




Editor: Thank you for your letter and thank you for reading our Web site. It's good to hear from the Middle East.
From our view, Dubai has an inordinately large number of large and unusual projects going on. A few of them we've covered include Burj Dubai, the world's tallest building; Dubailand, a $5-billion theme park; the $2.6-billion International Chess City and an underwater hotel. On top of that, the city is a hotspot for business expansion for multinationals like Siemens.
So we're pleased to know that Dubai looks pretty amazing as well to a Middle Easterner – especially one who's highly knowledgeable about the development process. And good luck to you.



---
PLEASE VISIT OUR SPONSOR • CLICK ABOVE
©2007 Conway Data, Inc. All rights reserved. Data is from many sources and is not warranted to be accurate or current.