Steel and fuel plants are driving industrial expansion along the South's Tennessee-Tombigbee.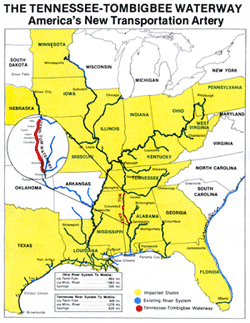 C
onnecting the Port of Mobile to the Mississippi, Tennessee and Ohio rivers, the Tennessee-Tombigbee Waterway is more than a modern engineering wonder. It is a lifeline of economic opportunity for the South, as companies that make their living off the region's natural resources invest at a record pace along this man-made marvel.
Completed in 1984, just one month after President Ronald Reagan's re-election, the US$2-billion waterway project included 10 locks and dams, a 175-foot-deep (53.1-meter-deep) canal connecting the Tennessee River with the Tombigbee River watershed, and 234 miles (377 km.) of navigation channels.
Today, the waterway is considered one of the most energy-efficient trade routes in North America. It connects 18 states and 14 river systems totaling some 4,500 miles (7,242 km.) of navigable waterways serving a large swath of southern and middle America.
The payback for this massive public works project that was 12 years in the making is now coming in droves, says Mike Tagert, administrator for the Tennessee-Tombigbee Waterway Development Authority in Columbus, Miss.
"The past five years have seen probably as much direct total investment along the Tenn-Tom as in all the years previously," says Tagert, noting that steel industry investment along the Tenn-Tom has totaled more than $5 billion since 2003. "
Severstal
Columbus
alone has invested a total of $1.3 billion in its steel plant, bringing 450 jobs, the majority paying over $70,000 per year. That's a tremendous impact in a region like this."
The
Columbus mini-mill
opened in 2007 on 1,400 acres (567 hectares). The company's phase-two expansion, now underway, will upgrade the Mississippi plant from 1.7 million tons (1.6 million metric tons) to 3.4 million tons (3.1 million metric tons) per year. Severstal can ship products directly from the plant by rail, road or barge.
Multi-modal access to multiple trade and supply routes is the primary selling point of the waterway to industrial end-users, says Tagert. "It is a critical link. Without the Tenn-Tom, you would not have the link between the Gulf of Mexico ports and the inland waterways of the Ohio, Mississippi and Tennessee rivers," he says. "We are directly linked to the Port of Mobile. As the Port of Mobile goes, so goes the Tenn-Tom Waterway."

Growth Follows Water's Path
Tagert has a favorite saying for explaining the pattern of industrial development in his region: "Where the waterways go is where the communities grow." (For further proof of this maxim, see
Site Selection
's past coverage of project activity along the
Ohio River Corridor
and
Mississippi River Corridor
.)
The numbers bear him out. Almost every major plant investment in the region's steel and fuel industries over the past five years has taken place along the Tenn-Tom.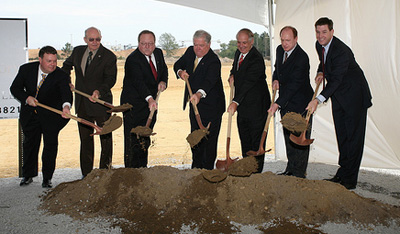 The latest was
Steel Development Co.
in Amory, Miss. The firm announced in late October that it would build a $175-million rebar manufacturing plant on an 80-acre (32-hectare) site along the Tenn-Tom in the Amory Port Industrial Park.
The 80,000-sq.-ft. (7,432-sq.-m.) factory will create 200 jobs that pay an average annual wage of between $60,000 and $70,000. The plant will process, on average, about 500 to 800 automobiles' worth of scrap metal per day.
Waterway access was a primary factor behind the site selection, says Tagert. "Waterway transportation is now being factored into companies' logistics models," he adds. "Waterborne transportation is a highly efficient system. It is the safest mode of transportation and the most environmentally friendly."
Other steel manufacturers are following suit. In April of 2008,
U.S. Steel
announced plans for an initial $150-million investment to build a carbon-alloy plant in the Port of Epes in Sumter County, Ala., about 50 miles (81 km.) from Tuscaloosa. Total investment could reach $450 million at the site, the company said.
Though put on temporary hiatus in December 2008 because of the weakened U.S. economy, the 450,000-sq.-ft. (41,805-sq.-m.) factory will create at least 75 full-time jobs plus another 250 during the construction phase. Upon full production, as many as 235 people could be working at the plant.
The granddaddy of them all, however, is
ThyssenKrupp, whose $2.74-billion steel plant is set to open in Mobile, Ala., in 2010
. The plant is one of the largest industrial projects in the South since World War II.
About 2,700 workers will be employed at the plant, which received about $400 million in state incentives. In addition, ThyssenKrupp could access as much as $900 million in Gulf Opportunity Zone bonds for low-cost financing.

Forestry and Fuels Add Up
Iron ore isn't the only hot commodity in the region, Tagert notes. Access to more than 34 million acres (13.77 million hectares) of commercial forests makes the Tenn-Tom an attractive location for bio-fuel companies.
A case in point is
TEPPCO
, which recently opened a new 500,000-barrel terminal on the Tenn-Tom in Boligee, Ala. The company is leasing an 80-acre (32-hectare) site from the Greene County Industrial Development Board under a 60-year agreement.
The terminal is about two miles (3.2 km.) from the Colonial Pipeline and will be used for transporting both diesel fuel and ethanol.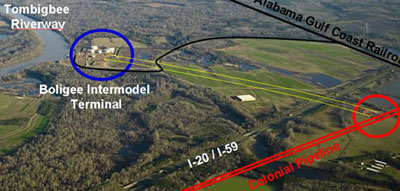 "[TEPPCO] actually acquired their own barge company for $87 million," Tagert says. "The Tenn-Tom was a leading factor in their choosing the Boligee site because it provides access for their customers. The intersection of Interstate 20 and the waterway was a key factor, along with the presence of a major pipeline."
"I've been trying to tell the oil industry what the Tombigbee was," said Dan Ownby, director of business development for TEPPCO Partners, at the Tenn-Tom Waterway Development Authority's annual conference in Mobile, Ala., in August 2008. TEPPCO, a $5-billion enterprise, stores and transports 27 million barrels of oil a year.
Ownby described the area as a nexus of the fuel supply chain, incorporating supply from Canada, the Gulf Coast and the East Coast. The new terminal in Boligee, he said, can supply terminals in Aberdeen, Miss., and Sheffield, Ala.
"The Colonial Oil pipeline is full," he said of one of the eastern United States' major fuel supply lines. "We found where it crossed the Tenn-Tom, and put a terminal right there."
Ownby said Boligee also "gives us some hurricane relief. We can put barges on the water and pull product from Corpus Christi to Pascagoula, and put those on the water." (One full barge, he explained, equals 134 trucks.) He also said the firm's terminal strategy is well positioned to handle the supply chain challenges of an ethanol mandate.
"We have purchased land to build two more terminals in Clifton, Tenn., and Clarksville, Tenn.," he said, "and we're looking for at least one more site to build a terminal."

Biofuels Could Stir Up New Growth Surge
Meanwhile,
Dixie Green LLC
is building a plant along the Tenn-Tom in Jackson, Ala., to make wood pellet fuel using a gasification process. The plant, which was announced in February of 2008, is expected to open by fall 2009.
"River transportation gives us the best bang for the buck," said Alex Farris, vice president of special projects for
New Gas Concepts
, parent firm of Dixie Green.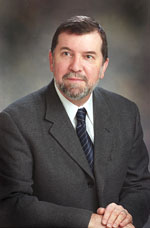 The emerging biofuels industry could set off a surge in additional demand for barge transportation, Mississippi State University's Dr. Liam Leightley pointed out at last year's Tenn-Tom conference in Mobile. The region could be a particularly hot spot for operations that produce alternative fuels from wood pellets, said Leightley, a former global manager in the specialty chemical industry who's now dean and director of MSU's Forest and Wildlife Research Center. With the closure of pulp and paper mills, he explained, "woody biomass has great potential" as a biofuel, and the Southeast has great potential as a source for both that feedstock and for ethanol.
"There is 576 million gallons (2,183 liters) per-capita consumption in Mississippi," Leightley said of the state's fuel appetite. "If anywhere, it's the South that could benefit from producing and transporting biofuels."
The new Dixie Green plant will employ 80 to 100 workers and produce about 680,000 tons (618,000 metric tons) of product per year.
Tagert says these projects are only the beginning of a new wave of development along the Tenn-Tom.
"There are 35 industrial sites available for development on the Tenn-Tom, and they have minimal restrictions," he says. "They have already gone through the basic screening process and are ready for development."
Tagert adds that he expects to see "a few more announcements in the spring of 2009, particularly in the steel and alternative fuels industries. Around here, optimism is higher than it's ever been."
Adam Bruns contributed to this report.
Hog Heaven
Site selection can be a complex balancing act — particularly when you're locating a pig farm. But PIC USA found the right combination in South Dakota, where its new swine genetics facility will export to 20 countries, impacting the makeup of as many as 80 million pigs.
"I
t was pigs, people and land."
That's how Dr. Bill Christianson, general manager of
PIC USA
, explains the basics behind his firm's selection of Campbell County, S.D., for a "genetic nucleus" swine genetics facility that will have worldwide reach.
"Not only does it bring development to our rural communities, it also creates the type of quality jobs that we are targeting in our agri-business and biotech campaigns," said Secretary Richard Benda, Department of Tourism and State Development, at the spring 2008 project announcement.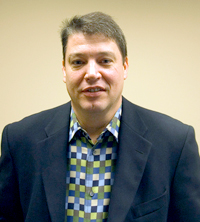 Located near tribal reservation land on the North Dakota border, the US$18-million project will bring 44 full-time and 10 part-time jobs to the area. According to reporting from ThePigSite.com, the complex will include "a 3,000-head sow farm with full gilt test, a full boar test, a 500-boar gene transfer center, a quarantine/export facility and a state-of-the-art truck washing facility to enhance bio-security."
PIC stands for Pig Improvement Co., launched in England in 1962 by six pork producers in order to bring bloodline focus back to the pork market from the show ring. Their three main tenets: reproductive performance, growth efficiency and market value. The firm's reach today extends to 45 countries on six continents, under the corporate moniker of
Genus plc
.
PIC USA came to life in 1973 in Wisconsin, and now operates from its headquarters in Hendersonville, Tenn. Today more than 2,000 family farms, cooperatives, contracted multipliers and integrated pork systems in the United States are PIC customers, including 23 of the largest 30 U.S. producers — the Hormels, Smithvilles and Cargills of the world.
Continual genetic improvement is the company's mantra, and it's carrying it out via trait selection and breeding at various nucleus facilities. In a December interview, Christianson calls the company's site selection process "unique."
"It's where we make our genetic improvement, which we then disseminate around the world," he says of PIC's nucleus facilities, which literally do disseminate swine genetic material. "It's critical that when we disseminate the material, we don't disseminate diseases. That wouldn't enter a lot of people's processes on where to locate. . . . Because the health is so critical, we need to use that as one of the lead criteria."

Breeding for Taste, Not Speed
Christianson says the facility will be a mirror image of the one developed near Kipling, Saskatchewan, a decade ago. He then explains the science:
"You're applying statistics and tools to identify the elite males and females to mate together to make the next generation," he says. "It's set up in pyramids. We make the improvement at the top, but we're three generations away from the commercial application — commercial pigs are turned into pork. A lot of our customers do the gene multiplying. The improvement gets leveraged across something like 100 million pigs globally." Some of that improvement takes place at some 170 predominantly subcontracted "multiplication units" around the world that are managed by Genus.
Unlike racehorse breeding, in this case the improvements are more about taste than speed. The firm uses a proprietary database called PICtraq™, and its genetic improvement program draws on the variation available in 17 different line populations worldwide.
"Information is entered into PICtraq™ 24 hours per day from nucleus and multiplier farms on every continent," explains the PIC Web site. "PICtraq™ links common ancestors to account for performance and pedigree information, as well as the global movement of genetics. This linkage is invaluable in a breeding program designed to serve the global pork chain."
"We apply a whole series of different tools around measuring animal performance," Christianson says. "It's a lot about bioinformatics. Our database has 10 million pedigreed animals. We use all of that information from relatives, and increasingly biotech is involved, with the use of genetic markers."

Close and Far at Once
PIC USA has operated a nucleus facility in Scottsville, Ky., for more than 20 years, but the region is becoming suburbanized, says Christianson. After deciding that the facility would be in the U.S., he says, "the driving parts of the decision were pig density [i.e.,
away
from other pigs] and access to farmland for manure application. For manure, the fertilizer value has gone up quite a bit. To be able to apply it properly and get the maximum use out of it, we needed to be near corn land."
That's where it gets tricky, he says, especially with the booming activity in the nation's Corn Belt because of the (recently abated) ethanol boom.
"We wanted to be near that land, but didn't want to be near where other pigs were," he says of the fine line the company needed to tread. "We also wanted to be in an area that was relatively sparsely populated."

PIC also wanted relatively few larger landowners as neighbors, he says. At the same time, though, the company wanted access to a supply of labor that will fill most of the plant's jobs, other than some specialist positions as the operation's development process begins.
As for the animals, at any given time, the new facility will have 30,000 head spread among its five sites, says Christianson, who admits that, though "this is a biotech facility that uses a lot of technology, at the same time it's also a pig farm."
Perhaps the only two words more rabble rousing in site selection are "nuclear reactor." So it only made sense that PIC proceeded slowly, and only dealt with areas where such an operation would be welcomed. That process began in 2005.
"Typically, in much of the U.S., agriculture-wise, people would come to states and say, 'I want to build a facility in this place. Can you help me?' Sometimes that works," says Christianson. "We went about it in an entirely different way. To start with, we had a lot of time. We went to states and described our project, then asked them, first, if they were interested, and second, if they could help us find regions."
Kentucky, South Dakota and North Dakota made the short list. But even though the Bluegrass State has been a good host to the company for so many years (including a former office in Franklin), the suburbanization factor mitigated against locating this type of facility there. Christianson describes North Dakota as "pretty welcoming," but the focus turned to its southern neighbor.
PIC's first meeting with South Dakota's state veterinarian, agriculture secretary and a gubernatorial representative was in August 2005. Three counties were highlighted, including Sully County, which is located three counties to the south of Campbell, but is still adjacent to reservation land (the Cheyenne River Indian Reservation).
Christianson says it was not about incentives, though the company is receiving help getting water to the sites and upgrading roads.
"They put us in touch with the right kind of people who could see it could be a helpful project for the community, not the 'evil pig industry,' " he says. "There were Campbell County commissioners and economic developers who could help walk us through it locally. We wanted to do things right, to be good neighbors. And we needed to be within striking distance of a labor force. Having gone through this 10 years ago in rural Saskatchewan, I know it's not easy to recruit 50 people to that sparsely populated of an area."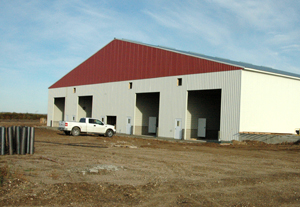 Asked about the logistics of the operation, Christianson says something on the order of 60,000 head will be bred annually.
"Some of those animals go off as elite breeding animals around the world, and some go to slaughter," he explains.
While that's a lot of pigs, it pales in comparison to the company's aggressive strategy in China, where the People's Republic's demand for pork is driving the establishment of four nucleus facilities, the most recent one announced in September in Benxi in Liaoning province. A separate project under negotiation in China is slated to produce 1 million market pigs a year.

Continuing the Lines
Asked how the South Dakota operation will provide optimal value to the company's worldwide business, Christianson says it depends in part on how consolidated the industry becomes. In the U.S., for example, 80 percent of the firm's business comes from 20 percent of its customers. But the reach from northern South Dakota could go well beyond the nation's borders.
"This particular unit will export to at least 20 countries around the world, and impact 75 million to 80 million pigs," says Christianson. "This one will export fairly extensively. Part of it goes to the federal level, in terms of who we have trade certification with. In some instances, it's easier to export from Canada, and in others, from the U.S. This unit will have a larger impact in Asia and Latin America. And we select animals differently for different parts of the world. That sets us apart from a commercial operation. Even within the lines, you'll select an animal differently for Germany than you would for the Philippines, according to different indexes."
Christianson visited the new South Dakota operation in November and was very impressed with progress.
"One of the sites is nearly complete, and three of the smaller sites are complete," he says of the complex's five parts. "Another won't be done until next spring. We have animals on the ground there, something like 5,000 head on site. Construction is on schedule, and we look to hit our timelines and start mating, with the next generation in the spring."