ith major overcapacity still in place across Europe, major new investment in the automotive sector is rare. As one analyst puts it, what little "fresh" investment there will be will likely come in low-cost eastern countries while investment in western European plants is confined to upgrading of facilities. Still reeling from the global financial crisis, the industry is also adjusting to the influx of new technologies, which are dictating upgrades at many auto builders and their suppliers.
Benjamin Körber, CEO of Körber GMBH, a Berlin-based supplier of complex, machined parts to Tier One automotive suppliers, says the automotive industry is slowly recovering from a dramatic downturn caused by the global financial crisis. He believes the industry will have lost three to four years in its development by the time a recovery takes hold in 2011 or 2012.
"The crisis has changed the business relationships between customers and suppliers enormously," Körber says. "Although price and quality are still the predominant success factors, financial stability of the supplier is becoming more and more important. This will worsen the already difficult situation of unstable suppliers and accelerate the current consolidation process."
Körber says the move to "hybrid-type" cars is also having a big impact on the sector's supply chain.
"Although the improvement of combustion engines is the more efficient and more promising way to lower the impact on the environment, it has become unfashionable to promote the technological truth. Thus, this shift in technology will not only have an impact on the OEMs, but also on their suppliers, as both have to adapt to this."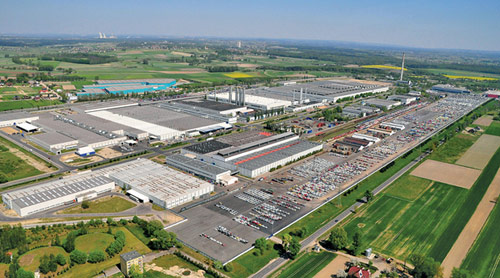 Körber believes the industry's migration towards Eastern Europe has already slowed, but will likely never stop. He says that, aside from expansions related to new technology, the entire industry in Europe will only grow marginally in the long run. He says his company, which opened a plant in Laurens, S.C., in 2008 to serve the U.S. market, has no plans for new facilities in Europe, but will likely see moderate growth at its plants in Germany and Italy.
"The industry is spread a little wider than it used to be, and more and more investment is coming in Eastern Europe," says Tim Urguhart, senior automotive industry analyst with IHS Global Insight in London. "
Poland
is gradually building up as a powerhouse, and it has one of the biggest and most efficient plants in Europe with Fiat, which is on target to make 600,000 cars this year."
Richard Gadeselli, spokesman for the Fiat Group, says the company's plant in Tychy, Poland, has rapidly expanded, more than doubling production since 2005, and was scheduled to reach 600,000 cars in 2009. The plant employs about 1,800. The massive 426,000-sq.-m. (4,588,020-sq.-ft.) plant produces about 2,320 cars daily. The plant was enlarged each year from 2003 to 2008 to implement new car models, he says.
Gadeselli says Poland offers well-trained, highly efficient labor with competitive production costs. Fiat has experienced good cooperation with local colleges, too, he says.
"Many of the OEMs are moving into production of electric cars," Urguhart says. "Again, that won't be brand new investment. There is massive overcapacity in Europe. That is the issue, and it's almost like the industry doesn't want to face it."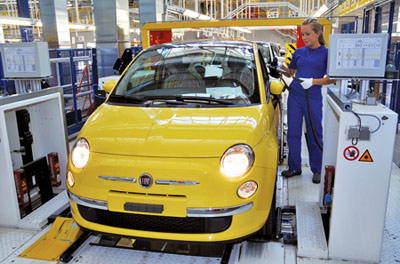 Urguhart cites as an example two projects announced by Renault in November 2009. Renault will manufacture the future electric vehicle based on the Twizy Z.E. Concept at its facility in Valladolid, Spain, about 150 km. (93 miles) northwest of Madrid. The mini-compact car targets inner-city dwellers. Renault says it chose the Valladolid plant to simplify logistics to its target market of Western Europe. Production is due to begin in 2011.
Renault also announced it will manufacture the electric, zero-emission version of its Kangoo Express LCV at its Maubeuge Carrosserie Automobile factory in northern France beginning in the first half of 2011.

Mercedes' Maneuvering
Mercedes-Benz has two major projects under way in Europe which management says create a coordinated network aimed at cutting costs in the production of its new compact car. It is expanding its center of excellence for compact vehicles in Rastatt, Germany, with a US$900-million investment, which the company says is part of a $4.5-billion total investment in Germany in 2009 and 2010. The new vehicles will succeed the current A- and B-Class vehicles and are due to roll off the assembly line at the end of 2011. The company also broke ground in October on a $1.2-billion plant in Kecskemét, Hungary. Production ramp-up is set for 2012.
"Production costs are a key factor in the competitiveness of the price-sensitive compact vehicle segment. The coordinated production network of the Rastatt and Kecskemét plants will make a key contribution to this," said Rainer Schmückle, COO of Mercedes-Benz Cars. "In the future, three of four vehicles of the successor generation to the A- and B-Class will come from the Rastatt plant location, which will remain a central proven component of our production network."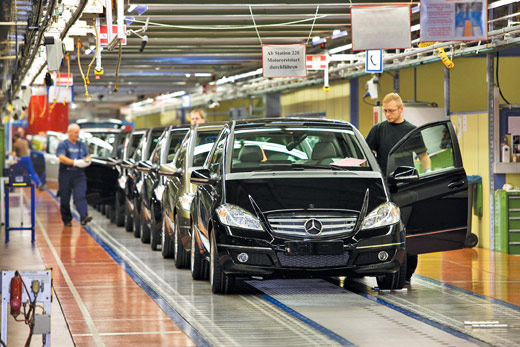 In December, Mercedes-Benz announced the shift of C-Class sedan production from its plant in Sindelfingen, Germany, to its factory in Tuscaloosa, Ala. The announcement sparked major protests from workers at the company's plants in Germany. The move will occur in 2014 and will result in the loss of 1,800 jobs at the Sindelfingen plant and the creation of 1,000 jobs in Alabama. The company said the move is being made to make the company more independent of exchange rates. Production of the C-Class sedan for markets in Europe will be concentrated at the company's Bremen plant in the future.
Mercedes-Benz says the 1,800 Sindelfingen employees affected by the move will be offered "attractive" positions within the company.
"Due to the tough competition in the C-Class segment, it is extremely important for us to optimize our production costs for the future," Schmückle said. "This applies not only to our direct production costs, but also to the import-duty and logistics advantages of each production site. But it is just as important for us to be able to offer alternatives to the Sindelfingen C-Class employees affected by this decision in order to maintain their employment. We are convinced that our concept fulfills this criterion."