Bridgestone/Firestone Distribution Center Lease
Biggest in Dallas/Ft. Worth Since 1999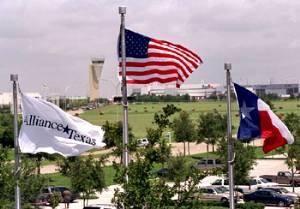 ROANOKE, Texas

--

Bridgestone/Firestone

has leased a 608,322-sq.-ft. (54,749-sq.-m.) build-to-suit from

Hillwood

in the 15,000-acre (6,000-hectare)

AllianceTexas

development in

Roanoke, Texas

. The facility will serve as a distribution center for Nashville, Tenn.-based Bridgestone/Firestone, the largest subsidiary of Toyko-based Bridgestone Corp.
Bridgestone/Firestone chose the AllianceTexas location after considering project proposals from half a dozen industrial developers in the Dallas-Fort Worth area.

"Alliance is a perfect location for a number of reasons: good access to major freeways, close proximity to the BNSF intermodal yard, and the attractive package offered by the city of Roanoke," said Bridgestone/Firestone Director of Physical Distribution Nelson Miller. "That, combined with the premier developer, Hillwood, made AllianceTexas our first choice." The deal is the largest lease in terms of total square footage completed in the Dallas-Fort Worth area since 1999, area analysts said.
Brett Tremaine of Lee & Associates and Trey Fricke of Henry S. Miller Co. represented Bridgestone/Firestone in the transaction. Finalized on Nov. 7, the deal concluded a two-week period in which Hillwood completed two of the three largest leases signed in Dallas-Fort Worth during 2001. A week before the Bridgestone/Firestone transaction, Hillwood announced a 375,000 sq.-ft. (33,750-sq.-ft.) lease with Georgia-Pacific at Skyline Business Park in Mesquite, Texas.



---
Intel Opens $2 Billion Fab

CHANDLER, Ariz.

-- Chip king

Intel

continues to turn up the expansion heat on its rivals, including last week's opening of the US$2 billion Fab 22 in

Chandler, Ariz.


Located on Intel's 705-acre (282-hectare) Ocotillo campus in Chandler, the new wafer-fabrication facility will produce microprocessors based on Intel's copper-based 0.13-micron process technology on 200-mm. wafers.
All told, the newly unveiled Fab 22 spans some 360,000 sq. ft. (32,400 sq. m.). Of that total, some 133,000 sq. ft. (11,970 sq. m.) is clean-room space. In addition to Fab 22, the project included building a new four-story, 320,000-sq.-ft. (28,800 sq. m.) manufacturing support facility, plus a 123,000-sq.-ft. (11,070 sq. m.) central utility building. More than 1,000 engineers, technicians and support personnel have already been hired for Intel's new fab.
"Intel's 0.13-micron process means each chip has more, smaller and faster transistors, which increases performance while requiring less power at lower cost per die," explained Robert Baker, vice president and general manager of Intel's Technology and Manufacturing Group. "Intel's investment in Fab 22 reflects our commitment to remain the leader in semiconductor manufacturing and technology," Baker continued. "This focus on our core competencies gives us a competitive advantage through the scale of our operations, the agility of our factory network and consistent execution worldwide."

Editor's note: For more on Intel, see "Intel Outside," the May 2001 Site Selection cover story, and "Despite Downturn, Intel Will Build $2 Billion Oregon Fab," the July 16, 2001, "Blockbuster Deal" from Site Selection's Online Insider.



---
ICT Group Opening 250-Employee Contact Center in Arkansas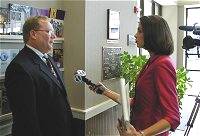 CONWAY, Ark.

--

ICT Group

, a Philadelphia-based provider of customer relationship management solutions, has announced that it will open a new 250-employee contact center in

Conway, Ark.


The new facility, which will be located in the

1-40 Showroom Center

, will supply market research services, ICT Group officials said. ICT opened an inbound customer contact center in Morrilton, Ark., in 1999. The Morrilton facility provides sales and service support for clients in the insurance and financial services sectors.

Said ICT Group Chairman and CEO John Brennan at the project announcement, "Based on the success of our Morrilton operation, we are confident that we will see the same results in Conway. We are extremely pleased to be expanding our operations in the state of Arkansas and are grateful to Gov. Mike Huckabee and his staff for their commitment and support."
Said Huckabee, "ICT is a world-class company. Its decision to expand in our state is a credit to the quality of the work force at the existing operation in Morrilton. I congratulate the people of Conway for demonstrating the many benefits of locating a business in the city."
Arkansas Dept. of Economic Development Director Jim Pickens said that landing the new ICT facility would boost the kind of economic balance that blunts much of the impact of economic downturns.
"Diversification is a strategic advantage in today's economy," Pickens said. "The technology jobs that ICT Group brings to our state are a vital part of a balanced economic base that can deflect losses in other sectors."
ICT Group, which has some 9,000 employees, was recognized by Fortune as one of the 100 "Fastest-growing Small Businesses in America." The company was also recognized by Forbes on its list of "The 200 Best Small Companies in America."



---
Andretti Speed Lab to Expand to 30 Locations

ATLANTA

-- Combining indoor cart-racing tracks with venues for corporate events may strike some as a mysterious mix. But that blend must be striking a chord with part of the public, at least judging by the expansion plans unveiled by

Atlanta

-based

Andretti Speed Lab

.
The company recently announced that it is going to expand into 30 U.S. locations in less than 10 years. Company officials said that the locations for the new facilities will include Chicago, Dallas, Denver, Houston, Los Angeles, Minneapolis, New York, Phoenix, San Francisco, Seattle and Washington, D.C.
The linkage between racing high-powered carts and hosting corporate events is more direct than some observers might imagine. As the company's Web site explains, Andretti Speed Lab offers "team-building packages that combine goal-oriented team-building modules with state-of-the-art meeting facilities. . . . In business, as in racing, you've got to build a tight, unified team to win. That takes a lot of work. And play. We give your team a place to do both."
The company's first facility, which cost some $4.5 million, is located in Atlanta and opened in December of last year. The Atlanta facility also includes a dining hall, climbing walls, racing simulators, billiard tables, meeting space and a sports bar.
Kevin Ream, president and CEO of Motorsports Entertainment Worldwide, launched Andretti Speed Lab. Well-known racer Mario Andretti, along with several members of the Andretti family, are associated with the company. John Andretti, nephew of Mario, designed the track.



---
©2001 Conway Data, Inc. All rights reserved. Data is from many sources and is not warranted to be accurate or current.