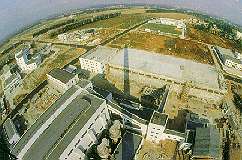 Elcoteq Picks Beijing
for 1,200-Employee Plant

BEIJING

-- Finnish electronics group

Elcoteq

will raise its total employment by a whopping 13 percent with a single project: a 1,200-employee manufacturing plant in

Beijing

.
Elcoteq's newly announced US$14.3 facility will span some 122,222 sq. ft. (11,000 sq. m.). The plant, which will manufacture electronic subassemblies for mobile phones, will come online during the first quarter of 2003, according to the construction schedule outlined by company officials.

Elcoteq's location decision was heavily influenced by the presence of the Xingwang International Industrial Park in Beijing. Anchored by Nokia, Xingwang Park is emerging as a major Asian cluster for communications electronics.
Working in conjunction with the Chinese and Beijing governments and representatives of the Beijing Economic-Technological Development Area, Nokia established the 125-acre (50-hectare) park in May of 2000. Xingwang Park is being developed as a Nokia Center for Logistics Excellence, with suppliers clustered around a central Nokia hub. The total estimated cost for building out the entire park is $1.21 billion.
Elcoteq joins a number of other prominent firms that have located in Xingwang Park, including IBM China and RF Micro Devices.
"It is vital for Elcoteq to be a part of this industrial park project, which is regarded as the most important international industrial park for communications electronics in China," explained Elcoteq President Hannu Bergholm. "The Chinese market continues to grow, and the country is the largest mobile phone market in the world. So there is demand for electronics manufacturing services and for Elcoteq's particular expertise in wireless communications products."
The Beijing plant will manufacture electronic subassemblies for mobile phones made for both Nokia and for other Elcoteq customers.
"Nokia welcomes Elcoteq to start their operation at Xingwang Park in China," said Antti Ware, vice president of Nokia (China) Investment Corp. and chairman of Xingwang Park Ltd. "We believe that Xingwang Park will offer world-class products and services to all China telecommunications and high-tech industrial companies."
Xingwang Park is aimed at an exponentially expanding market. China's subscriber base for cell phones is expected to grow from 68 million in 2000 to nearly 250 million in 2004, according to the China Ministry of Information Industry.
"All the companies involved in the project have the same logistical operating model in common, guaranteeing flexible and efficient manufacture," according to an Elcoteq spokesperson. Products made at Elcoteq's plant in Xingwang Park will be for both the Chinese market and for export.
The company already has a major presence in China, including 233,333 sq. ft. (21,000 sq. m.) of manufacturing space in plants in Beijing and Dongguan, as well as a customer center in Hong Kong. Of Elcoteq's 9,000 total employees, 2,000 are based in China.



---
$93 Million Sara Lee Expansion Brewing in Suffolk

SUFFOLK, Va.

-- In the company's largest-even capital investment,

Sara Lee Coffee & Tea Co.

has broken ground on a $93 million expansion at the site of its existing plant in

Suffolk, Va.


The company is building a new 152,000-sq.-ft. (13,680-sq.-m.) facility to house a new production line that will produce a frozen liquid coffee concentrate. The concentrate produces a coffee that stays fresh at room temperature for 21 hours after brewing.
Sara Lee's Suffolk operation, which employs some 200 people in making roast and ground coffee, beat out the company's operation in Houston to land the project.
"This event culminates many months of planning and coordination between the city of Suffolk and the management of Sara Lee. We are delighted that it has become a reality," Thomas O'Grady, Suffolk's director of economic development, said at the groundbreaking.
The Suffolk expansion will create Sara Lee's first-ever U.S. plant producing concentrated liquid coffee. (The company already makes the product in the Netherlands.) Sara Lee came to Suffolk in 1999, after the company acquired Nestle Corp.'s Hills Brothers plant.
"Sara Lee Coffee & Tea is a successful model of how Virginia fuses new and innovative technology with existing industries, including the food manufacturing sector," said Virginia Secretary of Commerce and Trade Barry E. DuVal.
Sara Lee officials said that they expect construction to be completed by December of 2004. The new space will include 80,000 sq. ft. (7,200-sq.-m.) that is dedicated to production and packaging, 60,000 sq. ft. (5,400 sq. m.) dedicated to utility and storage, and 12,000 sq. ft. (1,080 sq. m.) dedicated to office use.
Sara Lee's will target its Suffolk-made concentrated liquid coffee for commercial restaurants and hotel chains.
Stan Greanias, chief executive officer of Sara Lee Coffee & Tea, North America, said at the groundbreaking, "We are confident we will enjoy continued success, thanks to the proven dedication of our Suffolk plant employees, Virginia's business-friendly environment, and our ideal location near the Port of Virginia at Hampton Roads."



---
Bosch Manufacturing Complex Will Create 1,200 Jobs in Hungary

MISKOLC, Hungary

-- German powerhouse

Robert Bosch

is planning to build a complex in

Miskolc, Hungary,

that will employ as many as 1,200 workers at full capacity. The project in northeastern Hungary will include a plant that manufactures industrial machinery.
Miskolc's municipal government has reached an agreement to sell the plant site to Bosch by the end of this year, reports the

Budapest Business Journal

.
The site will be developed in three phases, Bosch officials said. The first phase will begin in 2002 and will entail a capital investment of between $14.2 million and $17.7 million. That first-phase development will create a manufacturing plant that will employ 500 people when it goes online.
Further development of the site will include constructing a research center. When built-out, the Miskolc complex will employ 1,200 workers, Bosch officials projected.
The Miskolc plant will be the second that Bosch has located in Hungary. The company already operates an automotive electronics factory near Budapest.
The new Hungarian plant will be Robert Bosch's 194th manufacturing facility. The Bosch Group has more than 196,000 employees located in some 50 countries.



---
Target to Open 1,000-Employee Distribution Center in California

SHAFTER, Calif.

- Aggressively expanding

Target Corp.

has announced that it will open a huge distribution in

Shafter, Calif.,

in the southern San Joaquin Valley.
The Target facility, which will employ some 1,000 workers, will be located on a 132-acre (53-hectare) site in

The International Trade and Transportation Center

(ITTC), which was developed by The Allen Group.
"We are proud to be selected by Target," said Charles Gallagher, vice president of The Allen Group. "Target has recognized the competitive advantages of the ITTC with our low-land cost, strategic location, abundant labor supply, access to our new intermodal facility and the benefits of our Foreign Trade Zone designation."
Two CB Richard Ellis executives negotiated the Target transaction: Vice President of Industrial Properties Wayne Kress and Senior Vice President Frank Geraci. Said Kress, "The puzzle pieces in terms of land, labor, affordability and quality of life all came together at the ITTC." Target's site has strong access. The distribution center site is served by the Burlington Northern Santa Fe Railway and is accessible to California's central north/south and east/west intrastate routes. In addition, Meadows Field airport, Kern County's commercial airport, is located 15 minutes away.
The ITTC is also a Foreign Trade Zone, while the city of Shafter is designated as an Enterprise Zone.
Target officials say that the company's stores are getting a boost from the slowed economy and drawing customers who've previously shopped at more pricey department stores. Target plans to open 33 new stores during 2001. A third of those new stores will be SuperTargets that on average span 170,000 sq. ft. (15,300 sq. m.).



---
©2001 Conway Data, Inc. All rights reserved. Data is from many sources and is not warranted to be accurate or current.