Hutchison 3G Creating 600 Jobs with Scottish Headquarters, Customer Center

GLASGOW, Scotland

--

Hutchison 3G UK

has announced two new projects that will create more than 600 jobs in

Glasgow, Scotland

. The jobs will be part of the current technological leading edge. Hutchison 3G UK holds Britain's largest license for third-generation mobile services.
The company's dual job-generators are a Scottish headquarters and a customer care center. The projects will be co-located at 123 St. Vincent Street in Glasgow. Hutchison 3G has signed a 20-year lease for five floors spanning 72,000 sq. ft. (6,480 sq. m.) of office space, company officials said.
"We are very pleased to be making this investment in Scotland," said Hutchison 3G Managing Director Colin Tucker. "Glasgow is a world-class city with a top-notch work force, and Hutchison 3G is looking forward to developing a world-class customer care center in the prestigious office at 123 St. Vincent Street. The customer care team will support the services that will be available through our third-generation handsets next year."
Hutchison 3G's third-generation mobile services will be available during the second half of 2002, according to company officials. Hutchison 3G will begin recruiting employees for the new Glasgow jobs in early 2002, they said.

Hutchison 3G Forked Over
$2.79 Billion for 3G License

Hong Kong-based Hutchison Whampoa holds a 65 percent stake in Hutchison 3G, with Japan's NTT DoCoMo holding 20 percent and Holland's KPN Mobile holding 15 per cent. The three companies joined forces in July of 2000 to operate third generation (3G) cellular services in major European markets.
Hutchison 3G is one of five companies that purchased third-generation mobile licenses auctioned by the UK government in May of 2000. The company reportedly paid US$2.79 billion for the largest block of spectrum that was auctioned in the UK. The other four companies that purchased 3G licenses last year are BT, One-to-One, Orange and Vodafone.
Opinions differ sharply on how fast, and profitably, the 3G wave will break. UMTS Forum, which is made up of groups in the mobile industry, recently estimated that 3G phones will produce worldwide revenues of $1 trillion by the end of this decade. That optimistic prediction, however, is a striking contrast to many earlier forecasts, which have predicted that European mobile operators will barely cover the costs of acquiring their licenses by 2005.
If Hutchison 3G's aggressive plans fly in the market, more growth in Glasgow could be in offing, Tucker indicated. "As Hutchison 3G develops, our presence in Glasgow will grow," he said.

Official: 'High-Quality, Sustainable Jobs'

Tucker praised the Inward Operations division of Scottish Development International (www.scottishdevelopmentinternational.com), formerly known as Locate in Scotland, and Scottish Enterprise Glasgow (www.scottish-enterprise.com) for their assistance on the project.
"Let's not underestimate the quality of these jobs," said Scottish Enterprise Glasgow Chief Executive Ron Culley. "They are high-quality, highly desirable, genuinely sustainable jobs at the front edge of our newest technologies. This is brilliant news for Glasgow."
Wendy Alexander, Scottish Minister for Enterprise and Lifelong Learning, noted, "I know that the company's decision to locate in Scotland was based on the availability of skilled labor and first-class communications infrastructure, and I congratulate everyone involved in bringing this project to Scotland."



---
IPSCO Steel Officially Opens $425 Million Alabama Mini-Mill




MOBILE, Ala.

--

IPSCO Steel

has officially opened its $425 million mini-mill in the

Mobile, Ala.

, metro area. "This is a remarkable achievement for a company which started as a small pipe manufacturer in the Canadian prairies just over four and a half decades ago," IPSCO President and Chief Executive Officer Roger Phillips said at the ceremony.
The project's construction cycle also ranked in the remarkable range - particularly for a facility with a 300-acre (120-hectare) footprint.
Despite its size, the mini-mill took less than 24 months to complete once ground was broken on the 700-acre (280-hectare) site. Phillips praised the project construction, commissioning and start-up teams for the fast-track feat. (Phillips, who turns 62 in December, had previously announced his resignation, effective in January of 2002).

Plant Already at 50 Percent of Capacity

IPSCO actually initiated operations earlier this year at the Mobile mini-mill, which at full capacity is expected to produce 1.25 million tons (1.1 million metric tons) of plate and coiled steel. The facility has moved rapidly toward full capacity, said Charles Sanida, president of IPSCO Steel (Alabama), the wholly owned subsidiary that operates the Mobile facility.
"The facility has already produced at a rate that is in excess of 50 percent of its rated capacity of 1.25 million tons. . . . We are pleased with the high caliber of employees that we have been able to attract," Sanida said at the mini-mill's formal opening celebration. "Markets permitting, we hope to be at or near full capacity by the end of the first quarter of 2002." Located 20 miles (32 km.) north of Mobile, IPSCO's facility moves product in-line from caster to point of shipping. At full capacity, some 450 workers will staff the operation, which was initially announced in 1998.
Founded in 1956 as Prairie Pipe Manufacturing Co. in Regina, Saskatchewan, Canada, IPSCO (the name the company adopted in 1984) now has facilities in five provinces and seven states. Shortly after the Mobile mini-mill's formal opening, IPSCO announced that it was raising the price of its steel plate and wide coil products shipped to U.S. customers. The price hike of $20 per ton applies to all mill plate products and to coiled steel in widths of 84 inches (213.4 centimeters) and greater, company officials explained.
"This increase is only a partial restoration of the price of steel plate in the USA market," IPSCO Senior Vice President and Chief Commercial Officer John Tulloch said in explaining the price hike. "Plate and wide coil prices have deteriorated by many times this amount in the face of low-priced imported product and deteriorating market conditions. It is appropriate to start the return of plate and wide coil product prices to a more sustainable level for both our customers and for IPSCO."



---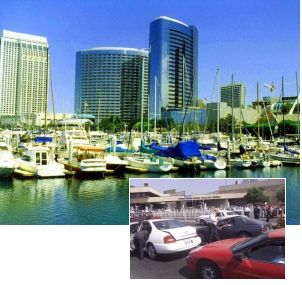 Dai Nippon Printing Establishing California Subsidiary

TOKYO

--

Dai Nippon Printing Co.

(DNP), the market leader in making rear projection television screens, has announced that it is establishing a U.S. subsidiary,

DNP Electronics America

, in

Chula Vista, Calif.




DNP Electronics America will produce Fresnel screens for rear projection televisions, reaching an annual production capacity of 500,000 screens, according to DNP officials. That added output will bring Tokyo-based DNP's reach annual production capacity to 3 million units. DNP currently holds some 60 percent of the global market share for rear projection TV screens.
DNP began putting the pieces in place this summer, before late November's unveiling of the U.S. subsidiary. The U.S. subsidiary will lease a 90,000-sq.-ft. (8,100-sq.-m.) build-to-suit facility that's already being built in the 3,000-acre (1,200-hectare) Eastlake development. Of that 90,000 sq. ft., 35,000 sq. ft. (3,150 sq. m.) will be dedicated to manufacturing; 20,000 sq. ft. (1,800 sq. m.) to warehousing; 11,000 sq. ft. (990 sq. m.) to testing; 5,800 sq. ft. (522 sq. m.) to packing; and 14,500 sq. ft. (1,305 sq. m.) to office use.

Location Near Mexican Border Ripe
For Rear Projection TV Screen Makers

Some $16.1 million will be initially invested in the U.S. subsidiary, "but further investments will increase in correlation to market expansion," according to DNP officials. DNP Electronics America anticipates that its facility will be completed in time for the plant to go online in April of 2002. Taisei Construction Corp. is constructing the facility, as well as providing design/build and permitting services.
Chula Vista's location, midway between downtown San Diego and the U.S.-Mexico border, has brought it to the forefront for rear projection TV screen manufacturers. Many rear projection TV production companies are clustered near the border, officials from DNP Electronics America noted.
Worldwide demand for rear projection televisions has expanded from 1999's 1.9 million units to 2001's estimated 3 million units. Analysts predict that demand will reach 5 million units in 2005.
DNP Electronics America anticipates double-digit percentile growth in annual U.S. demand, with digitization and large screen displays becoming much more commonplace.



---
©2001 Conway Data, Inc. All rights reserved. Data is from many sources and is not warranted to be accurate or current.