McNaughton Picks Charleston, S.C., (Again) for 200-Worker Distribution Center
Charleston, S.C. — McNaughton Apparel Group has decided that Charleston, S.C., is a good fit:
The New York City-based manufacturer of moderately priced women's and juniors' clothing has announced that it will set up a new distribution center in the Carolina coastal city. And that announcement comes only some 21 months after McNaughton opened its first distribution operation in Charleston.
The company considered sites in New Jersey and Virginia before settling on the South Carolina location, McNaughton officials said. McNaughton's newest addition in Charleston will distribute the company's Miss Erika line of clothing, employing 200 full-time workers. McNaughton is locating its 300,000-sq.-ft. (27,000-sq.-m.) center in Northpoint Park in the city of Hanahan. Charleston's moderately priced real estate, labor and taxes were major attractions for the moderately priced manufacturer, McNaughton officials said.
"The port access, availability of labor and willingness of the governments to work with us have played out very nicely with our decision to go forward with this second building," said President and COO Peter Boneparth.
Deal Makes Good
On Delayed Promise
The news of the second Charleston center wasn't totally unexpected. The timing, though, was. McNaughton Apparel strongly suggested that further local expansion might be in the offing at the June 2000 opening of its first Charleston distribution center, a $13-million, 130-employee facility also located in Northpoint Park. The company, Boneparth said, would consider opening a Miss Erika distribution operation in Charleston by the end of 2001 "when [our] leases and other obligations finish up."
Other obligations intervened. The decision stalled when Jones Apparel Group acquired McNaughton in a stock swap in June of 2001. Then came Sept. 11 and the economic downturn. But once things settled a bit, McNaughton decided that its original strategy still made sense. Both of the centers that the company has brought to Charleston have been relocations from New Jersey.
The two operations are part of McNaughton's move away from outsourcing its warehouse/distribution operations. Keeping those functions in-house, and located in areas with low operating costs, makes better financial sense, said Vice President, CFO, Secretary and Treasurer Amanda Bokman.
---
Elan's $40 Million Ga. Expansion Will
Increase Pharmaceutical Production Sixfold
Gainesville, Georgia
— Irish pharmaceutical firm
Elan Corp. plc
has announced a $40-million, 100-employee expansion of its plant in Gainesville, Ga. The Dublin-based company will increase its headcount at the operation over the next three to five years, bringing total employment to 280 workers.
The Gainesville facility manufactures 100 million doses a year of formulations of the hypertension drug Verapamil. With the expansion, Elan is adding new drugs to the production mix. The facility recently passed FDA pre-approval inspection to manufacture two new pharmaceutical products. One of those drugs will be Avinza, a morphine sulphate time-release capsule to treat severe chronic pain. Elan officials didn't disclose the other new drug that would be produced in Gainesville.
The expansion will increase the Gainesville facility's total floor space to 150,000 sq. ft. (13,500 sq. m.). That's almost three times the size of the plant's current footprint.
With the expansion, Elan's Gainesville facility will be able to increase its annual capsule production from 100 million to 600 million a year, company officials said.
No. 376 in FT's Global 500 Thriving in
41st 'Best Small Town for Corporate Facilities'
"This expansion underscores Elan's commitment to its employees and to the continued growth of its operations in Georgia," said Chairman and CEO Donal Geaney. "We're confident that the operations here will continue to thrive and provide broader opportunities for the development of future products that aid health, well-being and quality of life."
Gainesville was named as one of the "Top 100 Small Towns for Corporate Facilities" in the March 2002
Site Selection
. The Georgia city some 55 miles (88 km.) north of downtown Atlanta finished No. 41 in
Site Selection
's rankings, based on tallies from the magazine's exclusive New Plant database of new and expanded facilities. No. 376 in
The Financial Times
Global 500, Elan has some 4,500 employees. The company increased its total headcount by almost 70 percent during its 2000 fiscal year alone.
The Gainesville operation has reflected that expansive surge. In the year prior to the newly announced $40-million expansion, Elan had doubled employment at its North Georgia facility.
---
Proactive Rural NM Area Lands
450-Employee 1-800-Flowers.Com Call Center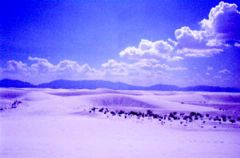 Photo courtesy of New Mexico Economic Development Dept.
ALAMOGORDO, N.M.
— Score one for the inventive smaller players in the business recruitment game: E-retailer
1-800-flowers.com
has just opened a 450-employee call center in
Alamogordo, N.M.,
population 36,000.
The south-central New Mexico community has been one of the most proactive participants in New Mexico's Rural Payday Initiative. That aggressiveness aided Alamogordo's cause in landing the 1-800-flowers.com call center. The city is providing $1.25 million in five-year rent abatements. The state, in turn, offered $940,000 for training 1-800-flowers.com's call center employees.
Alamogordo is funding its entire share of the project's incentives through its economic development gross receipts tax. City voters in 2000 approved the 0.125 percent charge.
1-800-flowers.com's call center now has 320 employees, with the work force expected to grow to 450 over a five-year span. The incentives package is set up to reward the online seller of flowers and gifts for creating new jobs - and to penalize it if it doesn't meet its employment commitment. 1-800-flowers.com will receive $1,000 for each new full-time job that is created (with a cap of 25 employees a year).
The 1-800-flowers.com call center is located in a renovated structure that once served as an IGA food store.
Rural Payday Program Taps Trends
New Mexico's Rural Payday program is aimed at parlaying a number of broad business, technological and societal trends. Among those trends are the boundary-less reach of information technology, the tightness in many urban labor markets, and the increasing appeal of rural lifestyles.
The program's first-level targets are customer service centers, call centers and technical support centers. Second-stage recruiting targets include Internet fulfillment centers, film-editing studios, computer graphics developers, software and hardware developers, and specialists in telemedicine and distance learning technologies.
The Rural Payday effort has reaped a noticeable payoff since Sen. Pete Domenici (R-N.M.) spearheaded its creation in 1997. The initiative has helped create some 3,000 jobs in rural New Mexico, according to Rural Payday program officials.
---
Briefly . . . Quick Takes
HOUSTON — Goodman Manufacturing has signed a five-year lease for a 403,200-sq.-ft. (36,288-sq.-m.) facility located in ProLogis Park Jersey Village in Houston.

Houston-based Goodman, which ranks as the world's largest privately owned air-conditioner manufacturer, will use the facility for national distribution of HVAC equipment and parts. Goodman's prior business history with ProLogis added speed to the deal, according to ProLogis executives.
"Because Goodman was already a customer of ours in San Antonio, we used that lease as a template to expedite the transaction and allow Goodman to take occupancy quickly," said ProLogis First Vice President Daryl Mechem.