Outsourced Operation Will Employ 100-Plus
---
Deere's 1M-Sq.-Ft. SE Distribution Center Heading for Great Smokies Foothills
JEFFERSON COUNTY, Tenn. — Deere & Company is heading for the rocky-topped foothills of the Great Smoky Mountains with its 1-million-sq.-ft. (90,000-sq.-m.) Southeast regional distribution center. The 135-year-old manufacturer of farm, industrial, forestry and lawn-care equipment will set up its distribution operation in East Tennessee in Jefferson County.
Located on a 65-acre (26-hectare) tract near Jefferson City, some 29 miles (46 kilometers) east of Knoxville, Deere's distribution center will employ "more than 100" workers, company officials said. Moline, Ill.-based Deere & Co., however, won't employ those workers. Nor will Deere own or even operate the facility.
Instead, the outsourced distribution operation includes two other companies' heavy involvement. Ryan Companies US, Inc. has bought the site and will now build the distribution center. Ryan will then lease the completed center to Warehouse Logistics, which will occupy and manage the operation under its contract with Deere.
1M-Sq.-Ft. Facility to Be
Completed Before Year's End
Ryan was also a major player in the site chosen for Deere's center. The Minneapolis-based firm has developed a number of projects for Deere in the past five years, including the 326,000 sq.-ft. (29,349-sq.-m.), $40-million John Deere Commons in Moline, Ill., and the 240,000 sq.-ft. (21,600-sq.-m.), $30-million John Deere Credit facility in Des Moines, Iowa.
"We are very pleased that Ryan Companies US, Inc. and their client, Deere & Company, have selected Jefferson County as the location for this project," Jefferson County Executive Gary Holiway said in announcing the project.
"We selected Jefferson County because of the quality of the location and the can-do attitude that exists, and because of the proactive and business-friendly approach," said Jeff Smith, president of Ryan's Midwest Division. "We never could have gotten to this point as quickly or effectively without Jefferson County's help and guidance through this process."
Construction on the 1-million-sq.-ft. design-build project will travel a very fast track, with Ryan officials projecting a December 2002 completion date. The center will include a 500,000 sq.-ft. (45,000-sq.-m.) storage/distribution structure, plus an outdoor storage area of the same size.
The Jefferson County center will distribute home, lawn and garden equipment throughout the U.S. Southeast. The bulk of that distributed equipment won't have to travel far to reach the new East Tennessee operation. Most of the products handled by the Jefferson County distribution center will be assembled at the Deere plant in Greeneville, Tenn., roughly 43 miles (69 kilometers) away, which was built in 1989.
Area Was Runner-up for Deere
Plant Now Ticketed for Closing
"Having such well-known and respected companies invest in Jefferson County is significant," said Holiway. "This will no doubt spur additional development in the area and help meet Jefferson County's goals of adding new companies and more jobs and increasing our tax base."
Jefferson County in 1996 just missed on landing a Deere skid-steer manufacturing plant. The area finished as runner-up on the project, which went to neighboring Loudon County.
Ironically, Deere announced last fall that the 420-employee Loudon County plant will close sometime later this year. The work will be transferred to another Deere plant in Dubuque, Iowa, company officials said.
That closing is part of Deere's current drive to cut costs through consolidation. That drive also spurred the company's March announcement of the shutdown later this year of its 300-employee Phoenix International facility in Springfield, Ill. The Springfield plant's work will be eliminated, outsourced or consolidated with the company's Phoenix International plant in Fargo, N.D., Deere officials said.
"This action is the result of the continued depressed overall economy, as well as the depressed electronics industry, which continues to see consolidations to address the excess capacity within the industry," Daryl Schloz, general manager of the Springfield Phoenix International plant, said in announcing the closing. "We need to adjust our business operations and decrease our overall cost of doing business to stay competitive."
Editor's note:
Watch for the Tennessee spotlight section in the September 2002 Site Selection.
---
Tropical Sportswear Consolidation
Means 125 New Jobs for Tampa
TAMPA, Fla. - When the world economy's slopes grow slippery, jobs gains in some areas are sometimes matched by job losses in other areas.
So it is with Tropical Sportswear Int'l's (TSI) announcement that it's bringing 125 jobs to Tampa, Fla. Tampa's gain, however, translates as a loss for El Paso, Texas.
TSI has decided to consolidate the administrative and cutting functions of its Savane division from El Paso to Tampa - which is also home to the company's 700-employee headquarters.
"I am thrilled that Tropical Sportswear Int'l has chosen to expand its operations in Florida," Florida Gov. Jeb Bush said of the consolidation announcement. "This seventy-five-year-old company has a strong reputation in the design and creation of men's clothing."
The move is part of recently adopted cost-cutting measures for TSI, which produces clothing bearing such familiar names as Bill Blass, Duck Head, John Henry, Farah and Van Heusen.
In contrast to Tampa's 125 new jobs, the consolidation means an end to some 140 TSI jobs in El Paso. Sixty of the Savane division's existing El Paso employees will transfer to Tampa. TSI, however, will continue to operate its El Paso distribution operation, company officials said.
"After careful analysis, we concluded that this action will allow us to achieve substantial cost savings, operational synergies and improve service to our customers," TSI President Christopher Munday said in announcing the consolidation. "We regret the personal impact the loss of jobs will have on our associates, and we have taken a number of steps to minimize that hardship, including outplacement services and severance packages.''
Move Will Produce $4.5 Million in
Pre-Tax Cost Savings, Officials Project
In the short term, at least, the relocation will add substantial expenses.
As a result of the consolidation, TSI will record a pre-tax charge of some $16 million through the fiscal quarter ending Dec. 31, 2002, company officials said. That charge, they explained, will include outlays for severance, relocation, lease termination and asset write-downs.
Once completed, though, the consolidation will generate annual pre-tax cost savings of approximately $4.5 million, TSI officials reported. The move to Tampa will be fully completed by the end of the first quarter of 2003, TSI projected.
The consolidation will eliminate many of the duplicated functions that the company identified in investigating cost-cutting alternatives, officials explained.
"These steps are designed to better support the needs of our customers, achieve sustained sales and earnings growth and to enhance shareholder value,'' Chairman and CEO William Compton explained.
Company Will Build New Five-
Story Office Building in Tampa
TSI's existing 350,000-sq.-ft. (31,500-sq.-m.) plant in Tampa has sufficient space to accommodate the cutting-operation expansion stemming from the El Paso operation's shutdown.
TSI, however, will build a five-story, 125,000-sq.-ft. (11,250-sq.-m.) office facility in Tampa to accommodate both the administrative consolidation and the need for space for future growth. The company is currently housing some of its office employees in leased space in Woodland Corporate Center.
Located next to the company's production operations, the new office facility will be completed in time for move-in before year's end, company officials projected. The new building will initially house at least 200 employees, Compton said.
The announced consolidation comes shortly after TSI sold off Duck Head Apparel's former headquarters in Winder, Ga. Fort Myers, Fla.-based specialty retailer Chico's FAS paid $7.2 million for the onetime operations base of Duck Head, which last year became a wholly owned TSI subsidiary.
In a related cost-cutting move, TSI in March announced that it had discontinued production at its partially owned factories in Fiji. The shutdowns signal the end of TSI's alliance with Farah Fiji Ltd. The Tampa-based company has since outsourced its South Pacific division manufacturing to a variety of other low-cost producers located around the globe.
TSI, which Sam's Club last year named "Supplier of the Year," has some 11,600 employees.
---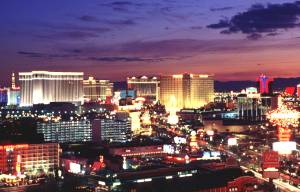 Photo from Las Vegas News Bureau
GES Exposition Services Signs 12-Year Lease on 860,540-Sq.-Ft. Las Vegas Build-to-Suit
LAS VEGAS — Viva Las Vegas . . . conventions.
That in a nutshell is the rationale behind GES Exposition Services' decision to move into an 860,540-sq.-ft. (77,449-sq.-m.) build-to-suit facility in south Las Vegas.
The building will represent the largest facility in the portfolio of GES, a 2,300-employee firm that specializes in convention exposition services and materials. The south Las Vegas build-to-suit will be used to consolidate GES' local and regional operations. Six hundred employees will occupy the facility, said officials with Las Vegas-based GES.
Los Angeles-based Majestic Realty Corp. and Las Vegas-based Thomas & Mack Development Group are partnering to develop the space. Construction of the structure should be completed before year's end, said Majestic Realty and Thomas & Mack officials. The facility will include 65,000 sq. ft. (5,805 sq. m.) of office space; the remainder of the structure's square footage will be dedicated to industrial use, GES officials said.
"This transaction was nearly five years in the making," said Jim Wilson of Cushman & Wakefield of Arizona, Inc., one of the real estate agents who represented GES. "Las Vegas is the largest convention market in the country and, therefore, the key city for GES Exposition Services' real estate needs. The new facility is well located for transporting materials to McCarran Airport and by freeway."
Vegas Convention Business Increased in 2001
GES, a division of Phoenix-based Viad Corp., has signed a 12-year lease on the build-to-suit.
The signing of one of 2002's biggest leases in the U.S. West attests to Las Vegas' enduring lure for conventions. Despite the economic downturn and post-9/11 travel fears, convention attendees accounted for 4 million of last year's 35 million total visitors to Las Vegas. The 4 million attendees at Las Vegas conventions during 2001 marked a 5.1 percent increase over the previous year's tally.
"Such substantial growth is especially remarkable given the challenges faced by the convention industry during the last quarter of 2001," said Rossi Ralenkotter, vice president of marketing for the Las Vegas Convention and Visitors Authority. "It attests to the strength of Las Vegas' convention sector."
2002 has also been shaping up as a strong year for the city's convention business. In February, for example, the Las Vegas Convention Center hosted eight shows simultaneously during one nine-day period. Collectively, the eight shows occupied more than 1.7 million sq. ft. (153,000 sq. m.) and drew some 70,000 attendees.