From Covisint to StatProbe, More High-Tech
Employers Are Selecting Southeast Michigan
SOUTHFIELD, Mich. — When Covisint announced this spring that it would locate its 180,000-sq.-ft. (16,740-sq.-m.) global headquarters in the Detroit suburb of Southfield, the news garnered national attention.
Less publicized is the fact that Southeast Michigan is rapidly becoming the preferred location for high-tech industry in the Upper Midwest. Economic developers call the region "Automation Alley," but the numbers behind the slogan are real:
Covisint, a strategic sourcing company that provides logistical support for automakers, will move 300 people into its Southfield headquarters in early 2003 and plans to expand globally to 1,000 employees by 2008.
StatProbe, an Ann Arbor-based company that administers clinical trials for drug manufacturers, recently moved 115 people into 35,000 sq. ft. (3,255 sq. m.) of new space in a high-tech R&D park only minutes from the University of Michigan.
Benteler, an international automotive supplier, will move 200 people into 78,000 sq. ft. (7,254 sq. m.) at the Oakland Technology Park in Auburn Hills, a site that will become the company's North American headquarters and technology center.
Dow Automotive will occupy an 81,000-sq.-ft. (7,533-sq.-m.) build-to-suit facility on Automation Avenue in the Pinnacle Corporate Center in Auburn Hills.
Osmic Inc., a global supplier of high-tech optic material, will build a 57,000-sq.-ft. (5,301-sq.-m.) facility on Taylor Road in Oakland County.
Owens Corning is planning a research and development center for its composite auto parts business in the city of Novi. The 56,200-sq.-ft. (5,227-sq.-m.) facility is being built in the Beck West Corporate Park and will house 100 workers. The project represents a capital investment of US$12.5 million.
Housey Pharmaceuticals is adding 88 jobs as part of a $4.1-million facility expansion in Southfield. The research laboratory employs people highly trained in the medical sciences.
Dan Jankowski, senior vice president of global communications for Covisint, says his company selected Southfield for several reasons.
"Number one, we are here to serve and support the automotive industry, and this is the best place to be," he says. "Secondly, we had talked about moving to a European headquarters location, but we decided that we had to be located where our customer base is. And thirdly, we needed a level of flexibility, technical ability and work ethic that we could find only in this area. In fact, you would be hard pressed to find that elsewhere."
Covisint supports General Motors, Ford, Daimler Chrysler and Nissan auto plants around the country - including the new GM Lansing Grand River plant that makes the Cadillac CTS Sedan, a luxury sports car that will be featured in the next Matrix movie.
The automated flow of supplier parts made possible by Covisint technology is one reason why 80 percent of all CTS Sedans rolling off the assembly line in Lansing are custom-built to order. "Our goal is to become the operating system for the global auto industry," says Jankowski. "We can't afford to screw up, and that's a big reason why we're here."
At StatProbe in nearby Auburn Hills, Director of Business Development John Freshley cited the cost of staff, cost of living, quality of life and education of the work force as the most important site selection criteria for his company.
"It's critically important that we have qualified staff to administer the sites for the clinical trials for drug companies," says Freshley. "The University of Michigan and Eastern Michigan University both offer programs that produce graduates we can hire. EMU even offers a feeder program that certifies clinical researchers. And, obviously, having a company like Pfizer here helps." (See the
May 2002

Site Selection

cover story
.)
StatProbe hires people with high credentials. Among them are MBAs and statisticians who hold Ph.D.s in mathematics, says Amy Meszaros, associate director of Ann Arbor operations for the firm.
"We work with six of the top 10 biotech companies in this country in terms of revenue, so we have to hire the best people," Meszaros said. "Michigan produces more Oracle programmers than any other state in the nation. That's one reason we're here."
Economic developers like to point out that Oakland County has had higher job growth than Boston's Route 128 Corridor since 1997 (4.0 percent vs. 3.2 percent), higher per capita income ($38,913 vs. Boston's $37,326) and a lower cost of housing ($192,337 median housing price vs. $284,609).
So wealthy is Oakland County that its overall real estate value reached $126 billion in 2001, up more than $10 billion from 2000. By the end of 2002, the overall value of the county's real estate is projected to be worth more than that of 10 U.S. states.
So popular are jobs in Southeast Michigan that 33 percent of the 3,421 resumes posted on the Automation Alley Web site (as of May) come from outside the state.
During 2001, Oakland contributed more than $2 billion worth of capital investment, resulting in the creation of 3,200 new jobs - a fact that helped Michigan retain its No. 1 spot in new and expanded corporate facilities for a record fifth consecutive year, according to Site Selection's Governor's Cup rankings (March 2002).
What's next for the area? Mark Adams, senior business development representative for Oakland County, says, "Our goal is to attract more corporate headquarters and more R&D centers. We look for the high-tech jobs. For example, on June 5, Motorola is opening its automotive technical headquarters in Farmington Hills. That's exactly the type of project we want."
---
University and AOL Work
To Each Other's Benefit
By
ADAM BRUNS
,
Site Selection
Managing Editor
JACKSONVILLE, FLA. — On June 6 America Online opened an $18-million call center in First Coast Technology Park, across the street from the University of North Florida. Because of the fast-track nature of the project, no incentive package was developed per se. But that short walk across the Kernan Boulevard promises to pay off in the long run for both sides.
It's easy to look the other way on the incentives when a site near such a valuable potential employee pool presents itself: UNF has an annual enrollment of 13,000. Meanwhile, the school benefits from the partnership in terms of access to a work force looking for further training or for continuing education on an individual basis.
The 284-acre (115-ha.) park is managed by the Duval County Research and Development Authority, where the executive in charge is none other than Earle Traynham, dean of the University of North Florida College of Business. Other tenants include ADT Security Services Inc. and The Auchter Co. Profits from real estate transactions at the park go directly to the university foundation's bottom line.
The company's Member Services division employs more than 7,000 people. It operates six such call centers around the world, but the Jacksonville operation is the largest in the U.S., having grown from around 100 to around 1,900 employees since first appearing six years ago, when it was the company's first call center outside its headquarters in Herndon, Va. The staff handles approximately 85,000 calls per day.
---
Seligman Data Corp. to Open Operation Center in Maine
By
ADAM BRUNS
,
Site Selection
Managing Editor
SOUTH PORTLAND, ME — Following the national trend of dispersal of operations and assets, Seligman Data Corp., the service agent for The Seligman Group of Funds and Tri-Continental Corporation, has decided to put its new operating facility in a 33,000-sq.-ft. (3,066-sq.-m.) building in Sable Oaks Office Park in South Portland, Maine.
The New York company cited flexibility and diversity in the site as major factors in the decision, which involved consideration of 16 different locations, including late contender Raleigh, N.C.. Company officials also mentioned the expanded resources it provides for business recovery capabilities. By using its existing technology platform, the company will be able to seamlessly balance its workload by routing requests electronically to either facility. The new center is expected to house around 100 employees when it becomes fully operational toward the end of this year, said Seligman Data President John H. Clark.
"This search has been going on for about three years," says Todd Alexander, director of business development for Maine & Co. "Part of it was to create redundancy, but another part of it was to access a very promising labor market. And financial services and back offices operations are absolutely a target for Maine. We recently completed a study that showed that Portland and Southern Maine provide the lowest-cost operating environment for any back office operation. There is really a nice cluster of financial services firms growing in the area."
That cluster includes UnumProvident, the world's largest disability insurer, with about 3,500 to 4,000 employees; Bank North Group, now the third largest bank in New England; MBNA, with around 4,500 employees statewide; and Anthem Blue Cross and Blue Shield (1,750 employees). South Portland is also home to National Semiconductor (a $1-billion fabrication facility which employs 600-800) and Fairchild Semiconductor, which has its national headquarters across the street from the new Seligman facility and employs 1,400-1,600.
"Fairchild has the oldest continuous-running semiconductor manufacturing fab in the country, while National's is one of the newest fabs in the country," says Alexander, adding that the area's water and electricity supplies work in concert with an attractive location to woo both the fabs and their talent.
Other critical factors leading to the Seligman decision included labor force availability and quality, business costs and state incentives, transportation and ease of access from its existing facility, operating environment, and quality of life. Clark made special mention of the state's agility and quickness in delivering information and in coordinating numerous public and private entities, up to and including the office of Governor Angus King.
Seligman Data Corp. will benefit from several state incentive programs: no-cost, customized recruiting and training assistance on both a pre-employment and on-the-job training basis; Employment Tax Increment Financing whereby 30% of the state personal income tax paid by employees will be returned to the company for ten years; and the Business Equipment Tax Reimbursement (BETR) program, whereby the state provides 100-percent reimbursement for property taxes paid on machinery and equipment to the municipality.
Investment management firm J. & W. Seligman & Co. was founded in 1864 by Bavarian immigrants James and William Seligman, who were pivotal players in the development of railroads and public utilities. The firm underwrote the beginnings of General Motors, as well as lending its support to the building of the Panama Canal. Today, the company carries on its "frontier investing" legacy with a focus on science and technology companies, emerging markets and global diversification. The company also maintains offices in Palo Alto and affiliate offices in London, Buenos Aires and Hong Kong.
---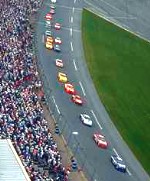 Roush Racing On Track with New Headquarters
By
ADAM BRUNS
,
Site Selection
Managing Editor
Roush Industries founder Jack Roush has been roaring back well ahead of schedule since nearly dying in a plane crash this spring. His company's racing division (www.roushracing.com) will do its part to celebrate and emulate that near-miraculous recovery by opening a new $5-million world headquarters in the heart of NASCAR country in the spring of 2003.
Concord, N.C. will be the new home of Roush Racing's new digs, a three-story, 83,000 sq.-ft. (7,711-sq.-m.) building near the Concord Regional Airport.
"We're mobilizing right now and breaking ground next week," said Ian Prince, manager of real estate and development for Roush Racing. "Concord is a new and upcoming area around the Charlotte metropolitan area, and we have purchased 25 acres adjacent to the airport. Pretty much 95 percent of NASCAR flies out of there right now. For business reasons it makes sense - we have nine teams that have to go somewhere every weekend, and of course Mr. Roush comes and goes at a pretty frequent clip."
The new corporate headquarters, designed by Littel & Associates, will consolidate several buildings and over 100 employees, currently located throughout North Carolina, housing sponsor operations, licensing, show car and event operations, the business office and Internet marketing. JR's Garage and Team Caliber, the collectibles and merchandising arms of Roush Racing, will also move their warehouse and distribution center to the new location.
Following on the tradition of technological innovation that has brought the company's racing teams so many victories, the new facility will include elements like solar shades on its southern exposure to reduce solar heat gain and glare, and a system for capturing rainwater run-off for landscape irrigation - a definite concern in this drought-stricken area.
Lead architect Joe Elliott says the tourism angle, combined with the design elements desired by the client, gave the project an odd but attractive mix of requirements.
"It does have a lot of the energy conservation features," said the architect, who has also been active on area projects for German firm Getrag Gears and firefighter safety company Scott Health & Safety. "Solar screens, light shelves inside the windows, and all the lights are on both light sensors and motion detectors. The building gets used pretty much 24 hours a day. Team people who fly in after a race may go by and check their mail at any time, there is a core of people who use the office all the time, and then it has the gallery area for souvenir sales, sponsor kiosks, some racecars, and some of Jack's collection of cars and motorcycles."
The expected heavy tourist traffic, especially during race weeks in the immediate area, prompted a unique parking area solution.
"During race week, there could be tons of people, so that's why we needed this overflow parking," explained Elliott. "We didn't want to pave it, so we used GrassPaver, a perforated material that sits on a gravel bed. You put dirt in between it and plant grass, and the vehicle doesn't sink. It eliminates water runoff and heat islands. Ian Prince has really spearheaded all of this - he's very concerned about a good quality building that will last for a long time and the total energy cost. The things he pushes are just common sense."

The 60-year-old Roush has been at the forefront of motor engine development and performance since going to work for Ford Motor Co. in 1964. Today, Roush Enterprises employs more than 1,800 people and operates facilities in five states, as well as in Mexico and Great Britain. Although primarily known for providing engineering, management and prototype services to the transportation industry, Roush has developed a significant role in providing engineering and manufacturing for the electronics, sports equipment, aviation and motorsports industries.
Prince said that Roush will be working with Charlotte general contractor Choate Construction on the project. And while the entire 25-spread has been roughed out, there is not yet a time frame for further projects.