While DaimlerChrysler Decides, Jacksonville, Fla., Lands Two Other Auto-Industry Projects
JACKSONVILLE, Fla. – Jacksonville, like a host of other cities, has ardent auto-industry aspirations. That much is plain in the city's current hot pursuit of DaimlerChrysler's 3,000-employee van plant. As of this writing, however, it remains to be seen whether DaimlerChrysler will choose the Florida city - or, instead, another contending finalist site in Charleston, S.C. or Savannah, Ga.
Jacksonville nonetheless recently burned considerable rubber in recruiting one of its most coveted target industries: In a scant two weeks, the city along Florida's Atlantic Coast bagged not one, but two, significant global auto-industry projects.
First, "River City" landed both the U.S. headquarters and manufacturing plant that are being relocated by Italy's C.F. Gomma, one of Europe's leading suppliers of rubber-based automotive components. Soon after, Jacksonville bagged powerhouse BMW's fourth U.S. regional parts distribution center.
Together, the two location decisions will add 300 auto-industry positions. And both projects arrive with the promise of more Jacksonville jobs in the offing.
Gomma Relocates from Indiana
Gomma's journey to Jacksonville began when it decided to relocate its U.S. headquarters, as well as an existing brake hose assembly plant, from Columbia City, Ind. The Passirano, Italy-based firm looked south-southeast. It investigated "nearly every" Southeast U.S. state, said C.F. Gomma USA Director of Administration Art Wilson, who announced the project in Jacksonville.
Relocating the American operations base from Northern Indiana to the Southeast "would make us more competitive, we felt," explained Wilson, accompanied by Automotive Group General Manager Pierfredrico Cancarini, the son of C.F. Gomma's founder. Gomma reportedly gave serious consideration to sites in Alabama, Georgia and South Carolina - states with strong existing auto-industry clusters.
Jacksonville, however, got the linked relocation nods, explained Wilson, because it "will provide us with a number of benefits. The region is a hub serviced by interstate highways and a dynamic deepwater port," he continued, "both of which will allow us to deliver parts more efficiently to our clients. In addition, Jacksonville offers a qualified and skilled work force."
Gomma was particularly attracted to Jacksonville's port facilities, which Wilson called "the East Coast's best and biggest."
City's Sixth HQ in 2002
Gomma will relocate its dual operations inside a 160,390-sq.-ft. (14,435.2-sq.-m.) existing facility in Northwest Jacksonville. Occupying 145,000 sq. ft. (130,500 sq. m.) of that space, the brake hose assembly plant will employ 125 of Gomma's 250 total Jacksonville employees. Most of the Jacksonville jobs will be filled by local hires; the company has said that it will transfer fewer than 10 existing employees from its Indiana operations.
The headquarters/manufacturing facility is now undergoing renovations, with operations expected to go online by fourth-quarter 2002. More jobs could be coming. If Gomma achieves projected U.S. growth levels, the Jacksonville venture might add 100 more positions over the next few years, company officials said.
City business recruiters were pleased with the project's implications for attracting both global and auto-industry operations.
"This announcement strengthens Jacksonville's international presence and expands our automotive business community," said Steve Halverson, chairman of the Business Recruitment Standing Committee of the Jacksonville Chamber of Commerce's Cornerstone regional marketing program. The Cornerstone program promotes Northeast Florida's Baker, Clay, Duval, Nassau, Putnam and St. Johns counties.
Strikingly similar sentiments came from Kirk Wendland, executive director of the Jacksonville Economic Development Commission, which promotes Duval County. "C.F. Gomma´s commitment to Jacksonville not only elevates our international presence, but also serves as a catalyst for other businesses in the automotive-related industry considering relocation," Wendland said.
Gomma's Jacksonville project also extends the city's hot streak in attracting headquarters. The Italian company's relocated base marks the sixth headquarters that Jacksonville has landed in only the first six months of 2002.
Four previous projects in this year's headquarters blitz have been relocations: Alstom Power, which relocated from Windsor, Conn.; Basis 100, which relocated from Irvine, Calif.; National Grange Mutual Insurance, which relocated from Keene, N.H.; and Paladin Claims Recovery, which relocated from Houston.
2002's The city's fifth previous headquarters project came from a brand-new company: Florida Machine Works, a fabrication firm created by New Jersey-based D.R. Kenyon & Son.
Georgia Site Other BMW Finalist
The BMW deal is considerably smaller than Gomma. Nonetheless, adding the high-profile German name to Jacksonville's corporate roster bolsters the city's aims to evolve into a major auto-industry player.
BMW's Jacksonville regional parts distribution center will serve some 45 BMW and Mini Cooper dealerships in Georgia, Florida, North Carolina and South Carolina. The $12-million center will initially employ 50 workers, most local hires, BMW said.
Greater, though, is the sum of the auto parts that the center will distribute. The 136,000-sq.-ft. (12,240-sq.-m.) operation in Westside Industrial Park will house an inventory of some 70,000 different items.
BMW looked at half a dozen Southeast states before picking the 16-acre (6.4-hectare) Jacksonville site, company officials said. "The southeast part of the U.S. continues to be a strong market for BMW Group, and we are committed to providing our dealers and our customers with the best possible service," explained Hans Duenzl, BMW of North America vice president of aftersales and engineering.
Incentives, BMW officials explained, were a major difference maker in the decision, separating Jacksonville from Brunswick, Ga., the other final contender. City officials approved a $575,000 package for BMW's project. Of that total, $325,000 is an economic development grant; $250,000 is a state road fund grant.
The center will likely expand to 200,000 sq. ft. (18,000 sq. m.) in 2006 or 2007, adding 30 additional workers, BMW officials said. The Jacksonville facility will begin operations by late 2002, the company anticipates.
In landing BMW, Jacksonville is adding a Tennessee company as well. Nashville-based logistics firm Ozburn Hessey will operate the center, directly employing most of its workers, BMW said. The Jacksonville center joins BMW's existing U.S. regional parts distribution centers in Mt. Olive, N.J.; Ontario, Calif.; and Senatobia, Miss.
---
L'Oreal's $65M Montreal Expansion
Will Create 100 New Jobs
SAINT-LAURENT, Quebec – It's a Montreal location, and it's worth it, L'Oreal has decided. That paraphrase of L'Oreal's often-heard ad tag line is evident in the new metro-Montreal expansion plan that the world's largest cosmetics company is mounting. The company late last month announced a multi-pronged, $65.3-million expansion that will create 100 new jobs over the next three years in the city of Saint-Laurent.
The Clichy, France-based firm will expand three operations in Saint-Laurent: its production plant, its Canadian distribution center and its consumer service and technical training center, L'Oreal officials explained. Invest Quebec greased the skids for L'Oreal's expansion with $3.6 million in incentives. The reimbursable funds are coming from the province's Private Investment and Job Creation Promotion Fund.
"As a business, L'Oreal has leveraged the exceptional conditions that Quebec offers to the manufacturing and distribution industries," Pauline Marois, deputy premier of Quebec and minister of state for the economy and finance, said of the newly announced projects. "With our operating costs, which are among the lowest in North America, plus the active support of the government, and an abundant, qualified work force, we were able to convince the multinational to expand its operations here in Quebec."
Manufacturing Capacity to Double
The manufacturing and distribution expansions will account for the lion's share of the new jobs, said L'Oreal Canada officials.
The company's Saint-Laurent plant will grow from 135,000 sq. ft. (12,150 sq. m.) to 256,000 sq. ft. (23,040 sq. m.), an enlargement that will double production capacity. With the capacity expansion, the plant will be able to produce some 150 million units a year for the company's L'Oreal Professionnel, Matrix and Redken brands. Montreal-headquartered L'Oreal Canada is projecting a May 2003 completion date for the manufacturing expansion.
The muscled-up manufacturing capacity will facilitate the company's plans to export more L'Oreal Canada products. The added output at the Saint-Laurent plant will be exported to 15 countries, L'Oreal officials said.
L'Oreal Canada's bulked-up production is, in turn, triggering the company to more than double the size of its Saint-Laurent distribution center. The facility will be expanded from 170,000 sq. ft. (15,300 sq. m.) to 370,000 sq. ft. (33,300 sq. m.).
Distribution Center Includes First
Daycare Center for L'Oreal's Subsidiaries
The Montreal-metro distribution center also includes the first daycare operation ever established within L'Oreal's far-flung network of subsidiaries. Quebec's Ministry for the Family and Childhood provided assistance in helping L'Oreal Canada establish its daycare center.
"Our investments and our development in Quebec are made with careful attention to our associates," L'Oreal Canada President and CEO Jochen Zaumseil commented at the daycare center's opening. "The expansion and modernization of our work environments, as well as the customized services offered to our employees, were made possible through the government's assistance. We are very proud today to be the first subsidiary in the L'Oreal Group to offer a daycare service in the workplace. This will contribute to the well-being of our associates and to harmonious family life."
L'Oreal Canada ranks as the country's largest cosmetics company, with 1,200 Canadian employees. L'Oreal's Canadian subsidiary recorded net sales of some $364 million in 2001.
---
Briefly . . . Quick Takes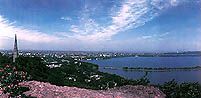 In a decision driven partly by the ongoing India-Pakistan conflict, Indian software exporter Tata Consultancy Services (TCS) has announced that it's opening a new subsidiary in China. The Chinese subsidiary, Tata Information Technology, will be headquartered in Shanghai.
In addition, TCS's new Chinese arm will open a marketing office in Beijing and a development center in Hangzhou. The company expects its Chinese subsidiary to grow to 150 employees within a year.
Diversifying risk in response to the escalating India-Pakistan battle, however, was only part of the company's location rationale, explained Executive Vice President Phiroz Vandrevala. TCS, he said, also wanted to directly tap China's huge market, part of the company's efforts to bolster its presence in the Asia-Pacific, which currently accounts for more than 5 per cent of total revenues. In addition, the new subsidiary fills the needs of existing clients like American International Group and General Electric, which wanted nearby support for their Chinese operations, Vandrevala added.

TCS recently announced another new software development center in Montevideo, Uruguay (see "Project Watch" for week of June 3). The South American operation will eventually employ 500 employees, TCS is projecting.