Debated Incentives Total $22M
---
Mitsubishi Adding 300 Jobs in
$200M Central Illinois Expansion

by JACK LYNE, Site Selection Executive Editor of Interactive Publishing


NORMAL, Ill. – Illinois - the newly crowned winner of Site Selection's coveted Governor's Cup - has taken a strong step forward in 2003's race. Mitsubishi Motors Corp., continuing its own torrid expansion clip, has announced a US$200-million, 300-job expansion of its huge existing plant in Normal, Ill. And another 800 new jobs could be looming in the Normal production operation's near-term future.
"At a time when some companies are closing plants, cutting shifts, trimming their work forces and moving manufacturing jobs to other countries, Mitsubishi Motors North America is increasing its commitment in North America, committed to extending its legacy of investment and participation in Illinois," Rich Gilligan, president and chief operating officer of Mitsubishi Motors North America's Manufacturing Division, said at the project announcement at the Normal plant.
The project unveiling comes as Tokyo-based Mitsubishi Motors North American subsidiary is in the midst of record-setting sales. The automaker has increased its U.S. sales by 81 percent over the past four years.


The newly announced expansion will further bolster capacity by increasing production by 25 percent at the Normal complex. Most of the added capacity will be devoted to making the Endeavor SUV. The Illinois plant, which already employs 3,400 workers, only began making the Endeavor last year.
In addition to the existing plant in Normal, Mitsubishi considered building a new plant at other new, unnamed North American locations, according to company officials. The project will add 400,000 sq. ft. (36,000 sq. m.) of new space, which will house a final line for producing the Endeavor chassis.
"This expansion is a testament to the hard work of our employees, the quality of our manufacturing process and the commitment of our company to the North American market," Gilligan said. "Today stands as proof Mitsubishi is growing in America, and we are only beginning to show what we are truly capable of."

800-Job Expansion Set to
Be Announced as Early as June

Mitsubishi looks ready to show yet more manufacturing-expansion muscle shortly. The No. 4 U.S. automaker is now heavily into the process of further enlarging its North American production footprint, company officials at the announcement in Normal said. A number of new and existing locations are under consideration, including the Normal plant, they explained.
That expansion will be announced soon, perhaps as soon as this June, company officials suggested. Officials didn't disclose which product line the expansion will support.
The Normal plant has a considerable case for landing Mitsubishi's next-phase North American expansion. The Illinois operation's production of the Endeavor is part of the automaker's initial sortie of "Project America." The project employs a platform - known as the "PA Series" - that's an adaptable foundation, suitable to accommodate a broad range of models aimed at U.S. consumers. Among the various models that the Normal plant can make is the next-generation Galant mid-sized sedan, which will be unveiled next month.
The Normal complex also sits on a large 636-acre (254-hectare) site that could accommodate considerably more expansion. The plant currently spans 2 million sq. ft. (180,000 sq. m.). That total includes a 170,000-sq.-ft. (15,300-sq.-m.) addition that was completed last year as part of readying the plant for Endeavor production.
Locations in Canada and Mexico - two increasingly important markets in Mitsubishi's North American designs - are also reportedly under consideration for the expansion. The company began selling its vehicles in Canada in September of 2002, following up by starting sales in Mexico in January of 2003.
Included in the locations that Mitsubishi is considering for the 800-worker project are plants owned by partner DaimlerChrysler. DaimlerChrysler owns 37.3 percent of Mitsubishi.

Incentives Total $22 Million

Illinois provided a $22-million incentive package that will play out over 12 years. The project subsidies came after debate in state circles as to whether incentives should be used to bring in large, new companies or, instead, to help small, existing companies expand.
Gov. Rod Blagojevich (D), who took office in January, didn't mention the debate at the project announcement.
"When people talk about bang for the buck, this is exactly what they mean," Blagojevich said at the Normal plant, which opened in 1987. "This decision provides our economy with a tremendous shot in the arm. The incentives offered by the state have resulted in a commitment from Mitsubishi that will keep the company building cars in the Normal area for a long time to come.
"I hope," the governor continued, "that what we announced today is an indication of what we will be doing consistently, repeatedly and very often through the tenure of my administration. If this administration is going to be about anything at all, it is going to be about jobs, jobs, jobs."
Most of the incentive package isn't in cash. The biggest chunk of the package by far, for example, is the $18.5 million in tax credits that will be awarded through the newly renamed state Department of Commerce and Economic Opportunity (DCEO).
Other elements in the state's incentives include:
• Some $1.8 million in funding for improving roads for the expansion, with the monies coming from motor fuel taxes;
• $1.5 million for site preparation and machinery through the DCEO; and
• $300,000 for employee training.
Mitsubishi expects to break ground on the Normal expansion in April, with construction scheduled to be completed in 2004.



---
Hwashin's 400-Job Greenville Plant
Marks Fifth Hyundai Supplier for Alabama

by JACK LYNE, Site Selection Executive Editor of Interactive Publishing


GREENVILLE, Ala.

– The wave of South Korean suppliers that Hyundai's stirred up continues to crest in Alabama.

Hwashin

has picked a 62-acre (23-hectare) site outside the small town of

Greenville, Ala.,

for a $70-million, 400-employee plant that will supply Hyundai's $1-billion plant in Montgomery, the automaker's first U.S. production operation.
The facility, which will be located in the new Butler County Industrial Park, will supply chassis, drive train and body parts for Hyundai's 2,000-employee plant. Hwashin is the fifth Hyundai supplier to announce an Alabama location since Hyundai Mobis in December 2002 became the first to come aboard.
All five are based in South Korea. Like Hyundai Mobis, Hwashin's Alabama plant will be its first U.S. production facility.
Alabama cities are avidly courting the 12 to 15 Tier-1 suppliers that state officials expect to come to the state to supply the Hyundai plant, which is currently under construction.
"Today is a historic and hope-filled day for the city of Greenville," Gov. Bob Riley (R) said at the project announcement, which was held in Greenville High School. "This announcement probably means more to this community than it does to any others."
For Butler County, the announcement marked a welcome relief from some tough economic times - ones that will translate into a ready labor pool for Hwashin. The county has been one of the Alabama areas hardest hit by the U.S. textile industry's offshore exodus. County unemployment is currently near 10 percent and hit almost 20 percent in the summer of 1999.

County Met Downturn with Aggressive Recruiting

County officials have responded aggressively to the downturn, making a strong bid for Hyundai's incoming supplier wave. The city was the first to put up a billboard in Montgomery welcoming the South Korean automaker to the state.
"It's our turn to repay your kindness that has been given to us so far," Hwashin President Chang-Myung Suh said at the project announcement. In addition to the area's warm welcome, Hwashin liked the site, with its access to I-65, and the local work force, he explained. The Korean executive drew numerous standing ovations from an audience that was packed to the rafters in Greenville, a city of some 7,500 residents 30 miles (48 kilometers) south of Montgomery. (Greenville, incidentally, is also the birthplace of country legend Hank Williams Sr.)
Hwashin received a number of state and local incentives as well, county officials said. Incentives included the land for the plant and preparation of the site, as well as labor recruitment and training through the Alabama Industrial Development Training office. Officials didn't estimate a total dollar value for the project incentives.
Hwashin will break ground for its new plant in May, with full operations going online in March of 2005, company officials said. The plant will actually begin partial operations earlier as part of Hyundai's test production at the automaker's Montgomery plant. Hyundai has already announced that it wants to start test production at its Alabama operation in the summer of 2004. Hyundai is only one of Hwashin's major customers. The company is also a Tier-1 supplier for Kia Motors and GM Daewoo. Hwashin has 1,600 employees and also has plants in China, South Korea and India.

1,600 Supplier Jobs Thus Far

In addition to Hwashin and Hyundai Mobis, three other suppliers to Hyundai's Montgomery plant have announced Alabama locations. Those three suppliers include:
• Halla Climate Control, which picked the city of Shorter for its $28-million plant to build auto air-conditioning units;
• Shin Young Metal Industrial, which selected Luverne for a $110-million plant to manufacture stamped metal parts; and
• HS RA, which picked Enterprise for a $20-million plant that will make rubber tubing. Collectively, the five South Korean Hyundai suppliers have announced 1,600 new jobs.



---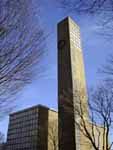 Photo: Joe Kunkel, Discover Columbus

Dorel Decides to Keep 1,000 Jobs in Indiana, Spurning China and Mexico

by JACK LYNE, Site Selection Executive Editor of Interactive Publishing


COLUMBUS, Ind. – It was hardly child's play, with the decision determining whether 1,000-plus jobs would either stay anchored in Indiana or head off for China or Mexico.
In the end, the Hoosier State got the nod, as Dorel Juvenile Group decided to build a new $26-million manufacturing plant making in Columbus, Ind. The decision means that the Indiana operation, which makes infant car seats, will retain its 1,053 existing fulltime jobs.
Dorel considered moving the jobs to China or Mexico as part of its cost-cutting efforts. In the end, though, the subsidiary of Montreal-based Dorel Industries decided that the startup costs of going offshore were prohibitive, Dorel officials said.
Instead, Dorel decided to build a new operation in Columbus, located 46 miles (74 kilometers) south of Indianapolis. As part of the decision, the company decided to co-locate an existing 600,000-sq.-ft. (54,000-sq.-m.) warehouse in Greenwood, Ind., inside the new Columbus factory. Relocating the distribution operation from Greenwood, an Indianapolis suburb, will save Dorel $2 million a year in transporting goods between the two Indiana sites, company officials said.
"The result will be an expeditious flow, from raw materials to finished product," Dorel President and CEO Martin Schwartz said in explaining the decision. "We will double capacity with the addition of the most modern equipment and even better serve our customers with a build-to-order capability. This will not only serve them even better, but will greatly reduce inventory levels. New supplier arrangements will provide a consistent flow of materials on site."
The company, Schwartz added, decided against the Chinese and Mexican options after "concluding that the Columbus option provided the best scenario for significant cost savings, increased efficiencies and improved response for customers."

Decision Keeps Company in Birthplace

The 800,000-sq.-ft. (72,000-sq.-m.) Columbus plant, though, wasn't a preordained stateside option for the new operation, which company officials are calling a "factory of the future."
Dorel also considered sites in both Greenwood and Franklin, Ind. In the end, though, the Columbus site's existing rail spur was the deciding factor, said Ed Rachie, Dorel executive vice president of human resources. The in-place spur means that the Columbus site won't require extensive new construction. The Dorel plant relies on large supplies of plastic resins, which are transported by rail to the plant to produce its injection-molded products.
The new facility will be 300,000 sq. ft. (27,000 sq. m.) larger than the existing operation.
Indiana is providing incentives that include $475,000 to train workers to for operations inside the revamped factory. In addition, the Indiana Department of Commerce is awarding the city as much as $300,000 to help pay for offsite infrastructure improvements for the expansion. The city will match the state infrastructure award. Dorel will finance the new facility in part through cost savings from inventory reductions, operational efficiencies and other projected savings gained from the co-location and new facility.
The deal keeps the Dorel Juvenile Group operation in the city of its birth. The company was founded, as Cosco Inc., in Columbus in 1935. Quebec-based Dorel Industries acquired the company in 1988.

The expansion, however, won't appreciably alter Dorel's total employment in the area. The Greenwood warehouse, which has 45 fulltime employees, will remain open at least until the first quarter of 2004, company officials said. Warehouse workers will be given the opportunity to transfer to the new Columbus plant, they added.
Construction on the new Columbus production facility will begin in the spring, with completion projected 12 to 18 months later.

---
PLEASE VISIT OUR SPONSOR • CLICK ABOVE
©2003 Conway Data, Inc. All rights reserved. Data is from many sources and is not warranted to be accurate or current.