Persistence Pays, as Cardinal Glass Picks Oklahoma for $100M, 247-Worker Plant

by JACK LYNE, Site Selection Executive Editor of Interactive Publishing


DURANT, Okla. – A lot of clichés get to be clichés for a rock-solid reason: They contain a hard-edged kernel of truth.
That's certainly the case in looking at Cardinal Glass Industries' rationale for selecting Durant, Okla., as home to its new US$100-million, 247-employee plant. An admittedly dog-eared idiom - "perseverance pays" - turned out to be a difference-maker in the decision.
Cardinal Glass was searching for a U.S. Southwest site for its 20th plant. And it found a lot it liked about Durant, one of the locations it considered in the early stages of the hunt. But the Eden Prairie, Minn.-based company also found one thing it really didn't like about Durant: the plant site that the southern Oklahoma city was offering.
Unspecified "technical issues" with the tract left a significant something to be desired, said Cardinal Glass CEO and President Roger O'Shaughnessy.
Significant enough, in fact, that the company continued looking for a location for its 600,000-sq.-ft. (54,000-sq.-m.) plant, which will funnel much of its output into the Texas and Mexico markets. Several unnamed Texas sites were emerging as the leading contenders to land the project, Cardinal Glass officials said.
Recruiting efforts doggedly continued, though, back in Durant, a city of some 13,500 residents located 150 miles (240 kilometers) southwest of Oklahoma City. Local officials kept searching for solutions. Eventually, they found what just might be The Answer - another property that more closely conformed to Cardinal Glass's location requirements.


Durant Economic Development Director Tommy Kramer quickly got on the horn, calling the company to tell them about the 80-acre (32-hectare) property. Interest piqued, Cardinal Glass's site search team returned to take a second look.
That second inspection proved to be a deal-sealer - and with a site that would've never even become a blip on the company's radar without Durant officials' persistence. O'Shaughnessy made special note of the area's resourcefulness at the groundbreaking ceremonies for the plant. "It was apparent that this community has the chutzpah to make [the new plant] work," said the Cardinal Glass CEO and president. "Durant, Oklahoma officials and the state of Oklahoma economic development group have worked diligently in helping us to select this wonderful community."
The Cardinal Glass project was just one of several that helped Kramer's group garner a Top Groups of 2002 designation from

Site Selection

, chronicled in its May 2003 issue.

Plant Will Also Supply Cardinal
Glass's New Operation in Texas

"This is just unbelievable," Kramer enthused at the project announcement. "We were able to provide the company with just the right site and meet all of their infrastructure and logistical requirements," he said.
That site will be home to Cardinal Glass's fourth float glass production facility. The plant will go online in mid-2004. Part of its output will supply a Cardinal Glass coated-glass facility that's now being built at a Texas site 125 miles (200 kilometers) south of Durant.
"The plant is designed to melt 600 tons (540 metric tons) of glass daily on a continuous basis and will be serving markets in Texas, Mexico, and as far north as Iowa," O'Shaughnessy said. "It will also be a key factor in supplying coating quality product to our new Waxahachie, Texas, facility, which will be operational later in 2003."

Incentives, Taxes Lower Costs

Lower costs were also a factor in Cardinal Glass's pick of Oklahoma over Texas, O'Shaughnessy added. The company will save approximately $1 million a year in taxes by building in the Sooner State, he said.
State incentives will also reduce Cardinal Glass's costs. The company could earn as much as $5.2 million in multi-year payouts from the state's Quality Jobs Program, Oklahoma officials said. Exact payouts from the Quality Jobs Program are computed through a state Commerce Department cost-benefit analysis. Payments can't exceed 5 percent of a company's payroll. For most Quality Jobs recipients, the incentives are about 4 percent of payroll, state officials said.
Cardinal Glass's payroll promises to be well within the program's parameters. The 247 employees will make between $30,000 and $60,000 a year, with annual payroll topping $7 million, company officials said. Companies qualifying for Quality Jobs benefits must have a $2.5-million payroll for at least four consecutive quarters during the first 12 quarters in which they receive benefits.
Most of the hires for the new jobs will come from the local area, O'Shaughnessy added. "Cardinal Glass has proven it is a great corporate citizen and we are committed to assisting them," Gov. Brad Henry (D) explained at the project announcement, which drew a crowd of more than 300 people. "The fact that so many people have turned out for this is testament to the perseverance of this community," Henry said.
Henry presented O'Shaughnessy with a commemorative statuette of one of Oklahoma's most famous favorite sons, Will Rogers.
Greg Pyle, chief of the area's Choctaw tribe, gave the Cardinal Glass leader a gift of a strikingly different sort at the project announcement: a handmade tribal device that's both a peace pipe and a hatchet.
"It can be used for war or peace," Pyle said, "but we hope that you use it for peace." Peace coming after persistence.



---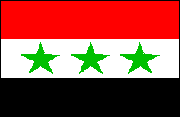 Rebuilding Iraq: Bechtel, Fluor, Perini, Washington Group Land Contracts
by JACK LYNE, Site Selection Executive Editor of Interactive Publishing

WASHINGTON, D.C. – The wave of major construction, design and engineering contracts for the multibillion-dollar reconstruction of Iraq has begun to break. The Bush administration has awarded four companies contracts that, collectively, could total as much as $1 billion.
All four companies are U.S.-headquartered: San Francisco-based Bechtel Group; Greenville, S.C.-based Fluor Intercontinental; Framingham, Mass.-based Perini Corporation, and Boise, Idaho-based Washington Group International.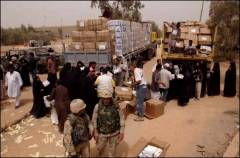 U.S. Navy photo by Photographer's Mate
1st Class Arlo Abrahamson


Those contracts come, though, amid significant debate. Some of the criticism is coming from international corners, as foreign officials criticize the Bush administration's U.S.-firms-only approach to rebuilding Iraq.
Domestic criticism, though, seems more likely to register impact. Some U.S. legislators are sharply questioning the equitability of contracting procedures for rebuilding Iraq. And there's a huge amount at stake for construction, design and engineering firms. Federal officials estimate that physically remaking Iraq could involve as much as $25 billion in contracts - the biggest postwar reconstruction since the Marshall Plan of the late 1940s.

Fluor, Perini, Washington Group
Contracts All Competitively Bid

The Fluor, Perini and Washington Group contracts, however, seem well outside the contracting controversy. All were competitively bid - unlike the award that was the catalyst that triggered the critical fire.
The Bechtel contract, considered the grand prize of Iraqi rebuilding, was also competitively bid. But major questions have been raised over whether the bidding process was sufficiently broad.
The Fluor, Perini, and Washington Group contracts will "include design-build activities, construction (new work, renovation or repair), and short-term operations and maintenance," Army officials said in a release. Each of the three awards is an "indefinite delivery/indefinite quantity" arrangement with "a minimum guaranteed contract value of $500,000 and a maximum contract value of $100 million," officials said.
Competitive bidding for the Fluor, Perini, and Washington Group contracts traces all the way back to before the war began. On Feb. 26, the Army Corps of Engineers' Transatlantic Programs Center issued a request for proposal for the work to 13 U.S.-based companies, federal officials reported. The three winning firms were "competitively selected based upon their response," Army officials explained.
The trio of awards, however, isn't specifically earmarked for rebuilding Iraq - not yet, at least. The Army Corps of Engineers only broadly defined the contracts as steps taken "in anticipation of potential contingency contract requirements in U.S. Central Command's area of operations" - a 25-nation area that ranges from the Horn of Africa to central Asia.
Even with the general wording, however, the Fluor, Perini and Washington Group contracts are certain to involve rebuilding Iraq, government analysts say.
Washington Group President and Chief Executive Officer Stephen Hanks plainly alluded to the Middle Eastern conflict in announcing his firm's award.
"As a company, we're honored to be able to support the U.S. Central Command in this critical region of the world that includes Operation Enduring Freedom," Hanks said. Washington Group knows terrorism's toll first-hand.
"The war on terrorism," Hanks continued, "is a particularly important issue for us as the only company in our industry to be directly impacted by the horrific events of Sept. 11, 2001, where we lost 13 of our coworkers in the attack on the World Trade Center."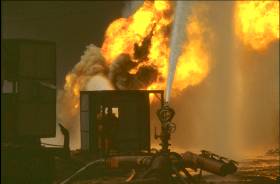 Photo by Jack Heller, USACHPPM

Bidding Questioned on Bechtel Award

Bechtel's award from the U.S. Agency for International Development (USAID) has far broader scope. The contract is initially for $34.6 million, but it provides for 18-month funding of up to $680 million. Bechtel's award covers reconstruction of virtually every major Iraqi infrastructure element, including two international and three domestic airports, medical facilities, roadways, schools, and water and power systems.
Bids for that contract were sent out after armed conflict began. Bechtel, the West's largest construction company, brings a stellar and widely acknowledged track record to the project. The company's 106-year history includes founding the consortium that built the Hoover Dam, building an entire industrial port city from scratch in Jubail, Saudi Arabia, and rebuilding Kuwait's oil fields after the 1991 Persian Gulf War.
Instead, criticism of the Bechtel award revolves around whether bidding was sufficiently broad. Bids were sent out to only six companies, with Pasadena, Calif.-based

Parsons Corporation

joining Bechtel as the other finalist. The four other bidding firms were Fluor, East Orange, N.J.-based

Louis Berger Group,

Houston-based

Halliburton

and Washington Group. The six companies were selected, according to the USAID, because they were the only firms with necessary security clearances and demonstrated competence in war zones.
Early criticism of the limited bidding is largely breaking down along party lines. Democratic Sen. Ron Wyden of Oregon, for example, called the Bechtel contract part of "a troubling pattern beginning to emerge, as some of the most powerful business interests in the country continue to receive these huge contracts without . . . open, transparent bidding."
Wyden is one of a group of Democratic congressmen backing a bill to require public explanations whenever federal contracts are awarded with limited bidding.

Non-Bid Halliburton Deal
Draws Call for GSA Inquiry

A contract awarded with no bidding at all, however, was the catalyst that pushed the Iraqi contracting process under the critical microscope. That award went to

Kellogg Brown & Root

(KBR) to extinguish Iraqi oil fires and repair damaged petroleum infrastructure. Federal officials at the time estimated that rebuilding Iraq's petroleum infrastructure could involve contracts worth as much as $7 billion.
KBR's family tree partly accounts for the contract controversy. The engineering and construction firm is a subsidiary of Halliburton, where Vice President Dick Cheney was chief executive from 1995 to 2000.
The KBR award's larger controversy, though, rests in the fact that the contract wasn't competitively bid.
The non-bid award triggered a formal request by two Democratic U.S. representatives, Michigan's John Dingell and California's Henry Waxman, for a General Accounting Office (GAO) investigation of the Iraqi reconstruction bidding process. Their request called on the GAO to determine "how certain companies were invited to bid on these contracts, how the contract winners were selected, why so little information has been provided to the public and Congress about the contracts, and what role various agencies played in making the determination to proceed with these contracts."
The congressmen also specifically requested a GAO examination of whether Halliburton "has received special treatment from the administration over the past two years in the awarding of Defense Department contracts."
Army Corp of Engineers Commander Lt. Gen Robert Flowers promptly responded in a letter to Waxman.
KBR was chosen, he explained, because it already had an existing Defense Department contract for Middle Eastern oilfield fire-fighting and repair. The Defense Department last November asked KRB to put together a contingency plan, later awarding the company the contract, he said.
But that contract, Flowers allowed, wasn't opened to competitive bidding, which would've taken too much time, he contended. "Under the circumstances," he wrote, "no other contractor could satisfy mission requirements in the time available."

GAO Promises Broad Investigation

The whole contracting commotion, however, is far from finished, which could slow the awards process.
Significantly, the GAO has announced that it will mount an investigation even broader that what Dingell and Waxman requested. The investigative arm of Congress says that it will conduct a more wide-ranging review of all issues related to postwar Iraqi building. Particular companies, however, won't be targeted, the GAO said.
But the fallout from the contracting controversy was extensive even before the GAO's announced investigation.
The Corps of Engineers, for example, is now soliciting bids for what it's calling a "permanent contract" for the Iraqi petroleum rebuilding work that KRB began. Bechtel, Fluor and Halliburton are expected to be the major contenders for the award, which will likely have a total value of $600 million, federal officials now estimate - far below the initial $7-billion worst-case scenario estimate.
Contracting criticism also prodded Halliburton to pull out of bidding for the Iraqi infrastructure contract that went to Bechtel.
In addition, the bidding brawl has spurred more legislative action. A House proposal would raise the limit for Defense Department contracts not requiring bidding from $7.5 million to $200 million.

U.S.-Only Approach Criticized

To further complicate matters, the Bush administration's plan to primarily use U.S. firms only in Iraqi reconstruction is drawing global censure.
British Prime Minister Tony Blair, for example, earlier this month asked President Bush during a meeting in Northern Ireland for a broader United Nations reconstruction role. And finance ministers for the G-7 nations (the seven richest industrialized nations: Britain, France, Germany, Italy, Japan, Canada and the United States), have called for a U.N. resolution backing multinational rebuilding.
But a multinational approach would slow reconstruction, Bush administration officials have countered. Shutting out foreign firms, however, may alienate some countries that might later provide Iraqi aid, some political analysts are saying.
Whether foreign firms land enough subcontracting work to soothe global critics remains to be seen. Bechtel has already announced that its subcontracting work will be assigned after "full and open competition on an international basis." In addition, the USAID has waived federal procurement rules to allow Bechtel broad latitude for choosing subcontractors - which could land as much as 70 percent of the work. The California company can choose firms from any non-U.S. nation that's not one of the six on the government's list of terrorist sponsors.
The contract, however, gives the USAID the power to monitor Bechtel's contracting and approve any awards exceeding $500,000. The contract also requires Bechtel to justify any non-competitively-bid subcontracting job. The USAID is now hiring another private-sector firm to monitor Bechtel's work.
Meanwhile, a huge amount of rebuilding work hasn't yet been awarded.
And Iraq remains

very

much in need of rapid rebuilding. The country's economy, for example, is virtually nonfunctional. No fewer than three currencies are competing to be the dominant legal tender - the fast-falling Saddam dinar, the U.S. dollar and the so-called Swiss dinar. The latter, used by northern Iraq's Kurds, is so named because it's printed in the European nation.
A fitting scenario, some would say, for the contentious state of the competition for rebuilding Iraq.



---
150-Worker Mando Plant Adds to Alabama's Hyundai-Spurred Surge

by JACK LYNE, Site Selection Executive Editor of Interactive Publishing


OPELIKA, Ala. – Adding to Alabama's massive incoming wave of Hyundai suppliers, Mando Corporation is bringing a new plant that will employ at least 150 workers to Opelika - a city that was one of the major competitors to land Hyundai.
Mando, which had been looking for a site for about a year, chose a location in Northeast Opelika Industrial Park. The 1,900-acre (760-hectare) park was also a finalist for a 4,000-employee Nissan plant, which went instead to Canton, Miss., in late 2000. The Kunpo, South Korea-headquartered company will build a 159,000-sq.-ft. (74,320-sq.-m.) manufacturing facility on a 42-acre (17-hectare) site.
Mando currently supplies 100 percent of Hyundai's brake, steering and suspension systems. The Alabama plant, however, will produce the same systems for all of Mando's U.S. auto customers, company officials said. DaimlerChrysler, Ford and General Motors are also among Mando's existing clientele.
The area that Mando selected for its plant, however, reflects the importance the supplier places on Hyundai's $1-billion, 2,000-worker plant in Montgomery, currently under construction on a 1,744-acre (698-hectare) site.
Opelika, a city of some 23,000 residents, is located some 60 miles (96 kilometers) west of Montgomery. And Mando's chosen site in Northeast Opelika Industrial Park directly fronts I-85, which runs directly to Alabama's capital city.

'Family Mentoring' Will Aid Relocating Koreans

Mando currently has 12 manufacturing facilities in seven countries. The 13th plant in Opelika, however, will be Mando's first U.S. production operation - as is the case for Hyundai, as well as for much of the supplier surge that the automaker's plant is attracting.
No. 13 was lucky for Opelika, said Mayor Barbara Patton, who called the announcement "a great day for the citizens of this community. A decision by a world-class company like Mando to locate in Opelika will bring more good jobs to our community."
The small Alabama town is taking proactive steps to welcome the Korean executives who'll relocate to get Mando's new manufacturing operation online. City government and the Opelika Chamber of Commerce are establishing a "family mentoring program" to assist such relocated workers. The program will match Korean families with local families that have similar characteristics.

The family mentoring initiative will create "opportunities for cultural exchange and enrichment," Patton said.
Mando will begin construction of the new plant this summer, with completion expected by May 2004, company officials said.

(For more on the Hyundai project and its supplier spinoff, see the cover story and other coverage in the May 2003 issue of

Site Selection

.)
---
PLEASE VISIT OUR SPONSOR • CLICK ABOVE
©2003 Conway Data, Inc. All rights reserved. Data is from many sources and is not warranted to be accurate or current.