Back-to-Back Action
---
Bridgestone, Verizon Could Create 1,420 Middle Tenn. Jobs

by JACK LYNE, Site Selection Executive Editor of Interactive Publishing


DICKSON and MURFREESBORO, Tenn. – Unveiling expansion plans on back-to-back days, Bridgestone APM and Verizon Wireless have separately announced projects that could create as may as 1,420 new jobs in Middle Tennessee.
Bridgestone APM picked the Volunteer State city of Dickson for its 170-employee automotive-parts manufacturing facility. The new plant will produce shock-absorbent pads and interior cushions for automakers that will include Honda, Nissan and Toyota, officials with the Findlay, Ohio-based firm explained.
The auto supplier's project is obviously a major job-generator. Its substantial scope was virtually dwarfed, though, the very next day by a project announced in Murfreesboro, 75 miles (120 kilometers) southeast of Dickson: Verizon unveiled plans for a customer service center that will open with 400 workers and could end up employing 1,250.

New State Leadership Greets
Bridgestone's Stop-and-Go Project

Verizon - the company that's made "Can you hear me now?" an omnipresent advertising mantra - had been seriously considering a major new call center location for more than two years, company officials said. Uncertain economic conditions, however, kept knocking the project into a holding pattern, Shawn Stacy, the man who'll manage Verizon's Murfreesboro center, explained at the project announcement.
Finally, what Verizon's expansion team could hear now was a clear-cut go. That refocused the team's attention on Tennessee, one of the areas that had previously received strong consideration during the project's on-again/off-again days.
Verizon, though, found itself focusing on a slightly changed state picture. Specifically, Gov. Phil Bredesen (D) had taken office in January. All of Verizon's previous talks about possibly locating the project in Tennessee dated back to the administration of Bredesen's predecessor, Don Sundquist (R), who served as governor from 1995 until 2002. (Tennessee, in fact, won

Site Selection

's first annual Competitiveness Award as the top state development agency. For more details, see the May issue feature "

Site Selection

Competitiveness Award Debuts.")
What hadn't changed with the political turnover, though, was Verizon's familiarity with local labor. The company was already knowledgeable in that arena, having opened a call center in Nashville, 35 miles (56 kilometers) northwest of Murfreesboro. One particularly important thing that Verizon knew: the area's affordable labor costs - an obvious major driver in such a manpower-heavy project.

Verizon Praises New Administration's 'Strong,
Substantive Focus on Economic Development'

Verizon's discussions with the new administration went well - and quickly. Bredesen, a former Nashville mayor, had made an expansion-boosting "Jobs Cabinet" one of his most prominent campaign promises. That pledge seems to be panning out, at least judging from Verizon's remarks at the project announcement.
"We are impressed with the strong, substantive focus on economic development in Tennessee and appreciate the efforts of Gov. Bredesen, Commissioner [Matt] Kisber (the new head of the state's Department of Economic and Community Development), and the Rutherford County government and business leaders who helped bring this project to fruition," Stacy said. "We look forward to further strengthening our involvement in this community."
And Verizon's jobs, said Bredesen, fit the bill for what the new administration wants.
"These are good-paying jobs with good benefits," the governor noted at the announcement. "The positive economic impact and jobs created by this announcement are precisely the type we are working to grow and recruit. We are extremely proud that a world-class technology company such as Verizon has chosen to locate a new facility in Tennessee,"
Call center salaries will start at $24,000 a year, and the operation will have a $40-million annual payroll, Verizon officials said. Rutherford County's average per-capita income is $25,212, according to U.S. Census Bureau data.

'Jobs Cabinet' Broadens Development Push

The Verizon project is the state's biggest job-generator since Bredesen's executive order created the Jobs Cabinet in March.
Chaired by Kisber, the cabinet consists of seven state department commissioners, plus representatives from higher education and the Tennessee Industrial Development Council. The 12-member body will meet regularly to help formulate strategies for regional job creation and work-force training.
"For the first time, every department in state government that has a hand in job creation or job training will communicate regularly with one another," Bredesen said of the newly formed group. "Getting everybody on the same page - moving together, not separately - is essential as we work to improve the economic situation of all Tennesseans."
The Jobs Cabinet is also charged with launching a county-by-county economic development review.
Verizon's announcement was a huge boost for the local area's new economic development initiative, "Destination Rutherford." Launched in February, the four-year program similarly forms a united front, bringing the county's government agencies and business leaders together to attract well-paying jobs.
Verizon will begin adding its sizable chunk of jobs later this year. The customer service center, said company officials, will open this October with 400 employees, and may employ 1,250 by 2005.
Verizon is receiving a 10-year, $2-million reduction in county property taxes. The company turned down an offer from Rutherford County officials to purchase $27 million in industrial bonds for use in obtaining a building and equipment.
The center will set up operations in a leased 158,220-sq.-ft. (14,240-sq.-m.) facility that was previously used for retail activities. The company will spend $24 million in adapting the facility, company officials said.

Plant Bridgestone APM's First Outside Ohio

Bridgestone APM, on the other hand, will build its new plant in Dickson, 42 miles (67 kilometers) west of Nashville.
The plant, which will be located in the Dickson County Industrial Park, will be Bridgestone APM's fourth production facility - and its first outside of Ohio. The company's three existing plants in the Buckeye State include one operation in its headquarters city of Findlay and two others in Upper Sandusky.
"Dickson County and Tennessee have the talent and the resources that we are looking for to continue the long-term growth of Bridgestone APM," company president Nick Fujii said at the project announcement in Dickson.
Bridgestone APM already had a tangential Tennessee connection. The company is a division of Tokyo-based Bridgestone Corporation. Bridgestone APM, however, operates separately from another Bridgestone subsidiary, Nashville-based Bridgestone/Firestone North American Tire. The company will employ 70 workers in the plant's first phase, which will involve $11 million in capital expenditures, Fujii said. By 2006, the facility will expand to employ 170, he added.
The Bridgestone APM deal also builds on one of the state's site selection strengths, Tennessee's new leader of Economic and Community Development noted at the announcement.
"This project builds on an important industry, and it underscores the fact that Tennessee is a prime location for automotive manufacturing and distribution," Kisber said.
Bridgestone APM is the Bredesen administration's second major auto-industry catch. Toyota Motor Manufacturing North America subsidiary Bodine Aluminum early last month announced that it's bringing a 200-employee, $124-million plant to Jackson, Tenn. (For more details, see the April 7 Project Watch.)



---
Samsung Adding 300 Workers in
$500M Expansion of Austin Fab

by JACK LYNE, Site Selection Executive Editor of Interactive Publishing


AUSTIN, Texas – Breaking ranks from most of the semiconductor pack, Samsung is adding 300 well-paying jobs in a $500-million expansion of its Austin, Texas, wafer fabrication plant. The expansion of the fab, Samsung's only outside of South Korea, puts the company "well on our way to seeing Samsung Austin Semiconductor as the most advanced eight-inch fab in the United States," Sung Lee, president of Samsung Austin Semiconductor, said at the project announcement. "The investment also underscores Samsung's determination to boost its presence in the U.S. market."
Some 17 percent of Samsung's investment will go into a 40,000-sq.-ft. (3,600-sq.-m.) expansion of the 660,000-sq.-ft. (59,400-sq.-m.) Austin plant, Lee explained. But the lion's share of the capital, roughly $400 million, will be used to upgrade semiconductor fabrication equipment inside the facility.
The new equipment will move the Austin plant into producing so-called nanotechnology semiconductors, including 1-gigabit memory chips used in high-end servers. Compared to the 256-megabit chips that the plant currently makes, 1-gigabit chips have four times the capacity - enough memory to store about 20 million words.
But will the demand be there for the new chips? Samsung is apparently betting that it will, despite the chip industry's prolonged slump, its worst ever. The larger economy's sluggishness has particularly stung chip-makers by slowing computer upgrades.
Samsung's expansive stance differs significantly from most other chip-makers. Notable among the less bullish players is Intel, the world's biggest chip company and long the Daddy Warbucks of capital expenditures. Intel, though, has said it plans to cut its capital spending budget for this year by as much as 25 percent.

'We Thought Our Silicon Hills Were Eroding'

Located on a 300-acre (120-hectare) campus in the city's northeast section, Samsung's Austin fab opened in August of 1997. It currently employs 930 workers. The 300 new workers added over the next three years will make an average of $53,000 a year, Samsung officials said.
The $500-million expansion is sweet music to the ears of Austin business boosters. The city's chip-making preeminence earned northeast Austin the nickname of "Silicon Hills." The semiconductor sector's slump, though, has thinned Austin's chip-making ranks. The city boasted a dozen fabs in 2000. Today, though, only five are still operating.
But the site-selection basics are still in place, Lee maintained. "Austin and Texas have a strong high-tech infrastructure," he said.
"Samsung's decision to invest in Austin could not come at a more opportune time," Mike Rollins, president of the Greater Austin Chamber of Commerce, said at the project announcement. "We thought our Silicon Hills were eroding. We now have hope that the semiconductor industry will be here for a long time."
The expansion ensures the Samsung fab's continued operations into the second decade of the 21st century, Austin business leaders said.

Perry Pushed Economic Development Plan

Gov. Rick Perry (R) used the Samsung announcement to do a little lobbying for the $295-million economic development fund he's proposing as part of the next state budget.
"Today's announcement is about good jobs; it's about the future of this state," Perry said. "I want to see more of that innovation coming to Texas."
"You've got to go compete for these jobs," Perry continued in plugging his plan. "You've got to have these individuals willing to come to Texas. They're going to shop around. They're going to see what our friends up in New York are willing to offer. I want Texas to get those jobs."
Lee also offered Samsung's support for Perry's business recruiting initiative.
"We believe the governor's economic development efforts will pay off for years to come," he said.



---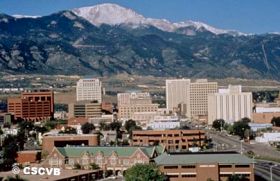 Photo courtesy of Colorado Springs Convention and Visitors Bureau

ICT Group's 500-Worker Colorado Call Center Will Serve Virgin Mobile

by JACK LYNE, Site Selection Executive Editor of Interactive Publishing


COLORADO SPRINGS, Colo. – Riding atop Virgin Mobile USA's rapid growth, call center outsourcer ICT Group has announced that it will open a new operation employing as many as 500 workers in Colorado Springs, Colo. - a city that's also on a growth roll as a call-center hotspot.
The call center project was announced on the heels of the three-year expanded agreement that ICT Group signed in mid-April with Virgin Mobile. Virgin Mobile is a joint venture between Spring PCS and Virgin Group, a UK-based company best known for its airplanes and CDs. Virgin Mobile, however, is registering rapid growth. Launched in June of last year using Sprint PCS's network, the company attracted 350,000 U.S. mobile phone customers in its first six months. It's now adding roughly 2,000 new users a day, primarily in the U.S. youth market.
ICT's new call center is part of Virgin Mobile's expansion of its support system for its swelling U.S. customer base. The Colorado Springs facility will be ICT's second call center dedicated to Virgin Mobile USA, more than tripling the size of the mobile player's customer-service operation - or "Central Intelligence Team," as it's known in Virgin Mobile's distinctive branding parlance. ICT's other call center dedicated to Virgin Mobile is a 200-employee operation in Spokane, Wash.
"ICT Group has helped Virgin Mobile build significant traction in its first six months of operation through the delivery of outstanding Central Intelligence customer-care services," Virgin Mobile USA CEO Dan Schulman said in announcing the Colorado Springs center spawned by the new contract. "This extended partnership demonstrates our commitment to the Central Intelligence Team and its vital role in enhancing the experience of our customers."

'Available, Quality' Labor, Quick-Start
Available Structure among Area's Pluses

That partnership extended into site selection. Officials from Newton, Pa.-based ICT Group and Virgin Mobile collaborated on evaluating locations, as well and on making the final decision.
Colorado Springs won out after what ICT Group Chairman and Chief Executive John Brennan called "an extensive site selection search." The search team, he said, particularly liked the Rocky Mountain city's "available, quality work force, technology-oriented business environment and superior telecommunications infrastructure." Brennan didn't disclose any other areas that were considered.
Colorado Springs also offered another major plus: an available facility that will allow the new call center to come online rapidly. ICT will set up its new 600-seat Colorado operation inside a building that once housed a Gateway Computer technical support center. The new operation's similarity will allow ICT's Colorado Springs center to go online as early as May, Brennan said.
Gateway in January of 2002 announced the closing of its Colorado Springs technical support center. The shutdown was part of the PC maker's 2,250-job cutback after a steep drop in fourth-quarter 2001 sales. Gateway's cutbacks also included closing a technical support center in Rio Rancho, N.M.; a Web sales operation in Beverly, Mass.; and an administrative, marketing, and engineering facility in Lake Forest, Calif.

Youth, Techno-Savvy of Work Force
Support Virgin Mobile's Push for Youth Niche

Gateway's shutdown also reflects a trend that's left Colorado Springs with the abundance of labor - much of it well-educated and experienced - that proved a major attraction for ICT.
Part of the region's "Silicon Mountain" high-tech corridor, the city has seen local business operations cut 8,700 jobs since January of 2001, raising the unemployment rate to 6.4 percent. Many of the eliminated jobs were well-paying high-tech positions.
The youth of the area's labor force is another plus for ICT in serving Virgin Mobile's carefully targeted market. The median age is 33.5 within a 25-mile (40-kilometer) radius of Colorado Springs.
Local labor's age and technological savvy of dovetail well with Virgin Mobile's youth-market niche. Emphasizing branding more than technological innovation, the company's system includes a host of trendy features.
One is the system's emphasis on voice commands, rather than manual keyboard inputs.
Pricing is also aimed at youthful budgets. Virgin Mobile has dispensed with the usual credit checks, contracts and surcharges. Instead, customers pay in advance, then fork over $0.25 per minute for the first 10 minutes and a dime for every minute thereafter.
Virgin Mobile's system also includes features like its "Hit List" service, which allows customers to listen on their phones to a top 10 list of songs and vote for their favorites. Customers can also send text messages to friends leading them to a particular song. In addition, MTV, VH1 and Nickelodeon have partnerships with Virgin Mobile to provide content over the network.
Virgin Mobile's youth push even extends to headsets. Rather than using traditional model numbers, the network identifies headsets by titles like "The Party Animal" and "Super Model."
Virgin Mobile has rolled out the same approach in Australia, Singapore and the UK. The British operation, launched in late 1999, has been the most markedly successful; it's become the UK's fastest-growing mobile player, with more than 2 million customers.

Hewlett-Packard, Progressive Also
Pick Colorado Springs for Call Centers

The same available quality labor that drew ICT/Virgin has spurred two other major firms to dial up Colorado Springs for call center expansions over the past six months.
Progressive Insurance earlier this month broke ground in the city for its 300,000-sq.-ft. (27,000-sq.-m.) campus that's expected to employ 1,700 customer-service reps. In addition, Hewlett-Packard on April 8 announced a 240-worker expansion of its Colorado Springs customer-service center.
For ICT, the Colorado Springs operation will be its 50th customer-service facility. The company employs some 11,000 workers in operations in Australia, Europe and North America.

ICT's 2002 sales of $298.9 million marked a 24.9 percent annual increase. The company's other major clients include Aegon Life Insurance, America Online, Capital One and Pfizer. CEO Brennan owns roughly 55 percent of ICT.
---
PLEASE VISIT OUR SPONSOR • CLICK ABOVE
©2003 Conway Data, Inc. All rights reserved. Data is from many sources and is not warranted to be accurate or current.