ALLEGANY COUNTY, Md.
— Cabinetmaker
American Woodmark
is adding a figurative missing shelf that's been missing from its U.S. manufacturing network: The expansion-minded company has picked a site in
Allegany County, Md.,
for a new 500-employee, 250,000-sq.-ft. (22,500-sq.-m.) assembly plant that will satisfy rising demand.
Headquartered in Winchester, Va., American Woodmark supplies cabinetry to the new home construction and remodeling industry. Its rapid growth in recent years has substantially raised its profile, making it North America's third-largest manufacturer of kitchen cabinets.
The company looked at 40 locations in four states before picking the western Maryland area, explained President and CEO Jake Gosa (who didn't disclose the competing states).
"The company selected Allegany County because the community offers an economically competitive environment, will provide a high-quality way of life for our employees and is strategically located," said Gosa.
Company Was Using Distant
Plants to Meet Rising Demand
The area's strategic location vis-à-vis American Woodmark's manufacturing network was a particularly significant factor.
The company's pressing need for a new plant stemmed from strongly rising demand for its products from the U.S. Northeast and Mid-Atlantic regions, said Gosa. That bullish business was great news for American Woodmark. The method by which it was coping with it, though, wasn't.
The company had been satisfying some of that mounting demand from its Berryville, Va., assembly plant. But the Virginia plant couldn't handle all of the volume. And that had prodded the company to temporarily adopt the cost-ineffective scenario of using its assembly plants in Gas City, Ind., and Jackson, Ga., to serve the Northeast and Mid-Atlantic states.
"The new site is purposely located near our existing manufacturing network, affording American Woodmark the ability to maximize synergies with its existing operations in Virginia and West Virginia, and to more easily supply the growing Northeast and Midwest markets."
American Woodmark late last year selected a site near Moorefield, W.Va., for a new cabinet-component plant that will create as many as 300 jobs. The plant will be the company's third in the Mountain State's Hardy County, where American Woodmark already has more than 1,100 workers.
Situated near the West Virginia border, the Allegany County assembly plant will lie only some 45 miles (72 kilometers) north of the Hardy County production operations.
The new Maryland plant and the Berryville assembly operation will eventually be able to handle the Northeast and Mid-Atlantic demand alone, said American Woodmark Vice President of Manufacturing Tom Ward.
State Incentives Could Cover
Two-Thirds of Project's Costs
For Allegany County, American Woodmark's new facility adds a direly needed shelf to the local economy: new jobs. The county's average unemployment rate this year has been almost 8 percent. That's west Maryland's highest rate, and it's almost double the state average.
Allegany County has lost large numbers of jobs since local coal mines and manufacturing plants began shutting down in the 1960s. With jobs scarce, the county's population actually declined slightly from 1990 to 2000. And the U.S. Census Bureau estimates that Allegany's current population of some 73,600 residents represents another drop of almost 2 percent since 2000.
Local labor's availability and manufacturing experience were major factors in selecting the Maryland site, company officials said.
"This is a tremendous win for both Allegany County and Maryland," said Gov. Robert Ehrlich (R), who hailed American Woodmark as "a well-respected and growing company."
The Old Line State gave the job-hungry area a big leg up in landing the project: Maryland's incentives could equal more than two-thirds of the US$12 million that American Woodmark estimates that it will spend on the Allegany County project, said Aris Melissaratos, secretary of the Maryland Department of Business and Economic Development (DBED).
Over 15 years, explained Melissaratos, the company will be eligible for as much as $5.5 million in income tax credits through the One Maryland program, which promotes job growth in economically ailing areas. American Woodmark is also eligible for as much as $600,000 in job-creation tax credits.
The DBED is providing the company with a $2-million loan as well to assist in purchasing its site. The loan, though, will convert to an outright grant if American Woodmark hits its projected employment totals, with 300 full-time jobs by 2007 and 500 by 2009. Finally, Allegany County is providing infrastructure assistance for the project (the specifics of which haven't yet been disclosed).
State Created Business Park
The state also created the Barton Business Park for Advanced Manufacturing, where the cabinetmaker will build its new plant.
The Maryland Economic Development Corporation (MEDCO) owns the 150 acres (60 hectares) that comprise the park. MEDCO created the park in an effort to spur job creation in Allegany County.
American Woodmark will be the first tenant in the recently opened park. The company projects that its plant may go online as early as January 2005, beginning with 50 to 70 employees.
The company has some 5,200 employees, many of them at its 14 existing manufacturing facilities in Arizona, Georgia, Indiana, Kentucky, Minnesota, Oklahoma, Tennessee, Virginia and West Virginia. All American Woodmark workers are eligible to get company stock through profit-sharing contributions and 401(k) matching contributions after their first six months on the job.
And that stock has been on a strong upswing. Last year's sales of $667.5 million marked an annual increase of more than 18 percent. American Woodmark's rapid growth has been aided by a boom in housing and remodeling, fueled by historically low interest rates.
To meet that booming demand, the company in its last fiscal year completed building a new lumber processing plant in Hazard, Ky., and a new assembly plant in Tahlequah, Okla. During that same period, American Woodmark also expanded existing plants in Kingman, Ariz., and Monticello, Ky.
Company officials report that the firm has spent about $150 million over the last five years adding new capacity. And its recent growth has been so strong that all of its expansions have been funded from cash flow since 1998.
American Woodmark makes its cabinetry under its own brand names, as well as under the Shenandoah Cabinetry and Timberlake brands. The company makes some 220 lines of cabinets in cherry, hickory maple and oak.
"American Woodmark," Hoovers.com observes, "has more cabinet selections than the prime minister of Russia."
Said Melissaratos, "This company is a very welcome addition to the state's growing manufacturing sector."
Editor's note: For more on Maryland's role in the regional economy, don't miss the Mid-Atlantic Regional Review in the upcoming September issue of Site Selection.




---
Dell Doing Alberta for
500-Worker Customer Contact Center


by JACK LYNE, Site Selection Executive Editor of Interactive Publishing
EDMONTON, Canada
— Substantially bulking up its north country presence, computer giant
Dell
has picked a Canadian site in
Alberta
for a major new customer-contact center. Located in
Edmonton,
the operation will employ 500 Canadians.
Dell's selection of the Canadian site comes after the company's quiet announcement late last year that it would reroute some calls to U.S. customer-contact centers that had been going to the company's center in Bangalore, India. The rerouting came in response to complaints over Indian agents' inability to handle callers' more complex computer problems, Dell officials explained at the time.
"We looked for a location in Canada that offers a good quality of life, highly skilled workers and world-class training programs," Dell Americas Senior Vice President Ro Parra said in announcing the company's newest customer-contact center. "Edmonton meets those criteria."
One key deal-clincher for Dell was the makeup of the area's work force, according to officials with the
http://www.edmonton.com/
Edmonton Economic Development Corp.(EEDC). The company, they said, was especially impressed when the EEDC showed the world's No. 1 PC maker a local labor profile that included 167,000 full-time, part-time and continuing education students.
That particular part of the labor pool will be a key staffing resource for Dell's Edmonton center. The new operation's jobs will require higher skills and more education than the entry-level positions that characterize many traditional call center jobs, Parra indicated.
In addition to its obvious educational attributes, Edmonton's large student population is also certain to contain substantial technological know-how. Technological smarts will be at a premium at the new center. Its agents will support Dell customers by providing solutions to problems with personal computers, software and hardware.
Bilingual skills will also be important at the new Edmonton operation, which will assist customers located throughout North, South and Central America. That means that the center will have to have in-house skills in English, French, Portuguese and Spanish.
NAIT's Strong Training a
Major Factor in Dell's Decision
Dell will be working with the Northern Alberta Institute of Technology (NAIT) to recruit and train the new center's employees said Parra. Alberta's third-largest post-secondary institute, NAIT has 18,000 full-time and apprentice students, as well as 43,000 registrants in continuing education programs at the institution's nine campuses in Alberta.
Importantly, the school also has a strong, established track record in providing customized and just-in-time training for corporate clients. NAIT's training expertise was a major factor in Dell's decision to locate in Edmonton, Parra pointed out.
Dell's pre-employment training will require participants to pay as much as $500 of their own funds, according to NAIT president Sam Shaw. The college hopes to begin the three-week training programs by as early as September, he added.
Canada actually made the first contact on the project with Dell, working through its Department of International Trade consulate in Dallas. Consulate officials visited the company at its nearby headquarters in Round Rock, Texas, Canadian officials explained. Soon after, the Alberta Economic Development Corp. made a proposal to Dell.
Dell Will Build Facility,
But Lease Site for $1 a Year
Dell will begin its Edmonton operations in leased space, said Parra. The company will later build its facility on an as-yet-undetermined site.
Dell will be looking for a site of about 15 acres (six hectares). The EEDC will assist Dell in finding a permanent location for its center from the properties that are in the city's land inventory, Edmonton officials explained.
The company, however, will be leasing its site as part of its incentives agreement with the provincial economic development arm. The EEDC will lease Dell's site at a $1-a-year rate for 20 years. The EEDC estimates that the total value of that agreement will be about $1.1 million, the equivalent of a five-year abatement of 100 percent of the site's property taxes.
But the U.S. company will begin paying all school and business taxes as soon as it opens its center, Edmonton officials pointed out. In the customer-contact center's first year of operations, Dell will pay some $17 million in city, provincial and national taxes, they said.
With its headquarters in Toronto, Dell Canada currently has some 600 employees. The PC king also has Canadian offices in Halifax, Montreal, Ottawa and Vancouver. Dell currently has a much smaller customer-support operation in Toronto.
---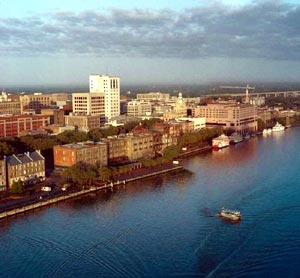 .
Software Firm Aelera
Decides to 'Home-Shore'
250 Jobs in Georgia
by
JACK LYNE
,
Site Selection
Executive Editor of Interactive Publishing
SAVANNAH, Georgia
— Atlanta-metro-based software company
Aelera Corp.
searched a generous swath of the globe before deciding to "home-shore" its expansion, setting up two new operations in the Georgia cities of
Fitzgerald
and
Savannah.
The two projects will create 250 new jobs in the Peach State.
"We literally traveled the world looking for opportunities that exist here," Aelera CEO Dustin Crane said in announcing the new operations at Savannah's First City Club.
Aelera gave strong consideration to sites in Armenia, China and India that the company visited during its site search, Crane explained. But the technology development services company changed course after it analyzed in greater depth the costs that those off-shore sites would entail. It chose instead an option that the Aelera CEO called "home-shoring."
"We realized there was a better business case closer to home," said Crane, who worked with Georgia Department of Economic Development officials to evaluate a number of cities in Aelera's headquarters state.
"For client-application development projects like these, our research indicates that it takes 12 to 18 months to begin realizing costs savings from off-shoring operations," he continued. "By using resources close to home, many of the start-up costs are minimized or eliminated, and efficiencies are realized much sooner."
Home-shoring particularly cuts costs for employee training and project management, while it shortens project-delivery cycles, Crane explained. Locating on-shore, he added, also "eliminates the cost variables that exist in off-shoring." Variable cost factors in off-shoring, he noted, include labor turnover, difficulties in transferring knowledge, quality control, an uncertain regulatory climate and travel costs.
Another project cost cutter was the company's on-shore focus on expanding in smaller cities, which generally offer labor rates lower than in major metros.
Area Labor, Telecom Infrastructure,
State Training Program Swayed Decision
Based in the Atlanta suburb of Alpharetta, privately held Aelera acts as a sort of middle man between corporations and the high-tech firms that sell them software.
"We're the glue that holds them together," Crain explained. "We write software to help our customers use the software they've purchased."
Aelera's 250 new jobs will be about evenly split between the two Peach State sites, he added.
The company will open an application development center in Savannah, the coastal southeast Georgia city of some 133,000 residents that drew wide-scale attention from a best-selling book (and later a Clint Eastwood-directed movie),
Midnight in the Garden of Good and Evil
. Aelera will open a business process outsourcing center in Fitzgerald, a city of some 9,000 residents about 173 miles (277 kilometers) west of Savannah.
Crane cited the two areas' "existing base of employable people" as key site-selection factors, along with the quality of their telecommunication infrastructure and the state's work-force development programs.
Savannah already has a number of existing software companies. Aelera will rank as one of the largest if it hits its hiring projections, according to the Savannah Economic Development Authority (EDA).
"The candor and openness of other local software companies were instrumental in their decision to come here," Savannah EDA Technical Development Director Chris Miller said of Aelera's decision.
Mayor Otis Johnson emphasized the city's tech-ready roots in welcoming Aelera at the project announcements. The mayor didn't present Crane with a standard-issue silver key to the city. Instead, he gave the Aelera CEO a 128-bit encrypted PGP key — a computer program that protects confidential electronic information through cryptographic privacy and authentication.
"We're not playing about being in the 21st century," said Johnson, former dean of Savannah State University's College of Liberal Arts and Social Sciences.
Positioned Near Brain Power
Aelera is positioning both new operations near educational institutions that could prove to be strong sources for recruiting new employees.
The Savannah application development center will set up in leased space at the Advanced Technology Development Center (ATDC). The ATDC is located on the Savannah Campus of the highly regarded Georgia Institute of Technology.
The Fitzgerald business process outsourcing center will be located in Millennium Technology Pointe. Aelera will be the first tenant in the 214-acre (86-hectare) business park, a regional development of the Joint Development Authority of Ben Hill and Irwin counties.
Millennium Technology Pointe is located near Fitzgerald-based East Central Technical College, which has more than 5,000 students. Enrollment will increase with the college's current program to expand the size of its campus by 40 percent. That expansion program includes building a new $25-million telecommunications center. East Central Tech this year also opened its Office of the Future, which demonstrates the latest technologies that are available to students and area companies.
---
PLEASE VISIT OUR SPONSOR • CLICK ABOVE
Site Selection Online
©2004 Conway Data, Inc. All rights reserved. Data is from many sources and is not warranted to be accurate or current.