Toyota Chugs a Big V8: a $250-million,
300-Job Expansion in Alabama
by JACK LYNE,
Site Selection Executive Editor of Interactive Publishing
MONTGOMERY, Ala. — Literally revving up its engines in its assertive drive into the U.S. truck market, Toyota has announced a US$250-million, 300-job expansion of its plant in Huntsville, Ala. The project marks the engine-making facility's third rapid-fire expansion. With the latest announcement, Toyota's Huntsville work force will grow to 800 employees, and total plant investment will reach $490 million.
"This expansion will allow us to build more of the full-size pickup trucks that our customers demand," Toyota Motor North America Senior Vice President Dennis Cuneo explained at the Sept. 24th project announcement, held at the Montgomery office of Gov. Bob Riley (R)."Engines built right here in Alabama will power those trucks."
Added V8 Output Will Aid Push
To Grab More of Profitable Pickup Market
Toyota Motor Manufacturing Alabama's (TMMAL) latest expansion will add 150,000 V8 engines a year to the Huntsville plant's production. Those V8s will be used in the Sequoia SUV and particularly in the Tundra, Toyota's entry in the highly profitable U.S. full-size pickup market. More specifically, the Huntsville plant's added V-8 production will be used in the Tundras and Sequoias now built at Toyota's plant near Princeton, Ind. The Indiana facility is now the Japanese automaker's exclusive Tundra manufacturing site.
But the Alabama-made V8s' other destination is likely the bigger story: Those engines will be used in the $800-million, 2,000-employee Tundra assembly plant in San Antonio, Texas, that Toyota announced in February of last year. (For more, see"Toyota Picks Texas for 2,000-Employee, $800M Assembly Plant," the Dispatch's Blockbuster Deal for the week of Feb. 10, 2003.) Beginning in 2006, the Texas plant will build 150,000 double-cab Tundras a year. And the San Antonio operation will be sitting inside a state that's the biggest full-size pickup market.
TMMA President Haruaki Hoshino called the engines made in Huntsville "the heart of the Tundra," he said."We can't wait to get started on this new project."
Toyota Taking North American
Engine Production to Turbo Speed With the 150,000 added V8s, the Huntsville plant's annual production
capacity will grow to 400,000.
Virtually from day one, Toyota has been ramping up the operation's manufacturing capability. The automaker initially built a $220-million plant in Huntsville to make V8s for the Tundra. In July of 2003, two months after the first engine rolled off the Huntsville line, Toyota announced a $20-million expansion to add production of V-6s for the Tacoma and Tundra.
Those bang-bang expansions reflect several major elements in Toyota's strategy. In addition to its key tenets of"build 'em where you sell 'em" and just-in- time manufacturing, the company heavily emphasizes lightning-fast adjustments to market demand. And waiting for parts shipments from Japan is antithetical to rapid response.
Toyota soon won't need to wait for many engines shipped from Japan. The latest Alabama expansion will bring the automaker's North American engine production capacity to at least 1.44 million units by the end of 2006, said Cuneo. That's enough engines, he explained, to supply 87 percent of the 1.66 million cars and trucks that Toyota plans to build at its North American plants by 2006. And the automaker's extremely rapid growth has come with no sacrifice in quality, Cuneo asserted.
"The people here have shown they can compete with people anywhere in the world," he said."The Toyota trucks people [in North America] drive run on engines made in Huntsville." Building V8 trucks in
North America makes another kind of obvious sense: The continent is the only major market in which V8 engines are even widely used.
Governor: New Jobs 'Non-Exportable'
TMMAL's announcement leaves the Huntsville plant with two expansions on tap.
Work on adding the V6 capacity will be finished in time for that production to go online next summer, said Cuneo. Sometime in 2006, work will begin to enhance V8 capacity, he added. Now at 365 employees, the facility's work force will increase to 800 when the new V8 capacity comes online. Alabama officials hailed Toyota's expansion as evidence of the state's rising status inside"Detroit South" #151; the U.S. Southeast. The Yellowhammer State is currently third in the Southeast in auto production, trailing No. 1 Kentucky and No. 2 Tennessee.
"This is the second major expansion of the Toyota plant in the past 14 months and is yet another sign that Alabama's economy is on the right track," said Riley. "The fact that Toyota has essentially doubled its presence in Alabama shows not only that this is a truly successful company with a great team of workers, but that it also has a lot of confidence in the economy of our state." Toyota's new jobs, the governor added, are just the kind Alabama wants in today's global economy.
"We have to build an economy based on non-exportable jobs, and this is one way to work on that," Riley noted."We either play or we retreat. Retreat is not an option."
Toyota's U.S. Sales Still Rising
Retreat also seems non-optional in Toyota's North American plans. The company is projecting that its major increase in Tundra output will double Toyota's North American share of the full-size pickup market to 10 percent. The Tundra is going head to head in North America against full-size pickups make by
DaimlerChrysler's Chrysler
division,
Ford Motor Co.
and
General Motors.
Toyota's truck may well be more than up to the task. The company's U.S. sales show no signs of cooling off, increasing by 8.8 percent to 1.39 million units through the end of August. During that period, Toyota's U.S. truck sales rose at an even faster clip. The company's total U.S. truck sales were up 12 percent, with Tundra sales increasing by 7.8 percent.
---
Martin Lumber Decides to Stay in Louisiana,
Invest $223.5 Million, Add 215 Jobs
by
JACK LYNE
,
Site Selection
Executive Editor of Interactive Publishing

ALEXANDRIA, La. — Louisiana has again pulled off a big 11th-hour save, ensuring that Roy O. Martin Lumber #151; a firm that bills itself as "a 100-percent Louisiana company" #151; will continue to be exactly that. Only it will be a lot bigger company.
After taking a very serious look at Texas, Martin Lumber instead is going to invest $223.5 million and create as many as 215 new Bayou State jobs. The company on Sept. 30th announced that it will locate a new $185-million oriented strand board (OSB) manufacturing facility in unincorporated Allen Parish , Martin Lumber President Roy O. Martin III said at the project announcement in Alexandria, the firm's headquarters city. Located some 30 miles (48 kilometers) southwest of Alexandria, the Allen Parish OSB plant will employ as many as 170 workers.
In addition, Martin announced that the company will build a $38.5-million dry veneer manufacturing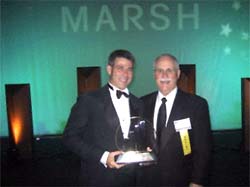 plant in the city of Chopin. Situated some 30 miles (48 kilometers) northwest of Alexandria, the Chopin facility will employ 45 workers.
The new jobs on average will pay $35,000 to $40,000 a year plus benefits, said Martin. The two central Louisiana projects represent a very major expansion for Martin Lumber, which currently has 1,100 employees. "Louisiana came to us with an excellent plan," explained Martin, the grandson of the Louisianan who founded the privately held company in 1923. The state certainly needed a good plan after news leaked out that Martin Lumber had already bought land in Corrigan, Texas, about 160 miles (256 kilometers) west of Alexandria. That Jasper County land seemed certain to have been acquired to accommodate an expansion. That notion gained even more credence after Jasper County officials approved an 85-percent abatement of Martin Lumber's local tax liability.
'We Weren't Going to Give Up'
"We knew Jasper County was courting the company hard, and that [Martin Lumber] had purchased land there," Gov. Kathleen Babineaux Blanco (D) explained in Alexandria. "We just weren't going to give up on one of our own." Blanco and Louisiana Economic Development Secretary Michael Olivier persisted, staying in hot pursuit mode. They continued to make repeated personal contacts with Roy Martin III. But the Martin Lumber president was getting the same sort of avid wooing from the governors of Mississippi and Texas.
What finally sealed the deal for Louisiana was an incentive package worth more than $20 million.
"It was apparent to us that they wanted to keep a Louisiana company in Louisiana and put the right package in front of us," said Roy Martin III.
The incentive package that the state put before the company includes:
A partial tax equalization of $20 million over 10 years. Martin Lumber's contract with the state provides that $10 million of that credit will come during the agreement's first five years, with an equal amount during the second five years. Offered through Louisiana's Industrial Tax Equalization Program, the agreement caps Martin Lumber's tax credit at $2.5 million for any single contract year. However, any credit exceeding $2.5 million can be applied in the following year.
Authorization for Martin Lumber to sell some $8.2 million in bonds to finance its expansions. The bonds will be tax-exempt, reducing the company's capital costs. "One of the great family-owned companies of Louisiana will expand in central Louisiana and create hundreds of new jobs for our people," said Blanco.
Deal Mirrors Union Tank Project
Martin Lumber's expansion was triggered by the company's purchase of 108,000 acres (43,200 hectares) of timberland from
Louisiana Pacific Corp.
With the land buy, the company needed new plants to process additional wood. The Louisiana Pacific purchase brought Martin
Lumber's total ownership to 580,000 acres (232,000 hectares) of pine and hardwood forest, one of the state's largest private land holdings. The company emphasizes treating timberland as a renewable, sustainable resource, according to Martin Lumber officials. Much of its acreage, they say, has already gone through the complete cycle of reforestation, growth and thinning. The company's expansion will have a major direct spin-off effect, with as many as 380 additional logging jobs created to supply the new plants, Roy Martin III said.
"The effort to secure these new facilities for Louisiana should reinforce the message that Louisiana is open and ready for business," said Olivier, appointed by Blanco on June 23rd to lead the state's economic development efforts. "We have ready sites and the ability to tailor incentive packages to a company's specific needs. Businesses all over the world need to know and understand that we are a new team of business recruiters and developers, and we want your business. And we're going to go after it aggressively." Louisiana's aggressiveness facilitated another recent 11th-hour save #151; and one that partially mirrored the Martin Lumber deal.
The Bayou State in June landed
Union Tank Car Co.'s
$100- million, 850-employee railcar plant. (For more details, see "U-Turn: Union Tank Car's $100M, 850-Worker Plant Goes to Louisiana," from the Dispatch's Project Watch for the week of June 21, 2004.)
Louisiana sealed that deal even after the president of the Chicago-based Union Tank Car wrote Blanco to say that the company was entering into 30-day "exclusive negotiations" with Texas. But once the negotiations ended without a deal, the company instead decided to locate in Alexandria. "Our hard work continues to pay off," said Blanco as Martin Lumber signed on with the state.
---
Hugo Neu Signs 20-Year Contract,
Will Build NYC Recycling Plant
by
JACK LYNE
,
Site Selection
Executive Editor of Interactive Publishing
NEW YORK CITY #151; In a move that could have very broad-ranging impact, New York City has substantially revamped its recycling system, tapping Hugo Neu Corporation to build a new $25-million plant. Located on city-owned land at the South Brooklyn Marine Terminal, the plant will recycle glass, plastic and metal. Mayor Michael R. Bloomberg's (R) administration on Sept. 14th signed the agreement with Hugo Neu, which will bankroll and build the plant and then operate the facility for 20 years. One of the biggest U.S. scrap-metal companies, Manhattan-based Hugo Neu recycled most of the steel from the fallen World Trade Center towers.
In addition to providing the plant site, the city will spend some $20 million to renovate the Brooklyn pier to handle barge traffic. About 85 percent of the recyclables that go to Hugo Neu's plant will arrive via barges, said city officials. The contract marks a major change in the Bloomberg administration's off- and-on relationship with recycling.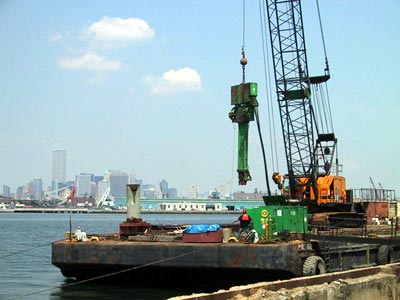 "I am proud to announce that we are entering a new era for recycling in New York City," the mayor said at the contract announcement at the South Brooklyn pier.
That era may echo far afield, given New York's status as a bellwether city. The new program promises to significantly reduce the city's waste-handling costs while increasing its environmental quality. In addition, the public/private recycling program has buy-in from the plant's Sunset Park neighborhood, a low-income area that's consistently opposed other industrial projects because of pollution and traffic concerns. The recycling plant has strong support as well as from a range of environmental groups, including the Natural Resources Defense Council (NRDC).
"This is the most significant economic reform to New York's recycling program in nearly a decade, and it will help guarantee that recycling is a money-saver for the city," said NRDC senior lawyer Mark A. Izeman. "This recycling deal is a gigantic step forward by the mayor in seeking to solve the city's nettlesome solid waste problems."
Bloomberg, he asserted, "deserves credit for forging a long-term deal that marries sound environmental policy with good business sense."
Project Will Cut Recycling Costs, Pollution in Tandem
The agreement looks like it a major plus for both New York's and Hugo Neu's bottom lines.
For Hugo Neu, the city's commitment to spend $16 million a year on the project guarantees a long-running revenue stream. The company expects to begin plant construction in early 2006, completing the process by late 2007, company officials said. After the 20-year contract, New York will acquire most of the operation's ownership rights.
For New York, the Hugo Neu deal will reduce its per-ton processing costs for metal, glass and plastic recycling to $48. That's less than half of the city's peak $107-per-ton costs before the 2002 recycling cutback, according to New York City Department of Sanitation officials. The long-term contract, they explained, will save New York almost $20 million a year from what it would've paid using the system that was in place before recycling was cut back two years ago.
The new arrangement will also give the city's environment a lung up. The plan's heavy reliance on barge traffic will appreciably reduce Sanitation Department truck traffic and attendant air pollution.
"We will use our network of waterways to move our recyclables around our city, removing trucks from our roads," Bloomberg said. City sanitation trucks will take most of the recyclables directly to two Hugo Neu transfer stations to travel via barge to the plant. New York may also similarly some of the city's reopened marine transfer stations.
Waste that doesn't travel to the plant by barge will be trucked by the city directly Hugo Neu's facility, sanitation officials said.
Sanitation Head: Project Marks 'Recycling's
Full Maturing as a New York City Public Service'
Siting the plant inside New York City further reduces costs. Currently, sanitation trucks must take recyclables to sites located outside the city. "Today marks the full maturing of recycling as a public service in New York City," said Sanitation Department Commissioner John J. Doherty. "Recycling which began as a sporadic, community-based grassroots movement in the 1960s and 1970s #151; has matured into a viable city-based industry." With the Hugo Neu agreement, New York will have the capacity to remove about 20 percent of the city's total waste output, Doherty added. After 2001's 20.1-percent peak, the city's curbside recycling has steadily dropped to last year's 11.4 percent. Australia-based
Visy Industries
handles 50 percent of New York's paper recycling through a 20-year city contract signed in 1997. Visy built a $250- million, 150-employee paper-processing plant on a Staten Island brownfield site. Last year, it announced a phase-two expansion that will add another 125 jobs. Hugo Neu's plant will also handle some of the city's paper recycling, Doherty said.
City Recycling 'Broken' Three Years Ago
Bloomberg at the contract announcement took a frank look at his administration's zigzag recycling record. "Three years ago, the city's recycling program was broken," he said. "Costs were spiraling out of control, and while New Yorkers diligently separated their recyclable material, no one wanted it. We suspended the program so we could create a better, more cost-effective and environmentally friendly recycling program." New York City's fiscal crisis prompted Bloomberg in July of 2002 to discontinue the city's glass and plastic recycling. Taking that waste to landfills, Bloomberg maintained, offered a less expensive option. But things didn't work out that way. With Staten Island's Fresh Kills landfill having closed in 2001, New York couldn't find an in-state site willing to take the glass and plastic waste. The city is now spending an estimated $70 per ton for trash that's sent to other states' landfills. Bloomberg soon reversed course as the city's finances improved. He reinstituted plastic recycling in July 2003 and restarted glass recycling in April of this year. (New York's metal recycling program wasn't shelved in 2002.) The key factor in strengthening New York's recycling program was the Hugo Neu agreement's 20-year length. Many other New York City waste-handling contracts have been limited to five years with 10-day pullout options. Hugo Neu 20-year pact, though, is quite different, ensuring a long-running inflow of capital. And that, in turn, provided the catalyst to make the necessary equipment investments for a modern, efficient recycling plant. "We believe that this kind of long-term commitment will ensure the economic viability of recycling,"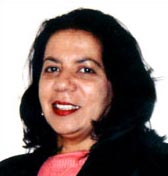 Hugo Neu Chairman John Neu said at the agreement's announcement. "We look forward to collaborating with the city and a host of environmental organizations on education and other efforts, which will increase the recycling rate, decrease contamination and reduce the waste stream." The company, he added, will set up an operation that's intensive in technology, not labor. Hugo Neu will install jumbo-size magnets and blowers to help sort waste, along with optical scanners automatically separating glass by color, Neu explained. The facility will create 100 new union jobs, he said. "This long-term contract," Bloomberg noted, "allows Hugo Neu Corporation to make the capital investment necessary to develop better markets for the city's recyclable materials."
'Restoring Economic Development' in Plant's Community
Analysts are already speculating about what the recycling deal may say about the mayor's 20-year waste management plan. That plan is scheduled to be announced by early October. Hugo Neu's plant will be part of the New York City Economic Development Corporation's (EDC) larger development plan for the area, said EDC President Andrew Alper. The waterfront recycling facility will support a stevedoring operation, he noted. "We welcome Hugo Neu as they become part of the ongoing effort to build and restore economic development in Sunset Park," said City Councilwoman Sara Gonzalez (D), whose district includes the park site. "This facility will create a sound way to recycle material and foster job opportunity as we take the initial step toward bringing economic growth back to the Sunset Park waterfront."