Wind-Energy Giant Gamesa
Bringing U.S. HQ, Up to 1,000
Jobs to Pennsylvania
by JACK LYNE, Site Selection
Executive Editor of Interactive Publishing

HARRISBURG, Pa. — Spanish wind energy powerhouse Gamesa Energy has blown into Pennsylvania in a very big way.
Gamesa Chief Executive Officer Inaki Lopez Gandasegui on Sept. 23rd announced that the world's third-largest wind energy developer will create as many as 1,000 jobs in the Keystone State.
About 100 of those positions will be co-located at the U.S. headquarters and East Coast development office that Gamesa is establishing in Philadelphia, he explained. Another 400 new positions, Lopez added, will be created at a plant producing wind-turbine generator blades that the company will build somewhere in Pennsylvania. The rest of the jobs will come from the construction, operation and maintenance of the wind farms that Gamesa will build in the state, he said.
The project initially looked like it was headed to Texas, according to Pennsylvania officials. The Lone Star State has strongly promoted its substantial investment in developing wind power. In addition, Texas' large Latino population offered the extra benefit of cultural commonality for Gamesa, which is headquartered in Vitoria, Spain.
Pennsylvania recruiters only first learned of the project in late 2003. By then, Texas was the clear frontrunner, Keystone State officials said. Secretary of Environmental Protection Kathleen A. McGinty attributed Pennsylvania's late jump on the project in part to the state's inadequate promotion of its alternative energy initiatives.
Even with the tardy entry, though, Pennsylvania officials still managed to steer the deal their way by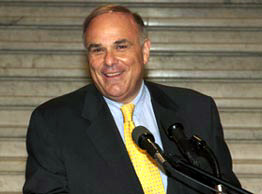 emphasizing the state's strengths in promoting alternative energy sources.
"We are very impressed by the strong reception, leadership and well-grounded thinking we have experienced in Pennsylvania," Lopez said at the headquarters site announcement in Harrisburg.
"As I have made clear, energy is a top priority for my administration and is a strategic economic sector for Pennsylvania," said Gov. Ed Rendell (D). "Pennsylvania is open for business in advanced energy development."
State Stressing Clean Energy
Pennsylvania is one of the leading East Coast states in wind-farm production capacity. The Keystone State's current capacity is 129 megawatts - enough to power almost 45,000 homes. Another 49 megawatts of wind energy capacity are scheduled to come online in 2005.
Gamesa's arrival will substantially increase state wind-farm production. The company, Lopez explained, already has purchase agreements and letters of intent to sell 400 megawatts' worth of wind-generated power to Pennsylvania utilities. The 400 megawatts are enough to power almost 135,000 homes.
Landing the Spanish company strengthens the state's clean-power initiatives.
Rendell's administration is developing a plan to guarantee that 20 percent of the energy generated in the state comes from clean sources by 2010. Pennsylvania presently gets 10 percent of its energy from alternative sources. In addition, Rendell has directed that 20 percent of all energy used by state government come from renewable sources by 2010.
"Attracting new investment in energy technology can help to stimulate the economy," Rendell said. "At the same time, we can ensure the highest standards of environmental protection while contributing to our national security by more rigorously developing indigenous energy resources. Gamesa's commitment is a
win-win-win situation for our commonwealth, and it guarantees that Pennsylvania will be a strong player in these growing markets for years to come."
Gamesa's arrival also drew praise from Philadelphia-based PECO Energy. The company in May became the first utility in Pennsylvania to offer a wind energy product. PECO is offering business and residential customers 100 kilowatt-hour blocks of wind energy for an additional US$2.50 monthly fee.
"PECO and Exelon have believed in renewable energy for several years, and we fully support efforts to bring more renewable construction to the state," said PECO President Denis O'Brien. "Having one of the world's industry leaders invest locally is wonderful news for our region."
CEO: Manufacturing Site Announced Soon
The company's U.S. headquarters and its East Coast development office will be located in Philadelphia's Center City, Lopez explained. Gamesa, he added, will initially move into a small office in Philadelphia, later expanding its presence after settling on a permanent American home.
Gamesa will announce its new manufacturing location soon, Lopez said. Rendell said that the company was looking at six cities in southwest and southeast Pennsylvania. He added, though, that he didn't know any of the sites that were under consideration.
Where Gamesa locates its plant will play a role in determining state incentives. Pennsylvania and Gamesa don't yet have a finalized subsidy package, Rendell said. State incentives, he explained, will include job-creation subsidies. In addition, Gamesa will qualify for numerous tax breaks if the company chooses a site for its manufacturing operation that's located in a state Keystone Opportunity Zone, Rendell added.
Gamesa also plans to build new plants in Canada and Mexico, Lopez said.
He described that expansion plan as "similar to our achieving industry-leader status in the wind-energy business in Spain, the world's second-largest wind energy marketplace in terms of installed capacity. Our intention is to advance to all corners of the North American marketplace from our Pennsylvania base."
The state's alternative power push now includes the ability to provide nearly $1 billion in tax-free bond financing for clean energy projects. Those funds are available from the once-dormant Pennsylvania Energy Development Authority that Rendell has re-established, as well as the state Department of Community and
Economic Development, which has received additional funding to promote alternative-energy projects.
---
LG Chem Picks Peach State for First U.S. Manufacturing Plant
by
JACK LYNE
,
Site Selection
Executive Editor of Interactive Publishing

GORDON COUNTY, Ga. — orean chemicals giant LG Chem has decided to build its first U.S. manufacturing plant in northwest Georgia. Located on a tract in an unincorporated area of Gordon County, the company's $40-million facility will employ as many as 200 workers within its first six years of operations, according to LG Chem's projections.
South Korea's largest chemicals company, LG Chem had been searching for about two years for its maiden U.S. manufacturing site, according to Ro He Yil, newly named as president of the company's Georgia operations. The Seoul-based firm, he added, also considered locations in Alabama, South Carolina, Tennessee and Texas. (LG Chem didn't name any other specific sites that it reviewed.)
"Georgia has a great work force among the states that we surveyed," Ro said.
The company's Peach State workers will be manufacturing LG Hi-Macs, a solid acrylic substance used in both homes and businesses for kitchen and bathroom countertops and sinks, and for furniture tops. Located some 60 miles (96 kilometers) north of downtown Atlanta, the plant will be part of LG Chem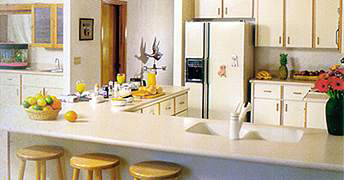 Industrial Materials
(LGCIM).
LG Hi-Macs has been a strong seller in the U.S. market. The product's robust American performance, Ro explained, triggered LG Chem's decision to build a production operation closer to the company's major U.S. retail customers.
Governor Led Talks
That Sealed the Deal
Georgia Gov. Sonny Perdue (R) paid a recruiting visit to LG Chem's headquarters in Seoul in the fall of 2003 during his Asian trade mission.
Perdue, who led the final project negotiations, called the company's decision "a great win for Gordon County and the surrounding community. . . . This new facility further strengthens Georgia's reputation as a world-class business environment."
The Georgia Department of Economic Development has recommended that the OneGeorgia Authority provide Gordon County with a grant to assist with project development. The OneGeorgia Authority is using one-third of the state's tobacco settlement funds for grants and loans to promote economic development in the state's poorer counties. Approximately one-third of Gordon County's labor force is made up of high school graduates, with 10 percent holding a college degree.
Georgia officials didn't estimate the amount of the OneGeorgia grant that they will request. Ro, however, said subsidies played only a minor role the LG Chem's decision to choose Georgia. All of the states that were under consideration for the company's first U.S. plant offered very comparable incentives, he noted.
"State and county officials were very diligent and friendly in pursuing our project," Ro explained, "and their support was one of the leading causes for us to pick Georgia."
Added LGCIM President K.S. Park, "Gordon County's business-friendly environment, easy access to the I-75 transportation corridor and the welcoming spirit of this great community were primary factors in our decision." The Korean company, he pledged, would be "an active and integral part of the northwest Georgia business community."
LG Chem Also Speeding
Up Its Chinese Expansion
The new plant, which will be located just south of the city of Calhoun, will span 150,000 sq. ft. (13,500 sq. m.), said Ro. The facility, he explained, will go online as early as June of next year with 70 employees. By 2011, the work force will grow to between 150 to 200 employees.
Some executives will be relocated from South Korea to the Georgia operation, Ro noted. But most of the company's hires will come from the local labor pool, he added. Worldwide, LG Chem has more than 9,100 employees.
Heretofore, LG Chemical of America's U.S. presence has been limited to marketing subsidiaries in Cerritos, Calif.; Englewood Cliffs, N.J.; Peoria, Ariz.; San Diego; and Southfield, Mich.
LG Chem is also accelerating its manufacturing presence in
China.
The company announced on Sept. 16th that it will establish a holding company in
Beijing
by 2005.
"We have advanced our initial plan to switch our Chinese central office into a holding company by 2008 in order to deal with the explosive business expansion trend in China," LG Chem China President Jong-Pal Kim explained. "[This] will enable LG Chem to increase its management efficiency over its current businesses, as well as lay grounds for the entrance into new business areas in China."
LG Chem, he added, plans to set up a Chinese R&D center to better understand and more rapidly respond to Chinese market needs. At present, the company has eight Chinese manufacturing facilities, two marketing offices and three branch offices.
"Local production currently takes up about 40 percent and $820 million of our sales in China," Kim said, "We plan to increase this portion to 57 percent and $1.84 billion by 2006 and to 79 percent and $3.56 billion by 2008. The company aims to become a top five chemical company in China in terms of both scale and profitability."
The company's long-term manufacturing goal, he noted, is to establish enough Chinese capacity to make 100 percent of the products that it sells in the country. LG Chem is forecasting that its Chinese sales for 2004 will rise to $2.1 billion, further increasing to $3.2 billion by 2006. Last year, the company's Chinese sales totaled $1.5 billion.
Founded in 1947, LG Chem now manufactures more than 5,000 products, including petrochemical goods, and high performance polymers and plastics. The company has also extended its chemical expertise into making high-tech products such as liquid-crystal and plastic displays, and lithium batteries.
---
Office Depot Suspends New $100-Million HQ Project
by
JACK LYNE
,
Site Selection
Executive Editor of Interactive Publishing
DELRAY BEACH, Fla. #151; Two weeks after sacking its chief executive, Office Depot has shelved plans for its new $100-million headquarters in Boca Raton, Fla.
"Compared to other more pressing needs in our business units, we felt that the construction of a new facility could be deferred while we devote our time and attention to other initiatives," interim Chairman and Chief Executive Neil Austrian explained.
Topping the list of must-do initiatives: boosting Office Depot's sales and conserving capital. Sluggish revenues, said Austrian, triggered the delay in building the new home base, first announced about a year ago by then-Chief Executive Bruce Nelson.
Project implementation, however, had begun well before the Oct. 20th decision to delay the headquarters initiative. Office Depot had already bought a new headquarters site and had named part of the team to build the new Boca Raton facility.
Scuttling the plan at this point won't come cheaply. Austrian estimated that settling existing contracts will cost the company somewhere between $4 million and $6 million. (He offered no specifics on individual contracts' resolutions.)
In addition, Austrian noted, slumping sales have triggered Office Depot's review of its facilities requirements and overall cost structure.


"As I have made clear from my first day on the job as chairman and CEO, one of our most important tasks is to evaluate our priorities as we focus on relentless execution [of] our most important initiatives," he explained. "Projects that do not directly contribute to these key initiatives need to be either placed on hold or appropriately prioritized to ensure that our focus is on growth initiatives."
Will Company Continue Lawsuit to
Buy Building at Current HQ Location?
The project's suspension means that Office Depot will remain, at least for now, at its current base in Delray Beach, Fla., 10 miles (16 kilometers) north of Boca Raton. The company's headquarters consists of three Delray Beach facilities, which house some 2,800 employees in about 550,000 sq. ft. (49,500 sq. m.).
The new operations base would've been about the same size as the Delray Beach buildings' combined space. Office Depot wanted to build a new headquarters because its current facilities lack sufficient meeting and parking space, and impede operational efficiency and synergy, Nelson explained in 2003.
With the project's cancellation, Office Depot says that it will now renovate its three existing headquarters facilities, including adding more meeting space.
The company for nearly a decade has occupied two of its headquarters facilities, which were originally built for IBM in 1981. Office Depot leases the third facility. The company tapped Palm Beach Gardens, Fla.-based
Catalfumo Construction and Development
to construct that 215,000-sq.-ft. (19,350-sq.-m.) building in 1996.
New York-based
Zucker Organization
acquired the facility's lease from Catalfumo later in 1996. With 13 years still on its lease, Office Depot in July of 2002 sued Zucker to buy that structure. Its lease, the office-supply giant asserted, contained a purchase option. The issue is still in the courts.
The question is whether Office Depot will continue to pursue buying the building. Conserving capital may now be the bigger issue. The chain two years ago offered Zucker $23.6 million for the facility.
Office Depot has traditionally favored real estate flexibility. Its worldwide portfolio includes 923 retail stores, a national business-to-business delivery network supported by 22 delivery centers, more than 60 local sales offices, and 13 regional call centers.
But the company's review of its facilities requirements apparently won't affect its aggressive retail
expansion. Office Depot says that it's still projecting opening 80 new stores this year, adding 100 more in both 2005 and 2006. Between 2000 and the end of 2003, Office Depot had added only a dozen outlets to its total store count (factoring in both store closings and openings).
HQ 'Indefinitely' on Hold
The headquarters project may end up positioned
very
far back on the corporate back burner. Austrian told Wall Street securities analysts that Office Depot may sell the 23-acre (9.2-hectare) Boca Raton site.
The company in March of this year bought that tract for an undisclosed price from Fort Lauderdale-based
Stiles Corporation.
In May, Office Depot tapped Stiles as the headquarters project's development manager and named
HOK
as the architect.
A third member chosen for the project team is
Cushman & Wakefield
(C&W). C&W was designated to provide overall program management; provide (with HOK) oversight of furniture and equipment sourcing, and manage logistics for the headquarters staff relocation. In addition, C&W was responsible for marketing the three headquarters buildings (subleasing the contested facility).
Office Depot hasn't yet announced when - or if - it will resume the project. Austrian described the headquarters plan as "indefinitely" on hold.
Third-Quarter Sales Emphasize
Rationale behind CEO's Dismissal
The company's sales slump was also seemed the catalyst for Nelson's ouster.
Office Depot's official release on Oct. 5th declared that Nelson resigned "by mutual agreement with the board of directors." But Austrian, a long-time member of Office Depot's board, described a very different scenario during a later conference call with Wall Street analysts.
"Given the performance of the company, the board obviously had thought about this and discussed this," Austrian said of Nelson's exit. "It appeared there wasn't enough focus and attention to a lot of detail in terms of ensuring most key priorities got executed well."
That explanation was accentuated by Office Depot's third-quarter earnings report on Oct. 19th. Sales of $3.33 billion topped the $3.23 billion in 2003's third quarter. But it marked the company's slowest sales increase since first-quarter 2003. Adding weight to that performance was archrival
Staples'
surpassing Office Depot three years ago for the industry's No. 1 spot.
"Softening in our European business, disruptions associated with several hurricanes in the U.S., and lower than expected back-to-school sales combined to negatively impact our financial performance," Austrian explained.
Office Depot's home region was particularly hard hit by Hurricanes Charley, Ivan, Frances and Jeanne, and Tropical Storm Bonnie. The company had to close its headquarters for four days.