North Carolina Gets Final
Dell Decision on 1,500-Worker PC Plant
by JACK LYNE, Site Selection Executive Editor of Interactive Publishing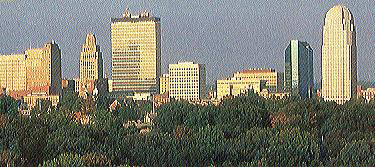 Dell says that its new East Coast plant will be somewhere in the Tar Heel State region known as the Triad, which is anchored by the cities of Greensboro, High Point and Winston-Salem (pictured).
RALEIGH, N.C. and ROUND ROCK, Texas — Yo, North Carolina. Dude, you're getting' a Dell! The world's largest computer manufacturer made official on Nov. 9th what had long been rumored: Dell is headed to the Tar Heel State with a 1,500-employee, US$100-million PC plant. North Carolina lawmakers did some heavy lifting to pave the way for the project. Meeting in special session earlier this month, the state General Assembly authorized $242.5 million in incentives over a 20-year period. Less that a week later, Dell announced its site choice. It was only on Oct. 10, though, that the company first publicly acknowledged that it had a major manufacturing expansion afoot. (Later events, however, clearly indicated that the site search had already been underway for quite some time.)
"We'll announce in the next month or two new capacity here in the U.S.," CEO Kevin Rollins said at a press conference at the company's headquarters in Round Rock, Texas. Even then, reporters were already asking Rollins whether the plant might be located in North Carolina. Dell's CEO wouldn't confirm that speculation, but he allowed that the rumor mill was "more accurate than not." Less than a month later, Rollins announced that the Tar Heel State was indeed Dell's choice for an East Coast plant. "The education system, commitment to businesses, and proximity to a large and growing base of Dell customers were important in our decision to expand into North Carolina," Rollins said in Round Rock, part of the Austin metro. "Our growth and the need for increased manufacturing demonstrate the efficiency and effectiveness of our people and the direct way we do business." The decision also continues Dell's unique way of doing site selection. The company is the only major U.S. computer-maker that still locates its plants inside the United States. Dell's other American-based competitors outsource PC manufacturing to low-cost contract manufacturers, many of them located in Asia. The new North Carolina plant will join the company's existing U.S. plants in Austin and in Nashville, Tenn.


Headed for the Tar Heel Triad
Dell hasn't yet selected a specific site for its North Carolina plant. But Rollins said that the facility would be located somewhere in the Tar Heel State region known as the Triad, which is anchored by the

"Philosophically, I'm opposed to outsourcing," said Dell CEO Kevin Rollins (pictured). "I clearly don't like it for Dell because I think it makes us higher-cost, not lower-cost." The company is the only major American computer-maker that still sites its plants inside the United States.
cities of
Greensboro, High Point
and
Winston-Salem.
(Citing unnamed sources, several lawmakers said that the company had also considered sites in Canada, South Carolina and Tennessee.)
Dell's flood of new jobs will be welcome news for the Triad region. According to state figures, the area has suffered a net loss of 8,100 textile and apparel manufacturing jobs since 2001.
"Dell's decision to locate in North Carolina means thousands of jobs are headed to the Piedmont Triad, bringing better benefits and skills to an area hit hard by job loss due to federal trade policies," Gov. Mike Easley (D) said at the state capital in Raleigh.
Easley had earlier called a special one-day session of the General Assembly on Nov. 4th to authorize incentives "for certain major computer manufacturing facilities."
"The action that I will ask the General Assembly to take will complete many months of negotiations by my office and the Department of Commerce with a major computer manufacturing company," Easley said in his letter notifying lawmakers of the special session. "We are nailing down the final pieces of the project."
The governor's letter suggested that the company in question was almost certainly Dell. The PC king has earned a singular reputation for its down-to-the-exact-second efficiency in executing production and expansion decisions. Worldwide, Dell assembles about 80,000 computers in every 24-hour period - and without any warehouse space whatsoever. The company's individual plants carry two hours' worth of inventory - at most.
"The timing is critical, as the company must begin its capital project immediately in order to meet market demand," Easley said. "Quick action is necessary to ensure that we do not lose the project to another state."
eloping a plan to guarantee that 20 percent of the energy generated in the state comes from clean sources by 2010. Pennsylvania presently gets 10 percent of its energy from alternative sources. In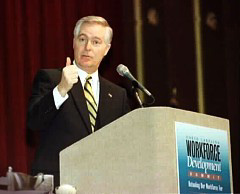 The state's hefty incentives investment in Dell's East Cost plant "makes good economic sense for North Carolina," said Gov. Mike Easley (pictured speaking earlier this year at a Work-Force Development Summit in Greensboro).
addition, Rendell has directed that 20 percent of all energy used by state government come from renewable sources by 2010.
New Tax Credit Worth $225 Million
The incentives that North Carolina lawmakers authorized are also in tune with the Dell business model. The company has earned legendary status for constantly working to wring every process- and cost-efficiency out of its operations. (Dell, for example, recently completed an employee-led process-improvement initiative that has produced reported annual savings of than $2.5 billion over a broad range of functions.)
And state subsidies clearly enhance that push for cost-effectiveness.
Tennessee certainly didn't stint on incentives in landing Dell's first North American production operation outside its home region in middle Texas. The Volunteer State's winning attraction package included $160 million in subsidies.
The centerpiece of Carolina's subsidy package is the Computer Manufacturing Tax Credit approved during the special session. That legislation will provide as much as $225 million in tax credits over the next 15 years. The statute specifies that the annual credits apply to "computers and computer peripherals produced, assembled or manufactured at the facility during the taxable year."
Another subsidy that Dell will receive is a state Job Development Incentive Grant (JDIG) valued at up to $14.1 million over 12 years. The JDIG grant will equal 75 percent of state personal income withholding taxes for all newly created jobs. In addition, Dell also will receive training assistance from the state's New and Expanding Industry Training program and its Golden Leaf Foundation, as well as from the Piedmont Triad Work-force Development Boards.
Claw-Backs Require 1,200 Workers,
$100-Million Investment in First Five Years
Claw-backs are also part of Carolina's subsidy agreement. Dell is required to employ at least 1,200 workers five years after its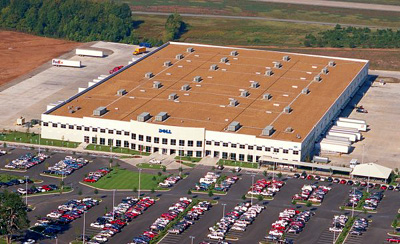 Dell received $160 million in subsidies from Tennessee in locating a plant (pictured) on the outskirts of Nashville. The Volunteer State facility was the company's first North American production operation outside its home region in middle Texas.
Triad plant goes online. The company is also required to invest at least $100 million within five years.
Those thresholds would certainly seem to present no problems for Dell.
The company says that it will begin with some 700 employees, ramping up to 1,500 workers within five years. And Dell has enough left in this year's expansion budget alone to hit the investment target. According to the company's filings with the U.S. Securities and Exchange Commission, Dell earmarked $500 million for property, plant and equipment in its current fiscal year (which ends on Jan. 30, 2005). Some $250 million was still left in that budget by the midpoint of this year.
Most of Dell's jobs won't be high-paying positions, with salaries ranging between $23,000 and $26,000 a year. Easley, however, insisted that the state would realize a rich payoff for its incentives investment.
"In addition to providing much-needed jobs," said the governor, "the Dell project will provide over $700 million in net revenue over 20 years. This project makes good economic sense for North Carolina at a time when our workers need help the most."
According to an analysis by the North Carolina Department of Commerce, the Dell plant will have a $24.5-billion impact on the state's economy over the next 20 years. During that span, Commerce officials estimate that the facility will bring an estimated $743 million in net revenue to the state, generating 6,000 additional spin-off jobs.
Rumor Mill Working Overtime
Over Dell's Potential Triad Sites
The Carolina Triad would seem to satisfy many of Dell's typical location concerns. The area has strong access to Piedmont Triad International Airport. In addition,
Federal Express
is going to open a $516-million air cargo hub on a 600-acre (240-hectare) site in Greensboro in 2009.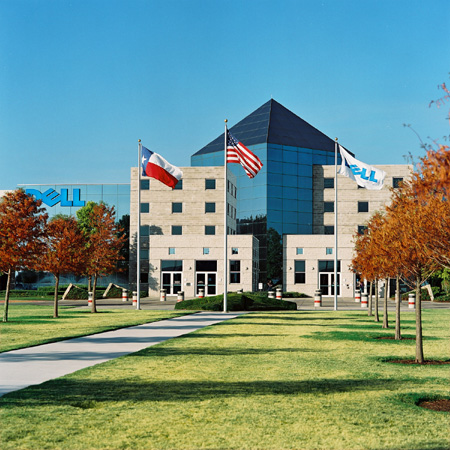 Dell's operations began in Round Rock (pictured), then exponentially expanded around the globe to create the world's No. 1 computer manufacturer.
Significantly, locating in the Carolina tri-cities area also positions Dell near multiple nearby areas that it can tap in putting together a very sizable batch of new employees. The company used a similar strategy in locating its Nashville plant. Dell selected a site on the Tennessee metro's outskirts, allowing it to draw from a wide range of proximate labor pools.
Unsurprisingly, speculation is running hot and heavy over which Triad location Dell will chose. Three sites have figured most prominently in the rumor mill: the Alliance Science & Technology Park in southeastern Winston-Salem; a tract at Greensboro's Piedmont Triad International that was once a golf course; and the Union Cross Business Park in unincorporated Forsyth County.
Alliance Science & Technology Park may have the edge, some local real estate players contend. That development has a 190-acre (76-hectare) parcel available. But Union Cross Business Park, other observers point out, has its own ready-and-waiting 200-acre (80-hectare) tract.
Dell will need a site of at least 100 acres (40 hectares) for a facility of at least 400,000 sq. ft. (36,000 sq. m.), according to the company's filing with the Golden Leaf Foundation (which disburses North Carolina's $2.3-billion share of the national tobacco settlement).
Past history, though, suggests that the company will eventually need a site that's bigger than that. In Nashville, for example, Dell announced a new 700-worker assembly facility only three months after it had opened its initial 1,700-employee operation at the Tennessee location.
Dell CEO 'Philosophically Opposed to Outsourcing'
The East Coast PC plant is part of Dell's very aggressive North American expansion in recent months.
The company in October announced that it would site a new distribution and fulfillment center in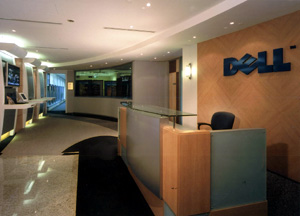 Dell's considerable global reach includes its Asia-Pacific headquarters in Singapore (pictured).
West Chester, Ohio,
that will employ 250 workers. And in July of this year, Dell announced that it would open two new call centers: a 500-employee facility in
Edmonton, Alberta, Canada,
and a 700-worker operation
Oklahoma City.
Outside North America, the company has manufacturing facilities in Eldorado do Sul, Brazil; Limerick, Ireland; Penang, Malaysia; and Xiamen, China. And Rollins last month noted in Texas that "in the next few years, we're going to need new manufacturing capacity in Europe and Asia, too."
By chance, Dell's was on the verge of creating a 1,500-employee plant in North Carolina when Rollins spoke on Nov. 5th at Forrester Research's Executive Strategy Forum in Boston. The CEO used that appearance to hit hard at some observers' claims that Dell is outsourcing U.S. jobs.
"We believe you have to be in every region or country that you want to sell in," he said. "We continue to add jobs in the U.S.; we've announced two [expansions] and will soon add a third major site in the U.S. this year."
Dell, Rollins energetically emphasized, wasn't outsourcing jobs; it was simply seizing the obvious edge of market proximity.
"Our model is to get close to the customer," he said. "It's not off-shoring to go to India. It's going where the customers are. . . . It's ridiculous for us to say, 'We'll sell products in India, but don't put any jobs there.' "
For that matter, Rollins asserted that "philosophically, I'm opposed to outsourcing."
That practice, he maintained, would dilute the company's core skill sets in key areas like information technology. "I clearly don't like it for Dell because I think it makes us higher-cost, not lower-cost," said Rollins.
Four days later, Dell put its money where the CEO's speech was, announcing the Carolina operation.
Editor's note:
Look for more details on Dell's Edmonton and Oklahoma expansion in the January 2005 issue of
Site Selection.
---
Kubota Keeps on Tractorin' With New 500-Worker Plant in NE Georgia
by
JACK LYNE
,
Site Selection
Executive Editor of Interactive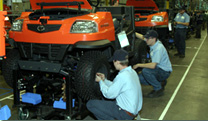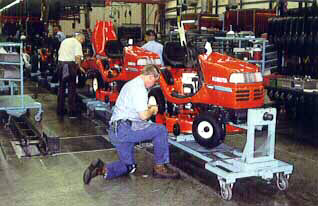 Kubota Manufacturing of America's new plant in Jefferson will lie roughly 25 miles (40 kilometers) south of its 1,500-worker plant (pictured) in Gainesville, Ga., - currently the company's lone American manufacturing operation.
Publishing

GAINESVILLE, GA., and OSAKA, JAPAN — Powered by its surging U.S. sales, Kubota Manufacturing of America (KMA) has announced that it will build a new 500-employee manufacturing plant in Jefferson, Ga.
The Jackson County facility will be the fifth that the company has built in the Peach State. Japan's No. 1 manufacturer of tractors and farm equipment established KMA in 1988 in Gainesville, Ga., as its North American manufacturing base. The unit manufactures and assembles Kubota lawn and sub-compact tractors, zero-turn mowers, loaders, backhoes, and other related implements.
The new production operation in Jefferson will make tractor loaders and backhoes, explained KMA President John Shiraishi while announcing the project at the company's North American headquarters in Gainesville. The new plant continues the company's rapid U.S. growth, he noted.
"The outsized success of KMA has been made possible by our employees, so we look forward to continuing to grow with them in our existing and new facilities," said Shiraishi. "With this new facility, we will make great strides in serving our customers while creating new opportunities for our employees."


Current U.S. Plant 'Stretched to the Limit'
The U.S. market's embrace of Kubota's product line opened KMA's latest expansion opportunity.
That responsiveness has steadily accelerated growth at the company's lone U.S. plant in Gainesville in northeast Georgia. In fact, it's pushed the growth in Gainesville about as far as it can go.
Located on a 473-acre (189-hectare) site, the Hall County operation now has 1,500 workers inside more than 1 million sq. ft. (90,000 sq. m.) of manufacturing, warehouse and office space. Today, the Gainesville facility makes almost 40 percent of the KMA products that are sold in the U.S. But the plant's production capacity "has been stretched to the limit,"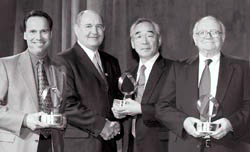 KMA was named Georgia's "Top Manufacturer of the Year" for 2003 in the large company category. KMA President John Shiraishi (pictured second from the right in the photo above) accepted the award from Gov. Sonny Perdue (second from the left). Other winners pictured are Robert Murphy (far left), director of operations for Rockwell Automation, the medium-size Top Manufacturer winner; and Don Lee (far right), president of Lee Container Corporation, the small-size Top Manufacturer winner.
Kubota said in a statement released from its world headquarters in Osaka.
More capacity is coming, though, from Jefferson, a city of some 4,000 residents located some 61 miles (98 kilometers) northeast of downtown Atlanta. KMA will build a 400,000-sq.-ft. (36,000-sq.-m.) plant on an 88-acre (35-hectare) site that it's selected in McClure Industrial Park, Shiraishi explained.
Created by Atlanta-based Pattillo Construction Co., the 473-acre (189-hectare) business park will provide the new facility with strong surface infrastructure links. The development sits alongside I-85 and is roughly 40 miles (64 kilometers) from the I-285 loop around Atlanta.
That site will also position KMA's new plant only about 25 miles (40 kilometers) south of the company's Gainesville plant.
"In addition to the location's convenience for our employees," said Shiraishi, "it is ideal for product and supplier transportation."
Plant Construction Complete by Next September
Shiraishi indicated that plant construction will begin immediately. KMA anticipates completing the facility by September of next year, he said. At full capacity, the Jefferson plant will turn out 70,000 tractor loaders and backhoes.
Chosen as Georgia's "Top Manufacturer of the Year" for 2003 in the large company category, KMA is one of Kubota's four divisions in North America. The Japanese giant's other three North American arms include
Kubota Credit Corporation U.S.A.
and
Kubota Tractor Corporation,
both based in Torrance, Calif., along with
Kubota Engine of America,
headquartered in Lincolnshire, Ill.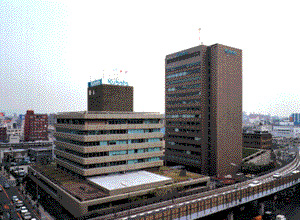 With its headquarters in Osaka (pictured), Kubota and its more than 22,000 employees rang up almost $8.8 billion in global sales during its 2003-04 fiscal year.
Worldwide, the company has more than 22,000 employees. Kubota tallied almost $8.8 billion in global sales during its 2003-04 fiscal year, representing a 13.7-percent annual increase. Largely due to the Japanese economy's long slump, the firm's domestic sales are not as strong as in the past. Its international sales, however, remain robust, with growth rates consistently tracking at more than 15 percent.
Kubota President Daisuke Hatakake expects KMA's new North American plant to continue that trend.
"Since sales continue to rise, we expect overall growth will continue for years to come," Hatakake said in a statement from the Osaka headquarters. "This new manufacturing plant will help us meet increasing dealer and customer demands for quality products developed by Kubota for the U.S. market."
KMA's Georgia expansion comes two-plus years after another major Japanese company announced ambitious growth plans in Jefferson County. In July of 2002,
Michigan Automotive Compressor
(MAC), a joint venture of
Toyota Industries
and
Denso,
announced its decision to come to the area. Since then, MAC has created a new local company,
TD Automotive Compressor Georgia
(TDACG).
Two months ago, TDACG broke ground on its 350,000-sq.-ft. (31,500-sq.-m.) plant, which will make auto air-conditioning compressors. Located in an unincorporated area near the city of Pendergrass, the operation will employ 310 workers, say TDACG officials.
Editor's note:
Look for more exclusive, in-depth reporting on the Kubota project and others in the forthcoming Georgia Spotlight, slated to appear in the January 2005 issue of
Site Selection.
---
Update: Pixar's Huge California HQ Project Gets Voters' Thumbs-Up
by
JACK LYNE
,
Site Selection
Executive Editor of Interactive Publishing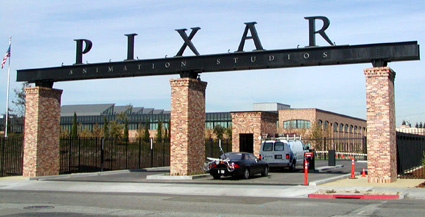 Do fence me in: Pixar's guarded headquarters operations in Emeryville (pictured above) became one of the flash points for the controversy over the company's expansion. The Emeryville City Council had approved a fence-encircled headquarters campus when Pixar first came to town in 1968.
EMERYVILLE, Calif. #151; Somewhere in northern California, Office Depot has shelved plans for its new $100-million headquarters in Pixar Director of Facilities Tom Carlisle is sleeping far, far better these nights. Now he knows that Nemo the clownfish, Buzz Lightyear the spaceman and all of Pixar's headquarters gang will be moving into considerably larger digs.
Community activists, however, brought so much heat to bear that the project ended up on the Nov. 2nd ballot. Opponents collected enough signatures to require a referendum to approve Pixar's expansion.
Finally, after a struggle that had dragged on for more than six months, the issue was put to bed. More than 70 percent of Emeryville voters approved two ballot measures, giving Pixar's expansion a final green light.
The project was so important that notoriously private Pixar took a public role in the election. The company hired Barnes, Mosher, Whitehurst, Lauter and Partners, a high-profile San Francisco-based consultancy, to manage an electoral campaign.
The campaign's goal looked simple: sell voters on Pixar's value to the community and the soundness of its proposed project. But simplicity had been conspicuously absent in the contentious events leading up to the vote. Nonetheless, the image-makers' campaign clicked with Emeryvillians.
"The voters were very clear tonight that they want Pixar to remain in Emeryville and continue the good work they are doing with the community," said John Whitehurst, the consultant who managed the company's campaign. "We are very pleased and feel rewarded by the outpouring of votes."


Apparently Routine Initiatives Reflected
Deep Divisions over Pixar's Expansion Project
Specifically, local voters overwhelmingly approved Measure T and Measure U. Though ostensibly routine, both measures reflected some of the major issues in the Pixar expansion debate.
Measure T will change Emeryville's planned bike routes near the company's headquarters. One bike lane was cancelled while another was rerouted around the eastern edge of Pixar's campus. The initiative also authorizes changing the zoning of the southeast headquarters campus from industrial to commercial.
Measure U authorized the construction of three new facilities containing 544,000 sq. ft. (48,960 sq. m.) of new space, plus a six-story, 1,801-space parking garage. The initiative also OKs the demolition of a brick building that now houses a bakery. And the measure further requires Pixar to create and maintain a pedestrian/bicycle path that's 40 feet (12 meters) wide on its eastern boundary.
The two initiatives' gravity, though, was underscored by the potential consequences if voters rejected either measure. That would've meant that Pixar would have to start from scratch with a new headquarters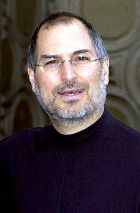 "Mr. Jobs, take down that wall," one Emeryville resident said at a City Council meeting, evoking a famous Ronald Regan line and redirecting it at Pixar CEO Steve Jobs (pictured) and his partition-encircled headquarters.
design, then beginning anew the time-devouring process of securing multiple approvals. Moreover, a voters' thumbs-down might well have meant that Pixar would simply leave town - something the company had already made quite clear.
Company Demands Come to the Fore
Pixar's expansion first began to hit procedural Hades at a mid-May meeting this year of the Emeryville City Council.
Led by the East Bay Alliance for a Sustainable Economy (EBASE), area activists demanded that the company sign a "Community Benefits Agreement."
That contract would require job training for low-income residents, local hiring for some expansion construction jobs, and contributions to local child-care and affordable-housing funds. The latter demand, EBASE Co-Executive Chair Amaha Kassa explained, stemmed from the fact that part of the land on which Pixar would expand had earlier been scheduled for 120 new housing units; and 24 of them were reserved for low- to moderate-income residents.
Other local citizens, though, piped up to say that the company was already the No. 1 donor to both the city food bank and local schools. What's more, Pixar has deposited almost $1 million in the local low-income housing fund, they explained.
In addition, as Emeryville Director of Economic Development Pat O'Keeffe had pointed out at an earlier City Council meeting in April, Pixar's expansion would create $3 million a year in new tax dollars; and $600,000 of that amount, he added, was allocated for affordable housing development. The company's expansion would further add another $1.5 million to the city's coffers. Pixar is to pay a $500,000 impact fee each time it begins one of the expansion's three scheduled phases.
Kassa, though, was unimpressed. The Emeryville City Council, he charged, was "afraid to ask anything of businesses, and, as a result, businesses don't feel they have to be accountable to the community."
Responded Carlisle, "Pixar is very involved in the community. We do it because we like doing it, not because someone is telling us." Pixar Wall Draws Fire And then The Wall Issue came up.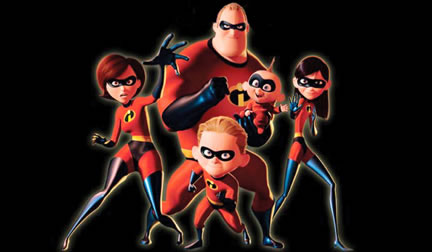 Pixar's newest film, The Incredibles, took the top slot at the movie box office for the first weekend in November, pulling in some $71 million in ticket sales.
Pixar's current 215,000-sq.-ft. (19,350-sq.-m.), 730-employee headquarters is surrounded by an eight-foot (2.4-meter) fence. The City Council approved a wall-encircled campus in 1998, when the company first decided to come to Emeryville.
Nonetheless, the wrought-iron partition hit center stage again. "We all bought into that you guys need a fence," council member Richard Kassis told Carlisle. "But for the life of me, I cannot understand why a brick building cannot serve as a secure fence. I find myself constantly defending the fence."
Then, in a totally unanticipated turnaround, the council voted 3-2 to postpone any action.
At that point, Carlisle took the offensive.
"This [fence] is very important to [Pixar CEO] Steve Jobs," he told the council. "He has told me that twice today. My job is on the line here."
Pixar, Carlisle continued, had already conceded that it would move part of its fence back. And it had further agreed to install a bike and pedestrian path, a landscaped area, trees, and benches.
The wall was a business necessity, he said.
"We are a movie studio, and this is what movie studios do," Carlisle explained. "Now that we're a more successful company, people want to get into Pixar. We get people who want to steal our intellectual property, our ideas."
And then he dropped a bombshell:
"This is really disheartening for Pixar. If the city takes away our fence, we will not stay in Emeryville," Carlisle concluded.
As The Incredibles Soars,
Expansion Time Table Remains Unknown
With its expansion plan now approved at long last, Pixar hasn't said yet when it will begin its expansion.
Initially, the company said that it would begin its first-phase expansion sometime in the next 18 months, possibly as soon as this summer. With the long delay, however, that schedule is obviously out the window. Phase-one expansion will involve building a 150,000-sq.-ft. (13,500-sq.-m.) facility housing 325 employees.
Pixar's original schedule called for the second-phase expansion to start by 2013, finishing by 2016. Phase three was initially planned to begin by 2021, wrapping up by 2024.
The rationale for Pixar's expansion was underscored by movie box-office figures for November's first weekend.
The Incredibles
, the company's newest film, took the top slot, pulling in some $71 million in ticket sales. That ranks as the second-best opening weekend ever for an animated movie. And the previous holder of animated filmdom's second-best opening weekend? That would be Pixar's
Finding Nemo
.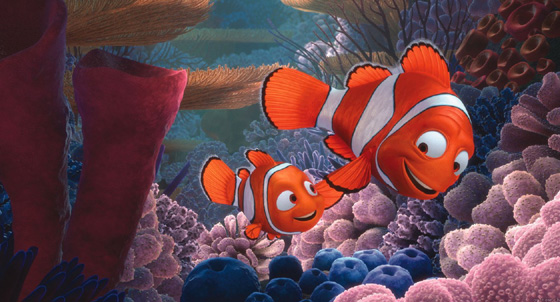 All of Pixar's films, including Finding Nemo (pictured), have been major
critical and commercial successes.