Japan's Shin-Etsu Plans $971M
PVC Plant in Louisiana or Texas
Two of the contenders: Two of the sites in the running for the integrated PVC complex are Shintech's existing plants in Addis, La. (left) and Freeport, Texas (right).
by

JACK LYNE,

Site Selection Executive Editor of Interactive Publishing
TOKYO - Shin-Etsu Chemical Company plans to make the largest U.S. investment ever by a Japanese chemical manufacturer - almost $1 billion - in a production operation that's headed for either Louisiana or Texas.
Tokyo-based Shin-Etsu says that it will spend $971 million to build its first integrated polyvinyl chloride (PVC) complex in one of those two states. The Japanese giant ranks as the world's largest PVC manufacturer.
Shin-Etsu is eyeing Louisiana and Texas sites near its existing operations. The search has reportedly narrowed to three cities: Addis and Plaquemine, La.; and Freeport, Texas.
The production complex will be built by Houston-based Shintech, Shin-Etsu's wholly owned U.S. subsidiary. Now in its 31st year of operations, Shintech will use its own financial resources to fund the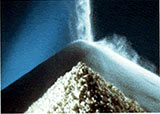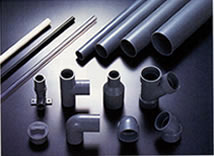 PVC (pictured at left in white powder-form polymer and pellet-form compound) is widely popular in construction, particularly for piping and pipe parts (pictured right).
facility's construction, according to officials with the Japanese parent.
The output from the integrated PVC operation will mark a significant enlargement of the American arm's manufacturing scope. Created by Shin-Etsu in 1973, Shintech has historically manufactured only PVC resins.


Complex Will Make
Both PVC, Feedstocks
Like most Asian firms, Shin-Etsu has maintained a low profile throughout the stages leading up to its site decision. Undoubtedly, the recurrent environmental concerns that have been raised over PVC production have added an extra impetus in making discretion the better part of public relations strategy.
Details of the huge U.S. project began to leak out, though, after the Japanese company contacted governors, and top economic development and environmental officials in Louisiana and Texas. Shin-Etsu officials on Dec. 6th confirmed that the company was planning the American complex.
A few details have surfaced about the proposed plant. The facility would employ about 150 workers, with average salaries ranging between $55,000 and $60,000 a year. Shin-Etsu's current time table calls for starting construction sometime in 2005, with first-phase production going online in late 2006. Second-phase construction is scheduled to be completed in time for full-scale manufacturing to begin in late 2007.
One particularly significant aspect of the U.S. complex is that its manufacturing output will include not only PVC, but
also
its feedstocks.
At full production, the operation is scheduled to manufacture 650,000 tons (585,000 metric tons) a year of PVC. In addition, the complex will make PVC raw materials, with annual output also including 500,000 tons (450,000 metric tons) of chlorine, 550,000 tons (495,000 metric tons) of caustic soda and 825,000 tons (742,500 metric tons) of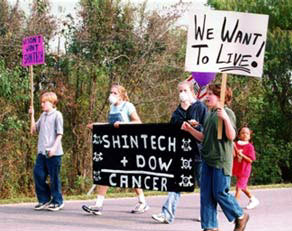 Community backlash to Shintech's planned PVC production operation in Convent, La., prompted the company to pull the plug on the project.
Photo: CorpWatch, San Francisco
vinyl chloride monomer.
Plant Will Up Shin-Etsu's U.S.
PVC Production by One-Third
Shintech U.S. production PVC volume will feel a substantial impact from the company's decision to create a complex that manufactures both PVC and its feedstocks.
Shintech currently holds about 30 percent of the North American PVC market. But when the U.S. complex hits full-scale production at the end of 2007, the company is projecting that its U.S. PVC output will increase by almost a third.
That production increase is a key element in Shintech's strategy to capitalize on the strong projected growth in U.S. demand for PVC, a popular plastic widely used in pipes and other construction materials. American PVC sales have been strong with the surge in housing and commercial development.
Shin-Etsu's U.S. subsidiary has heretofore always acquired most of its raw materials for PVC from third parties. The lion's share of those feedstocks has come from
Dow Chemical Company.
Shintech's long-term contract with Dow to provide those feedstocks will continue after the new U.S. plant reaches full production.
PVCs: The Product Is
Popular; Its Plants Are Not
During the next month and a half, Shintech officials say that the company will be soliciting input from the communities that are being considered as locations for the PVC complex. The company is projecting that it will make its location choice in late January or early February and begin applying for project permits.
Contending communities' reactions will likely play a substantial role in the site-selection decision. PVC may be a popular product. PVC plants, however, aren't popular neighbors.
That dynamic was underscored by Shintech's experience with an earlier project in southeast Louisiana that was ultimately aborted. Shin-Etsu's U.S. subsidiary announced plans in 1996 to build a $700-million PVC production operation in Convent, La., a small town about 40 miles (64 kilometers) southeast of Baton Rouge. Three years later, the company abandoned the project.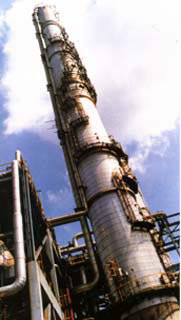 Shintech is also considering building an ethylene cracker like the one pictured above in the U.S.
Photo: Larsen & Toubro
In the interim, Shintech's planned Convent plant became the first major test of the federal Environmental Justice Act (EJA). Implemented in 1994, that law makes illegal any "disproportionate distribution of environmental hazards" in low-income communities. About 40 percent of Convent residents at that time had incomes that were below or at the federal poverty line. Additionally, St. James Parish already had such a large chemical-industry cluster that residents had nicknamed the area "Cancer Alley."
Shintech decided to pull the project's plug shortly after the Tulane University Law Clinic filed an EJA challenge. The company decided to build a much smaller PVC plant instead in Addis, 25 miles (40 kilometers) north of Convent.
The company bought the land for the Addis plant from Dow Chemical. The site is located next to Dow's own chemical plant. The more affluent population in and around Addis, however, didn't raise the same issues vis-…-vis environmental justice.

More U.S. Expansion on Tap
Another Shintech plant in Addis may also figure in some way in the PVC complex's startup. Shin-Etsu's U.S. subsidiary bought that plant in late 2001 $38 million from
Borden Chemicals and Plastics,
which earlier that year applied for Chapter 11 protection.
The acquired plant is now idle. Shintech officials, however, have said that the former Borden operation could resume production in conjunction with the integrated PVC complex.
The company likely has more American expansion in the wings.
Shintech officials said that the company is planning to add other PVC facilities in the near term that together will have an annual production capacity of 600,000 tons (540,000 metric tons) a year. In addition, the U.S. subsidiary says that it is also considering building an American ethylene cracker. (Crackers break down heavier hydrocarbon materials into lighter products that have higher commercial value.)
Shintech hasn't given any indication of where the other expansions might be located.
---
Big Shot: Emergent's 400-Worker
Anthrax Vaccine Plant Maryland-Bound
by

JACK LYNE,

Site Selection Executive Editor of Interactive Publishing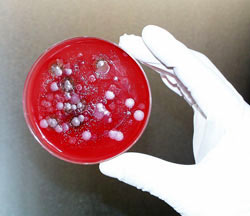 Emergent BioSolutions' Maryland plant will make BioThrax, the only anthrax vaccine approved by the U.S. Federal Drug Administration. Pictured is some of the anthrax used in a 1993 bio-terrorist attack in Kameido, Japan.
FREDERICK, Md. - Emergent BioSolutions has picked Frederick, Md., -for a new manufacturing facility that will make BioThrax, an anthrax vaccine. BioThrax is the only anti-anthrax treatment that's secured approval thus far from the U.S. Federal Drug Administration (FDA). BioPort Corporation, a subsidiary of privately held Emergent BioSolutions, first developed the BioThrax vaccine.
The project will involve a capital investment of about $95 million, Emergent BioSolutions Chairman and CEO Fuad El-Hibri said at a ribbon-cutting in Frederick at the existing 150,000-sq.-ft. (13,500-sq.-m.) facility that the company has bought. The Gaithersburg, Md.-based company, he explained, will now convert the industrial park building into a state-of-the-art plant that's fully compatible with its vaccine production system and standards.
The facility will begin operations with 100 workers, staffing up over time to some 400 employees, El-Hibri added. At full production in two years, the facility will have the capacity to annually make 100 million doses of BioThrax, he noted.
"While it is very unfortunate, it has become a reality that bio-defense vaccines are desperately needed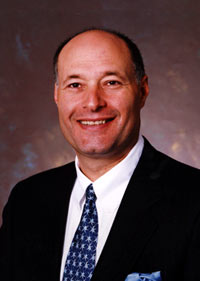 "While it is very unfortunate," said Emergent BioSolutions Chairman and CEO Fuad El-Hibri (pictured) "it has become a reality that bio-defense vaccines are desperately needed today."
today," said Fuad El-Hibri, a Muslim who became a U.S. citizen in 1999. "The acquisition of this facility is the first step toward solidifying our position as a prominent player in this field. This area is one of the top bioscience centers in the world, so we know we're in good company."
Governor Robert Ehrlich (R) also attended the ribbon-cutting,
"With our highly skilled professional work force, supportive business environment, and world-class public and private sector research centers, Maryland has long been recognized as one of the most successful bioscience states in the country," said the governor. "Emergent BioSolutions is a very welcome addition."
BioThrax: Old Drug, New Need
The Frederick plant will be the second operation to ever manufacture BioThrax. The anti-anthrax vaccine was initially produced by BioPort in Lansing Mich., where the drug is still manufactured.
BioThrax, however, is not a new drug. At the outset, though, it was a rather obscure one.
BioPort was licensed by the U.S. federal government to manufacture the anthrax vaccine all the way back in 1970. Initially, though, the drug's primary market was very limited. In BioThrax's first two decades on the market, it was administered to only some 30,000 people. Individuals vaccinated during that span were primarily laboratory, veterinary and industrial workers at risk of exposure to naturally occurring anthrax during the course of their work.
But the need for an anthrax vaccine broadened greatly in the 1990s, as anthrax emerged as a weapon in chemical warfare.
Concerns over anthrax exposure surged during the 1991 Gulf War between the U.S. and its allies and the Iraqi forces that had invaded Kuwait. As a protective measure, the U.S. Department of Defense during the Gulf War gave BioThrax vaccinations to about 150,000 military personnel.
More Maryland Growth Planned
Emergent is hoping that its first plant marks only the beginning of its growth in Maryland. The company has already secured the rights to a second 150,000-sq.-ft. (13,500-sq.-m.) existing facility to accommodate future expansion, El-Hibri noted.
"We are excited about the potential that these new facilities offer for our nation's bio-defense capabilities, our community and our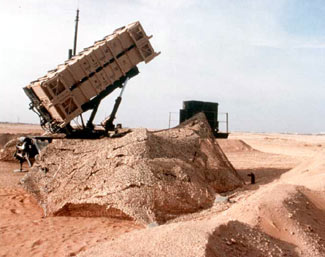 The U.S. military first began using anthrax vaccine as a precautionary measure during the 1991 Gulf War (pictured).
company," he said. "Emergent plans to utilize the newly acquired facility to develop and manufacture critical bio-defense vaccines and countermeasures while making a real contribution to the local economy through job creation and economic opportunity."
Locating the project in Frederick will establish an Emergent manufacturing presence only about 40 miles (64 kilometers) northwest of the nation's capital in Washington, D.C. The Maryland site also positions Emergent's plant a few miles south of the National Bio-defense Campus that's being built at the U.S. military's Fort Detrick, which is also a part of the city of Frederick.

Military Stops BioThrax Injections
The Maryland manufacturing project, however, comes as BioThrax's fortunes are in a state of flux.
In 1998, the U.S. Department of Defense began making heavy use of BioThrax in a military-wide anthrax immunization plan. More than 1.25 million American military personnel received BioPort's licensed vaccine as part of that initiative. But the Defense Department suspended the immunization program this year on Oct. 27.
The vaccination program's suspension came after a District of Columbia U.S. District Court judge ruled that the U.S. Food and Drug Administration had failed to follow correct procedures in approving BioThrax. The FDA, said District Judge Emmet G. Sullivan, hadn't solicited adequate public comment before endorsing the vaccine for use in treating inhaled anthrax. Sullivan further ruled that the Defense Department can no longer legally require mandatory anthrax vaccinations for military personnel without either a proper FDA vaccine review or a presidential emergency order.
The federal court decision came in response to the lawsuit that had been filed by six members of the military and contractors' employees. Other military personnel and contractor workers have also expressed concerns about BioThrax's side effects.
The drug's future became cloudier still on Nov. 4th, when the U.S. Department of Health and Human Service (HHS)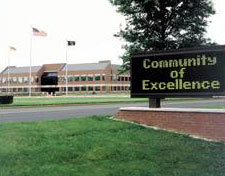 The Frederick site will put Emergent's manufacturing plant only a few miles south of Fort Detrick, which will be the home of the National Bio-defense Campus and is already home to a U.S. Army Medical Research and Materiel Command post (pictured).
announced that it was awarding a contract for 75 million doses of a new anthrax vaccine that hasn't been licensed by the FDA. That drug, known as rPA102, is being made by Brisbane, Calif.-based
VaxGen.
HHS officials say that rPA102 can work with only three doses. BioThrax only provides full protection after six doses over an 18-month period. HHS officials are also hoping that VaxGen's vaccine will have fewer possible side effects.

Emergent Meets Uncertainties by
Targeting Other Markets, Other Drugs
The HHS, however, also announced last month that it was going to purchase five million doses of BioThrax to add to the national stockpile for civilian use. The vaccine purchases from VaxGen and Emergent are being funded by the Project Bioshield Act, which authorizes up to $5.6 billion in spending for production of medical countermeasures for chemical, biological, radiological and nuclear weapons.
BioPort CEO Bob Kramer responded to the HHS announcement by saying, "We are prepared to supply millions of doses of BioThrax to assist with the nation's preparedness efforts and provide balance to the stockpile by adding a proven vaccine alongside an experimental product." The nation needs multiple suppliers for bio-defense products, Kramer contended, "due to performance risks associated with any single product or single manufacturer."
In the meantime, Emergent is looking at other markets, said El-Hibri.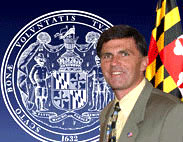 "Maryland has long been recognized as one of the most successful bioscience states in the country [and] Emergent BioSolutions is a very welcome addition." Governor Robert Ehrlich (pictured) commented at the ribbon-cutting for the new facility.
The company, he noted, has already sold BioThrax to national authorities in Canada, Germany and Taiwan. Emergent is also talking to states including Florida, Louisiana, Maryland and Michigan about providing BioThrax for emergency work crews.
That broader sales push will also include upping BioThrax production in Lansing, Emergent officials said. The Michigan plant will expand its production capacity to eight million vaccine doses.
In addition, Emergent may use its Frederick operations to make other vaccines that it's now developing, said El-Hibri. Those vaccines include treatments to prevent chlamydia, a sexually transmitted disease; shigellosis, an intestinal disease; and the pylori bacteria, which has been identified as one of the causes of stomach cancer.
The project is getting about $13 million in state and local aid. Part of that aid is a $2.5-million conditional loan from the Maryland Department of Business and Economic Development. That loan will convert to a grant if Emergent creates 280 jobs by 2009 and retains those positions through 2013.
The state is providing another $10 million in loan guarantees. Frederick County is also contributing $250,000 in tax-increment financing.
---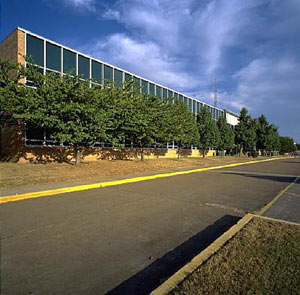 Visteon's centralized distribution center will be some 31 miles (50 kilometers) east of Nashville, where the company has a 1,400-employee auto-glass manufacturing plant (pictured) that covers more than 2 million sq. ft. (180,000sq. m.).
Visteon's Consolidation Creates
Major Expansions in Detroit, Nashville
by

JACK LYNE,

Site Selection
Executive Editor of Interactive Publishing
LEBANON, Tenn., and VAN BUREN TOWNSHIP, Mich.
- Like the larger auto-supply industry,
Visteon Corporation
is rapidly accelerating the cost-saving strengths of consolidation. That strategy, however, is translating into significant expansions in the
Detroit
and
Nashville, Tenn.,
metros.
The world's second-largest auto-parts manufacturer (trailing only
Delphi Automotive
) has picked a Tennessee site in
Lebanon
for a new 456,000-sq.-ft. (41,040-sq.-m.) distribution center. Located some 31 miles (50 kilometers) east of downtown Nashville, the facility will consolidate some of Visteon's existing distribution operations in the U.S. Midwest. The project is part of the company's optimization of non-manufacturing operations by consolidating at centralized sites.
Visteon hasn't yet announced how many Lebanon employees will staff the centralized distribution facility. The job numbers, though, will likely be large, given the operation's considerable size.
The company's selection of Lebanon, say CB Richard Ellis officials, could also be a precursor to Visteon's deciding to establish a separate Nashville-area headquarters for its glass operations.
"The new distribution center is located on Highway 109 between Highway 840 and Interstate 40, positioning it very well for Visteon's distribution needs," said CB Richard Ellis Vice President Don Kent, who teamed with Senior Associate Clinton Gilbreath to represent Visteon in the transaction.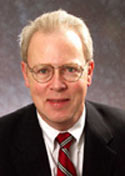 The Lebanon area that Visteon has picked for its distribution center "is attracting many companies because it is so ideally suited as a distribution hub," said CB Richard Ellis Vice President Don Kent (pictured).
The Dearborn, Mich.-based company has signed a five-year lease on the distribution center with Commerce Farms, which owns the facility, said Kent. Terms of the lease weren't released.
"This corridor in Wilson County is attracting many companies because it is so ideally suited as a distribution hub," said Kent. "The warehouse location in Lebanon meets the company's long-term logistics needs exceptionally."
Bridgestone/Firestone
and
Genesco
already have warehouse operations in the same area, where retailer
Aldi
will open a distribution facility in 2005.
"Visteon is very familiar with Middle Tennessee and the benefits it offers manufacturing and distribution companies," Gilbreath noted.
The company has a 1,400-employee plant in Nashville that's been in operation since 1956. Spanning more than 2 million sq. ft. (180,000sq. m.), that facility's primary output includes automotive windshields and side glass.

Supplier Profits Squeezed
Spun off from
Ford Motor Co.
in 2000, Visteon's consolidation reflects the financial squeeze that the entire American auto supplier industry is feeling.
U.S. auto-makers' generous incentives to spur sales are part of the industry's woes. Those giveaways cut into profits for both auto-makers and their suppliers. At the same time, the supplier industry is under increasing pressure to up its spending in major operational areas like R&D and alliance partnerships.
Such pressures are combining to bleed suppliers' profits thin. Auto supplier company's margins have been halved over the last decade, researchers have found.
Another factor compounds Visteon's problems: The company gets about 70 percent of its sales from the U.S. market; and the American auto market isn't expected to register significant near-term growth. On top of that, foreign-owned suppliers are an ever-more competitive force in the U.S. market. More than half of North America's fastest-growing supplier companies over the last three years are owned by companies based in Germany and Japan.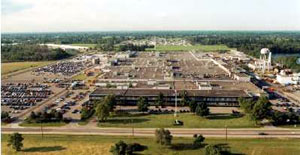 Visteon's 1.5 million-sq.-ft. (135,000-sq.-m.) plant in Ypsilanti, Mich., (pictured) was reconfigured as part of the company's clustering of its operations in the Wolverine State.
Visteon's bottom line is showing those strains. The company hasn't had a profitable year since 2000. In 2001, it lost $118 million, then lost $352 million in 2002. And in 2003, it lost $1.213 billion - even with some $17.7 billion in sales (a 4 percent drop from 2002).
That kind of financial pressure is fast thinning the supplier industry's ranks through a rash of mergers and acquisitions. Some analysts, in fact, are projecting that the current 800 or so tier-one suppliers will be reduced to only about 100 by 2010.

Visteon Village Opening Marks
Milestone in Michigan Consolidation
Visteon rolled out one part of its survival strategy in April, announcing that it was eliminating 1,800 of its 72,000 worldwide jobs.
(By comparison, Delphi's cuts are going even deeper. The company announced on Dec. 9 that it was going to cut 8,500 jobs in 2005. Delphi set a similar employment-reduction goal for 2004, but will exceed it by perhaps 1,000 jobs due to retirements and attrition.)
Visteon non-manufacturing consolidation is another significant leg in the company's efforts to bolster its staying power. The space optimization program got its highest-profile showcase in a project completed earlier this year in
Van Buren Township, Mich.
The company on Aug. 6th opened its 870,000-sq.-ft. (78,000-sq.-m.) Visteon Village, which groups 3,200 employees together. The Van Buren Township consolidation marks a major milestone in Visteon's efforts to make its Michigan real estate portfolio more efficient. When the company first became a stand-alone entity in 2000, it had 23 non-manufacturing facilities in the Wolverine State.
Now, the Visteon "neighborhood" includes just four key office sites located in a single cluster. Company officials anticipate that the groupings will increase employee collaboration, facilitating higher levels of product innovation and customer service. In addition, the clustering will cut costs by eliminating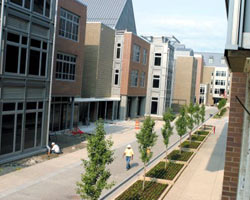 One of the major components in Visteon's consolidation program is Visteon Village, the new 870,000-sq.-ft. (78,000-sq.-m.) operation that now houses 3,200 employees on a 265-acre (106-hectare) site in Van Buren Township, Mich. (Pictured: the "main street" running through the development.)
Photo: Visteon Corporation
office leases and consolidating and downsizing operational support teams.
"This helps us take our creativity and innovation process to a high level [and] will help us win in a highly competitive marketplace," said James Orchard, president of Visteon's North American operations. "The key to winning is getting there first through the speed [that] collaboration and innovation brings us."

Going with the Work Flow
The company's senior management created the Visteon neighborhood only after first conducting an extensive work-flow and adjacency study, Orchard explained. That study helped determine which groups needed to be located close together to make the business run at optimum efficiency.
That strategy is reflected in the wide range of functions that are located on Visteon Village's 265-acre (106-hectare) site. The new development houses customer business groups; product line teams; innovation and advanced business development; manufacturing; materials management; quality control; global program management; information technology; finance; marketing; the Visteon design center; the executive team; and corporate relations.
The work-flow study also triggered the decision to reconfigure the three existing facilities that were already positioned in the neighborhood: Visteon's Dearborn Campus, the Helm Street facility in Plymouth and the Rawsonville facility in Ypsilanti. Those reconfigurations were completed before Visteon Village opened.
"What we've done in creating the Visteon neighborhood is to bring our employees closer together," Orchard explained. "It has been a strategic process of placing the right teams with the right resources that make the most sense for our business and for our customers."
Editor's note: For another glimpse of what the "neighborhood" concept can do for an automotive supplier, read about Alcoa's auto unit consolidation in its new Farmington Hills, Mich., facility in the "North American Automotive Industry" feature in the January 2005 issue of Site Selection.