Altec Picks
Tiny Tar Heel
Town for
300-Worker Plant

Located in a vacation hotspot near Western North Carolina's Blue Ridge Mountains (pictured), Yancey County had been suffering through an economic cold streak before Altec decided to come to Burnsville. Photo: The Thistlecroft
by

JACK LYNE,

Site Selection Executive Editor of Interactive Publishing
BURNSVILLE, N.C. — Altec Industries, the world's leading maker of aerial lifts, truck-mounted cranes and specialty products for the electric utility, telecom and construction industries, has picked the tiny town of Burnsville, N.C., for its newest plant. The company announced on Dec. 22nd that it will open a 300-employee production operation in that city, which has some 1,700 residents.
The new plant's arrival comes after Burnsville had endured a string of tough economic luck. Fortuitously, one of those setbacks turned into an early Christmas present for the area in northwestern North Carolina.
Birmingham, Ala.-based Altec will set up its new plant in Yancey County inside a facility that Outboard Marine Corporation (OMC) closed in 2000. Right after filing for bankruptcy, the company closed its 430-worker Burnsville production facility on Dec. 22nd of that year. At the same time in late 2000, the company also closed its 500-worker manufacturing plant in Spruce Pine, N.C., which is just 14 miles (23 km.) east of Burnsville.
The former OMC building in Burnsville had stood empty for almost four years before the area gained its newest corporate citizen. And Altec made its expansion announcement on the same date - Dec. 22nd - that OMC announced its shutdown.
"The facility has an outstanding geographic location with easy access to a large segment of our customers," said Altec Senior Vice President for Manufacturing Jon Styslinger.
Space for $1 a Year
The company is also getting outstanding terms for its Burnsville space.
Yancey County bought the former OMC plant in September for US$1.05 million. The county has now agreed to lease the facility to Altec for $1 a year for seven years. What's more, the company has an option to
buy
the plant and the property for $1 at any point during those seven years.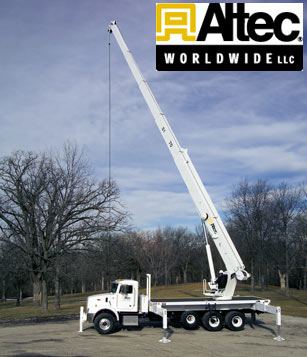 Altec is the world's leading maker of aerial lifts, truck-mounted cranes and specialty products for line workers in the electric utility, telecom and construction industries,
Landing Altec provides a welcome lift for Yancey County, a rural area near the Blue Ridge Mountains that has some 18,000 residents.
In addition to the OMC shutdown,
Avondale Mills
on May 4th closed its 163-employee yarn plant in Burnsville. While the Burnsville plant was "an efficient producer of yarn," Avondale Executive Vice President Marcus Tapley explained in a March letter to all employees, "unfair global trade practices make our tasks extremely difficult as our markets continue to shrink."
Yancey County's current unemployment rate is more than 6 percent. For almost all of 2001 and 2002, the jobless rate topped 10 percent.
County officials think that actual current unemployment is considerably higher. Out-of-work residents whose benefits have expired, they point out, are no longer counted in unemployment statistics. The North Carolina Employment Security Commission reported that it had only three listings for county industrial jobs prior to Altec's decision.
'Best Christmas Present'
The Yancey County courthouse was packed for Altec's announcement. County Manager Michele Lawhern called the new project "the best Christmas present that Yancey County could get."
Altec looked at some 300 sites in the Southeast, according to officials with AdvantageWest, the regional economic development commission promoting Western North Carolina. In addition to Burnsville, the other short-list finalists were locations in eastern Tennessee and southwestern Virginia, they said.
Altec, explained Styslinger, was attracted to the county seat because of the former OMC work force's proven competency in metalworking. OMC's Yancey County employees assembled and machined boat motor parts. Altec, Styslinger added, also liked the empty plant's proximity to I-26.
"It has an excellent transportation system and is located in an area known for employees with a solid work ethic," he said. "This is a perfect fit for our company."
After investing at least $7.5 million in machinery, equipment and plant renovations, Altec will create its new jobs over the next five years, he added.
The company hasn't yet determined which products it will make at the Burnsville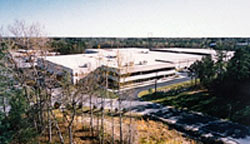 Altec already has a plant in North Carolina, a 200-worker operation (pictured) in Creedmoor, N.C.
plant. Altec already has another plant in the Tar Heel State, a 200-worker operation in Creedmoor, N.C., part of the Raleigh-Durham area some 240 miles (384 kilometers) to the east of Burnsville.
The privately controlled company has about 2,500 total employees in its manufacturing, sales, service and final assembly operations in the U.S. and Canada.
Altec Getting State JDIG Aid
Altec is getting assistance in its expansion through an 11-year state Job Development Investment Grant (JDIG).
For each year in which the company meets the required performance targets, North Carolina will provide a grant equal to 65 percent of the state personal income withholding taxes derived from the creation of new jobs. Altec could realize a maximum benefit of $1.9 million if the company hits its agreed-upon job targets and sustains those jobs for 11 years.
The JDIG initiative was created in 2002 at the urging of Gov. Mike Easley (D). JDIG funds are awarded only to projects that will provide benefits that exceed their costs to the state and that would not occur in the Tar Heel State without the state's assistance. According to an analysis by the North Carolina Department of Commerce, Altec's project will generate a $2.9-million positive cumulative impact on net state revenue.
Since its creation in 2003, the JDIG program has brought 9,009 jobs and $1.36 billion in investment to the state, the Commerce Department reports. Altec's Carolina jobs on average will pay an average annual salary of $21,700 with full benefits. The average annual salary in Yancey County is more than $24,000.
Easley called the expansion "a tremendous win for the company, the community and the state. Altec chose North Carolina because of our excellent work force, our strong, continuing support of education and our business-friendly climate."
---
Ticketed for Shutdown, SW Virginia Plant Survives, Will Add 100 Jobs
by

JACK LYNE,

Site Selection Executive Editor of Interactive Publishing
After more than eighty decades in Bristol, Va. (pictured), it looked like Moore's Quality Snack Foods was about to close up shop.
BRISTOL, Va. —After being part of the Bristol, Va., business community for more than 80 years, Moore's Quality Snack Foods was set to shut down on Sept. 30th.
Well, that didn't happen. Production at that Bristol plant is still online, thanks to some stubborn state and local tenacity. Only now the facility has a new owner, Snack Alliance. And the Hermiston, Ore.-headquartered company is investing $9.8 million to significantly expand that facility, after which it's adding 100 new jobs.
That zigzag scenario began to take shape on July 28th of last year. And this particular story's starting point at least seemed like the logical end of the tale. That day, Kennesaw, Ga.-based Wise Foods, a division of Borden Inc., announced that it was going to shut down the Bristol plant, eliminating what were then 155 jobs.
The move by all accounts left plant employees in reeling shock. City officials were also taken totally off-guard - a fact that clearly steamed them. Those officials weren't shy about voicing their anger over Wise Foods' failure to tell them what that the company was considering. That breakdown, they charged, stripped away any opportunity the community might've had to pull the plant out of the fire.
What Bristol residents learned on July 28th was that Wise Foods officials in 2004 had undertaken a broad-ranging review of the capacity and utilization of its production operations. The Bristol plant, an older facility that wasn't very large, hadn't fared well in that analysis, the company said. So Wise made the decision to close the southwest Virginia facility, which made potato and corn chips, popcorn, and puffed cheese products.
The shutdown would come no later than Sept. 30th, company officials said. At that point, the Bristol facility's production work would be shifted to newer, larger Wise plants in Berwick, Pa., and Spartanburg, S.C. The Bristol plant's manufacturing equipment would also be transferred to the Spartanburg site.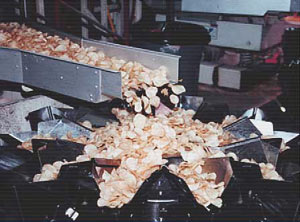 Snack Alliance's expansion will double capacity at the Bristol plant.
A 30-Day Reprieve
It seemed like an inappropriately melancholy finale for the company that Bristol resident J.W. Moore founded in 1924. Moore started the company in the basement of his home. Eventually, he progressed to the point of working out of an improvised snack-production operation that he set up in his backyard. Then, when Moore's products at last began to sell well, the company moved into a real industrial facility.
Moore's Snack Foods sold well enough, in fact, that Borden eventually came calling. In 1989, J.W. Moore's daughter, Zella Arnold, decided in conjunction with her sons to sell the company to the larger firm. Wise Foods in 1990 began operating the facility in Bristol, a city of some 17,500 residents.
But that was all in the past, some residents sighed in resignation. Things inevitably just change, they said. Employers sometimes just close down shop, or they pack up and move away. That was just how life worked out sometimes. To them, the sour deal ending the Moore's plant seemed sealed.
Only it wasn't.
On Sept. 29th — one day before the facility's scheduled shutdown — Wise Foods made another startling announcement. The company told the city that it had decided to keep the Bristol plant open for another 30 days. Wise had tried to sell the Bristol plant before it announced the closing in the summer, company officials then explained. But no buyer ever came forward.
Now, though, one had. Wise declined to identify the potential purchaser. It did say, though, that it was optimistic enough about the outcome that it was granting the brief reprieve to the plant and its 85 remaining employees. But after that 30-day extension, Wise officials emphasized, the plant
would
be shuttered.
The Mystery Buyer: Bristol
But that was another scheduled event that just didn't happen.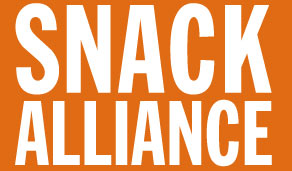 One of western North America's largest private-label snack food manufacturers, Snack Alliance secures an anchor in Bristol for manufacturing in the eastern part of the continent, said company Chairman Pat Lindenbach.
On Dec. 5th, the shadowy, unnamed buyer finally stepped forward, adding its own twist to the tale. The suitor for the facility had been . . . Bristol.
City officials revealed that Bristol had already bought the old Moore's plant for $1.45 million. Moreover, the city had a new tenant, Snack Alliance, signed on to occupy the space. The new company said that it would retain the 85 workers who still remained on the job at the Wise/Moore's plant. And after it finished an expansion that would double the facility's capacity, it planned to add another 100 new positions.
Occupying the Bristol facility, company Chairman Pat Lindenbach explained, provides an eastern manufacturing anchor for Snack Alliance, one of western North America's largest private-label snack food manufacturers.
"After conducting a review of many eastern U.S. locations, we felt that Virginia, specifically the city of Bristol, was the optimal location for us," said Lindenbach. "The Bristol plant will allow our company to more effectively serve eastern North America, as well as give our customers a seamless national program.
"Backed by a dedicated work force," he continued, "the city and state have the necessary infrastructure and commitment to allow our business to be competitive on all levels."
Company Has 10-Year Lease with City
The city has signed a 10-year agreement to lease the Moore's facility to Snack Alliance. The Oregon- based company will pay an annual lease rate equal to one-tenth of the total that the city paid for the plant. Added to that will be interest payments on the principal that are set at a rate that neither party has disclosed.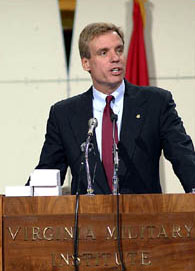 Gov. Mark Warner (pictured) helped facilitate the Snack Alliance deal with a $225,000 grant from the Governor's Opportunity Fund.
At the end of the 10-year agreement, though, the price really gets right for Snack Alliance. At that point, the company can buy the facility for $10.
Virginia also made the deal sweeter for Snack Alliance. Gov. Mark Warner (D) approved a $225,000 grant from the Governor's Opportunity Fund to support Bristol in the project. The company is getting another $350,000 in Tobacco Region Opportunity Funds from the Virginia Tobacco Indemnification and Community Revitalization Commission. In addition, Snack Alliance qualifies for the state's Major Business Facility Job Tax Credit. And the Virginia Department of Business Assistance will provide employee training.
Snack Alliance says that it will begin its expansion in mid-January of 2005, aiming to complete the work in early April.
So this story does in fact end with Moore's Snack Foods leaving Bristol. On the other hand, though, the spunky, can-do spirit of native son J.W. Moore might just be alive and kicking somewhere inside the West Coast company that's newly taken up residence in the Virginia city.
"Not only is the company saving 85 jobs for our residents, its eventual employment level will exceed Moore's Snack Foods' [employment] when the closing was announced," Bristol Mayor Paul Hurley said as the project was announced. "This is a perfect example of what can be accomplished when the parties come to the table and work together for the benefit of the community."
---
BASF Picks Southwest Texas for New-Tech Polymer Plant
by

JACK LYNE,

Site Selection
Executive Editor of Interactive Publishing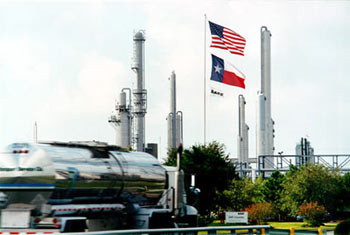 BASF will locate its new state-of-the-art facility making super-absorbent polymers at the company's Freeport complex (pictured) in Texas. The company already has 16 plants at the Freeport site.
FREEPORT, Texas
— Driven by economies of scale, advances in flexible production technology and access to raw materials,
BASF
will build a new plant in
Freeport, Texas.
The world's largest chemical manufacturer announced on Dec. 15th that it will construct a state-of-the-art facility that will produce super-absorbent polymers in the southeast Texas city. The plant will be located in what's known as BASF's Freeport Verbund site.
Verbund
is the German word that means integration. The company coordinates the production, energy and waste flows, logistics, and site infrastructure of its operations at Verbund sites, aiming to increase product yields, conserve resources and consume less energy.
Ludwigshafen, Germany-based BASF has 16 plants at its Freeport complex. Those operations produce chemicals used in a wide range of product applications, including adhesives, nylon, paints and coatings, plastics, and super-absorbents. BASF has about 700 staff members at Freeport Verbun. Another 350 contract employees work at the site as well.
Super-absorbent polymers, which can absorb and retain 1,000 times their weight in liquid, are best known for their use in disposable diapers.
But specialized forms of super-absorbent polymers are now used in other applications. Specialized super-absorbents, for example, are used in agriculture, cable wrappings, cosmetics, environmental containment, fire-fighting and packaging materials. The fastest-growing sectors for those polymers, in fact,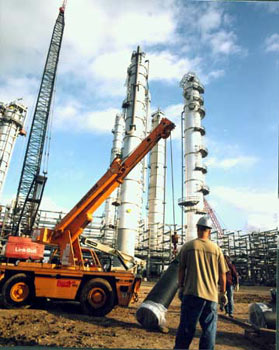 The world's largest chemical manufacturer, BASF also has a large petrochemical presence (pictured) on the Texas Gulf coast in Port Arthur (pictured).
are in industrial applications, including agriculture and food packaging, according to BASF officials.
New Production Technology
Initially Introduced in Belgium
One major catalyst for the new Freeport plant is symbolized by another production operation in Antwerp, Belgium.
BASF opened that $121-million Antwerp plant in 2002. With its annual capacity of 110,000 tons (100,000 metric tons), the Belgian facility ranks as the world's largest super-absorbent production facility.
More significant is a characteristic of the Antwerp operation that BASF Chairman Jurgen Strube lauded when the facility was dedicated on July 1, 2002. Strube praised the new plant for "setting new standards in terms of product quality and competitiveness."
Those new standards are part of a new BASF technology for manufacturing super-absorbents. The Antwerp plant was specifically built to be the first to employ that enhanced production capability. BASF's technology facilitates much more flexibility in manufacturing different grades of super-absorbent polymers.
The Freeport plant will be the company's second production operation with the new technology in place. That will allow it to make a broader product range for the North American market.
Significantly, the Texas expansion comes as BASF is working to open up new markets through new applications for super-absorbents. For instance, one use that the company is pursuing is in applying super-absorbents in the manufacturing of aircraft and automobile seating.
BASF Will Shut Down Aging
Plants in Mississippi, Virginia
BASF's new production scheme, however, is extracting a price in places where the old technology is still in place.
In conjunction with the Freeport project's announcement, the company disclosed that it will shutter its plants in Aberdeen, Miss., and in Portsmouth, Va. Those aging facilities were BASF's only U.S. production operations for super-absorbent polymers. The company said that the Aberdeen and Portsmouth plants will be closed by mid-2007, when the new Freeport plant is expected to begin production.
BASF said in a statement that the closings were "not a reflection on performance," but instead indicate the changes that are going on in North American manufacturing requirements.
"We're excited about this new project, but we have customer commitments now and over the next 30 months to meet," said Joe Breunig, group vice president for functional polymers in North America. "We're fortunate that our employees at the Aberdeen and Portsmouth sites are motivated, professional, and committed to satisfying the needs of our customers."
"Decommissioning two existing operations and replacing their capacity with a new state-of-the-art facility at our Freeport Verbund complex will help us to maintain our leadership position in this important

BASF-YPC Co., the German company's Chinese joint-venture firm, is clustering a 10-plant complex at a site (pictured) Nanjing, China.
market," he added.
BASF plans to sell the two plants after they're shut down.
Site Provides Plentiful
Supply of Acrylic Acid
BASF hasn't released any specific information yet on capital investment, capacity and job creation at the Freeport plant.
Some hints about the latter may come from the labor forces that are now in place at the two factories that are going to close. The Aberdeen facility employs 120 workers, while the Portsmouth plant employs 110.
Breunig noted that some of the employees at the two operations scheduled to be shuttered will be offered transfers to the Texas plant. BASF said that it will provide workers who lose their jobs with the closings with outplacement assistance, severance packages and other services.
The Texas location will also position the new super-absorbent plant near a ready supply of the petrochemical acrylic acid. One of the key raw materials in making super-absorbent polymers, acrylic acid is in abundant supply at the cluster of oil refineries that are positioned along southeast Texas' coast on the Gulf of Mexico.
"Our new plant in Freeport will be another milestone within our strategy to strengthen our acrylic acid value-adding chain by continuously enhancing product quality, availability and competitiveness," said Markus Kramer, who heads up BASF's global business unit for acrylic monomers and super-absorbents. "State-of-the-art production technology, intelligent logistics solutions and a variety of innovative applications for super-absorbent polymers are an important prerequisite."
BASF, which had sales of approximately $42 billion in 2003, is also expanding rapidly in
China. BASF-YPC Co.,
the company's Chinese joint-venture firm, started up production on Dec. 22nd of the first plant at the company's Verbun complex in
Nanjing, China.
That facility is making methyl acrylate, which is primarily used in the manufacture of acrylic fibers.
The German company is aiming to have all 10 of Nanjing plants in production by mid-2005, said BASF-YPC President Bernd Blumenberg. The Chinese joint-venture is a key element in BASF's ambitious goals for the Asia-Pacific region. By 2010, the company aims to generate 20 percent of its global sales and earnings in chemical activities from the Asia-Pacific. BASF wants 70 percent of those sales in 2010 to be coming from its local production.
Editor's note: For an exclusive inside view of BASF's experience in China, check out the cover story from the July 2004 issue of Site Selection, "BASF's China Footprint: How to Establish and Manage Chinese Industrial Assets".