New Mexico sealed the deal during a Dec. 8th meeting at Aero Mechanical's Atlanta-metro headquarters. Dupont huddled that day with three executives who working to bring the deal to New Mexico: Joe Shirley Jr., president of the Navajo Nation; Allan Begay, director of the Navajo Division of Economic Development; and Jerry Sandoval, a regional representative of the New Mexico Economic Development Department.
Dupont signed a memorandum of understanding at that meeting for the Navajo Nation to become a 25-percent equity partner in Utilicraft Aerospace. The terms of that memorandum call for the largest U.S. Indian tribe to invest about US$34 million for stock in the start-up. As part of its agreement with the tribal government, American Utilicraft is spinning off Utilicraft Aerospace Industries as a newly formed Nevada corporation. The company will also locate its headquarters in Albuquerque, Dupont said.
"I feel very good, very confident about this," Shirley said of the agreement. "This is an awesome opportunity and industry to bring to the Navajo Nation."
Utilicraft Aerospace said that the jobs in New Mexico will pay an average wage of $17 an hour. With a 40-hour week, that equates to annual wages of some $34,000. The average wage in Sandoval County is $25,000 a year, according to state officials.
Project's Fortunes Depend on FF-1080
Utilicraft Aerospace, however, has a long way to go to reach 1,000 employees. Currently, the company only employs six people, said Dupont. Shirley, however, said that a financial analysis of the company projects that it will become a $4.9-billion company within eight years.
The core of the company's business model revolves around the FF-1080 Freight Feeder aircraft. The plane has been in development for 13 years. Aero Mechanical filed its first copyright on the aircraft in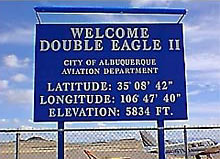 Utilicraft Aerospace will locate in Double Eagle II Airport in west Albuquerque.
1991.
Utilicraft Aerospace's business plan projects a two-year final development program, leading to certification from the Federal Aviation Administration. Initial production of the FF-1080 will begin after the FAA's approval is secured. Dupont didn't estimate when the Albuquerque plant would go online.
The early market response to the FF-1080 has to be encouraging for the start-up. Utilicraft Aerospace has an agreement with Brisbane, Australia-based
Global Air Group
to purchase of 100 FF-1080s for $1.2 billion, Dupont said. The company, he added, also has a Far East distributorship agreement with
WSI Hong Kong Ltd.
for 300 FF-1080s.
The all-aluminum FF-1080 is a twin-engine turboprop craft. Utilicraft Aerospace feels that its new plane's short take-off and landing (STOL) capabilities will capture a large market niche. The plane's STOL abilities will enable air cargo carriers to expand service into many smaller areas and airports.
Using runways shorter than 3,000 feet (910 meters), the FF-1080 will be able to transport 20,000 pounds (9,000 kilograms) of cargo up to 1,000 miles (1,600 kilometers), company officials said. The craft will employ the company's patented Automatic Flat Rate System (AFRS) to manage power. The AFRS automatically adjusts the required engine power for takeoff and flight by sensing the aircraft's weight and the atmospheric and runway conditions.
The Double Eagle II Airport has two runways. One is 7,400 feet long (2,245 meters); the other is 6,000 feet (1,820 meters) long. The Double Eagle II also has a full-scale instrument landing system.
Navajo Government Formed in 1923
Utilicraft Aerospace was attracted in part to Albuquerque by the quality of the state's work force, said Doss.
"New Mexico is among the best in the world for our type of industry," he noted. "We'll be able to hire a lot of local talent."
The company was also attracted by New Mexico's incentives, Doss added. Utilicraft Aerospace's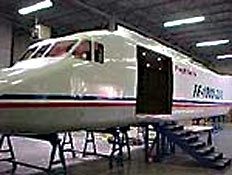 The FF-1080's short take-off and landing capabilities will enable air-cargo carriers to expand service into many smaller areas and airports.
higher-than-average salaries will enable the company to qualify for New Mexico's high-wage tax credit. The state will also contribute to Utilicraft Aerospace's employee-training program, said New Mexico economic development officials.
"This project represents our commitment to bring jobs and economic vitality to all parts of New Mexico, especially our rural and Native American communities," Gov. Bill Richardson (D) said of the Utilicraft Aerospace deal. "I applaud President Shirley's commitment to economic development, and we are proud to be part of this unique partnership."
Some 210,000 people live in the Navajo Nation. The Navajos established a tribal government in 1923. The discovery of oil on the reservation several years earlier highlighted the need for a more systematic form of government. The Navajo Nation's capital is in Window Rock, Ariz.
The Navajo Nation's elected council must still give its final approval for spending some $33 million to buy one-quarter of Utilicraft Aerospace's stock. Shirley said that another $1.25 million of the investment would come from a Navajo Nation business-development fund.
---
AXA Keeping 700
Syracuse Jobs, Adding 300 More
by

JACK LYNE,

Site Selection Executive Editor of Interactive Publishing

AXA's decision will create 300 new jobs in downtown Syracuse (pictured) and will ensure the future of 700 more.
SYRACUSE, N.Y. — The 700 MONY Group employees in Syracuse, N.Y., can exhale now. AXA Financial, the French affiliate that officially acquired the MONY corporate family for $1.5 billion on July 1st, 2004, has decided not only to stay in Syracuse; it's adding 300 new jobs there as well.
"We currently have 700 highly productive employees in Syracuse, where MONY has maintained a customer-service center for many years," AXA Financial President and CEO Christopher M. "Kip" Condron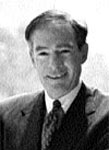 "AXA Financial is delighted that the strong MONY operations [in Syracuse] are now part of our company," said President and CEO Christopher M. "Kip" Condron (pictured).
explained at the company's headquarters in New York City. "AXA Financial is delighted that the strong MONY operations there are now part of our company, and we look forward to many years of solid contributions to our company's performance. We are excited to announce that we will add 300 more positions in the areas of service and technology."
New York Gov. George Pataki (R) first announced AXA's decision in his Jan. 5th State of the State address. The lion's share of the attention, though, went to other expansions that the governor unveiled that day: three
IBM
-led projects that are bringing $2.7 billion in new investment to the Empire State. (For details, see this week's Blockbuster Deal, "IBM, Partners Creating 1,000+ Jobs with $2.7 Billion in New York Projects.")
But a whole lot was hanging in the balance in Syracuse. If AXA had decided to pack up and leave town, the overall net impact would've meant 1,000 jobs lost. MONY employees in Syracuse had expressed uncertainties about their future when the company's ownership changed over to French insurance giant
AXA's
U.S. subsidiary.
"The company could have consolidated operations elsewhere. This move shows a continued confidence in the New York economy and the business climate we have created under Gov. Pataki's leadership," said Empire State Development (ESD) Corp. Chairman Charles A. Gargano. "ESD has been working tirelessly with AXA Financial for many months, as well as coordinating with other state agencies and our local development partners to bring this important project to fruition."
Empire Zone Expansion, Brownfields
Program Encouraged AXA's Project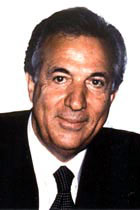 "The company could have consolidated operations elsewhere," said Empire State Development Corp. Chairman Charles A. Gargano (pictured). "This move shows a continued confidence in the New York economy and the business climate."
Prior to AXA Financial's decision, Syracuse Mayor Matt Driscoll met with company executives several times, working to keep the 700 local jobs downtown.
"We are excited about this development for Syracuse and our community," Driscoll said. "The recently approved Empire Zone boundary amendment is an example of the city's commitment to work with AXA to facilitate job growth in Syracuse. This is a result of our constant communication with the AXA Financial leadership."
State officials said that AXA's decision is also a direct result of the state's new brownfields program. AXA, they added, will be eligible to apply for a $1.25-million Empire State Development grant, plus other state and local incentives, including the Empire Zone Wage Tax Credit.
"AXA Financial will be an important part of the Syracuse economy as we move forward," said Pataki. "This decision sends a clear signal that this fast-growing company has confidence in New York's economy. . . . We will attract even more jobs to the region, and will be well on our way to reaching our goal of creating one million new jobs by the end of the decade."
AXA Financial has about 9,000 U.S. employees. With corporate brands that include
Alliance Capital Management, AXA Advisors, AXA Distributors, AXA Equitable Life Insurance
and
Sanford C. Bernstein & Co.,
AXA's U.S. subsidiary has more than $550 billion in assets under management.
Sutherland Global, Syracuse
University Also Expanding Downtown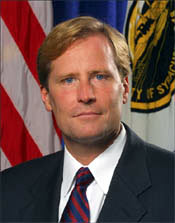 "Our constant communication with the AXA Financial leadership" played a major role in the company's expansion decision, said Syracuse Mayor Matt Driscoll (pictured).
Downtown Syracuse got two more sizable pieces of good news about the same time as AXA's decision.
One of them was
Sutherland Global Services'
decision to expand its sales operation. Rochester, N.Y.-based Sutherland announced on Jan. 7th that it will add 125 jobs at its Syracuse office. That will bring the company's total work force in Syracuse to 400 employees.
Sutherland, which provides outsourced contact center services and technology, decided to add the new jobs in Syracuse after a major expansion in one of its existing contracts, company officials said.
Worldwide, the company has about 10,000 employees.
In addition, Syracuse University in December announced that it's expanding to establish a major presence downtown. The university is buying 11 properties and leasing another. Students and faculty members will begin occupying the properties in the fall of 2005, said Chancellor Nancy Cantor.
Cantor, who took office on Aug. 15th of last year, explained that the university's plans include establishing a downtown arts cluster. A department of the College of Visual and Performing Arts will relocate to the area, she said.
Cantor's plans also include greater collaboration with downtown. The university plans to further that goal by hiring a "community geographer" to work in the downtown area. That person will work to identify and analyze city-wide problems. The university will then join forces with the community in working to solve the problems.

---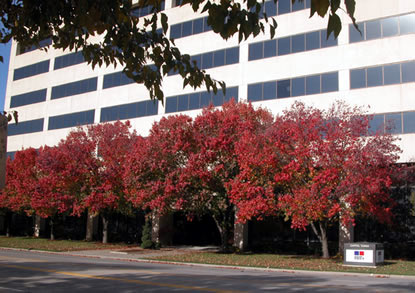 Hill's will expand both its Topeka headquarters (pictured)
and its local R&D operation.

Hill's Scratches Topeka Growth Itch with $30-Million HQ, R&D Expansions

Riviana Foods.

A few years later, the company almost got rid of Hill's while unloading non-core businesses.