ARLINGTON, Va.
—
European Aeronautic Defense and Space
(EADS) — the majority owner of Paris-based aerospace giant
Airbus
- is looking for a site for a US$600-million U.S. plant that will create as many as 1,100 new jobs. And one of the multiple locations that the company is considering is
Washington, Boeing's
manufacturing backyard.
The plant will —
perhaps
— build the U.S. Air Force's next-generation aerial tanker. The American-made KC-330 would be a modification of the Airbus A330 commercial jetliner.
The project, however, still has several sizable hurdles left before it becomes a reality.
Initially, U.S.-based Boeing won the Air Force's $23-billion tanker contract. But a scandal late last year derailed those plans. Darleen Druyun, a former Air Force chief acquisition official, admitted that she had given preferential treatment to Boeing on the tanker deal, as well as on other contracts. Subsequently, the Pentagon cancelled Boeing's contract to make 100 767 tankers. (Druyun was later sentenced to nine months in federal prison.)
The next step is the Defense Department's. It could reopen the contract for competitive bidding; or it could decide to continue with its aging fleet of Boeing-built tankers. In addition, if the Pentagon opts for new bidding, Congress will have to reauthorize funding.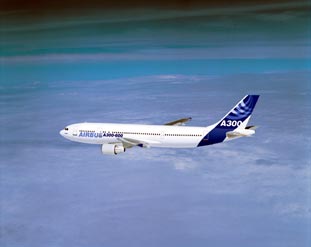 EADS will offer the Air Force a modification of the Airbus A330 commercial jetliner (pictured).
But EADS apparently was emboldened enough by the Boeing contract's cancellation. The company's Arlington, Va.-based North American subsidiary last month started a 12-month U.S. search for a site to build KC-330 aerial tankers. EADS North America Chairman and CEO Ralph Crosby announced the project's kickoff at a press conference on Jan. 10th at the National Press Club in Washington, D.C.
"The process we are beginning today establishes the foundation from which the KC-330 advanced tanker will be offered to the U.S. Air Force," he explained. "It serves as the essential next step in our preparation to respond to an open competition for tanker recapitalization."
All 50 States Invited to Bid
EADS North American, said Crosby, has already sent invitations all 50 states to gauge their interest in being the tanker plant's home. Each state has until March 30th to submit up to three different sites that meet the plant's requirements.
(Interestingly, Boeing followed a very similar path in its search for the site where it would build the 7E7, a new plane that's been renamed the 787. For an insider's look at that project see
"Project Olympus: 'One for the Record Books,' "
from the March 2004
Site Selection
.)
Some states probably won't have three locations that can qualify for the EADS plant. The project's site specifications include an airport runway at least 9,000 feet (1,230 meters) long and a tract big enough to accommodate a 1.5 million-sq.-ft. (135,000-sq.-m.) building. In addition, the company wants a location with a deepwater port; a college or university that offers a highly regarded aerospace engineering program; and an experienced labor force.
States still have another month and a half to submit their final proposals. Thirty-five states are considering a bid. Those indicating strong interest reportedly include
Alabama, California, Kansas, Louisiana, Mississippi, New Hampshire, New Mexico, North Carolina, South Carolina, Oklahoma
and Washington.
The decision on the tanker plant's site will be based on "best value," Crosby said. "We will look at the site's contribution to the competitiveness of the KC-330 offer in cost and capability terms."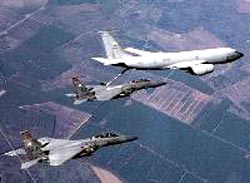 The Air Force currently handles its aerial refueling with Boeing-made KC-135 tankers (pictured).
EADS Project Could Get
Boeing-Style Washington Subsidies
Washington could possibly loom large in the site choice.
The Evergreen State's labor pool has an inodinate amount of aerospace experience. Boeing builds its 747s and 767s in Everett, Wash, just outside Seattle. In addition, Boeing was based in Seattle from 1916 to 2001, when it stunned many observers by relocating its headquarters to Chicago.
Significantly, Washington has another major attraction that it could offer EADS: hefty incentives along the lines of the $3.2-billion, 20-year package that Boeing received in late 2003. Boeing is getting those subsidies after choosing Everett for its $900-million, 1,200-worker 787 assembly plant. (Washington is also supporting the 787 project with a new 5-cent state gas-tax increase that's funding $4.2 billion in transportation improvements.)
But Boeing's tax breaks didn't stem from a state initiative aimed solely at the 787 deal. Passed in 2003, the incentives target any aerospace firm that builds commercial or military planes in Washington.
Thus far, though, the state is handling the EADS project quite differently from the Boeing deal. Washington's top officials spearheaded the effort to land the 787 project. This time around, though, the state has only offered to provide technical advice and support to Washington's contending sites.
With Boeing, though, a lot more was at stake. That company generates a $16-billion annual impact on the state's economy. If Washington lost the 787 project, many officials feared that the state might ultimately lose all of Boeing's operations.
Washington's EADS pursuit may also be impacted some state lawmakers' skepticism about the project. Those legislators are suggesting that the non-U.S. company is using its high-profile site search to bolster political backing for its Air Force tanker bid.

Everett Just Says No
Everett, Boeing's manufacturing epicenter, says it isn't interested in being a contender for the
EADS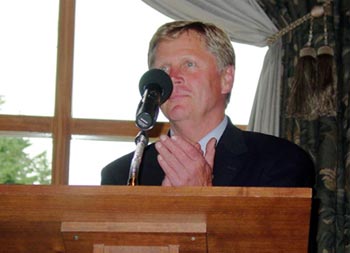 Everett Mayor Ray Stephanson said that
his city's "commitment and community investment is
with the Boeing Co."
plant.
For a brief while, though, it looked like it would be. Everett, along with Spokane and Moses Lake, was reportedly scheduled to be one of the three sites that Washington would offer.
The next day, though, Everett Mayor Ray Stephanson shot down that speculation. Stephanson announced on Feb. 10th that Everett didn't plan to send a representative to a Washington, D.C., meeting on EADS project four days later. (At that meeting, EADS officials discussed the plant's requirements.)
"We believe in the product that our hometown company is building with local workers," said the mayor. "The Boeing Co. made it very clear last year that it is committed to the future of aerospace in our community. Our commitment and community investment is with the Boeing Co."
The other two Washington cities mentioned as EADS contenders have strong Boeing ties as well. Boeing, for example, conducts test flights and training at Grant County International Airport, located at the Port of Moses Lake.
The company had a plant in Spokane. But Boeing in late 2002 sold that 335-worker operation to
Triumph Group,
one of the aerospace company's suppliers. Triumph continues to operate the plant in Spokane.

Staubach Heads Up Search
EADS North America has selected Staubach Company to manage the site selection process. A formal request for proposals will be issued in the second quarter of this year, Staubach Company Chairman and CEO Roger Staubach explained at the Press Club conference. Completed proposals will be due in the third quarter.
During fourth-quarter 2005, the EADS selection team will evaluate the proposals, make site visits and enter final negotiations, said Staubach. A final choice will be made before the end of the year.
The first step in implementation at the selected site will be to build an aerospace engineering center, EADS officials say. That center would employ 100 to 150 engineers, with construction beginning in early 2006.
But the company says that it may build the engineering operation even if EADS doesn't win the Air Force tanker contract.
---
GM Investing $98 Million
in Indy Plant Upgrade;
Wal-Mart's 600-Job Center
Also Heads Hoosiers' Way
by

JACK LYNE,

Site Selection Executive Editor of Interactive Publishing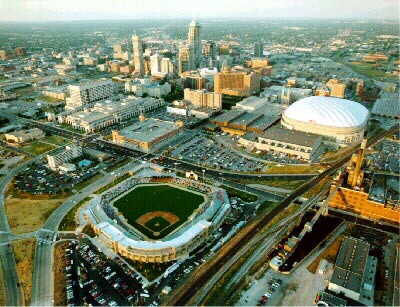 GM's $98-million investment in its plant, which is in downtown Indianapolis (pictured above), ensures the near-term future of an operation that's been part of the automaker's portfolio since 1930.
GAS CITY, Ind., and INDIANAPOLIS
—
General Motors
has added another element in its ambitious U.S. manufacturing upgrade. The world's largest automaker is investing $98 million in the company's metals center in
Indianapolis.
The project's Feb. 7th announcement signals a major step up for the plant and its more than 1,900 workers. Some of the machinery now used on the Indianapolis plant floor dates all the way back to the 1980s. And the 2.1-million-sq.-ft. (189,000-sq.-m.) facility is considerably older than that.
"This investment will help improve the overall operations of the Indianapolis Metal Center," Jim De Luca, manufacturing manager for GM North American Manufacturing, told plant workers.
GM's Indianapolis outlay will "upgrade aging equipment with a new progressive press and weld assembly systems," De Luca continued. "We will improve the plant's flexibility and be able to produce higher quality components more efficiently."
GM's announcement was one bookend in two major Hoosier State investments in less than two weeks.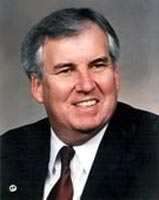 GM's sizable capital outlay "demonstrates GM's commitment to the UAW, the employees, Indianapolis, Marion County and the state of Indiana," said Terry Thurman (pictured), director of the United Auto Workers' Region 3.
Earlier,
Wal-Mart
on Jan. 26th had announced that it's selected
Gas City, Ind.,
for its new $60-million distribution center. Located some 75 miles (120 kilometers) northeast of Indianapolis, the new Gas City facility will create 600 new jobs, company officials said.
(And on top of that, as reported earlier here,
GM
on Jan. 28th announced that it's investing $175 million in its
Fort Wayne, Ind.,
plant. The expansion ensures the operation's 2,900 current jobs and will create 200 new ones as well. For full details, see the Jan. 31st Project Report.)

GM's Upgrade Boosts Plant's
Efficiency, Cuts Production Costs
GM's Indianapolis plant makes metal stampings and fabricated parts for the company's vehicles. The upgrades promise to improve efficiency and cost-effectiveness in several important ways.
The new press, for example, will enable plant workers to stamp two doors from one piece of metal. The facility's current press can make only one door from a single piece of metal.
When the new equipment is in place, the plant will also be able to shift rapidly from stamping truck parts to stamping car parts. That's a major plant-survival plus, allowing output adaptations in synch with changing market demands.
In addition, the installation of up-to-date systems will facilitate the plant's use of lighter grades of steel, GM officials said. That, they explained, will reduce overall production costs.
"Investing in the Indianapolis Metal Center demonstrates GM's commitment to the UAW, the employees, Indianapolis, Marion County and the state of Indiana," said Terry Thurman, the United Auto Workers' director of the union's Region 3.
Plant Manager: Project 'Solidifies Future Here'
GM will begin removing the plant's old equipment in the third quarter of this year, De Luca noted. The installation is scheduled to be completed in 2007.
The automaker's announcement of its new investment comes after GM in the previous two years had already invested $72 million in upgrading the Indiana plant. The earlier outlay added new weld assembly cells and product program tools at the facility.
GM's $170-million investment in the facility over a five-year span "certainly solidifies the future here," said Max Miller manager of the Indianapolis plant. "I am very proud of what we accomplish here each and every day."
All told, GM during the last five years has invested more than $20 billion in upgrading and expanding its U.S. operations.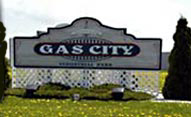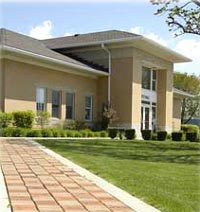 Gas City was initially known as Harrisburg. The name change came in 1887 when what seemed to be a very large and rich supply of natural gas was discovered in the area. By the beginning of the 20th century, though, all the gas was gone. (Pictured above are Gas City's City Hall and the sign at one of the city's boundaries.) Photos: Gas City Chamber of Commerce
For the Indianapolis project, the Indiana Department of Commerce is assisting with a $235,000 worker-retraining grant. The funds will be used to train employees in the use of the new equipment.
The downtown Indianapolis site has been part of GM's portfolio since 1930, when the automaker bought Martin-Parry Corp. The acquired company had been making Chevrolet truck bodies at the Indiana site.
Martin-Parry's corporate lineage dates back much farther than that. Parry Manufacturing Co., one of the company's earlier antecedents, was one of the world's biggest makers of horse-drawn wagons during the late 19th century.

Wal-Mart Already Has Made
More than 37,500 Hoosier Hires
Up in Gas City, Wal-Mart will build an 895,000-sq.-ft. (80,550-sq.-m.) distribution center. Construction will begin on September 2005 in the city of some 6,000 residents, said Rollin Ford, Wal-Mart's executive vice president of logistics. The operation will begin serving the company's retail operations in April of 2006.
The new distribution center, said Ford, is "a significant project" that "will provide Wal-Mart the opportunity to better serve our stores in the state of Indiana."
The world's No. 1 retailer already employs more than 37,500 workers in Indiana. Wal-Mart's Hoosier State real estate portfolio includes 32 Discount Stores, 55 Supercenters, four Neighborhood Markets, 15 Sam's Clubs and six distribution centers.
The Indiana Department of Commerce and the state Department of Work-Force Development are providing Wal-Mart's project with more than $4.64 million in incentives.
"We are pleased that Wal-Mart is continuing to grow in Indiana, and that they recognize the hard work, dedication and commitment of Hoosiers," said Secretary of Commerce Pat Miller. "We will continue building partnerships with Wal-Mart and other businesses in and out of the state."

Thomson Electronics' 1,000-
Worker Plant Shut Down Last Year
Ford praised local officials for their cooperation and support of Wal-Mart's expansion.
| | |
| --- | --- |
| Wal-Mart's Executive Vice President of Logistics Rollin Ford (pictured) praised the local area for "the unprecedented joint public hearing" of city and county officials that approved the company's plans for its new distribution center. | |
"In a recent unprecedented joint public hearing, the Gas City Council, Grant County Commissioners and the Gas City Redevelopment Commission met to unanimously approve the initial plans for the project," he said. "We sincerely appreciate their support — and in particular the support of Gas City Mayor H. Larry Leach — as we begin our commitment to Gas City as a partner in both economic development and the community."
"I am excited about Wal-Mart's investment in our community," Leach said. "I don't think any of us can imagine the extent of the positive impact this is going to have on our community and our economy."
Many area residents will likely warmly welcome the project's positive economic impact.
Thomson Electronics,
Grant County's largest employer, closed its 1,000-employee television manufacturing plant in Marion, Ind., in March of 2004. Marion is located six miles (9.6 kilometers) north of Gas City.
The state's subsidy package for the Wal-Mart project includes:
$350,000 in training grants from the Skills Enhancement Fund to train Indiana resident employees;
Up to $50,000 in training grants for technology professionals through the Technology Enhancement Certifications for Hoosiers fund;
Up to $270,000 in off-site infrastructure improvements needed to serve the site through the Industrial Development Grant Fund; and
Up to $3.97 million in Economic Development for a Growing Economy tax credits;

Wal-Mart's Gas City project will receive additional assistance from the Department of Work-Force Development. State officials didn't place a dollar value on that aid. Indiana's support, they said, will include assistance in advertising and recruiting plant workers, as well as help in assessing and selecting the operation's employees.