T
ired of seeing your company get a cold PR shower because it just moved more skilled jobs offshore? Maybe something barely offshore is just the remedy you need.
It's called
SeaCode
, and its business model is this: Hire talented engineers from everywhere, and place them on a state-of-the-art cruise ship hovering just outside U.S. Immigration law's boundaries. The client reaps the benefits of offshoring while also keeping customer access and community spinoff alive and well.
It comes as no surprise that the most lucrative market for hybrid vehicles — California — should be the birthplace of Hybrid-Sourcing(tm), the term San Diego-based founders Roger Green and David Cook have developed for SeaCode's solution.
There's another California angle too: With one of the projected ship locations just outside L.A. (the other would be outside San Diego), the company may bring welcome productivity to a seascape currently crowded with ships waiting in line for access to overcrowded ports.
Not Quite Foreign,
Not Quite Home
One fringe benefit of this fringe operation will be its preservation of U.S. intellectual property law's protective sphere. How will it manage that? By using U.S. providers for its microwave phone and Internet access. According to international law, the first point of contact with land determines the applicable laws.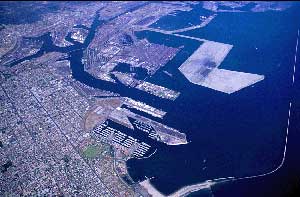 Port of Los Angeles
However, the U.S. H1B visa law limits will not apply, allowing foreign programmers the opportunity to work four months on, two months off, at significantly higher salaries than if they stayed at home in, say, India, as a randomly chosen example. In 2004, the number of available H1B visas shrank to 65,000, down from the all-time high of 195,000 decreed by the 2000 American Competitiveness in the 21st Century Act.
Another innovation: By working pods of code writers and programmers in shifts that hand off work around the clock, the 600-worker ships will replicate some global companies' work model without having to literally go around the globe to do it. And much of the money spent by those engineers will come ashore when they do. According to an interview with Green and Cook conducted by the Los Angeles Times, "only 10 percent of SeaCode's total revenue will be spent on foreign labor."
Then again, there are those who say cruise ships are overrated. One of the most noteworthy such critics was writer David Foster Wallace, whose extended essay on the subject — "A Supposedly Fun Thing I'll Never Do Again" — skewered the cruise industry. Then again, this is a work ship, which has inspired some in the software development community to already lob accusations of "slave ship" around the blogosphere. But there are plenty of software lackeys who can testify to far worse working conditions than a cruise ship.
Just Another Gimmick?
Nothing is happening yet. For one thing, there's no ship yet. Then, once it's acquired and flagged (Bahamas? Liberia?), the engineer hiring can commence, both on board and at the company's San Diego headquarters. But all of this depends on SeaCode's ability to attract a handful of major clients. And they'll have to overcome some healthy skepticism.
Asked for his take on SeaCode's offering, Phil Hammel, the Irvine, Calif.-based director of real estate for Honeywell, tells Site Selection, "Something doesn't 'compute.' The only advantage seems to be the intellectual property angle. For software coding, there is no [more] relative advantage to a ship than there is to Bangalore, India, as electrons travel at the speed of light so technical productivity is the same for each location. And cost-of-living aspects — well, a cabin on cruise ship for four months versus an apartment in India ... can't be a cost savings on that one."
Hammel goes on to note that "offshore is offshore," whether the jobs are a few miles or thousands of miles away.
Can a maritime workplace model be successfully deployed with high-level software engineers swabbing data? The answer for now is just a speck on the horizon, but may eventually give new meaning to cruising the Web.
---
Avery Dennison Sticks With Tradition
Adhesive Materials Maker
To Invest $50 million in Northeast Ohio
by

ADAM BRUNS,

Site Selection Managing Editor
It's based in Pasadena, Calif., but when it comes to
Avery Dennison Corp.'s
facility development strategy, Ohio always comes up roses.
It happened again on April 11, when the company announced that the US$50-million headquarters of its Roll Materials Worldwide and Fasson Roll North America unit would be in the Lake County city of
Mentor, Ohio
, just northeast of Cleveland.
The company plans to construct two buildings on 12.7 acres (5 hectares) at the 380-acre (154-hectare) Newell Creek Preserve mixed-use park, moving the operation from nearby Concord Township. Another nearby community, Willoughby Hills, had also been a candidate for the move.
A FORTUNE 500 company with 2004 sales of $5.3 billion, Avery Dennison employs approximately 21,400 individuals in 47 countries worldwide. Approximately 1,421 of those individuals work in Lake County, and by the time the two Mentor buildings are completed in 2006, 500 of those individuals will occupy them. Their cumulative payroll is projected to reach $40 million, a significant figure that triggers a just-approved incentive from the City of Mentor: Via a 15-year Mentor Incentive Grant, the company will see a return of 1 percent of its payroll, which graduates to 1.2 percent once the $40-million plateau is reached. Real estate and property taxes are still fully in play however, with the Mentor School District slated to receive 75 percent of those revenues.
While the project still awaits final approval from city planners, they have already approved a zoning change that will facilitate the facilities.
Newell Creek Preserve is a planned unit development under the aegis of homebuilder
Sam Petros
and
Duke Realty
, and includes retail and housing components. The zoning regulations for such a development have now been changed to incorporate "research and development with associated manufacturing." In this case, that means a 20,000-sq.-ft. (1,858-sq.-m.) research center and 130,000 sq. ft. (12,077 sq. m.) of labs and offices.
RFID and China
Central to Growth Plans
The roll materials unit produces Fasson-brand pressure-sensitive and nonadhesive-coated papers, films and foils that consumer product packaging makers use for bar codes, product identification and other uses. Another kind of coding — radio-frequency identification (RFID) — is a big part of Avery's overall growth strategy.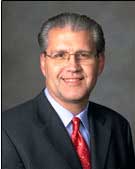 Dean A. Scarborough
Avery Dennison
In remarks to security analysts in March, Dean A. Scarborough (who became CEO on May 1, 2005) said the company had just been selected as a vendor to the U.S. Dept. of Defense to supply some of the 50 million RFID tags that an upcoming program launch will require. The company's new high-speed manufacturing line for RFID inlays was expected to be operational by the end of March.
He also noted that emerging markets like Asia, Latin America and Eastern Europe now generate approximately 20 percent of Avery Dennison's total revenue, and that Asia alone would garner more than 30 percent of Avery's capital spending in 2005.
But meanwhile, good old Ohio still merits its own capital investments, even as the company tries to rein in spending overall.
The HQ announcement came just a few days before company leaders were surprised by a first-quarter earnings miss. While putting the brakes on spending was foremost in official remarks, what that means for the Mentor expansion remains to be seen.
"Following a strong January, demand weakened as the quarter progressed," said Philip M. Neal, chairman and then-CEO of Avery Dennison, in April. "Generally speaking, raw material costs have been increasing in line with our expectations. We expect to continue raising prices as needed throughout the balance of the year. At the same time, we will continue to aggressively reduce our operating expenses to reflect current demand trends."
The company's Cleveland Film Facility in Mentor was just honored for its safety record last year by Ohio Gov. Bob Taft, in the midst of the golden anniversary for the Fasson brand, which was created at the company's facility in another nearby community, Painesville.
According to the Conway Data New Plant Database, Avery invested some $2 million in a Mentor warehouse expansion last year, along with another $2-million investment at a facility in Brunswick, Ohio. In 2003, a $15-million investment netted 28 new jobs at the company's Painesville facility, and a $6-million investment was made at Avery's Fasson facility in Fort Wayne, Ind. And in 2002, two investments were made in manufacturing plants in Meridian, Miss., and Flowery Branch, Ga.
---
Don't Find Us, We'll Find You
Two Search Engines Direct Themselves to Oregon
by

ADAM BRUNS,

Site Selection Managing Editor
Within the span of a few months, search engines Google and Yahoo have both searched for and located sites for service centers in Oregon. For the record, Google found its result first.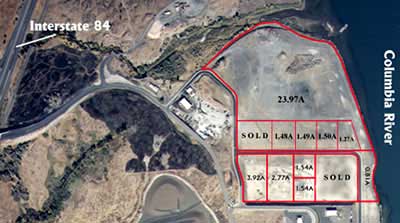 The Chenoweth Creek Industrial Properties, pictured above, are the home of a new facility for Google. But the Port of the Dalles has a lot more going on. In March, the community welcomed Quanex division Homeshield, a maker of roll formed products for window and door manufacturing, which anticipates growing to up to 50 employees in its first year of operations. The manufacturer will occupy a new 65,000-sq.-ft. (6,039-sq.-m.) facility, with room to grow to as much as 120,000 sq.ft. (11,148 sq. m.).
As reported by Senior Editor John McCurry in the May 2005 issue of Site Selection, Google's "technology infrastructure" facility, located on 30 acres (12 hectares) in the Port of The Dalles' Chenoweth Creek industrial site in
The Dalles
, will employ from 50 to 100 people. The company has been tremendously tight-lipped about its site search and location, however, just as it has been in Georgia, where it's hired about 100 employees at a data center in Douglas County outside Atlanta.
The investment was not announced by any corporate or government officials. However, when the Atlanta Journal-Constitution did a Google search for "Google and data center and Douglas County" in December 2004, a November 4, 2004, regional economic development report noted the search engine's choice of the county for a $300-million data center.
The Portland suburb of Hillsboro, home to some 80,000 Oregonians, is best known for its fabrication facilities operated by Intel Corp.
In the case of both projects, economic development officials were required to sign non-disclosure agreements with the company.
Yahoo Wild About Savings
Yahoo's 170-employee customer service center will be located in
Hillsboro, Ore.
, known as a primary fab location for Intel Corp.
Facilitated by
CRESA Partners
, the Yahoo search was nationwide, but physical proximity to headquarters and low real estate costs drove the firm to Hillsboro. The Sunnyvale, Calif.-based company will hire 110 people and relocate 60 to the leased 38,000-sq.-ft. (3,530-sq.-m.) spec facility, expected to open in August.
Yahoo's most recent facility investment before Oregon was the February announcement of a 400-employee European operations headquarters in Dublin, Ireland.
While Ireland is known for its lowball corporate taxes, Oregon can credit at least part of Yahoo's decision to its broadband foresight, says 4th District State Rep. Dennis Richardson, citing 1999 legislation championed by Sen. David Nelson (R-Pendleton) calling for high-speed fiber access throughout the state.
While the legislation reformed the necessary regulations, "Qwest, known at the time as US West, kicked in $120 million to upgrade the state's fiber optic system and provide access to communities throughout Oregon," writes Richardson in a recent legislative update. "Today, the system is made up of five concentric, interconnected rings that provide high-speed data transfer, large bandwidth to cover 90 percent of the state."